Kano's Harry Potter Coding Kit is a magical pairing of J.K. Rowling's world with coding. Children are charged with writing their own spells, cleverly wrapped as code, letting them drag and drop blocks that let them make sparks fly from their wand — or change the color of the feathers of their owl. We played with the wand to see if we could make our way through the magical realm.
Read More: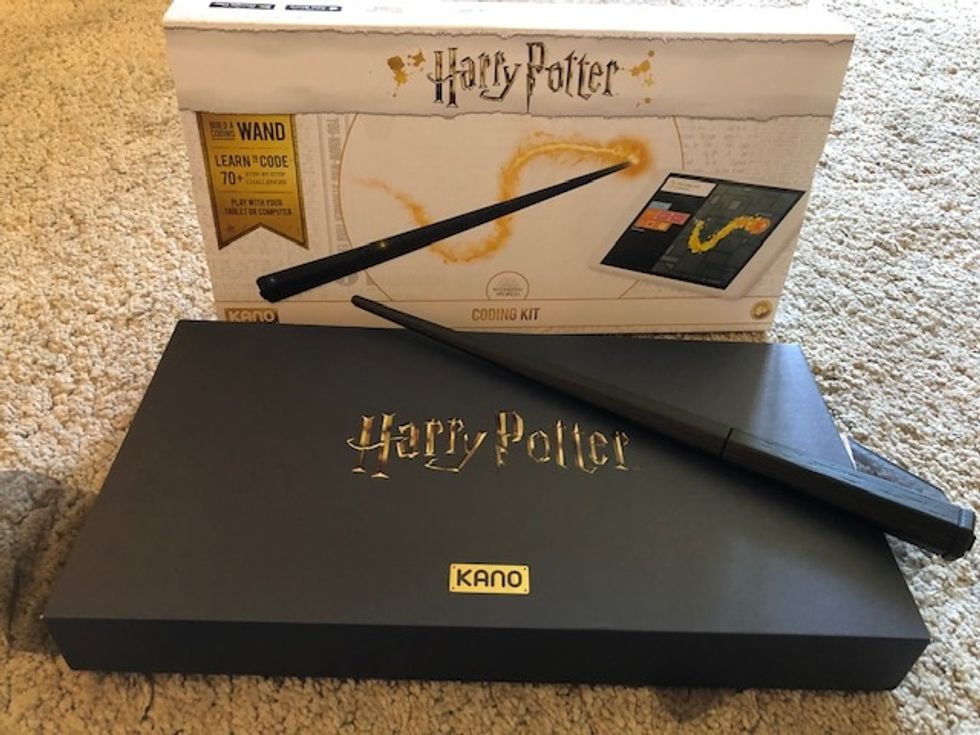 The wand, packed with sensors, is the draw for the Harry Potter Coding Kit from KanoGearBrain
In the box
Inside the Harry Potter Coding Kit is the plastic wand, a circuit board, two AAA batteries, a wrist band and an instruction book with stickers and a poster. Don't toss the book aside — you'll want it.
You put the wand together yourself, a nice way for children to understand how tech devices work. The book actually explains how the wand will work, with three different sensors that read when the wand is moving: a gyroscope, accelerometer and a magnetometer.
Popping the batteries inside is simple, and putting the wand itself together was fairly straightforward.
You then need to download the MacOS or Windows app for the wand on to a laptop, desktop or the Kano app for an Amazon, Apple or Android tablet. I used a MacBook Air — the program loaded quickly without fuss.
Kids create an account — and parents have to add their email to that. Once in, you need to connect your wand to Bluetooth. Initially this worked well — pushing the button the front of the wand, the blue light blinked as it located and connected to my wand, telling me on screen it was connected and showing me by turning the blue light to a steady glow.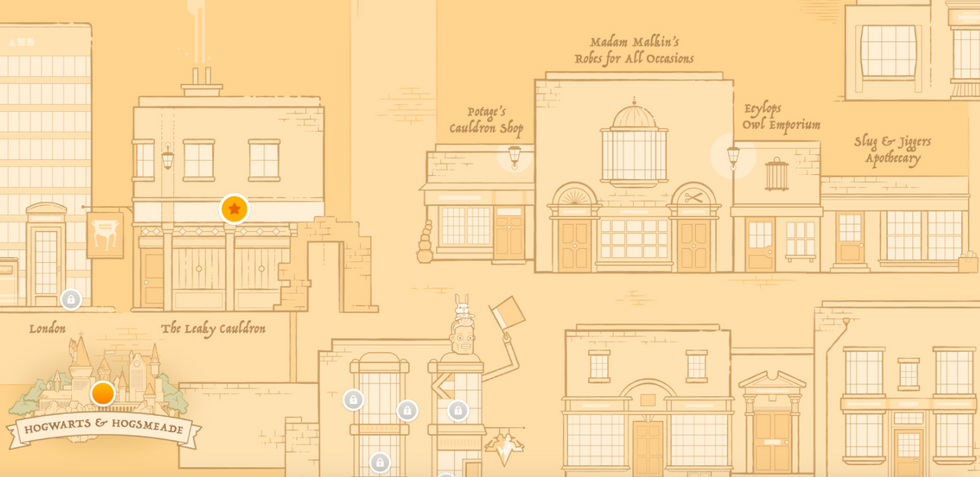 The Harry Potter Coding Kit app opens to a map of Hogwarts and surrounding areas including Diagon AlleyKano
Enter Hogwarts

The wand takes you on a tour of Hogwarts and fans of the Harry Potter world will be charmed by some of the locations including Diagon Alley, Hogwarts Schools of Witchcraft and Wizardry, even the Quidditch Pitch. As you move from location to location and challenge to challenge you also pick up including new creatures and extras like a bubbling cauldron or a pumpkin. You can also personalize your avatar, from the expression on your face, to accessories like feathers, brooms and spell books and even what you wear — including, yes, the scarf connected to the house you choose to join: Slytherin, Gryffindor, Hufflepuff and Ravenclaw.
A map of where you are in Harry Potter's world is clearly marked on the screen and bears more than a passing glance to the Marauding Map which readers, and movie watchers, will recall. All in all the Harry Potter Coding Kit does a solid job conjuring the lore of J.K. Rawling's world.
When it comes to the star attraction — using the wand — that's where the problems arise.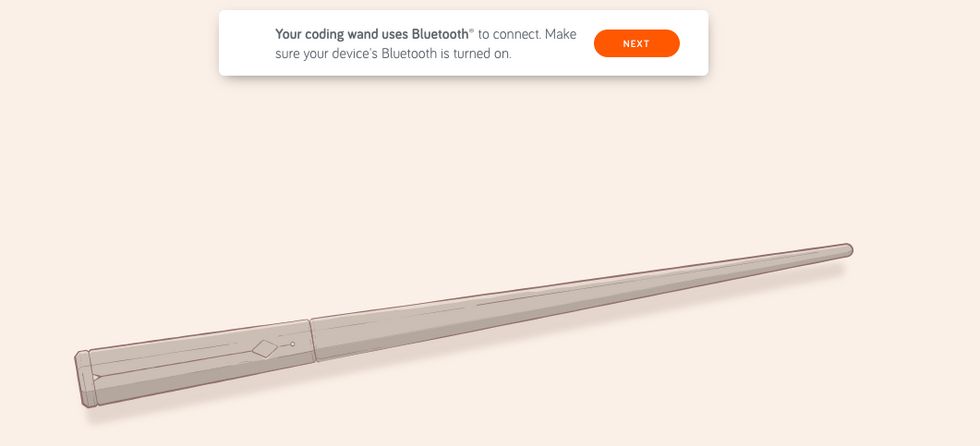 The wand in the Harry Potter Coding Kit needs to connect to Bluetooth to your computer or tablet to workKano
Spells and code-writing
Next, you're sent on a series of challenges — basic coding problems that are nearly impossible to get wrong. There are more than 70, and Kano does a great job of highlighting which blocks connect to which and showing them how to change different variables such as the color of a familiar pet.
Each challenge builds on the next, as it should, helping kids get more comfortable as they play with the toy. At the end of each challenge you get to try out the code (er, spell) you just wrote. And here's where the trouble started.
Half the time, after dragging blocks and changing variable, the wand would lose its Bluetooth connection. That meant any attempt to try the new spell would fail: sparks wouldn't fly, feathers wouldn't move, it was frustrating. And keenly it wasn't fun.
Kano seems to know this can happen and even has a short code for getting help to troubleshoot the problem. They suggest pushing the button again, taking the wand apart and shuffling the batteries, or moving to the main screen and reconnecting a new wand (even though you're using the same one.)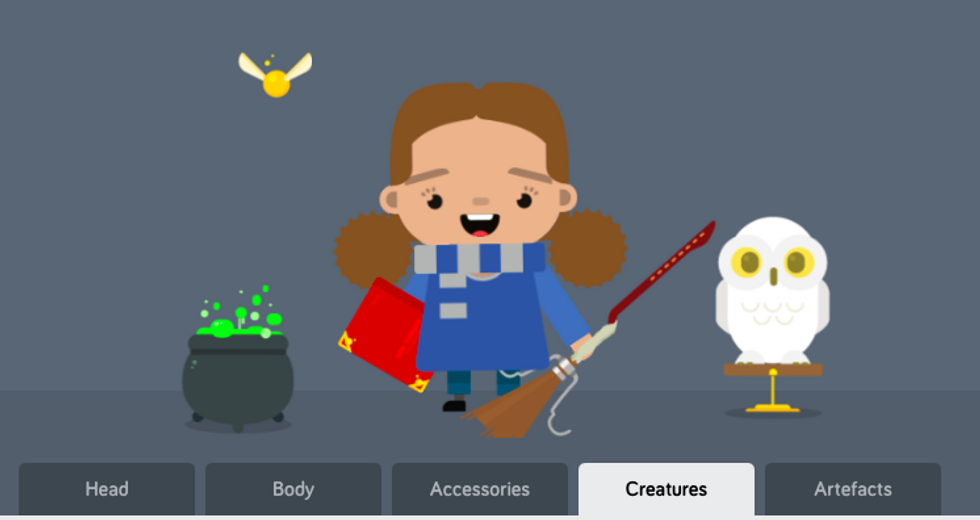 You can customize your avatar, adding spell books, different creatures and even the scarf of the Hogwarts house you want to joinGearBrain
I also went in to my MacBook Air's Bluetooth settings trying to reconnect that way, which didn't work.

The only thing that did get the wand reconnected was taking out the batteries, and then reconnecting the wand through the new and option. In 30 minutes, this happened three times, continuously breaking the magic around the wand.
Having to reconnect to Bluetooth each time did help explain what that wireless standard does — create a link between two objects so they can send information to each other. But it ruined the allure of the toy.
To cast or not
As a coding toy maker Kano has a solid track record, its Computer Kit earning high marks as a make your own computer for children. The Harry Potter Coding Kit is a solid coding toy — with a crucial hiccup, having to repeatedly connect to Bluetooth.
Still, for those who have children charmed by the Harry Potter world, the $99.99 Harry Potter Coding Kit may be worth considering. Even without the wand, the challenges will work in terms of building a code, as will the map, and the ability to customize characters. You can follow other wizards, and get followers too. With the wand, children can see the spells they created, and even share and try out spells others have created as well. Just have some patience if you run into Bluetooth problems — spell casting takes some practice too.
Pros:
Excellent use of Harry Potter imagery and story
Wand is simple to put together
Easy to use coding tools
Cons:
Bluetooth connection between the wand and game is very temperamental
Price
Doesn't work on smartphones
Specs:
Windows software: Windows 10 Home and Pro
Windows hardware: 1 GHz or faster 64-bit processor, minimum 4 GB RAM, Bluetooth Low Energy (Bluetooth Smart 4.0, Bluetooth LE 4.1, Bluetooth LE 4.2, Bluetooth LE 5.0)
Apple Mac software: Mac OS 10.10 or later
Apple Mac hardware: Minimum 4GB RAM
Intel 64-bit processor - Core m, Core m3, Core m5, Core m7, Core i3, Core i5, Core i7, Core i9, Xeon, Bluetooth Low Energy (Bluetooth Smart 4.0, Bluetooth LE 4.2, Bluetooth LE 5.0)
Apple iPad Software: iOS 10 or later
Apple iPad Hardware: iPad 4th Generation and later, iPad Mini 2 and later, iPad Air 2 and later, iPad Pro and later. Bluetooth Low Energy (Bluetooth Smart 4.0, Bluetooth LE 4.2, Bluetooth LE 5.0)
Android Tablet software: Android 5.0 (Lollipop) or higher
Android Tablet hardware: 7" touchscreen or larger, Minimum 1.5GB RAM, Bluetooth Low Energy (Bluetooth Smart 4.0, Bluetooth LE 4.1, Bluetooth LE 4.2, Bluetooth LE 5.0)
Amazon Fire software: Fire OS 5.6.2.0 or higher
Amazon Fire hardware: Fire HD 8 (2016) or newer, Fire HD 10 (2017) or newer. Bluetooth Low Energy (Bluetooth Smart 4.0, Bluetooth LE 4.1, Bluetooth LE 4.2, Bluetooth LE 5.0)
Note that Fire devices that are running Amazon FreeTime or set up with a Fire For Kids account will not be able to connect to the Coding Wand, because of parental controls imposed on Bluetooth.
Kano Computer Kit software: Kano OS 4.2 or higher
Kano Computer Kit hardware: Raspberry Pi 3, Kano Computer Kit (April 2016 onwards), Kano Computer Kit Complete, Kano Computer Kit Touch
Coding Wand Board: accelerometer, gyroscope, magnetometer, Rumble pack, RGB LED, button
Battery: Two AAA batteries
Rechargeable: N
Duration: Six hours of constant play
Connection: Bluetooth Low Energy 4.1+