Like GearBrain on Facebook
As far as augmented reality goes, its cousin, virtual reality, tends to get all the attention. But with today's release of Disney and Lenovo's Star Wars: Jedi Challenges — augmented reality (AR) is about to get its dues. The $199 toy would probably hit most holiday shopping lists just for its Star Wars themed accessories. (They won me at a working lightsaber.) But it's the AR baked into the toy that's going to keep people playing, and shows off the potential for this technology in a way no other consumer toy has yet today.

In the game, you're dropped into the Star Wars world where you can fight along side Obi-Wan Kenobi, play some round of Holochess like Chewbacca did on the Millennium Falcon, take down clones, and explore worlds in the Star Wars universe from Naboo to Hoth. You're doing all this through an augmented reality headset. And, oh yeah, you get a working lightsaber.
Gearing up for battle
The Jedi Challenges experience is heavy on devices — at $199 that makes sense. But there are a lot of pieces here, things you'll have to keep track of each time you want to re-enter the game. There's the lightsaber controller, the Lenovo Mirage AR headset, the Tracking beacon, plus a charger, charging cord, adapter cables and two AA batteries. You're going to want to find a place for all of them when they game's not in use.
To start you'll need to charge both the lightsaber and the headset. If you're considering this as a gift for the holidays, think about pre-charging the headset and controller. We know unboxing is half the excitement — but having to wait all morning to get these devices up and running is not ideal. Just a thought.
After everything is charged, download the iOS or Android Star Wars: Jedi Challenges app for your specific iOS or Android smartphone, (see specs below) and tap on the screen to setup the app. Put the batteries in the beacon, and set it to Mode 1: that will make it pink. Put that in front of you, where you intend to play. You want a wide area — this is not a sitting game. Think of clearing several square feet, ideally the size of small livingroom. Remove clutter, chairs, the dog — whatever may get underfoot as you play.
Next, you'll pair your lightsaber to the app in your smartphone (think of this as activating the Force,) attach the smartphone to the AR headset using one of the enclosed cables, slip the phone into the headset, put the headset on your head, and get ready to join the Alliance. Yes, it's almost like suiting up before getting into an X-wing Starfighter. But keep it together. The fun is just starting.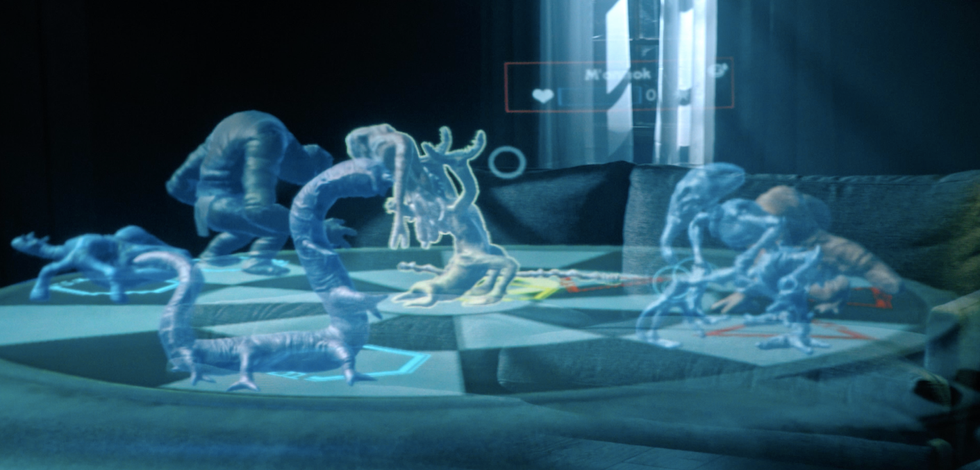 Holochess is just one game you'll learn to master in Lenovo's Star Wars: Jedi ChallengesLenovo
Do or do not
The conceit of Jedi Challenges is you're training to become a Jedi. Yoda isn't there to help you out — at least he didn't appear during our test. But you will go up against Kylo Ren to try and defeat him. A guide, the Archivist, appears during the start of the game, who flits in and out, replaced by more famous characters, like Obi-Wan Kenobi, who fights by your side.
The Tracking beacon is where your imagery is centered — kind of like a homing device. Your headset will make note of the beacon and center gameplay around this object through what it calls the Holocron. But the great thing with Jedi Challenges is that imagery won't move as you move — in fact you can walk around a character, a chess board or through a battlefield.
The actual images from the app are reflected into the lens of the headset — which you then view virtually in your own space. You're not fully immersed as you would be in VR, but instead see what's going on around you with virtual images stitched into your space. Obi-Wan Kenobi is in your living room, and that's what makes Jedi Challenges all the more exciting.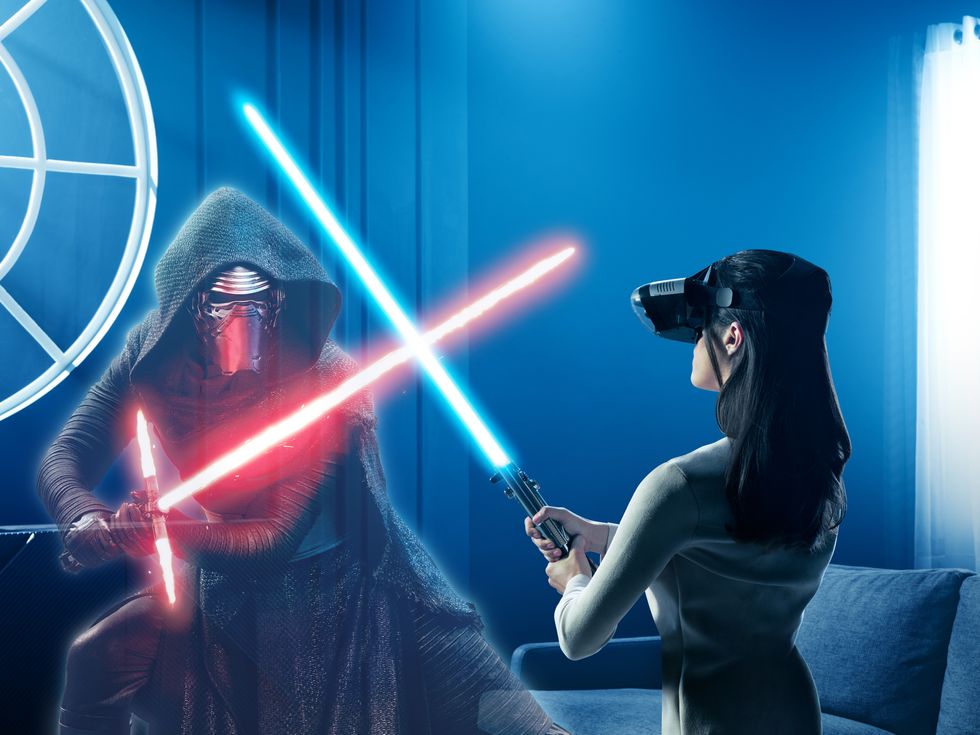 Fight in lightsaber battles against foes like Kylo Ren.Lenovo
Stay on target
There are three experiences: Lightsaber Battles, Strategic Combat and Holochess, the 3D chess game best known from the Star Wars films, familiar to any Jedi fan. Our game started us on Naboo (there are six planets in the game to explore,) where much of Star Wars: Episode 1 — The Phantom Menace took place.
To make choices in the game, you look in certain directions, and push the blade button on the lightsaber. We found the Archivist extremely helpful in this regard. I often had to play levels a few times, repeatedly losing, before I could actually figure out what to do. The instructions, when playing, could be clearer. But then again, half of playing a game is learning what's expected of you, adding to the challenge. Still — get ready to lose.
At one point, I found myself in the middle of a battle with guns. The images were a bit hard to see, but the ability to walk around and actually be in the battlefield is amazing. You'll want to move too — when you select a level the gameplay just spawns up in front of you which is cool. But you'll want to walk around to the other side of an object and figure out where you are — that can be time consuming.
Be prepared for some frustration and confusion in these early games. A lot of information is introduced quickly. If you're getting a snack or trying to answer a call, it's going to be tricky to catch up. As you play these first rounds, you'll release soldiers, some of whom are better than others, and some who carry lightsabers.
For example, at one point, I answered someone's question next to me while I was in a Strategic Combat experience, and found as it started I actually didn't know which side I was fighting. I think I was fighting as a clone, and yet I could still call on Obi-Wan Kenobi to help me. The point is: these games move fast.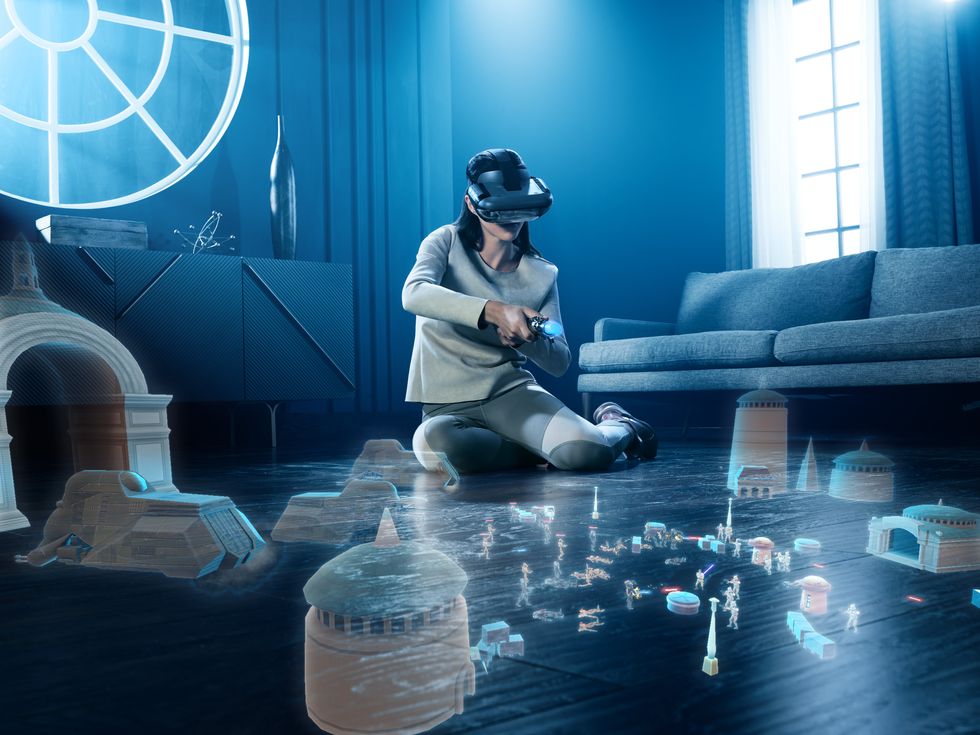 You'll battle clones in the Jedi Challenges — and Obi-Wan Kenobi may join your side.Lenovo
Lightsaber skills

As you play, you'll feel the lightsaber shudder in your hands: Could I be feeling a vibration in the Force? I certainly wanted to pretend so. The lightsaber has some weight to it (about .6 pounds) and this is key because, although it's made of plastic, you do have the sensation you're holding something that could, potentially be a weapon.
The detailing on the lightsaber is nice too, with rubberized grips around the ends. And as you master different levels in the games, your lightsaber will also change colors shifting as you evolve from Padawan to Master. You start with a blue light.
You might even think of the lightsaber as an eventual keepsake, not unlike those Harry Potter wands that Hogwarts wannabees bought by the ton when its films were at their peak. Lenovo even says the lightsaber in the game is a replica of the one carried by Anakin, Luke and Rey. We can't verify if that's true: but Star Wars fans will inevitably like this bit of detail.
The Force is with me
The augmented reality imagery viewed through the headset also plays well — and holds up as you move around a room. I tested this by walking into different rooms, noticing the picture didn't shake or change position too much. It's pretty steady. The further away you get, though, you'll see the image shakes and gets a bit fuzzy. That also happens as you get close. So you'll want to find a middle ground.
That's particularly apparent during the Holochess games. While even in the Star Wars movies the holograms waiver and aren't particularly clear — you keep hoping the images will sharpen up. Keeping the chess pieces in the middle of the field of view did help the clarity of the characters.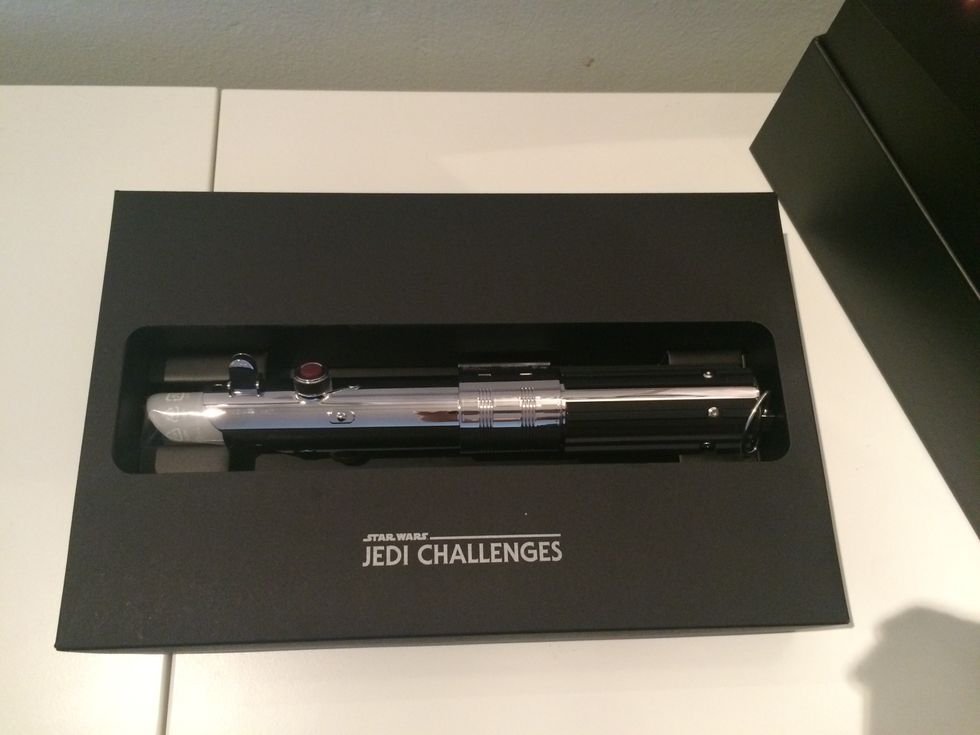 The Lightsaber controller is meant to be an exact replica of Rey, Luke and Anakin's from the Star Wars series.GearBrain
The disturbance in the Force

While the main pieces in the Jedi Challenges are pretty sturdy, the plastic holder for the smartphone is made of plastic that's pretty thin. You can't play the games without your smartphone — and you're not going to leave your smartphone in the headset because, well, it's your smartphone.
I can quickly see how it's only a matter of time that after repeatedly putting the phone into the plastic holder, attaching cables to both your phone and then the headset, this could eventually loosen the hinges on the plastic case. Once this breaks, it's going to be tricky to slide the phone back and forth between the headset. I could see excited children breaking that in short order.
You'll also notice that the headset has some weight too. Even after playing just 10 minutes, I found my neck hurt a bit, and I wanted a break.
But battery life is pretty good — while the app is hefty, a fully-charged phone should last an hour.
An elegant weapon
The timing of Lenovo and Disney's release of Jedi Challenges puts it squarely in the end-of-year gift territory. At $199 it's expensive for a holiday toy, but a pittance for Star Wars fans with an interest in far-out technology. My guess is it will stick around well beyond the new year, engaging players to return to master new levels. It could also help AR gaming move beyond its clunky past.
Pros: Excellent use of AR in a toy, ability to move around the imagery, objects are highly detailed and, hey, Star Wars.
Cons: Flimsy cartridge for holding the phone, sometimes difficult to understand the gameplay, price.
Order Star Wars Jedi Challenges on Lenovo's site for $199 or Best Buy.
Specs:

Lenovo says any iOS smartphone from iPhone 6 and above is compatible. There isn't a mention, yet, of iPhone X. For Android users, if you have a Samsung Galaxy S7, S7 edge or S8 you're set. The toy will also work with Google Pixel XL, Pixel, LG G6 and the Moto Z, which is the device we used during our test.
The Lenovo Mirage AR Headset and Lightsaber Controller both have micro-USB ports for charging, while the Tracking beacon runs on AA batteries
Lenovo - Star Wars™: Jedi Challenges - AR Headset with Lightsaber Controller and Tracking Beacon Available at Best Buy.
Related Articles Around the Web
Like GearBrain on Facebook