One of the first connected devices many smart home owners buy is a smart thermostat. These controllers can help save money on a utility bill, while providing a customized level of comfort for you and your family. But smart thermostats can be tricky to install, requiring a number of details worth checking before buying one for a home. Older homes, for example, may not have the correct wiring behind an existing thermostat so they can be linked to an existing HVAC system. One company that gets this hiccup is Resideo, which just launched a new smart thermostat, the T9 Smart Thermostat, which we were able to test in a real home.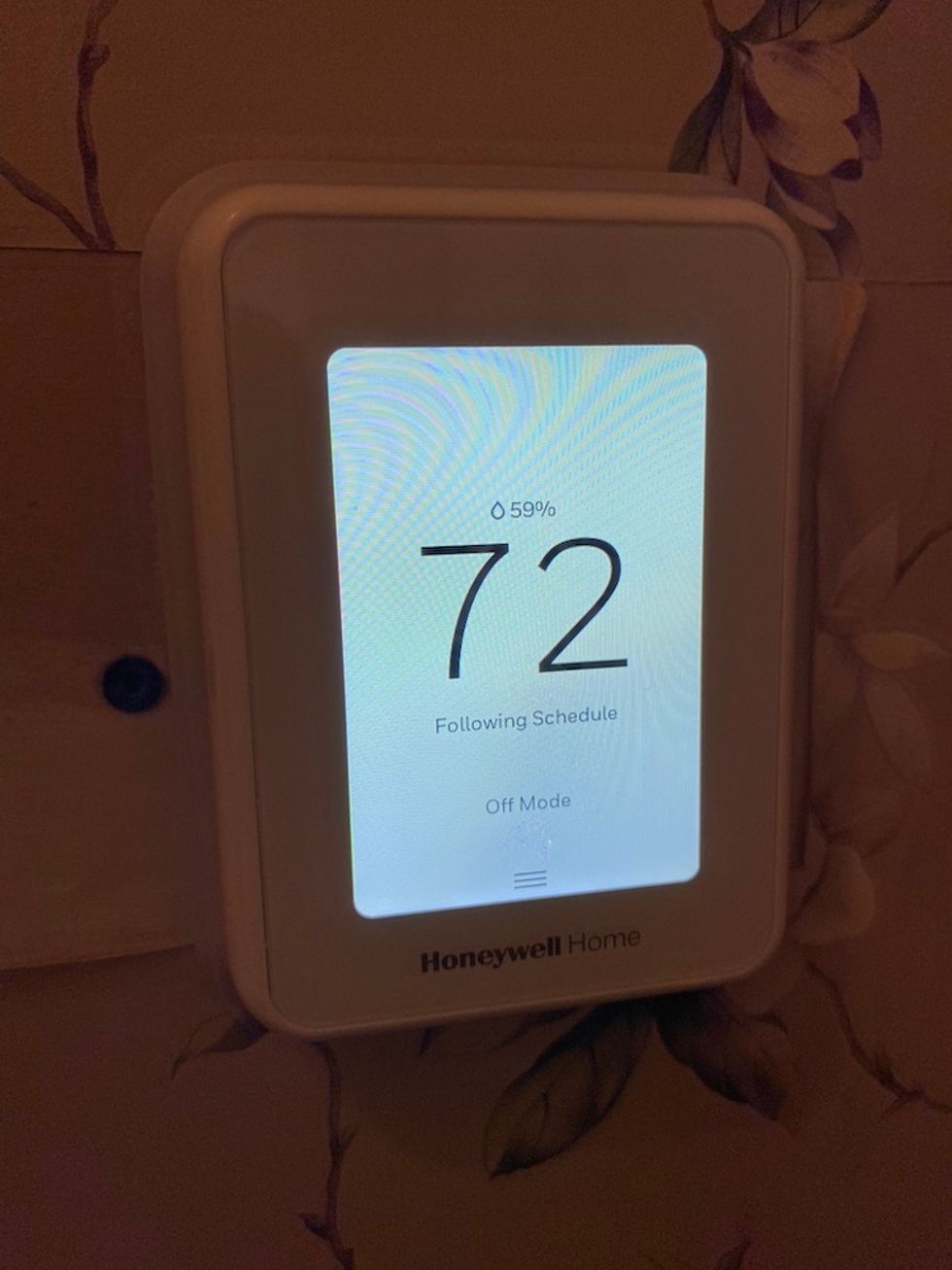 Honeywell Home T9 Smart ThermostatGearBrain
What is It?
Honeywell Home's new T9 smart thermostat is a very powerful smart thermostat which works with smart room sensors to maintain the temperature in your home, any time of the year. The smart room sensors monitor the temperature and humidity, and connect to the T9 smart thermostat. You can operate the T9 either through its touchscreen, or through the Honeywell Home app, to set and monitor each room's temperature.
The T9 smart thermostat comes with one sensor and a C-Wire adapter, which is for homes that do not have a C-Wire or common wire. For newbies, this wire is required to operate most new smart thermostats. How do you know if you have a C-Wire? Take off the cover of your existing thermostat, and see how many wires are connected to your existing thermostat. In most older homes, you will find only two wires. If this is what you see, then you will need to either get an electrician to install a C-Wire, or you can use the C-Wire adapter that comes with the T9.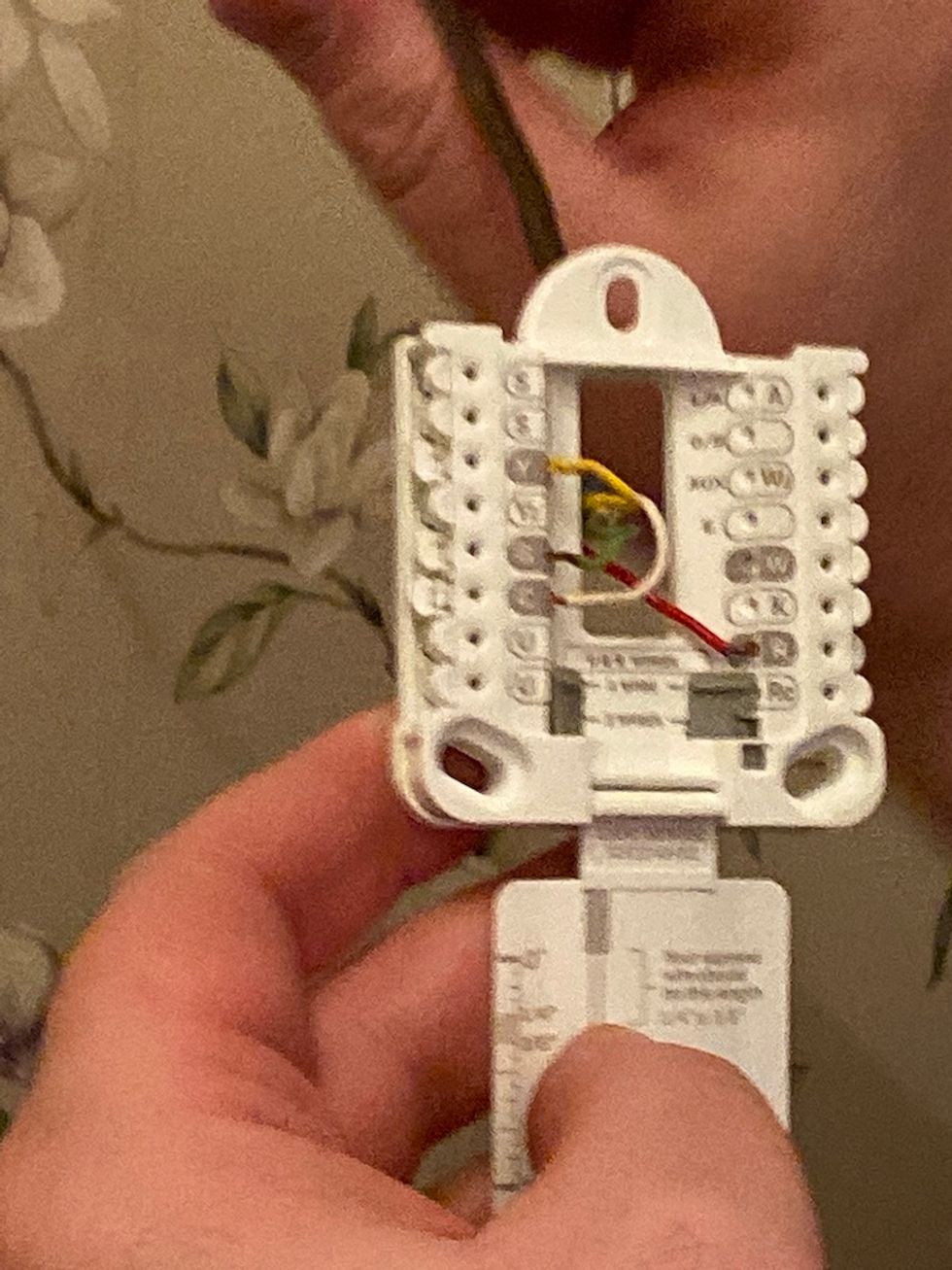 Insert wiring into mounting bracket for T9 smart thermostat.GearBrain
If you see multiple wires behind your existing thermostat, make sure they are connected to the R, G, Y and C ports. If not, you still may need to use the C-Wire adapter. Resideo does provide a good guide on their site, plus instructions, to help you determine whether a C-Wire is needed in your space or not. In our case, the wiring worked with the Honeywell Home T9.

If you currently have a Honeywell Home T-Series thermostat, you're also in luck as all T-Series smart thermostats share the same wall mount. Just snap off your old T-Series Thermostat and snap on the T9, and then use the same Honeywell Home app to finish setting up the T9.
The T9 also comes with a smart room sensor to monitor your room's temperature. It can reach up to 200 feet —through floors and walls. The smart room sensors can tell the difference between someone passing through the room, or spending time in the room, helping the T9 set the ideal level of comfort in each room throughout your day. You can have up to 20 sensors in your house if needed.
How do you install the T9?
First, see if you have the right wiring behind your existing thermostat. The T9 requires a C-Wire which is common in most newer homes. On Honeywell Home's site, there is a compatibility checker for you to see if the Honeywell Home T9 will work with your home's system. If you find that you don't have a C-Wire, the T9 does come with a C-Wire adapter that you can use to make the T9 work.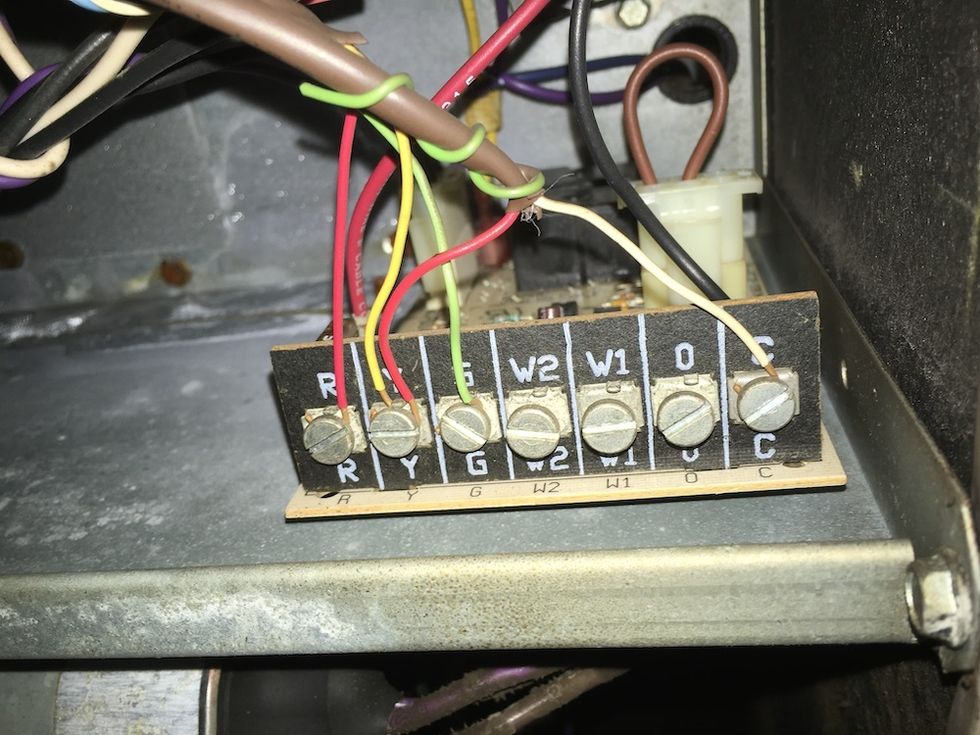 Make sure your wiring is compatible. Will need a C-Wire (white wire above inserted into C slot) to have your Honeywell Home smart thermostat to work.GearBrain
How do you know if you have or don't have a C-Wire? If you remove your old thermostat and see only two wires, this means you do not have a C-Wire and will need to get the adapter. If you have more than two wires, more than likely you have a C-Wire. I would recommend using Honeywell Home's Thermostat Compatibility Checker, which runs you through a set of questions including what wires are connected to your existing thermostat. Your answers will help Resideo determine which of its thermostats is compatible with your existing wiring.

In our test house, we had the correct wiring and did not need a C-Wire adapter. But if you find you need to use Honeywell's C-Wire adapter, it's very easy to install. You need to go to your boiler or AC unit and locate the wiring. On most HVAC systems, the wires are labeled. Just follow the directions in the Honeywell Home app to install, but make sure you turn off the power before starting to install. You don't want to get hurt. If you're not comfortable with working with electrical systems, we recommend hiring a professional (either a plumber or an electrician) to install the thermostat with C-Wire adapter.
Honeywell T9 WIFI Smart Thermostat + 3pk Honeywell Home Smart Room Sensor (works with Alexa and Google Assist)
Smart Home integrations

As our homes get smarter, and have more devices, we want to be able to control them from one app ideally. Resideo has a very large ecosystem of devices which work with other Honeywell Home devices. But the app for the T9, however, only works with other Honeywell Home devices, including their security cameras and systems.
To find a more universal way to control Honeywell Home T9, you can look at outside systems including Amazon Alexa, Google Assistant, IFTTT, Cortana, Samsung SmartThings and a host of other smart home networks. The company recently added Apple HomeKit to their list of compatible platforms. The company also supports its What Works with Honeywell Home products program, which can help you build the perfect customized solution for your home with devices that can be controlled, and monitored, through the Honeywell Home app. (You can visit Honeywell Home's partner page here.)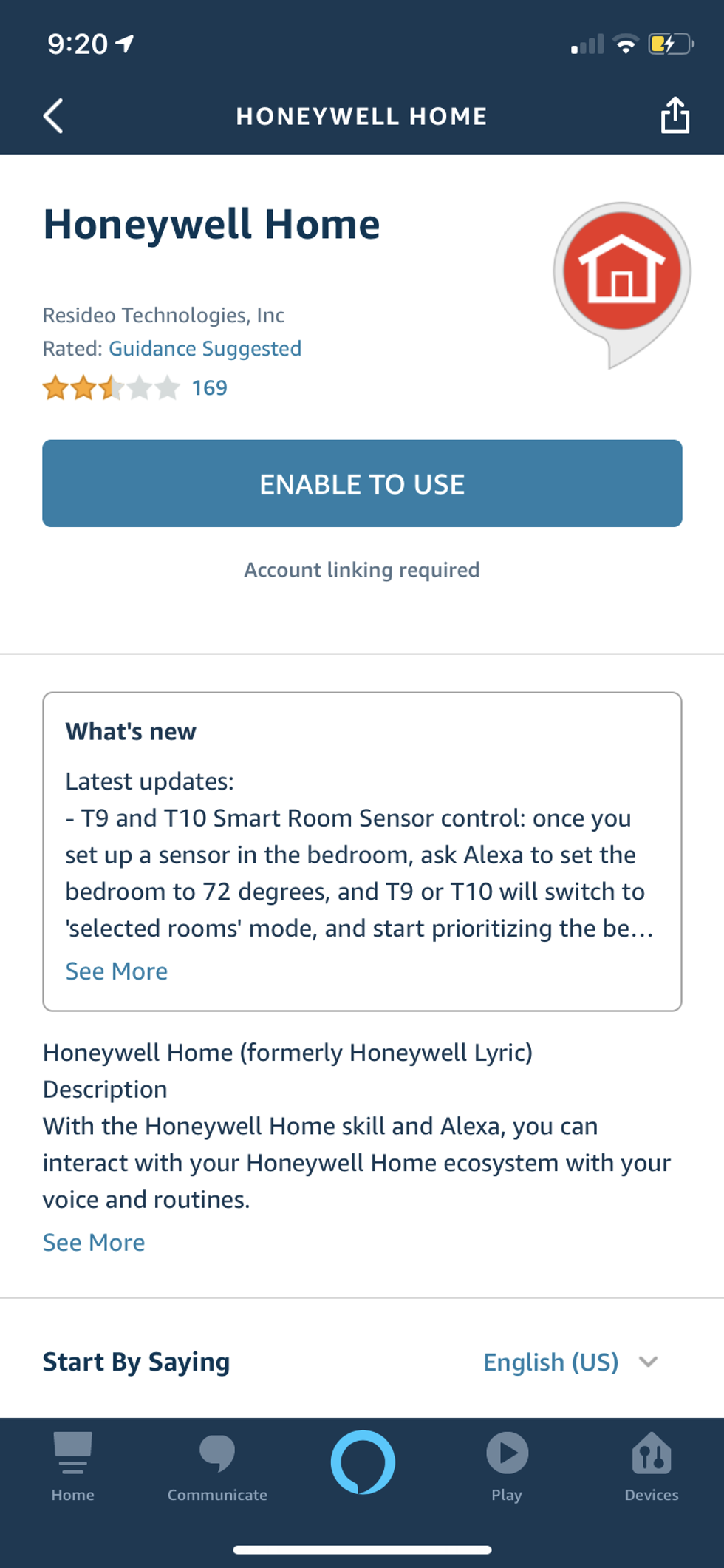 Connecting Honeywell Home T9 to Amazon Alexa app.GearBrain
We tested the T9's ability to work with both Amazon Alexa and Google Assistant. You need to log into either your Alexa and Google Assistant accounts before connecting, but once you've done that, you can customize both your smart thermostat as well as the motion and temperature sensors. With Google Assistant, we were able to assign both the smart thermostat and each sensor to a designated room previously set up in the Google Assistant app. This was a nice integration allowing us to use one universal view, look at a room, and see the temperature or ask Google the temperature. Amazon Alexa had the same setup, although instead of rooms, you start by assigning the T9 and sensors to "Groups" which are based on rooms where your devices are located. Then you use your voice to control the devices by simply saying, "Hey Google, set my bedroom temperature to 73 degrees" or "Alexa, what is the temperature in the den?"
We also connected the Honeywell Home T9 smart thermostat to other platforms including Lutron, Samsung SmartThings, Logitech Harmony and IFTTT. For Lutron, Samsung SmartThings and Harmony Hub, you can add only the thermostat — not the sensors. You will see Honeywell Total Connect Comfort Thermostats and Lyric Thermostats listed. For the T9, you select the Lyric line of thermostats, then follow the instructions in the app to add the smart thermostat to their platform.
Honeywell Home T9 WIFI Smart Thermostat with 1 Smart Room Sensor, Touchscreen Display, Alexa and Google Assist
How well does the T9 work?
After installing the T9 and running the smart thermostat for a few weeks, we found it worked very well. We liked how you could use the Honeywell Home app to set a priority temperature in your home through two settings, active room and selected rooms. The selected setting lets you choose rooms to create an average temperature throughout your home. The active setting tells the system to create an average temperature in the rooms where motion is detected only. The T9 actually helped us cool down rooms that were not getting cool enough, especially at night.
From an installation perspective, the T9 is very easy to install and setup — if you have a C-Wire. As we've mentioned before, hire an electrician if you're not comfortable around electrical wiring. While the instructions for installing the C-Wire adapter are easy to understand, we still think hiring a professional is a better route. Installing your own smart lights and outlets are one thing, but an HVAC system needs some care.

We also liked the T9's touchscreen display, finding it easy to control. Depending on where you install the smart thermostat — we put ours in our second floor hallway — it can also act as a night light. You can adjust the brightness, control the fan, create timed schedules on either a group or single day basis, and manage other settings like Wi-Fi through the screen.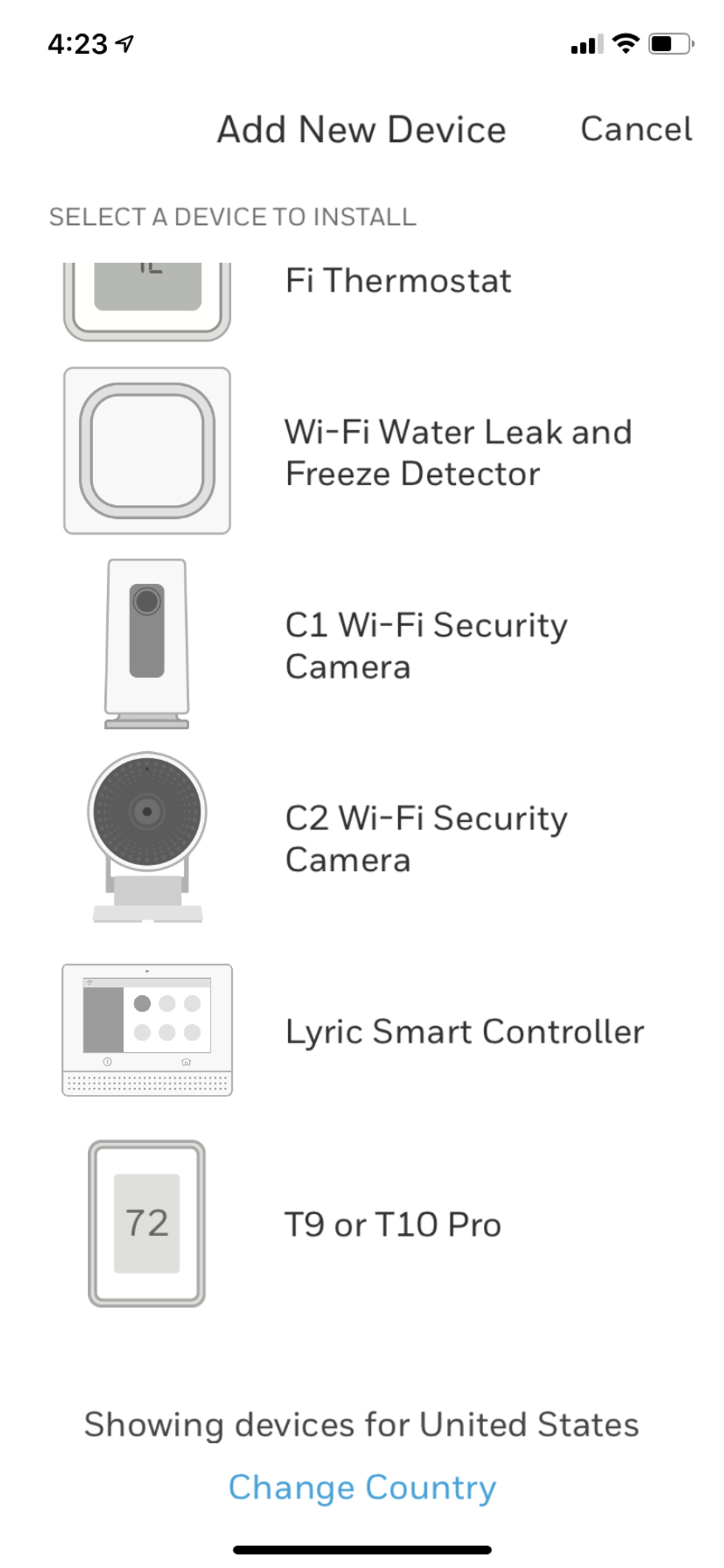 Honeywell Home app allows you to control only Honeywell Home devices.GearBrain
The Honeywell Home app is rather basic, however, and will only help you control Honeywell Home devices. The app's home screen will show you all the devices that are connected, plus your local temperature outside the home. If you click on the temperature screen, it will show your local forecast in Celsius and Fahrenheit, and also geofencing details including who is home and who is not. You can setup notifications and alerts, such as when the indoor temperature or humidity goes either below or above a certain range, as well as activate an Adaptive Recovery feature. This feature allows you to start heating or cooling your home prior to the scheduled time period, and helps your home get more comfortable by the desired scheduled time.

The Honeywell Home app also has a vacation mode, which lets you set your home's temperature while you are away on vacation, helping you save money on your heating and cooling bills. However, the app does not allow you to setup your smart room sensors. This has to be done on the T9 smart thermostat screen. Also, there is no direct link to customer service support, which we found odd as the Honeywell Home website is full of support videos and documentation. So if you have questions, plan to go online rather than to the app.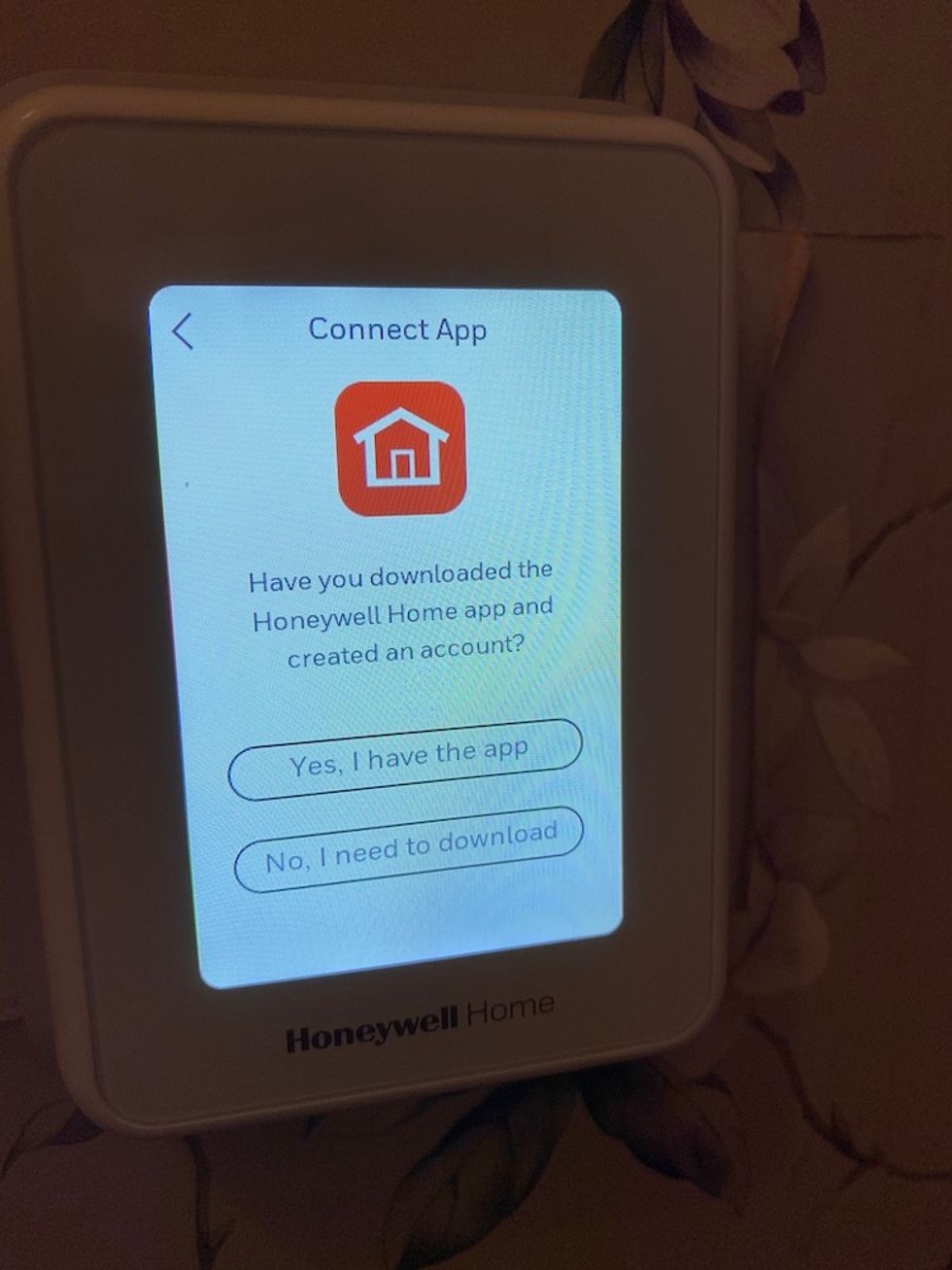 Connect your Honeywell Home T9 with Honeywell Home app and not Honeywell Connect app.GearBrain
Cost
The Honeywell Home T9 Smart Thermostat has a MSRP $199.99, but is currently (as of writing this review) on sale for $179.99 at the Honeywell Home website. Customers can also check to see if they're eligible for rebates from their local utility. The T9 does come with the required C-Wire adapter, as well as one smart home sensor. You can buy additional smart room sensors for $39.99, and the C-Wire Power Adapter costs $24.99.
Honeywell Home T9 WIFI Smart Thermostat with 1 Smart Room Sensor, Touchscreen Display, Alexa and Google Assist
Summary
Honeywell is a leader in the HVAC industry, manufacturing thermostats for more than 100 years. Now, the company spun off Honeywell Home brand into a new company called Resideo who is pushing its thermostats to the next level with the T9, a smart thermostat that's easy to install and works with other smart home devices. The smart room sensor is a great idea and nicely implemented by Honeywell Home, helping to ensure a home stays at the right temperature whether someone is in the space or not.
The company also understands the challenges of installing these devices, easing that concern while also helping home owners figure out if their system is compatible — before buying the product. This is a major pain point for smart home buyers, especially smart thermostat buyers. We think the C-Wire adapter is also a great add-on for consumers who want a smart thermostat, but aren't sure if their home is set-up correctly.
Honeywell Home T9 Smart Thermostat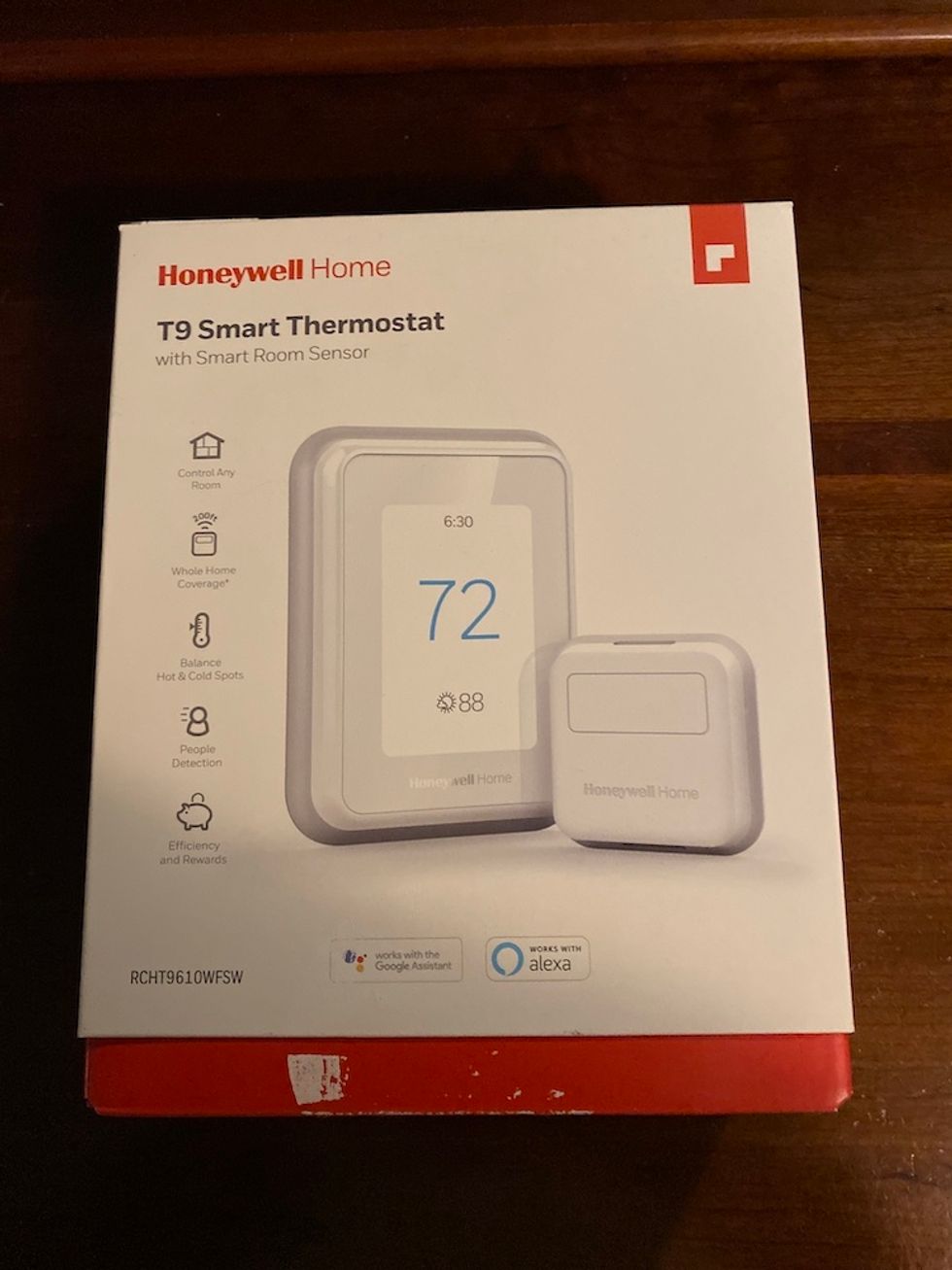 T9 Smart Thermostat comes with a smart room sensor and C Wire adapter
GearBrain
The T9 is a very good, powerful smart thermostat. We like how the smart room sensors are integrated into your heating and cooling systems. We also like how Google Assistant and Alexa recognized not only the T9 but each room sensor. All of this is designed to help you easily control the temperature in your house either through the app or through voice commands. We also like how you can get frost alerts and notifications when you need to change your system's filters. Do note, though, if you want humidity control in your home, you have to get the professional series T10 smart thermostat. The T9 can only monitor humidity.

Overall, we recommend the T9 smart thermostat for either existing Honeywell Lyric or Honeywell HomeT-Series smart thermostat owners who want an upgrade, or for new smart thermostat buyers. Depending on the size of your home, we would recommend you get more than one smart room sensor. We don't think you need 20 sensors, but enough that can monitor the room where most of your time is spent. The T9 is a great gateway smart thermostat, or nice upgrade, that can easily integrate with leading smart home platforms to help you achieve the ultimate smart home system for you.
Honeywell Smart Room Sensor, White Available on Amazon
Pros and Cons

Pros:
ENERGY STAR certified, and supports both Wi-Fi 802.11 b/g/n 2.4 and 5 GHz.
Smart room sensors have a 200-foot range
Robust smart home integrations and comes with a C-Wire adapter
Cons:
No support in mobile app, and that only controls Honeywell Home devices
Can't monitor humidity (unless Pro Series)
If you buy lots of sensors, system can get pricy.
Specs:
Color graphical LCD touchscreen display
Location based temperature control
7-day scheduling
Auto change from heat to cool
200-foot sensor range
Occupancy detection on sensors
Compatible with Amazon Alexa and Google Assistant
Energy Star certified
Supports Wi-Fi 802.11 B/G/N 2.4 and 5 GHz
Multi-room display
Dimensions: 2.6"x2.6"x0.94"
2-year warranty
Model number: RCHT9610WF
Honeywell Home C-Wire Power Adapter, White
Check out The GearBrain, our smart home compatibility find engine to see the other compatible products that work with Honeywell Home, Google Assistant and Amazon Alexa enabled devices.
How to Find Products in The GearBrain, Our Compatibility Find Engine for Smart Devices www.youtube.com