When we last tested a Honeywell security camera, we tried the Lyric C1 Wi-Fi Security Camera, which includes good motion and sound detection and geofencing but iffy sound quality on its two-communication feature. Honeywell offered us a chance to test its newest Lyric security camera, the C2 Wi-Fi Security Camera, with some notable upgrades. The new C2 has many of the features we liked in the C1 security camera — and several improvements. Here is an in-depth look at our review of the Honeywell Lyric C2 security camera.
What is Lyric C2 Wi-Fi Security Camera?

Honeywell's Lyric c2 security camera includes several smart features to help secure your smart home. Like the Lyric C1 Wi-Fi Security Camera, the Lyric C2 comes with Honeywell's free cloud and SD storage, plus its geofencing capability which lets you turn the camera on and off based on your location. Setting a geofencing zone through the Lyric app, the camera is activated to provide the protection you want, every time you leave that area, when you're not home. If you have other members in the house, it can track their locations as well, activating coverage when everyone is away.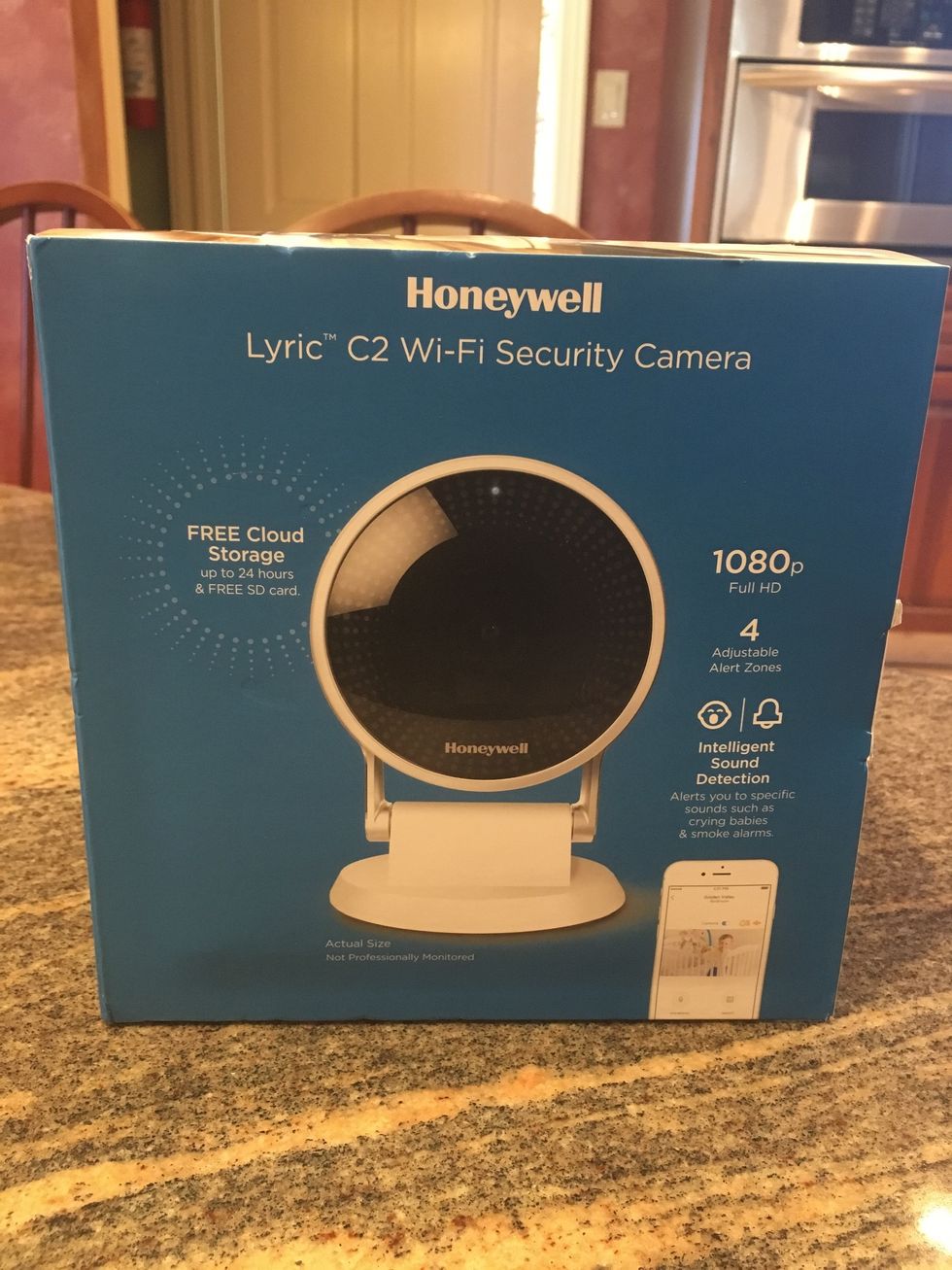 Honeywll Lryic C2 Wi-Fi Security Camera is a DIY home security camera with 1080p HD video resolution and free cloud storage.GearBrain
The other nice returning feature in the Lyric C2 security camera is Honeywell's free 24-hour cloud storage and SD storage through an encrypted 8GB microSD card, which is included, and a good backup if your Wi-Fi goes down and an unwanted event occurs.

There are new features and improvements as well, including motion detection and an intelligent sound detection, designed to send alerts when it recognizes certain sounds, like smoke and CO alarms. In the new Lyric C2 security camera, this feature can now also recognize a baby's cry. Motion detection, which sent alerts when movement is read in zones you set in the Lyric app, has been increased from two zones in the C1 camera, to four in the Lyric C2. This increases your coverage, while continuing to ignore background motion like ceiling fans.
Another upgrade for the Lyric C2 security camera is video and photo recording quality, day or night. For reference, the Lyric C1 camera recorded in HD 720p and had a 135-degree FOV. The Lyric C2 now comes with HD 1080p video resolution, a field of view (FOV) of 145 degrees, and the ability to take 2MP JPEG photos.These are nice to have in a DIY home security camera. The security camera also has improved night vision range with 10 meters or 32.8 feet, double what the Lyric C1 camera delivered, and a 6X digital zoom capability which we found worked well.

The Lyric C2 camera also got a boost in two-way communications, a solid feature for a DIY security camera. The C1 came with this ability as well, but we had found the sound lacking. The C2 brings better sound quality, letting us hear more clearly through this camera and the app.
How to Set Up your Lyric C2 Security Camera?

To set up your Lyric C2 security camera, start by downloading the Honeywell app, available in App Store (iOS) and Google Play (Android). If you currently own a Lyric product, all you must do is open your Lyric app and select 'Add New Device,' and select 'Lyric C2 Wi-Fi Security.' You'll be prompted to name the home where you plan to install your Lyric C2.
Next, plug in your Lyric C2, and look for the blue light to start blinking — that's the Lyric app locating your camera. When it starts blinking, hit the "next button" in the app so it can locate your home Wi-Fi network. If you have any issues with connecting, try moving the camera closer to your Wi-Fi router.
Lyric C2 security camera connects on either a 5GHz or 2.4GHz wireless connection. For our test, we first connected over a 5G connection, while the 2.4GHz connection did. When the blue light stops blinking and turns green, and the camera makes a sound, you're connected.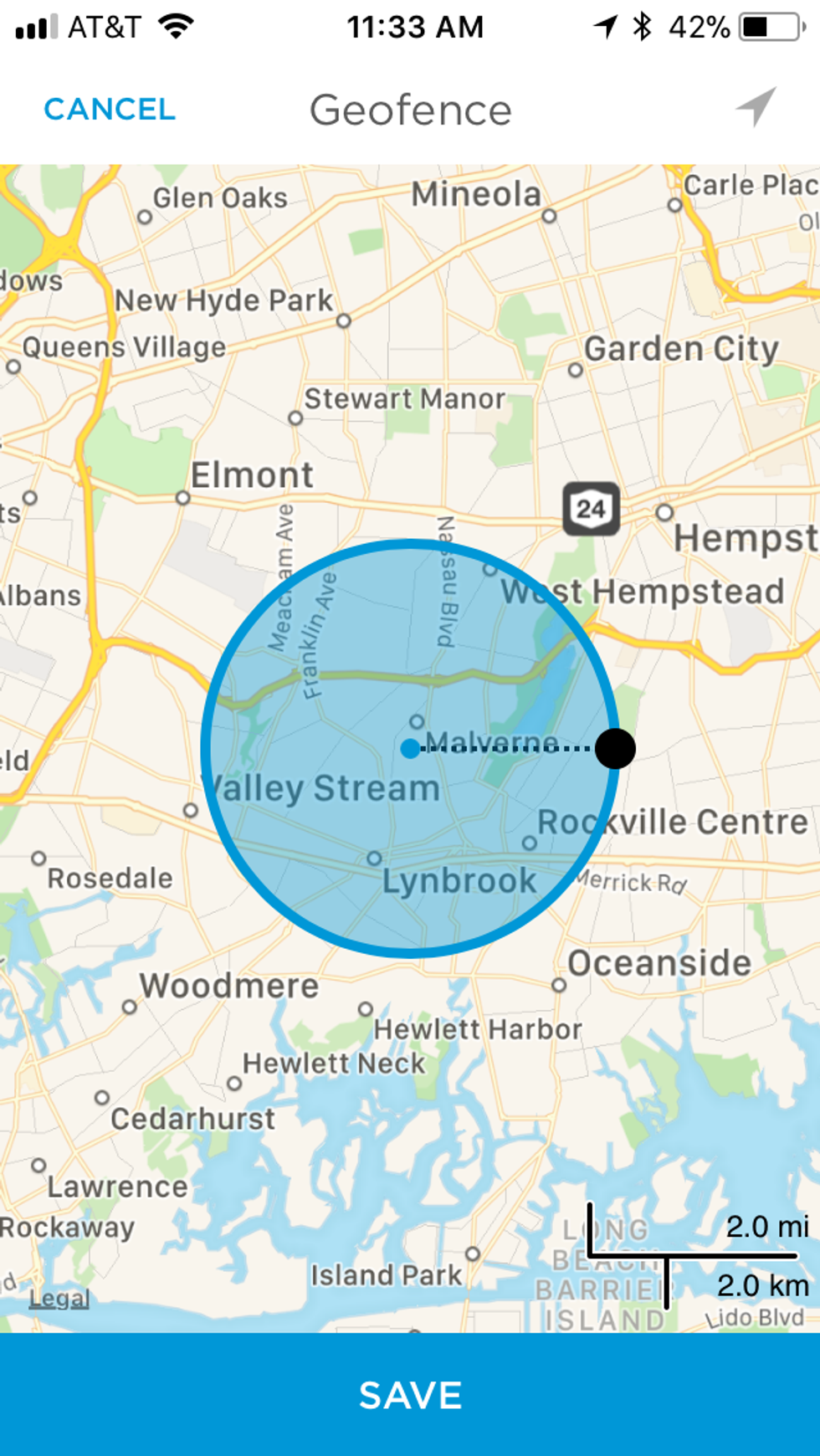 Honeywell offers geofencing in their Lyric app for Lyric C2 security camera.GearBrain
Next, you'll be asked to enable the geofencing feature. Just follow the instructions in the Lyric app to set preferences on your C2 camera. You can also set privacy mode in the app, allowing you to turn off the security camera, motion and sound detection when you want.
The design of the Lyric C2 mount and casing makes it easier to place the camera almost anywhere you choose: on the wall, a shelf or even the ceiling, which is where we installed the camera. That flexibility is a plus.
Smart Home Integrations

The Lyric C2 security camera is part of Honeywell's Lyric family of smart home devices, which are controlled very easily through the Honeywell Lyric app, including the Lyric smart thermostat, Lyric water leak and freeze detector, Lyric smart controller and others. You can also connect multiple Lyric cameras together, which is a nice option for those with larger homes. Amazon Alexa users can also operate the Lyric C2 security camera, helping you build a more robust and effective DIY smart home security and automation system. Google Assistant does not work with the security camera at this time. (Don't forget to check out The GearBrain to see what other connected devices work with Google Home or Amazon Alexa enabled device.)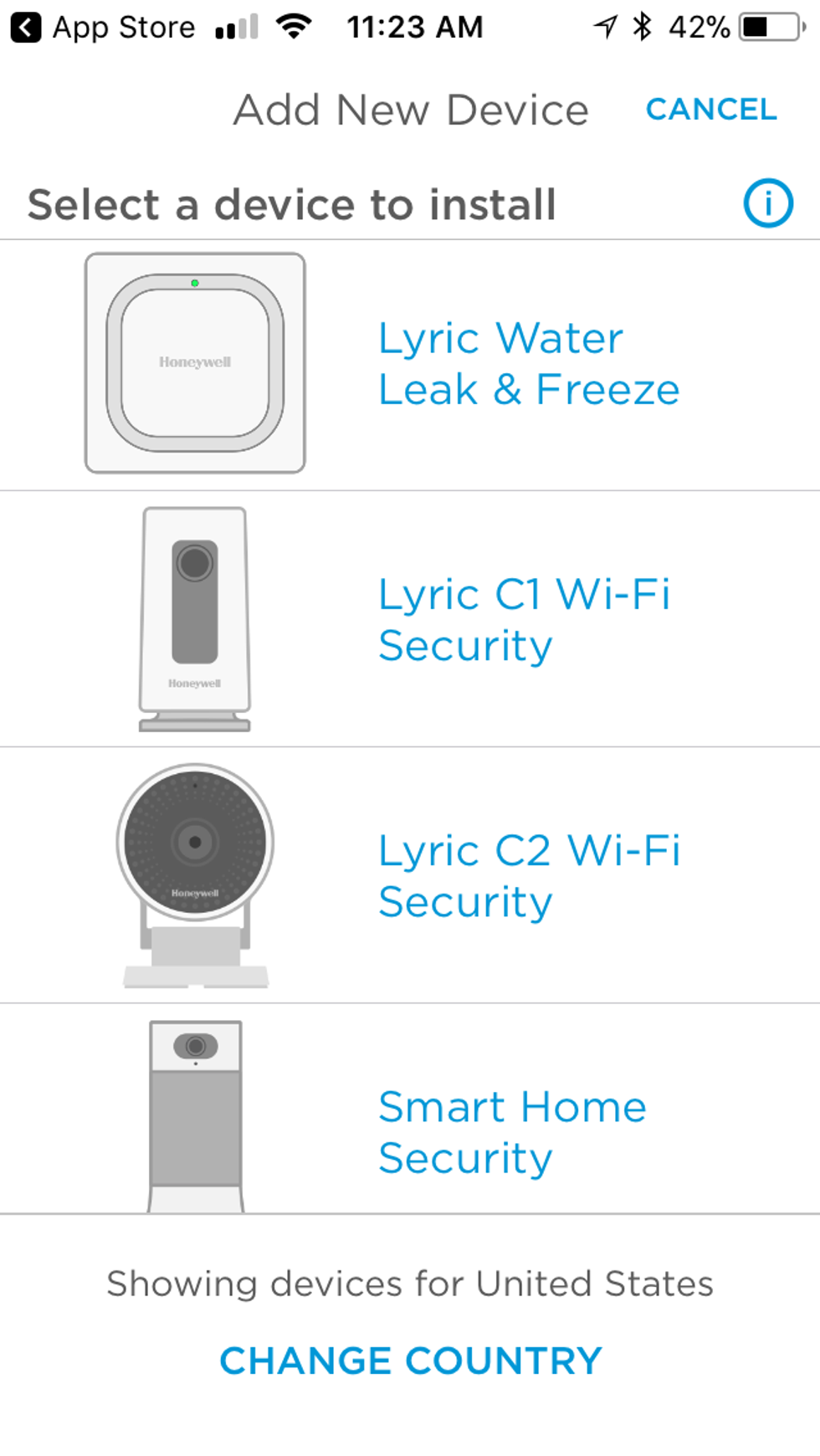 Lyric C2 Security Camera is easy to setup and control using Honeywell's Lyric mobile app.GearBrain
Cost

Honeywell's Lyric C2 Wi-Fi security camera costs $169.00, and is available on the company's website as well as at Best Buy, Home Depot, Amazon and Lowe's.
Summary
With excellent motion and sound detection, geofencing capabilities, improved night vision and HD quality video resolution, the Lyric C2 Wi-Fi Security Camera is a solid and good-looking DIY security camera that can help secure any home. It's easy to install and mount, and we like the upgrade in FOV and digital zoom capabilities from the C1. While the Honeywell Lyric C2 Wi-Fi Security Camera might not have as wide a FOV as the Logitech Circle 2 camera, for the price it's certainly a smart home device you should consider, well worth looking at if you're in the market for a DIY home security camera.
Pros:
• Motion and sound detection, geofencing and privacy mode
• Price
• FOV, easy to mount and HD 1080p
Cons:
• Two-way communication is better but can be improved
• Little IFTTT integrations
• Night vision has improved but can be better