A key component of a well-set up smart home system is a hub. It's the prime controller or the "brains" of your system and all its parts. These smart gadgets used to be small brick-shaped devices that connected to your home Wi-Fi router. Today, however, they're coming in a variety of forms from a smart switch like Brilliant, to a smart speaker as with the Amazon Echo Plus. At GearBrain, we've tested many of these smart controllers, but haven't come across one that works without a connection to an Ethernet cable and your home Wi-Fi router — and also has a substantial ecosystem as the Samsung SmartThings 3rd Gen hub does.
What is Samsung SmartThings 3rd Gen Hub?

Samsung SmartThings 3rd Gen hub is a connected gadget that can help you monitor, control, and secure your home. The hub lets you manage a wide variety of features and devices whether that's maintaining the temperature inside your home, or controlling your door locks. You can set up automations, or routines, for these devices, such as setting smart lights to flick on at the stroke of sunset, as an example.
Samsung SmartThings hub works on several different wireless protocols — a big plus — connecting with devices that work on Z-wave, Zigbee, Zigbee3, and Cloud-to-Cloud.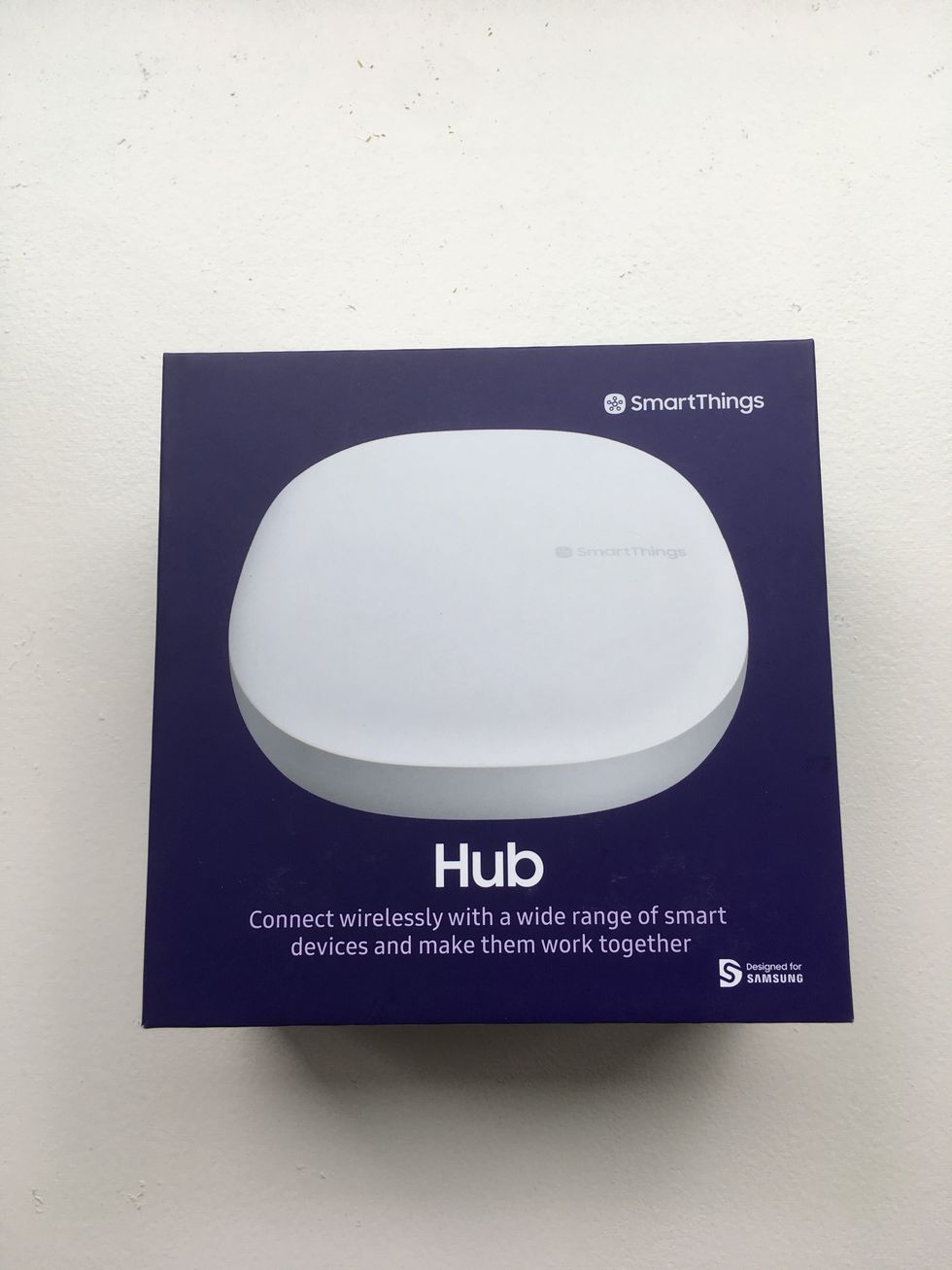 Samsung SmartThings 3rd Generation HubGearBrain
How do you install or launch it?

Setting up a connected hub is generally easy, and that's what we found with the Samsung hub. Normally, you power up the device, connect it to your home Wi-Fi, and download the app. Once the app is running on your smartphone, you follow instructions to connect the hub to the Internet.
With Samsung SmartThings, however, you don't have to connect the hub to your home's Wi-Fi with an ethernet cable. Instead, this can be done wirelessly —the first hub we've seen with this type of setup.
Here's how we got the hub up and running: We powered the device up, and then downloaded the Samsung SmartThings app from the App Store (iOS). There are two apps in the store: SmartThings and SmartThings Classic. The Classic version is for existing Samsung SmartThings users who have older hubs. For your 3rd Gen hub, you'll need the SmartThings app.
After creating an account, choose "Add Device" and follow the app's instructions to connect the hub to your home Wi-Fi. You can use either using an Ethernet cable or a wireless connection — we chose the latter.

Frustratingly, we had some initial issues connecting, as the hub wouldn't recognize our home Wi-Fi network. We checked to make sure we were within 15 feet of our router, which we were, yet the SmartThings hub kept showing a blue light meaning our wireless signal was not strong enough. The FAQs in the app, suggested rebooting the Wi-Fi network. We tried this and still had connectivity issues. Finally, we reset the hub by using a pin to push the reset button on the SmartThings hub — which worked.
Smart Home Integrations

Samsung SmartThings has an extensive ecosystem of devices that you can control using the SmartThings hub. Besides Samsung devices and appliances — all of which have SmartThings integrations —or Amazon Alexa or Google Assistant-enabled devices, there are other best of breed devices which will work with Samsung SmartThings. GearBrain has compiled this list of devices in our IoT configurator called The GearBrain. This smart home compatibility checker will help you find any connected device which is compatible and can be controlled using the Samsung SmartThings hub and app.
The number of brands and products that will work through the Samsung SmartThings 3rd Gen hub is substantial. It can act as the brains of a DIY home security system like ADT, or control your Schlage smart locks, Philips Hue lights, Ring video doorbell, Honeywell smart thermostat, and your Fibaro Flood Sensor, a home leak detector. It works with smart devices from all of these product categories and more.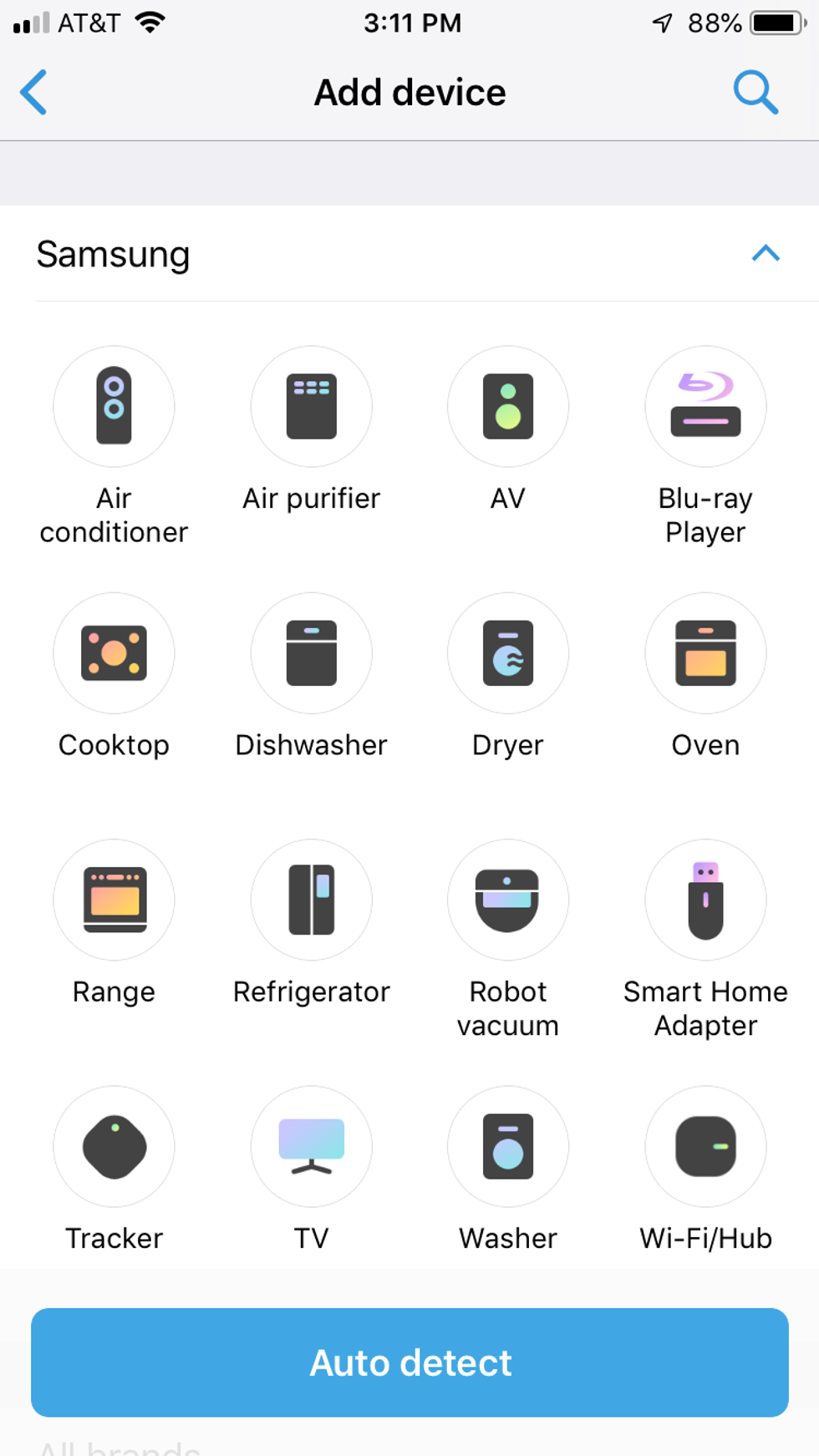 Samsung SmartThings Hub can control a wide variety of smart devices and appliances.GearBrain
How well did this hub perform in our tests?

Hubs are just one way you can pull together all your devices together to create a smart home. The connected hub tells all your other smart products what to do whether you're giving voice commands or making selections inside a mobile app. Samsung SmartThings hub performed exceptionally well in our tests.
What sets the Samsung SmartThings 3rd Gen hub apart from other connected hubs — in our opinion — is the very fact you don't have to physically connect it to your home router. As we bring more smart devices into our homes, in particular hubs, we often have to connect these physically to a router via an Ethernet connection. There are limits to how many ports are on routers — which limit how many hubs and devices you can connect. Using Samsung's hub, that's one more port that's open for another device. The company does, however, recommend that you keep the hub close to devices it will be controlling, which does limit where you can place it in your home.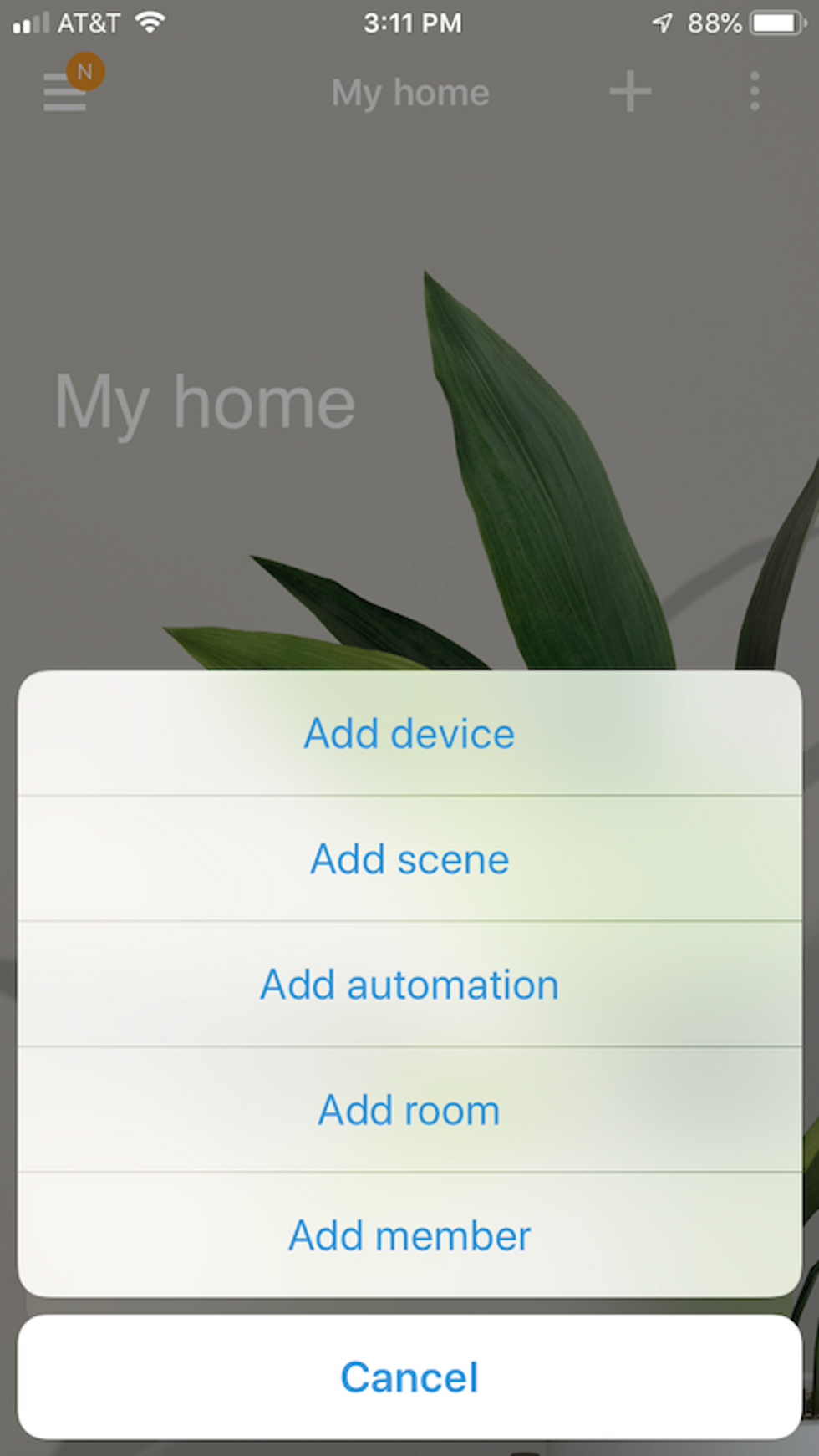 Can set up scenes and automations in SmartThings app.GearBrain
Note that we did have some hiccups using the hub. Besides the wireless paring process, which was not ideal, taking longer than other hubs we've tested in the past, there was spotty connections between the hub and smart devices we linked to it. Getting new devices paired was simple. But pairing, or onboarding, devices that had been connected to an earlier version of the hub was a nuisance as it eliminated all of our custom automations, like scenes, we have previously set up. We had reload every one of them, which was not a good experience.
Cost
The Samsung SmartThings 3rd Gen. hub is priced at $69.99, and can be bought on Samsung's site as well as on Amazon, Best Buy, and through other major retailers.
Summary

Years ago, Samsung's CEO declared that all of Samsung products will be able to be connected, an ecosystem to help consumers live a modern, streamlined life. Samsung SmartThings platform is where the company is focused to deliver on this promise.
The SmarttThings 3rd Gen hub is certainly moving in the right direction. We like that the hub does not need to be physically connected to your home router, and Samsung's ecosystem certainly separates them from some of their competitors. They integrate with leading smart home manufacturers including Philips Hue, Honeywell, Lutron, GE, Leviton, First Alert, Vivint, and Ring — and much of this is because of the fact that they can work on Z-Wave, Zigbee, Zigbee3, and on Cloud-to-Cloud wireless connections.
There are some concerns that we think need to be addressed including spotty connectivity. We'd also like the company to be more loyal to its current Samsung SmartThings users, and make sure that those who upgrade to a new 3rd Gen hub be able keep their previously added custom scenes and automations.
As you build a smart home, one of your first considerations is how you're going to control all your devices. Are you going to use a standalone device, like a connected hub, or are you going to run everything through a smart TV or a light switch? And will you want voice control as an option? We would suggest making sure that any hub you select integrates with leading smart speakers like Amazon Alexa and Google Assistant devices.
Samsung is heading down the right path with its new SmartThings 3rd Gen hub — and If its connectivity and upgrading issues are fixed, we believe Samsung will be a must buy for today's consumer looking for the center piece, or brains, of their smart home.
Pros:
Wireless connection
Large ecosystem of smart home integrations
Works on Z-Wave, Zigbee, Zigbee3 and Clout-to-Cloud wireless protocols
Price
Cons:
Difficulties with setup
Spotty connectivity
Previous Samsung SmartThings hub owners have problems upgrading to new hub – lose their custom integrations from previous hub setup.
Technical Specifications

Dimensions:
Product Dimensions (W x H x D) - 5" x 1.2" x 5"
Weight: Product Weight -0.3 lbs
Certifications:
Certification - FCC/IC/CE
Operating Requirements: Broadband Internet, Android OS 6.0 or higher, iOS 11 or higher
Warranty - 1 Year Parts and Labor
Power Adapter
Range (Ft.): 50-130 ft
Material: Plastic
Other: QSG, HSG, LAN cable
Color: White
Finish: White