Like GearBrain on Facebook
One of the many strengths of Amazon Alexa and Google Assistant is how they can communicate with — and control — a wide range of devices and services produced by other companies.
You can order an Uber by speaking to Alexa and control your August door locks via Google Assistant, but what about having your lights flash when the Uber arrives? Or setting your smoke alarm to text you when it detects smoke?
Read More:
This is where a service called IFTTT comes in. Standing for If This, Then That, IFTTT helps devices and services talk to each other. The free app can be configured to make your Philips Hue lights, smart thermostat, Awair air quality monitor, LG washing machine and Roomba vacuum cleaner do more than they were ever designed to do. In all, IFTTT works with over 600 devices and web services.
This is the GearBrain guide to getting started with IFTTT and learning the basics, before using the app to take even greater control of your smart home.
First up, you'll need to create an IFTTT account. You can either log in automatically with your Google or Facebook credentials, or create a new account with your email address. Next you should go into your account settings and enable two-step verification to prevent someone from hacking in, even if they know your password.
What is an IFTTT Applet?
Applet is the name given to an IFTTT skill or function. These applets are the main element of the IFTTT interface; they include the brand name and logo of the device or service they control, a verified tick if it was created by the manufacturer or service provider itself, a big on/off switch to enable it, the number of people who have used the applet, and what service or product initiates it.
For example, the applet below is designed to control Philips Hue smart lights. As the description says, it will make your Hue lights blink when you receive an email from a specific address to your Gmail account. The applet features a verified tick to show it was made by Philips, and it has been activated by 10,000 users.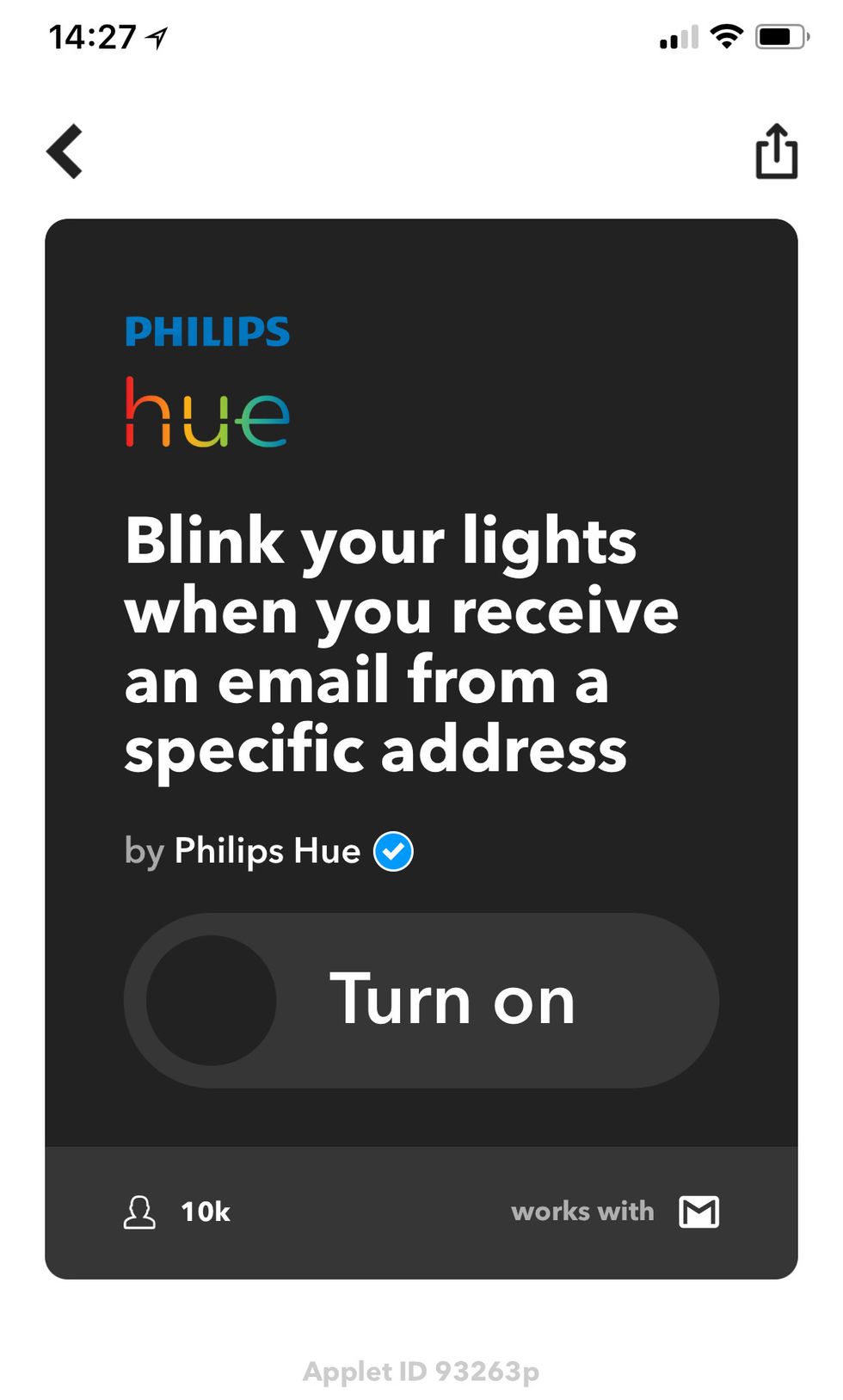 This applet was made by Philips itself, hence the verified tickGearBrain
Connecting IFTTT to all of your devices and services
To make IFTTT work, you will need to connect it to all of your devices and online services, such as Amazon Alexa, Google Assistant, Twitter, Instagram, plus account you have for various smart home systems, like Philips Hue, Ring, and anything else you want to control.
This sounds daunting, but the IFTTT app does a great job of opening a web browser and getting you to log in, give IFTTT permission to control each account and service on your behalf, then return you to the IFTTT app to complete the setup.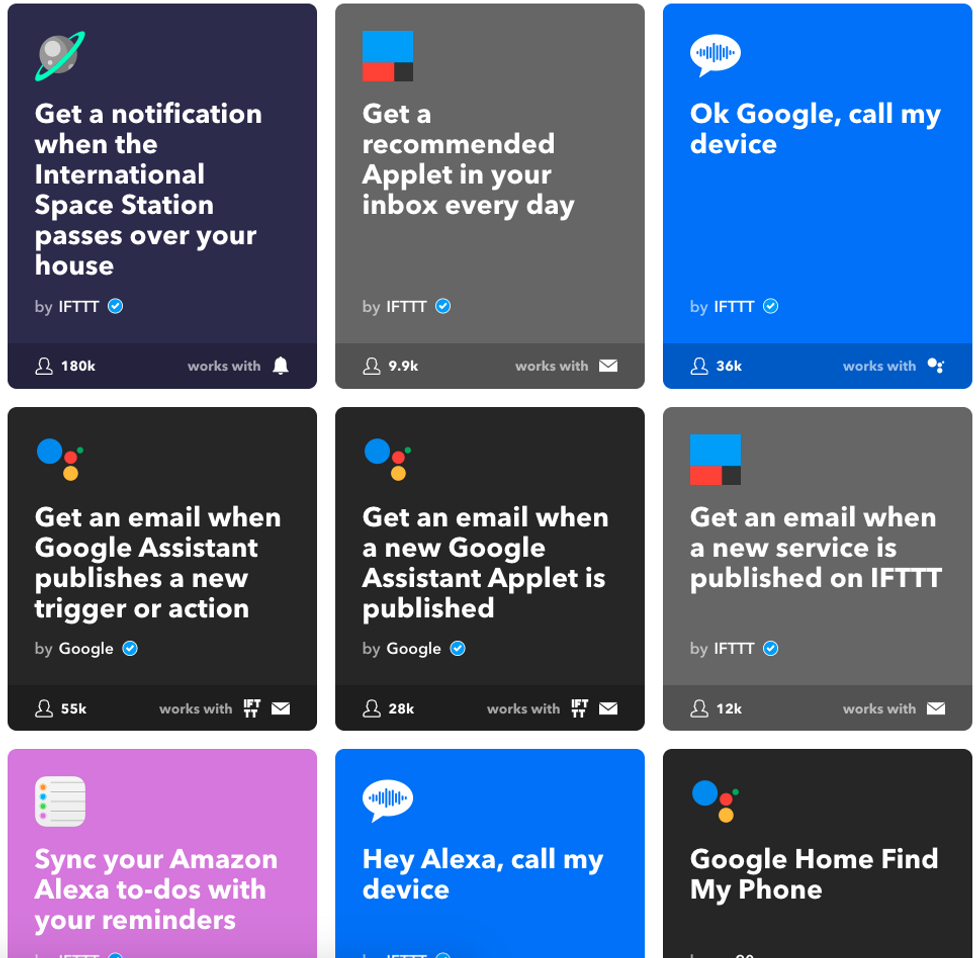 A selection of applets offered by the IFTTT websiteScreenshot
Enabling an applet
You can search for applets with keywords, or by category – such as location-based applets, or applets that are triggered by events in your calendar.
Once you have found an applet you want to use — such as this one which turns Hue lights on when you arrive home - tap on the applet, then tap Turn On. If this is your first applet, IFTTT will likely ask for permission to see your location. Before tapping OK, you might need to open your phone's Settings app and allow IFTTT to access your location.
After allowing location data to be shared with IFTTT, you are asked to configure the applet. In this example, we're asked to edit the location in which the applet will work. As we want our lights to switch on when we get home, we adjusted the location to our home address. We then set which lights we'd like to switch on, and because we have already given IFTTT permission to access our Philips Hue account, a list of our lights and groups of lights (rooms) is visible.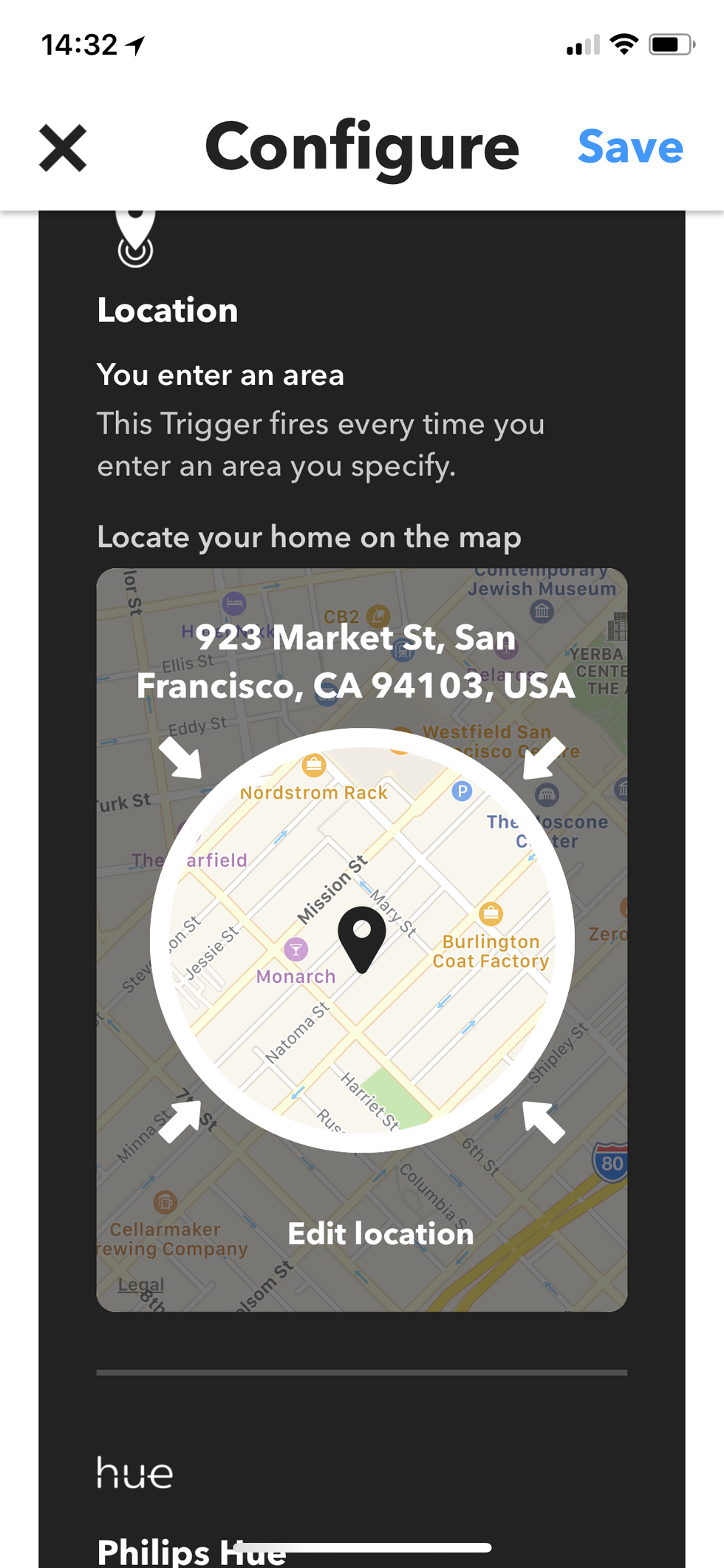 Give this applet your home location and your Hue lights will switch on when you are nearbyGearBrain
Creating a new applet
If you can't find the right IFTTT applet for you, a new one can be created with just a few taps. In the IFTTT app, tap Get More at the foot of the screen. then tap on Create.
Now tap on the plus icon next to 'this' to pick the 'trigger' service — such as an air quality monitor, thermostat, or smart home assistant like Alexa. Next, tap what you'd like to cause the applet to trigger. For example, pick 'Your timer goes off' from the list of Alexa-related triggers. This means that, when an Alexa timer ends, IFTTT will tell another app or service to do something of your choosing.
Next, tap on the plug icon next to 'that' to set the action. For example, you could set your Hue lights to flash when the Alexa timer reaches zero. Congratulations, you have created your first IFTTT applet.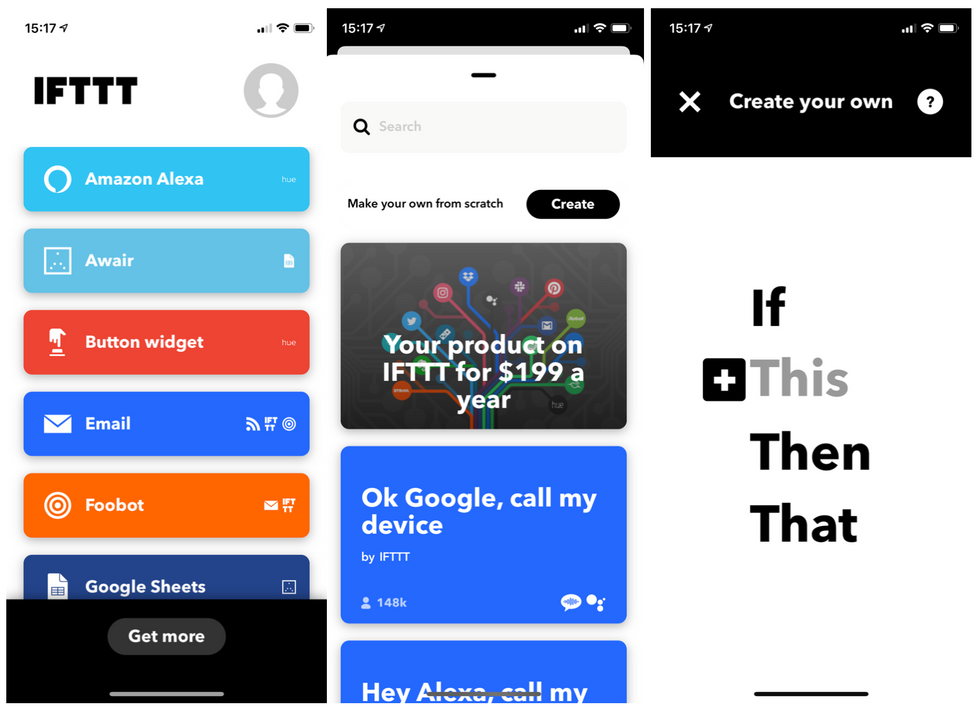 Creating your own IFTTT appletGearBrain
Recording and troubleshooting

Once you have set up and switched on the applets you want to use, the IFTTT app keeps a track of when they work, and logs any errors if they fail. You can also have IFTTT send you an automate email each time an applet works, just to double-check. You will likely want to disable this once it is working correctly.
Success and error logs are found under the Activity tab and record exactly when any applet failed to trigger. The app also keeps a record of every time an applet is triggered. The Activity panel is found by tapping your IFTTT profile picture in the top-right of the home screen, then tapping on 'View activity'.
IFTTT's move to let applet writers make their recipes public has helped users find more IFTTT applets than ever before. You can also look at review some of these other IFTTT smart home applets from warming up your bed, to using Google Home as a note-taker.
And don't forget to check out The GearBrain, our smart home compatibility checker to see what other connected devices work with Philips Hue, Google Home or Amazon Alexa enabled devices.
From Your Site Articles
Related Articles Around the Web
Like GearBrain on Facebook