For those using an Android device, or Google Home product, Google Assistant is well known. Many don't realize they can also change the sound of the voice speaking to them through speakers and their phones, from selecting different accents, to even choosing a female voice or a male talking to them through the speaker.
Changing Google Assistant's voice in a Google Home smart speaker is very easy. To start, you can simply just ask. A new voice will come, and the voice assistant will ask if you'd like to keep that selection or not. Say 'No,' and the smart speaker will give two more options. Don't like either one of those? Now you're going to need to open the Google Home app and make some choices of your own.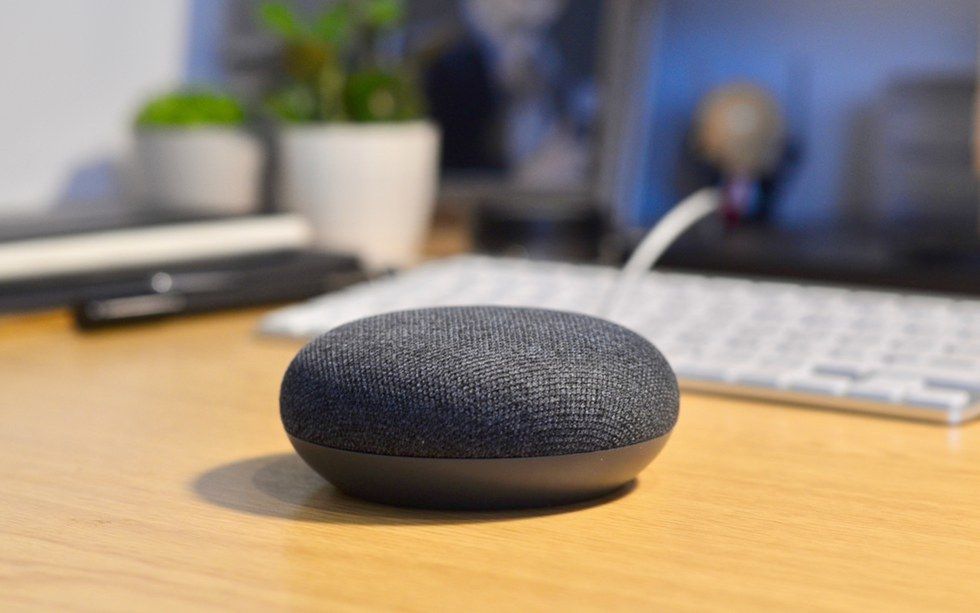 Google Assistant speaks through Google Home Mini and its other line of smart speakers assets.rbl.ms
Read More:

Opening the Google Home app
To start, open the app on a mobile device — one that's connected to the same Wi-Fi signal as your Google Home Mini or Google Home Hub.
Next, tap on the account icon, which may be your initial in a colored circle, or it may be a person icon.
Finally, tap on the Assistant tab. Then, under the assistant tab in the app, tap on Assistant voice.
There are many options to choose, and they're all identified by color. The first eight you can select are various American accented voices — four female and four male. The last two are one with a British accent, and one with an Australian accent — both are female.
After selecting the voice that appeals to you, you'll start to hear it coming through your Google Home Mini or other Google Home device. All the voices are fairly bland and generic, but perfectly pleasant.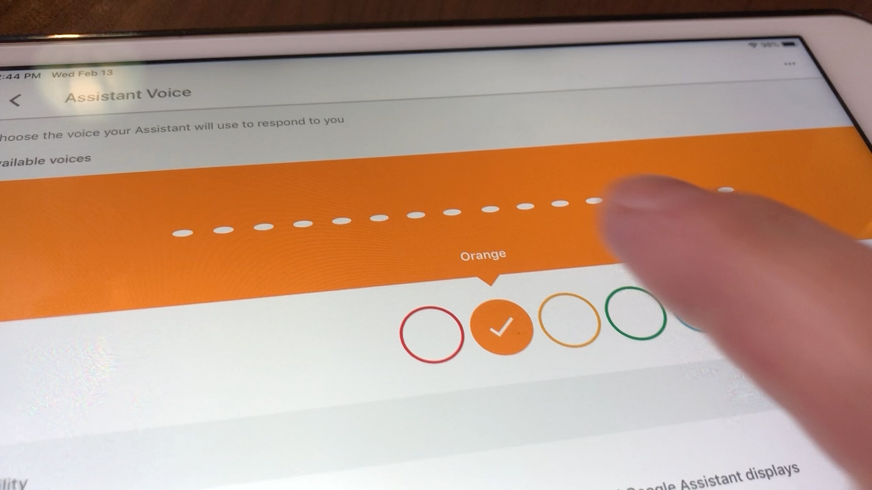 You can select your Assistant's new voice by picking a color in the appGearBrain
How Google Assistant's voices are created
Google Assistant's voices are powered by a new AI voice synthesis program called WaveNet, unique in that it generates audio from scratch using machine learning. In other words, someone's specific voice was not recorded to create the chatter you hear from your Google smart speaker. In fact, many were used.
By using a database of human speech sounds to make these AI voices, Google Assistant is meant to have a more realistic and less stilted sounding speech than Alexa or Siri.
Google had promised even more voices back in 2018, including one based on music singer and songwriter John Legend. His voice is still not available, with no word on when it might start chatting with us from inside our Google Home Mini.
But the eight options are definitely a good place to start. You can switch it up everyday — or multiple times a day — as you ask Google to play back your favorite new tune, read the current news, or deliver a weather forecast.
Check out The GearBrain, our smart home compatibility checker to see the other compatible products that work with Google Home and Home Mini
What You Need To Know About Smart Speaker Assistants www.youtube.com