Like GearBrain on Facebook
Google Assistant has gained the ability to wake you up with music instead of a blaring alarm. It's a feature that came to rival Amazon Alexa in December, but there are some differences in how they are set up, and what each musical alarm is capable of.
How to set a musical alarm with Google Assistant
Of all the things Google Assistant can do, this must surely be one of the simplest - yet it is one you are likely to take advantage of almost every day.
You don't even need to use the Google Home app to set a music alarm. Instead, say to your Google Home - or any device with Google Assistant baked in - the phrase: "Hey Google, set an alarm for [time] that plays [artist]."
You can either ask for an artist, like the above example, or request a specific playlist, album or song. Google Assistant will use your default music streaming service, such as Spotify, Pandora or Google Play Music. We used a Google Home Mini, but the feature works in exactly the same way on the Home and Home Max.
To change which music service Google Assistant uses - and therefore which it uses to play your morning alarm playlist - follow these instructions:
Open the Google Home smartphone app
Tap the icon in the top-right corner
Scroll to the Home device you want to use as your musical alarm clock
Tap the icon with three dots in the top-right corner of that device
Tap Settings, then Music and pick which service you'd like to use as the default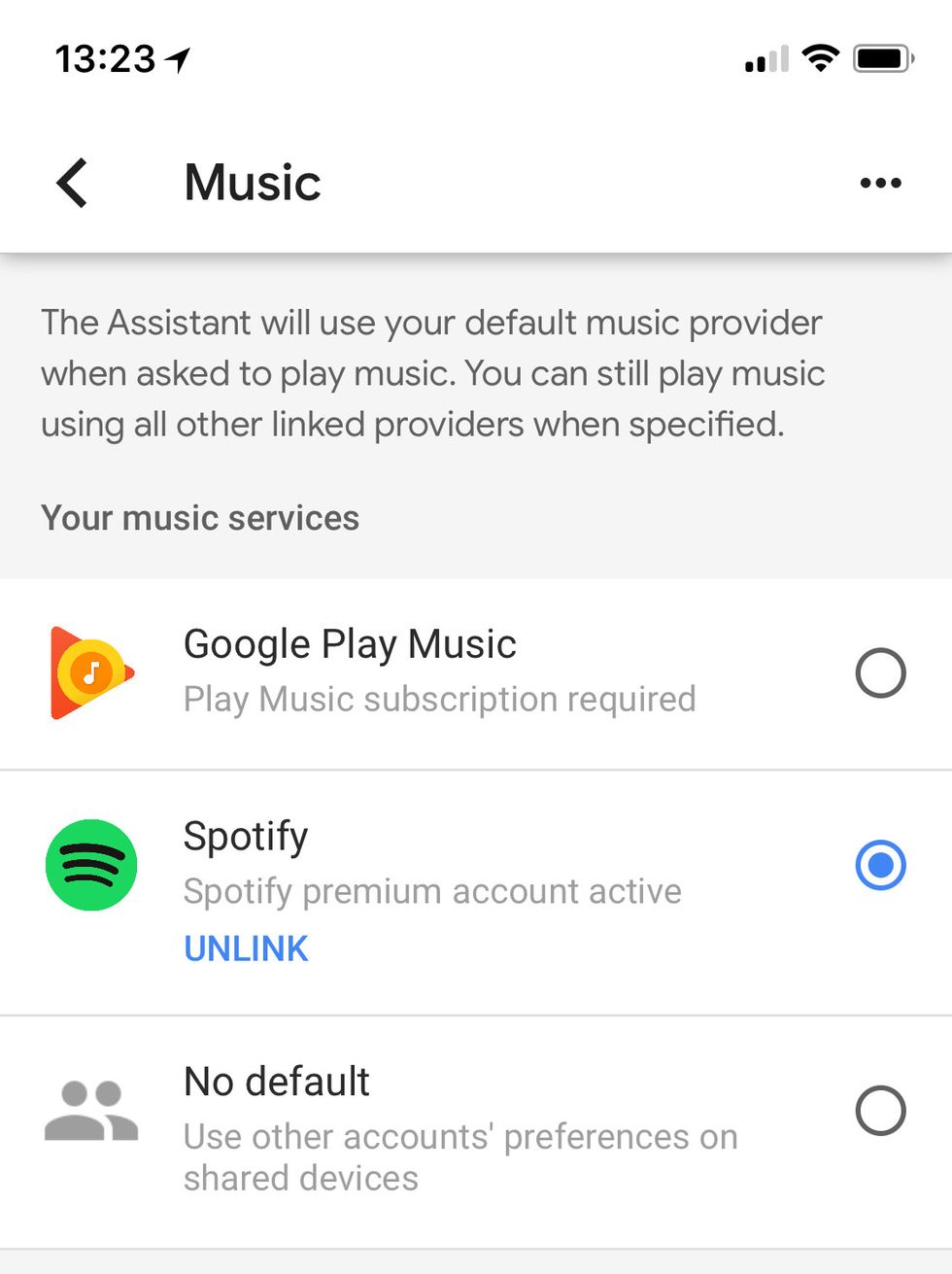 Use the Google Home app to change which music source Assistant usesGearBrain
Any differences between the clock radios of Google Assistant and Amazon Alexa?
Yes, at least in the UK where this author is based. While we are able to ask Alexa to play music from a radio station - BBC Radio 2, for example - as an alarm via TuneIn, we cannot get Google Assistant to do the same no matter how we ask.
This is strange, as Google Assistant can play radio stations when asked, just not as part of an alarm. Hopefully Google will add this feature soon.
In case you are wondering, a morning alarm can be set with Alexa by saying: "Alexa, set an alarm for 7am and play BBC Radio 2 from TuneIn."
And don't forget to check out The GearBrain to see what other connected devices work with Google Home or Amazon Alexa enabled device.
Like GearBrain on Facebook