Like GearBrain on Facebook
Walking into your house after a long day at the office and saying, "Hey Google, switch on the lights," has appeal. It's convenient, something to show off, makes you feel like you're living in the future — plus opens up a huge range of options for how you light your home.
With smart lighting kits like Philips Hue you can pick from 16 million colors, adjust the brightness of every light, illuminate parts of your home you never considered before — and above all, make your lighting fun.
Read More:
All you need is a Google Home or Nest smart speaker or display — we're using the $49 Home Mini, now called the Nest Mini — and the Philips Hue starter kit, which costs around $90 for four white bulbs, plus the Hub to connect them to your Wi-Fi network. Alternatively, a starter kit with four colored bulbs (which also do white) costs around $200.
This sounds like a big investment compared to the couple of dollars regular light bulbs cost. But a system like Philips Hue can be expanded on over time — years, if you like. And you don't need to worry about them blowing, as Philips says Hue bulbs should last for 15 years with average use.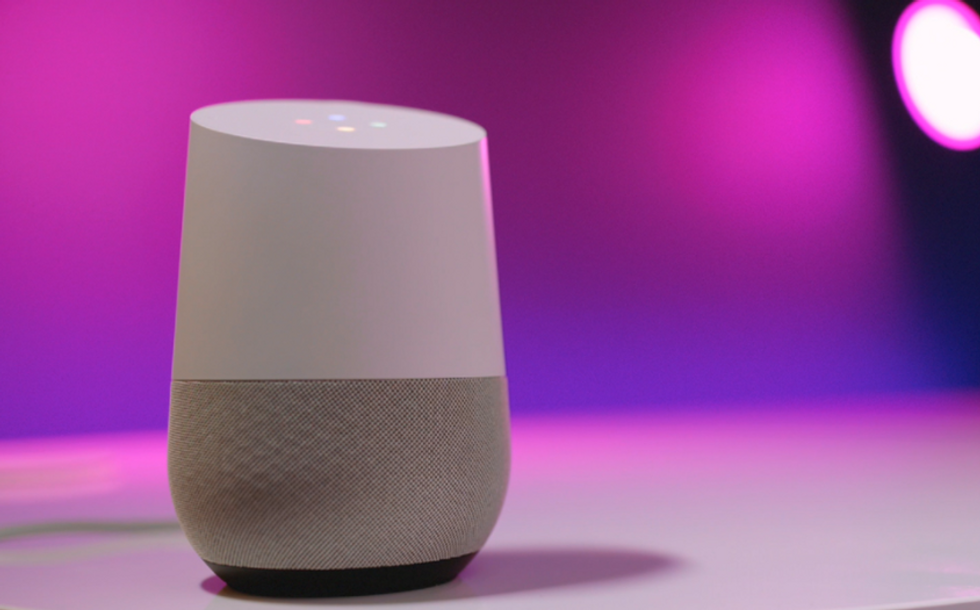 With Hue and Google Home, you can make the room any color you wantPhilips
How to control Philips Hue lighting with Google Assistant
The first step is to add your new Hue lights to your Google system, using the Google Home smartphone app, which is free for iOS and Android. To quickly clarify, the Home app acts as a central control center for your Google Nest smart speakers and displays – like the Nest Hub Max – along with all Google-compatible smart home products from other manufacturers.
The app is also used to create rooms and zones in your home, to which you can add smart devices. For example, you can create a section called Bedroom, then add all of that room's Hue lights, so they can be controlled in one place, and by saying: "Hey Google, turn off the bedroom lights".
How to add Philips Hue lights to Google Home app
Switch on the Hue Hub and open the Google Home app
Tap the + icon in the top-left and tap on 'Set up device'
Tap 'Have something already set up?' on the next page
Tap the search icon in the top-right corner and type 'Hue', then tap on Philips Hue.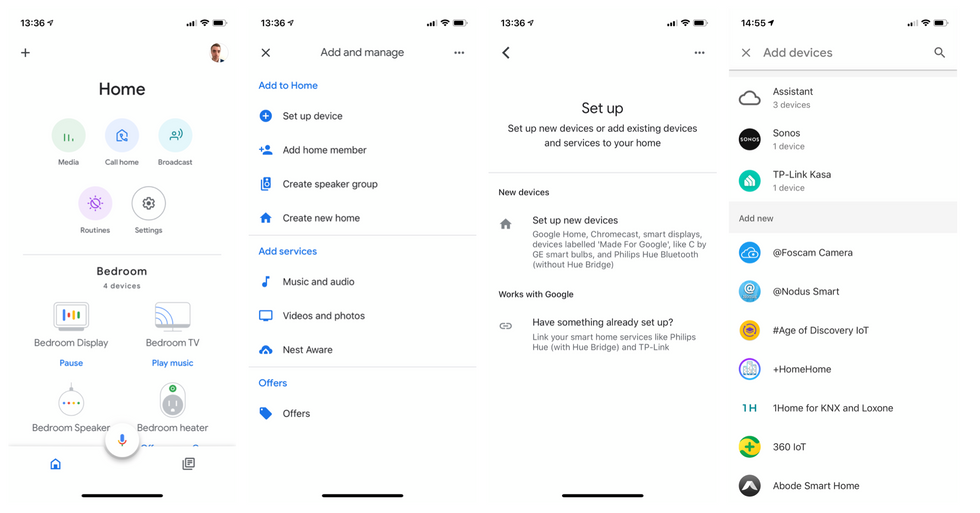 Adding Hue lights to Google Home appGearBrain
The Google Home app will now ask you to log into your Hue account and confirm your country. Now tap Yes to give the Google Home app permission to control your Hue lighting.

You will now be returned to the app's home page, with a message saying your Hue account has been successfully linked to your Google account. A new Lights button will appear next to the Media and Call home buttons.
Now it's time to assign your lights to different rooms across the home. This used to be done by creating rooms in the Google Home app, then adding lights to them. Now though, things are a little different.
Tap on the yellow Lights button
Tap on where the app says 'X lights', X being the number of Hue lights in your system
You'll now be shown a list of lights. Tap on one, then tap on the settings cog icon
Tap on Room, then tap on the right room name (such as bedroom, or kitchen, or wherever the light is)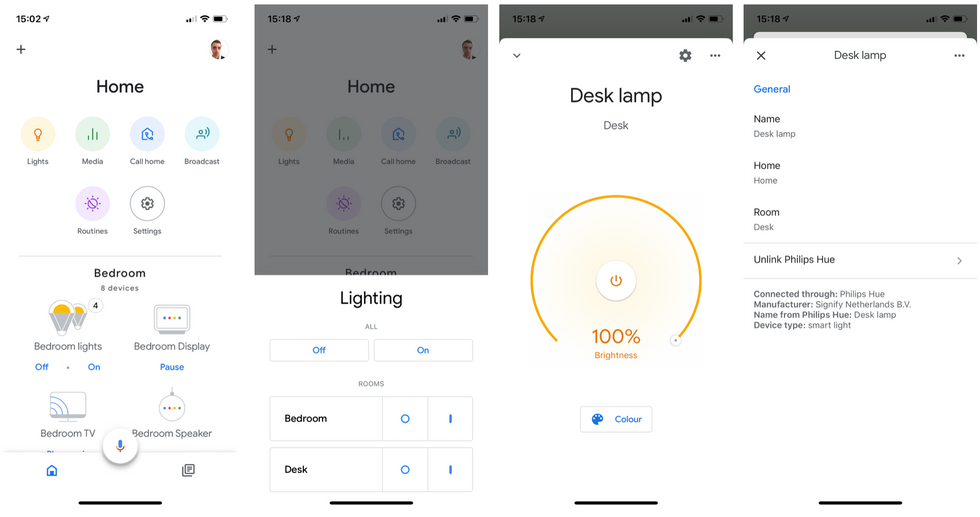 Assigning Hue lights to a different room in the Google Home appGearBrain
These instructions also let you change the 'home' of a product as well as the room, for if you move a Hue light from one property to another.

At this point you can also choose to mark a light as 'upstairs' or 'downstairs, for when you want to control an entire floor of lighting at once. Unfortunately, the Google Home app doesn't let you assign a light to both a room and a floor. Finally, tap Save.
Although you can't designate a light to two places at once, you can get creative in your naming of rooms. For example, I have a desk in my bedroom and have created two rooms in the app, called desk and bedroom. That way, I can ask the Assistant to switch the desk or or off, and it will control the lighting there, while the lights closer to my bed are unaffected.
Google Assistant voice commands for Philips Hue lighting
Lastly, here is a quick look at what voice commands you can use when controlling Hue lights with the Google Assistant.
You can ask for each light to be switched on or off, if you call it out by name (desk lamp, for example), and you can do the same by mentioning a room (like bedroom, kitchen, or upstairs). You can also ask for a certain brightness and color, or say "brighter" or "dimmer". For example, you can say: "Hey Google, make the office lights brighter," or: "Okay Google, turn off the downstairs lights," or: "Hey Google, make the office blue". No, we're not sure why you'd do that either.
It's also possible to ask the Google Assistant about which lights are on and off. For example: "Hey Google, are all the lights on in the living room?" Asking the Google Assistant to use one of your Hue pre-sets is a case of saying: "Hey Google, turn on Ocean Dawn in the living room."
And that's all there is to it. Just make sure your smartphone, Hue lights and Google Home smart speaker are all on the same Wi-Fi network, and you shouldn't encounter any problems.
Don't forget to check out The GearBrain to see what other connected devices work with Philips Hue, Google Home or Amazon Alexa enabled device.
GearBrain shows Alexa and Google Assistant controlling the Philips Hue Go www.youtube.com
Philips Hue White Ambiance Smart Bulb Starter Kit (4 A19 Bulbs and 1 Hub Works with Alexa Apple HomeKit and Google Assistant)
From Your Site Articles
Related Articles Around the Web
Like GearBrain on Facebook