Walking into your house after a long day at the office and saying, "Hey Google, switch on the lights," has appeal. It's convenient, something to show off, makes you feel like you're living in the future — plus opens up a huge range of options for how you light your home.
With smart lighting kits like Philips Hue you can pick from 16 million colors, adjust the brightness of every light, illuminate parts of your home you never considered before — and above all, make your lighting fun.
All you need is a Google Home device — we're using the $49 Home Mini — and the Philips Hue starter kit, which costs around $88 for four white bulbs, plus the Hub to connect them to your Wi-Fi network. Alternatively, a starter kit with four colored bulbs (which also do white) costs $100 more.
This sounds like a big investment, compared to the couple of dollars regular light bulbs cost. But a system like Philips Hue can be expanded on over time — years, if you like. And you don't need to worry about them blowing, as Philips says they should last for 15 years.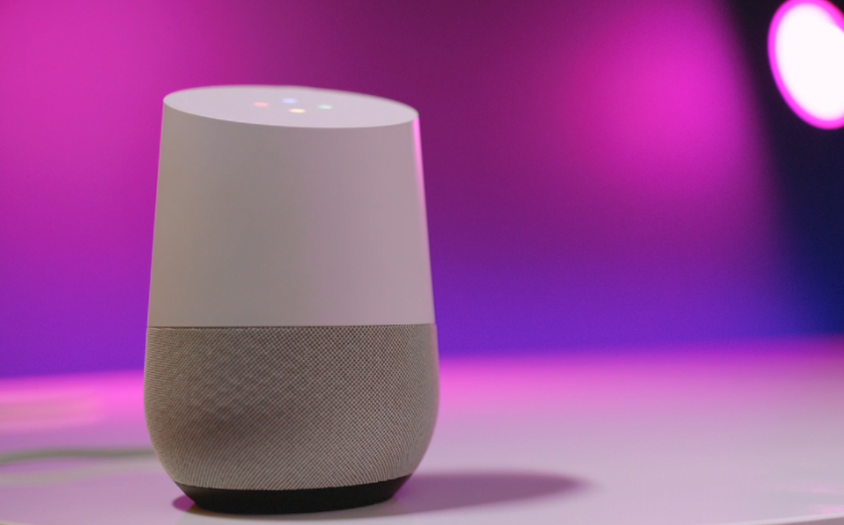 With Hue and Google Home, you can make the room any color you wantPhilips
How to control Philips Hue lighting with Google Assistant on the Google Home
If you haven't done so already, we suggest you create several rooms in the Google Home app. To do this, follow these instructions:
Open the Google Home app
Tap on the menu icon in the top-left corner
Tap on Home Control
Now tap on the Rooms tab and tap on the plus icon in the lower-right corner
Decide what you would like the first room to be called, then tap done
Repeat this process for all of the rooms in which you have installed Hue lights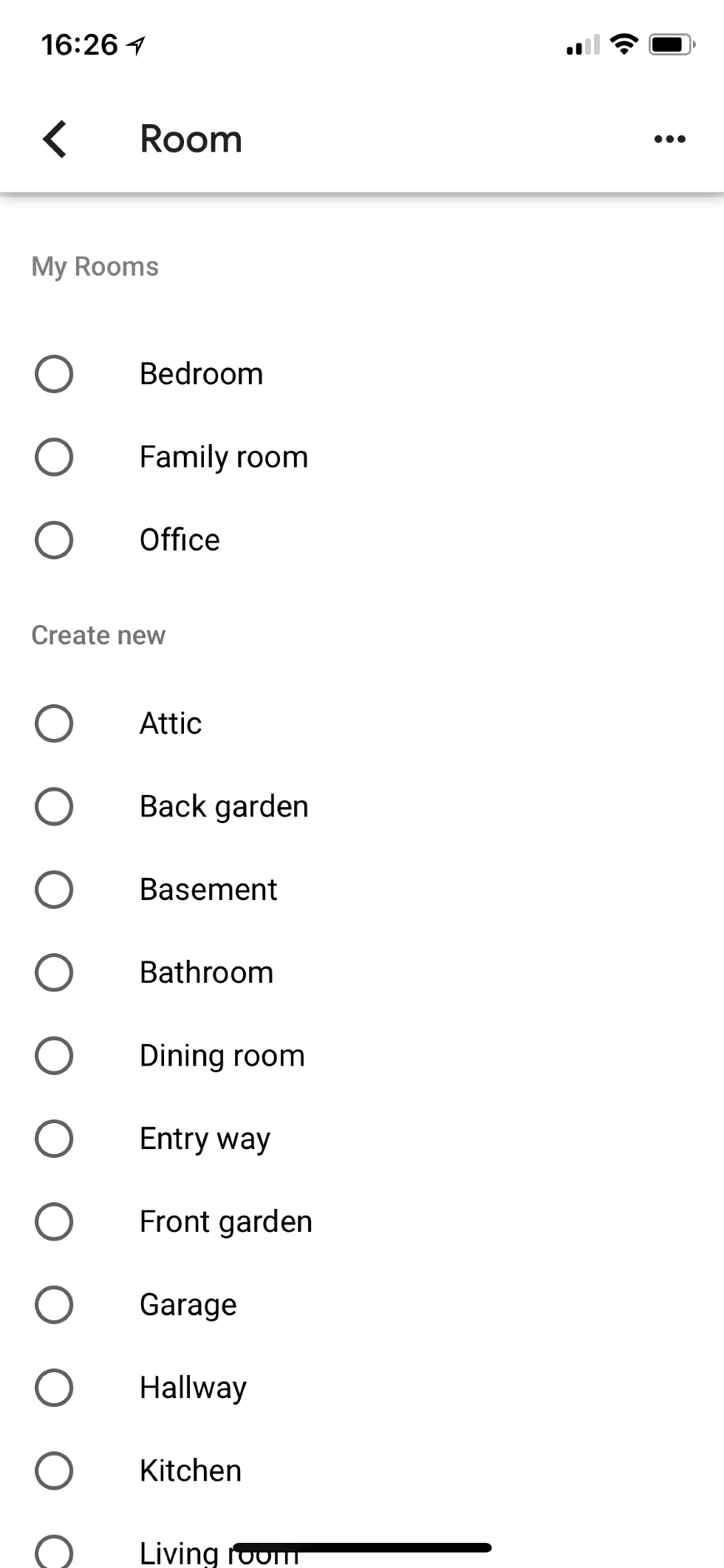 Google Home lets you control devices in every room of the houseGearBrain
Now you have created some rooms, it's time to start assigned your Hue lights to them. To do that, follow these steps:

Open the Google Home smartphone app
Tap the menu icon in the top-left corner
Tap on Home Control
Tap the plus button in the lower-right corner
Scroll down to Philips Hue and tap it
Next, you will need to log into your Philips Hue account using your email address and password. Alternatively — and as we have done — you can sign in with Google. Now tap on the Google account you wish to use, touch 'Yes' on the next screen, then wait for a minute while the Home app sets everything up.
During this pause, Home will search your Wi-Fi network for all of your Hue bulbs and lightstrips. You will then be presented with a list of your lights, ready to be assigned to a room.
Tap on the edit icon to the right of each light, then pick the room where you want it assigned. Repeat this process until all of your lights have been designated to specific rooms. You can assign multiple lights to the same room, or create a new room from this page. When you have finished assigning, tap Done.
On the next screen, shown below, you will see a list of your lights. Their names — Hue color lamp 1, for example — make sense when written down, but can be a pain to say to Google Assistant out loud. To change their names, tap on them then enter a nickname. Now, instead of saying: "hey Google, switch on Hue color lamp 1" you can say: "hey Google, turn on the desk lamp."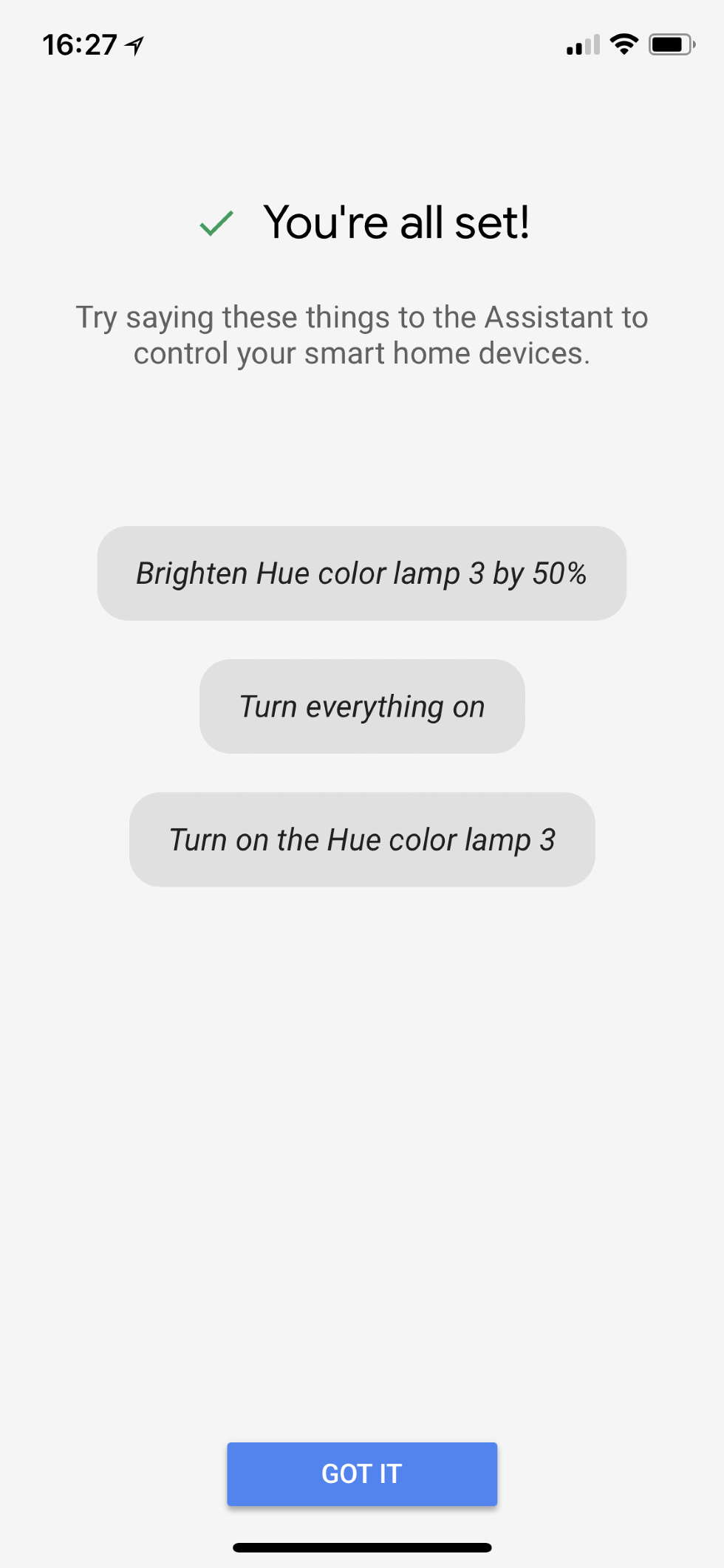 And you're done! Google Assistant now controls your Hue lightsGearBrain
If you want to switch a while room of lights on or off at once, you can say, "Hey Google, turn on the kitchen," or: "Hey Google, make the bedroom orange."
And that's all there is to it. Just make sure your smartphone, Hue lights and Google Home smart speaker are all on the same Wi-Fi network, and you shouldn't encounter any problems.
And don't forget to check out The GearBrain to see what other connected devices work with Philips Hue, Google Home or Amazon Alexa enabled device.