Signing up with an internet service provider, or ISP, the first thing they'll tell you is how fast your internet speed is going to be. But then you start to find sites loading slowly, or maybe you feel there's some lag at work.
Checking to see the speed of your internet speed can help to ease your mind, and may help to tell you whether it's your set-up — and connection — or whether a particular site you're frequenting as well.
We use Google Wifi in our work space, a mesh network that will tell us, happily, in our app what upload and download speeds are. We used this as a base point. We're not saying that the information is correct or now. But we wanted to see how others compared to this data. At the time of the test, we were told we had the ability to download at 68.7 Mbps, and upload at 5.76 Mbps. We were assured, in our app by Google, that this was "lightning fast."
Our results on other sites were fairly varied. (And please, we know this is not the most scientific of tests.) Each one offered different results, and different kind of data. We ran each site three times, and found that the results each time for each site were in keeping with their own range.
Do note, that as you run these you will need to keep your browser open on the page of the test. The sites can't check upload and download speeds if you're shifting to other tabs. Also, if you have other computers active — such as someone watching a video — this is going to impact the results. We ran these tests while no other computer was active on our connection.
Here are 6 sites we recently used and tested — and the results for upload and download speeds, comparing them to each other.
Fast
Upload: 59 Mpbs
Download: 7.1 Mpbs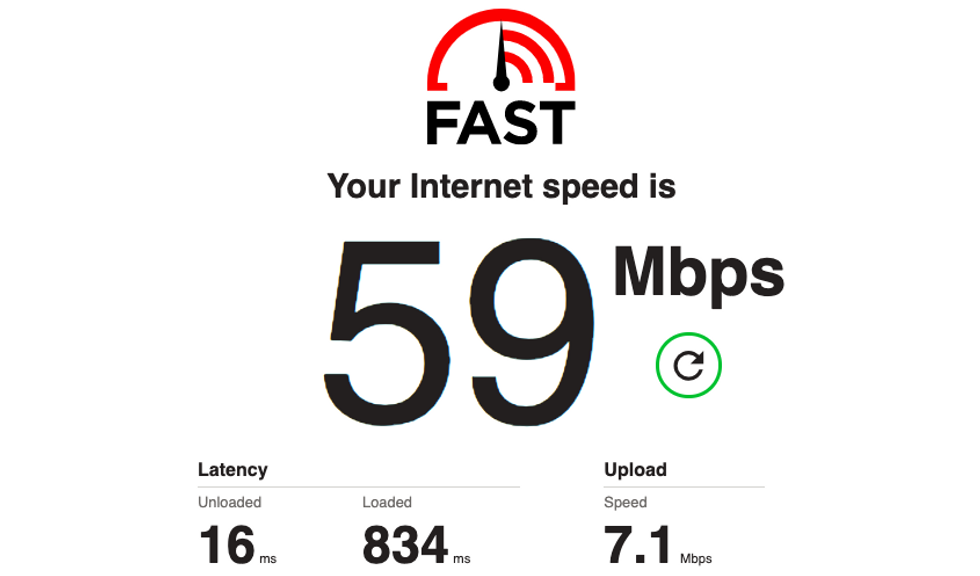 Fast showed us the upload and download speeds that was slightly in range of Google Wifi's results.GearBrain
Over at Fast, we were told that our speeds were a bit different from what Google Wifi promised us. The test, which took about 30 seconds for download and a minute for upload, showed us we had 59 Mbps for downloading, and 7.1 Mbps for uploading — and also showed us the ISP we used and our IP address. This was within a decent range of what Google Wifi told me I had. It wasn't exact but it was close.
These numbers were worth noting, as the download speed in particular would be closely mirrored in other tests. The upload speed? Not as much, as you will see.
AT&T Internet Speed Test

Upload: 63 Mpbs
Download: 6.01 Mpbs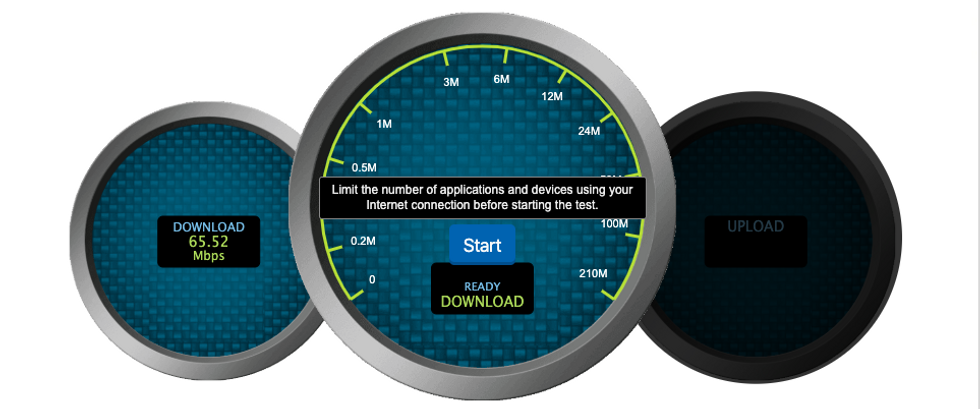 AT&T's Speed Test produced upload speeds that also correlated with other tests we had triedGearBrain
We then went to AT&T's and its own speed test, which gave us far (far) different numbers, enough of a variation that we aren't sure, for upload speeds, this is a site we would use again. AT&T notes that the data comes from another provider, called DSL Reports, which looks to be an aggregator of news on ISPs.

After about 30 seconds, we were told we had a download speed of 63 Mpbs and an upload speed of 6.01 Mpbs. That was pretty decent. The site also told me it would take 2 seconds to upload an email attachment of 1 MB, and take one second to download a video clip of 35 MB. Not bad.
Notable is that AT&T also punctuated this site with links on how to "upgrade to blazing fast internet" which I guessed would not send me to Google or Spectrum.
Ookla
Upload: 55.98 Mpbs
Download: 5.87 Mpbs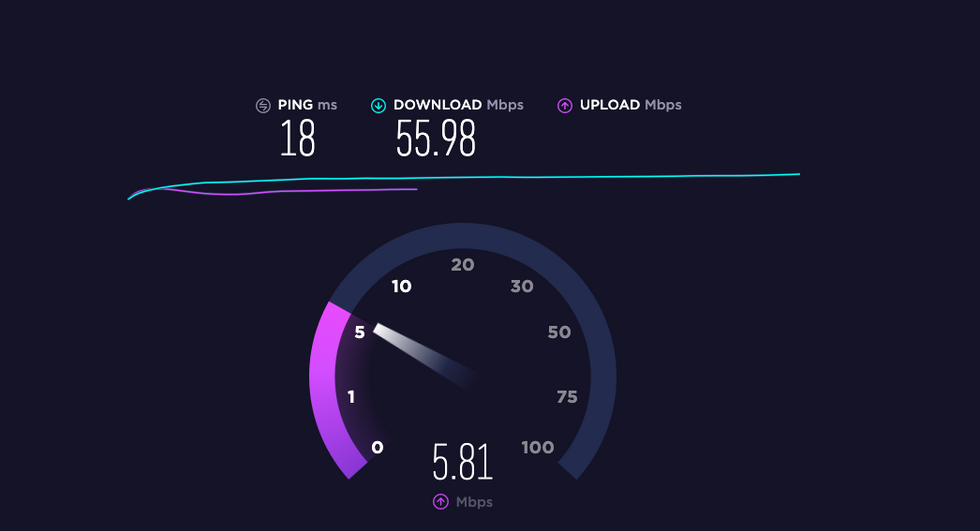 Ookla also links to Downdetector, so you can see sites that may be having connection problemsGearBrain
Ookla's Speedtest is considered the favorite by many for speed testing a network. Opening the site, I could immediately see my IP address again and the ISP I was using.

Notably, the site came within a reasonable range of what I got at Fast for download speed, giving me 55.98 Mbps. And I got back an upload speed of 5.87 Mbps, again, within a range to what Google Wifi and AT&T had told me initially.
I also liked Ookla's extras, which include a link to Downdetector, where you can see sites that are reporting problems, so you can know somewhat if a loading issue is your computer or not.
Google
Upload: 52.6 Mpbs
Download: 5.54 Mpbs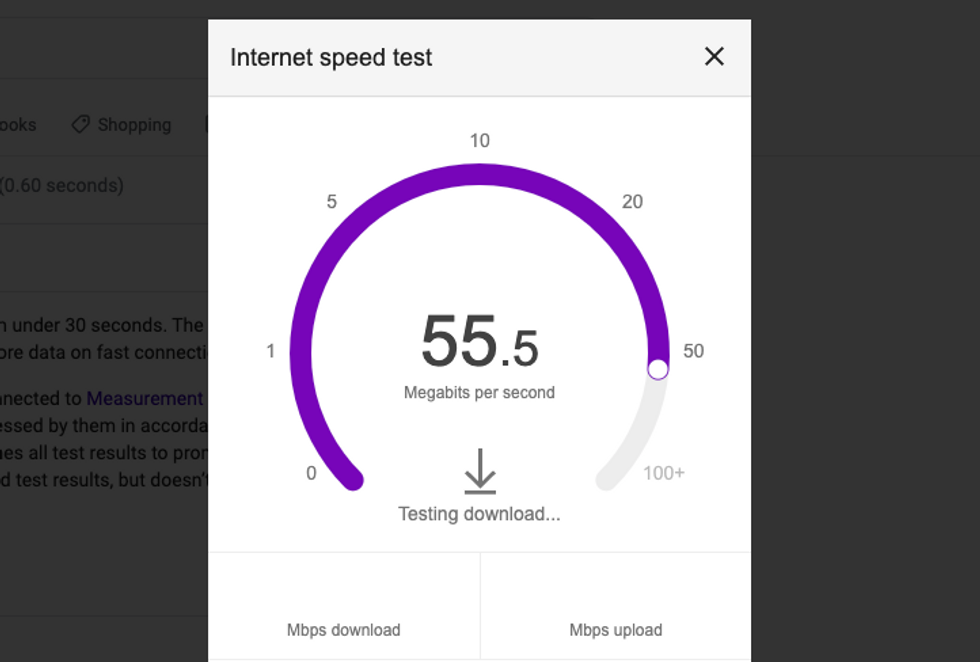 The Google Internet Speed test can be run directly from your search resultsGearBrain
Of course Google has a speed test you can run on your own — and this one also hit within a reasonable range the other results we tried as well. To run this test, just go to Google.com, type in 'internet speed test' and the option will appear in the top of the search results.

Google says it partners with Measurement Lab (M-Lab) to run the test, an open source project that includes people working at Google, Princeton University's Planet Lab, New American's Open Technology Institute, and the Code for Science & Society.
I got back a download speed of 52.6 Mbps, and an upload speed of 5.54 Mbps. Again, this began to mirror the download results from Ookla and Fast, and the upload results from Google Wifi's app, AT&T and Ookla.
SpeedCheck
Upload: 65.31 Mpbs
Download: 15.47 Mpbs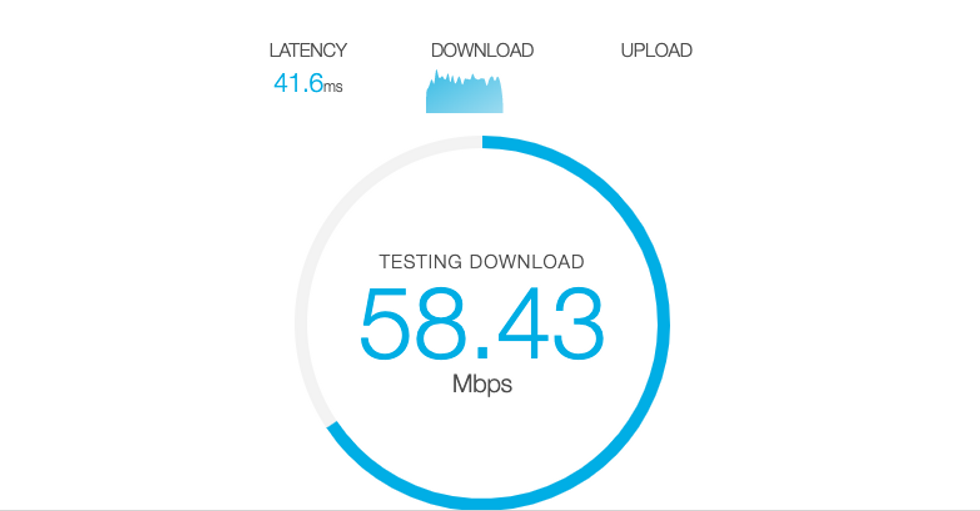 SpeedCheck showed upload speeds that didn't mirror any of the other resultsGearBrain
Finally we used SpeedCheck, which again seemed to fall within the range of most of the test on download, but hit the park out wildly on download. We were able to see our IP-address and also the provider of our internet provider. The test, which took about 20 seconds, returned a download speed of 65.31 Mbps — about what Google Wifi and AT&T said we had as well. But on upload speeds we got a doozy, which made us think we had a high octane injection in just 3 minutes or, 'Nope.'

Our upload speed was 15.47 Mbps. This was so outside the range, that we went back and retested the other four sites to see if something had changed. They hadn't. Each test on the other sites did not return the exact numbers, but they were within 10 percent of their original results.
Speedofme
Upload: 35.22 Mpbs
Download: 5.94 Mpbs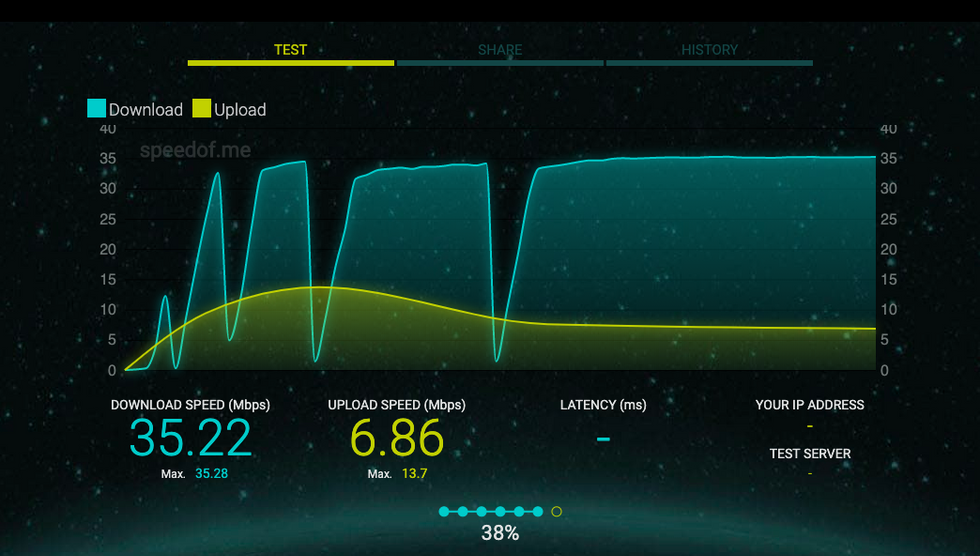 Speedofme produced a brightly colored, easy to read graphGearBrain
Speedofme is pretty fun in that it also shows a great graph while the test is running. We also saw our IP address on display, and the rough location (city and state) of where we were as we tested.

The results we were among the slowest of all on download speeds We were told we had a download speed of 35.22 Mbps and an upload speed of 5.94 Mbps, which is about what Google, Ookla and AT&T and Google Wifi told us as well. We also saw the maximum speed we hit for both upload and download during the test.
Here's what we didn't like about this test, even as the results seemed fairly in line. There's a little popup ad in the corner for an app to clean your computer. That's a big red flag for us as these apps can be full of spam and notoriously difficult to remove. So while we liked the results, we would feel wrong to not warn someone to avoid clicking on anything else on the site.
Overall
Which are the best sites to use? It's hard to know which one turned out the most accurate results. At least two — Google and Ookla — seemed to produce results most closely to each other. Fast and AT&T had a bit of a variance, but were within range. Two showed numbers that charted far off from these four in at least one area either download or upload speeds. These results can also change based on traffic on a connection.
The best option may be to try a few, take an average, and see if they at least come close to what your ISP promises you're getting. From there, it's your call.