Like GearBrain on Facebook
Google Wifi launched in 2016 — a mesh network that has not been updated since. Google is finally pushing out a new version, named Nest Wifi, taking advantage of the Nest name since buying the smart home company in 2014. The new update adds more features, including connecting constantly with Google Home devices, and is part of Google's idea of ambient computing — where its Google Assistant is everywhere, and making the process of running your home as simple as asking for help out loud.

We placed the new Nest Wifi into a small apartment, easy enough for the 3,800 square feet a two-pack can cover — but with concrete and plaster walls and twisting hallways that have stymied Wi-Fi connections in the past. Here's how Nest Wifi fared.

Read More: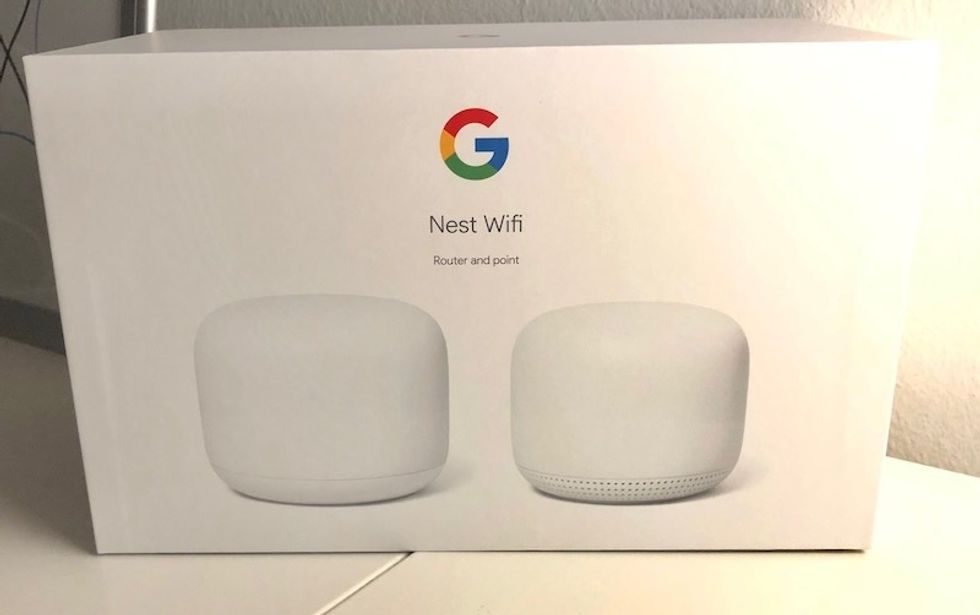 Nest Wifi is the latest update for the Google Wifi systemGearBrain
What is the Nest Wifi?

Google wanted to make this an even more approachable device than its original product. Part of that included a new design, a rounded puffy look that resembles, dare we say, an overstuffed marshmallow or a squat Big Hero 6. Gone is the medicinal tablet look of the original which made you think of a giant aspirin. We like it.
The mesh system works as expected — there is a router and there are mesh points. Depending on which package you get, you'll get one extra point or two points. You can also buy more as stand-alone points if you need to coverage. But a two-pack of a router and point should cover 3,800 square feet, says Google.
How to install

Installing the Nest Wifi is one of its best features — it takes minutes, and you'll actually be able to unpack the router and mesh, pour a glass of wine, and turn on the latest drop of Jack Ryan in about 20 minutes tops. We're not exaggerating and anyone who stresses about adding tech to their home is going to love that.
To launch the router, you plug it into the outlet, and then run the included cable between your modem and the router. Next open Google Home app, or download it. If you aren't using Google Home products yet, you'll spend a few minutes creating an account.
If you have a Google Home app running, you'll simply just run through the steps of adding on a device:

Open the Google Home app
Click the "+" sign at the top left
Click "Set up device"
Click "Set up new device"
Chose where you want it — likely your home
From there, the app will start to look for your devices. And after installing the Wifi, it will look for — and find — any Google Home products connected in your home and add those too.
You'll need to name your Wi-Fi network, and create a password, and as people ask to come on to the network, you'll be able to add them, as will others who are already on the network.
Features

The point is not only a mesh device, it's a fully-functional Google Assistant speaker. For anyone without a Nest Mini (formerly the Google Home Mini), you're basically getting on with this setup. So yes, you can play music — and from speakers as good as the current Nest Mini. You can also ask the system to run an internet speed test with just your voice.
The app will show you how many points are online — we had just one. And if you have a Nest Hub Max with the display, you can also run these speed tests from there as well by swiping up and clicking on the Wi-Fi symbol. A QR code can also be pulled up from the Hub Max, a simple way for guests to scan and then get on to the Wi-Fi.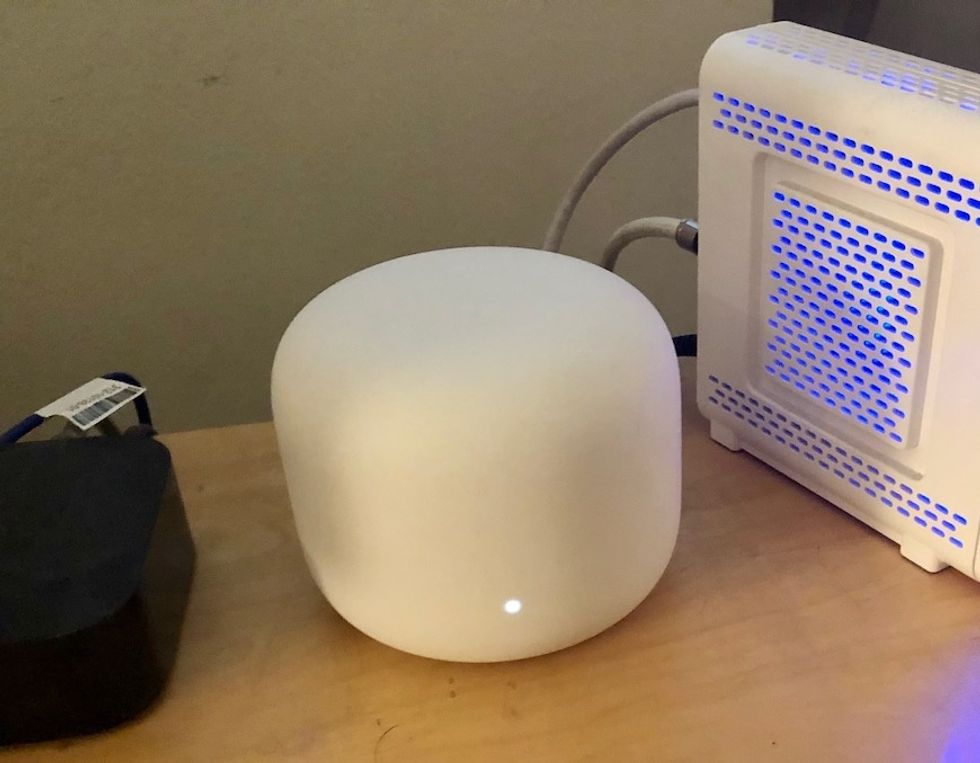 A Nest Wifi router lit up and working, plugged into a modemGearBrain
Another feature is the ability to run a speed test on the internet connection tot he modem right from the Google Home app. The app runs both upload and download tests. We had 60 Mbps download and 5 Mbps upload results — give or take a few Mbps —repeatedly. One crucial thing to bear in mind — the Nest Wifi was installed where a modest broadband plan is running on Spectrum, for a minimum of 50 Mbps. We're not testing or running online games in this space, which would need a higher plan. So the speed test told us that we had a great connection.

Google - Nest WiFi - WiFi Router - 1 Pack
And one thing environmentally-conscious people might like? The devices are built with 45 percent post-consumer plastic, and that's a trend Google says people should expect to see more of in coming years with Google other products.

It's worth noting that the update, though, does not have Wi-Fi 6 access. Google believes that in the home, there are only a few products still can take advantage of Wi-Fi 6, and that until more devices come on board, and there's more saturation in the home space, they would wait. Not to mention that adding the capability, Google says, would have increased the cost.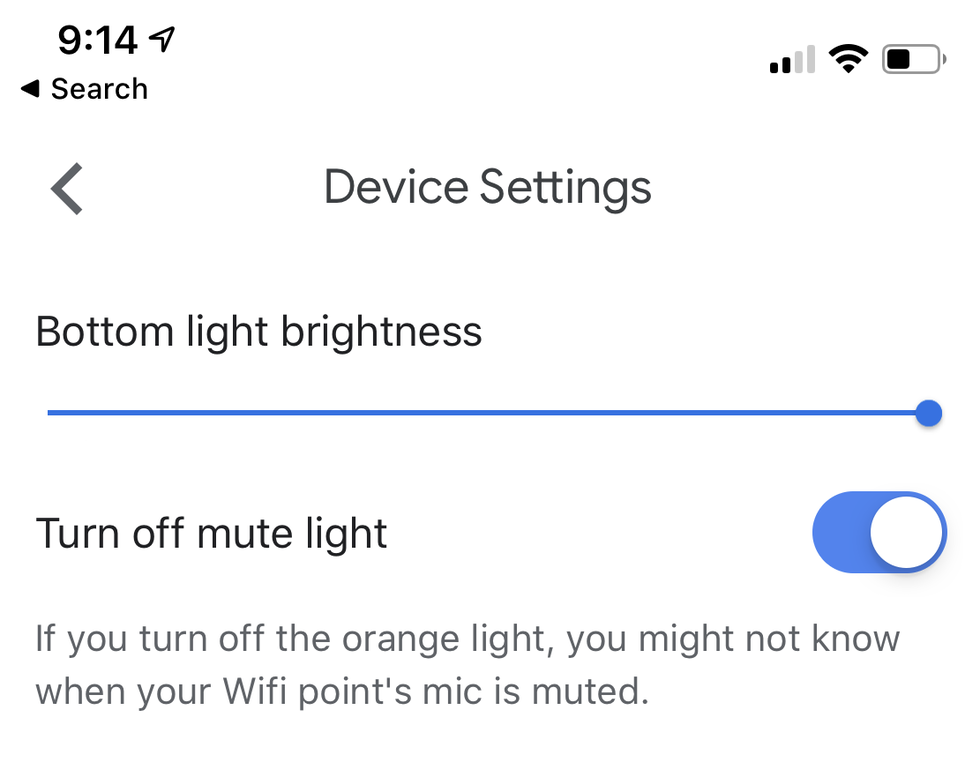 You can turn off the orange light that tells you the microphone is off from the Google Home appGearBrain
Privacy

Although Google has kept its name out of the product, this a Google device. And if privacy is a concern, you do need to pay attention as you're setting them up. As you walk through the app, you're asked to share details with Google about crashes and other data, including that which goes through devices connected to your Wi-Fi. So you need to decide if that information is what you want to share, and if not, you can opt-out of these options.
The point, the second piece of the Wifi device that makes it a mesh network, has Google Assistant baked inside. A nice add — unless you don't want the voice assistant in the room where you've placed the point. We added our point to a back bedroom, where the person who slept there asked for the A.I. not to be listening.
This step — making the voice assistant unable to speak and hear— is simple as there's a switch on the back. But turning the switch triggers an orange light on the bottom. While the visual does give you a signal that Google Assistant is not listening, it's a bit of noise pollution.
You can take care of that, lucky, back in the Google Home app by going to the main page, and then click on the room with the point, and then on the settings wheel at the top right. Nest, click on Device Settings, and click on the toggle next to "Turn off mute light." That's it.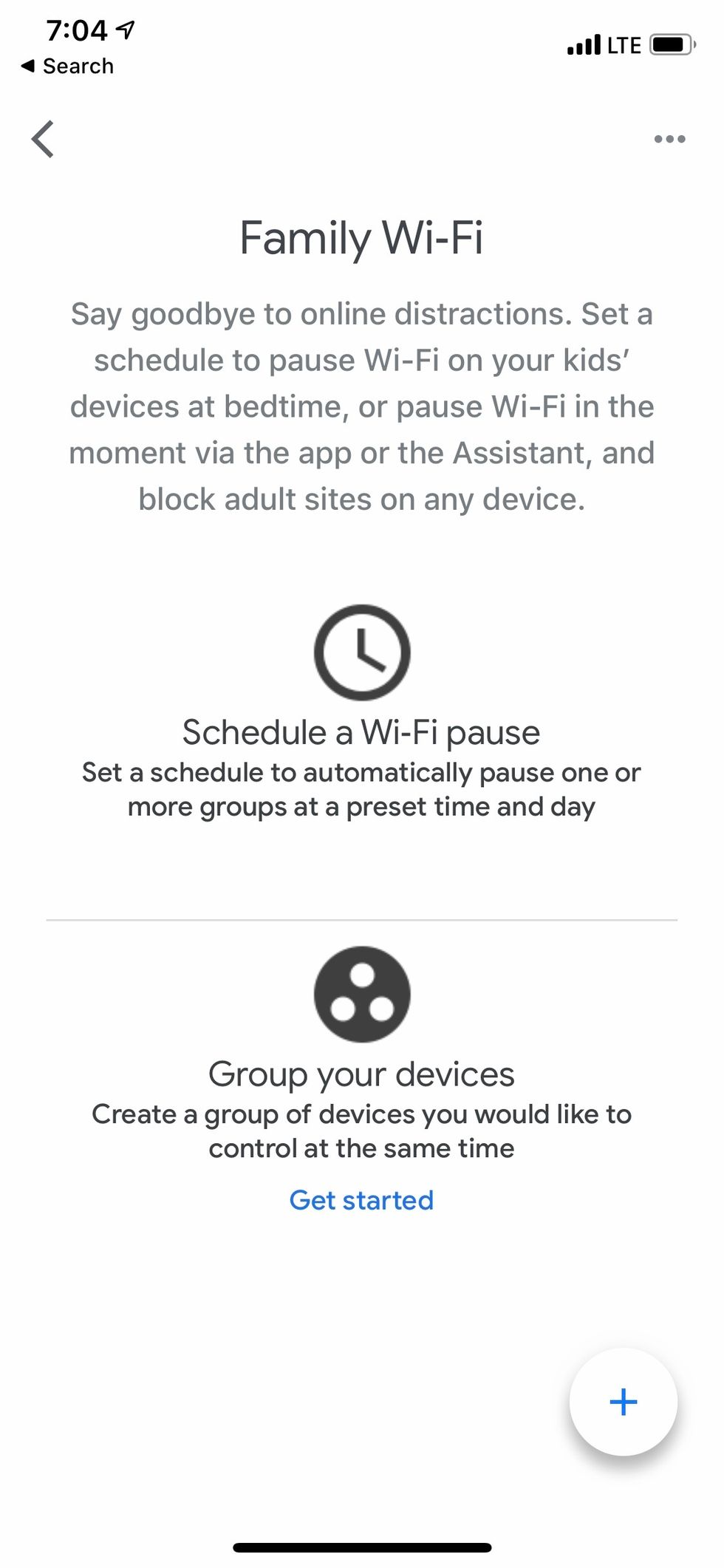 You can set family controls through Nest Wifi including when some devices can be turned off and onGearBrain
Family and Guest control

You can set up a separate guest network, and limit them to just the devices you want them to access. Looking to do some gate-keeping with devices in the home? You can with the Nest Wifi through Family Wi-Fi which can allow you to have certain devices turn on and off at different times, or even shut them down with your voice. You can also filter adult sites, and you can run these through voice match, a feature on the Google Home app, so no one else can shut off a device — like one child trying to prank their sister.
Keep in mind, though, that you need to enable Nest Wifi Cloud Services in the Privacy Settings. We needed to turn that back on, and give the app a moment to update it, in order to get the Family features running.
Cost
The Nest Wifi two-pack is $269, with the three-pack $349, and a standalone router for $169. You can pick up additional mesh points for $149, if you want to expand the network into wider spaces. The main router will always be white, and the points can be picked up in white as well, sand, which is a light pink color, and mist, which is a light blue.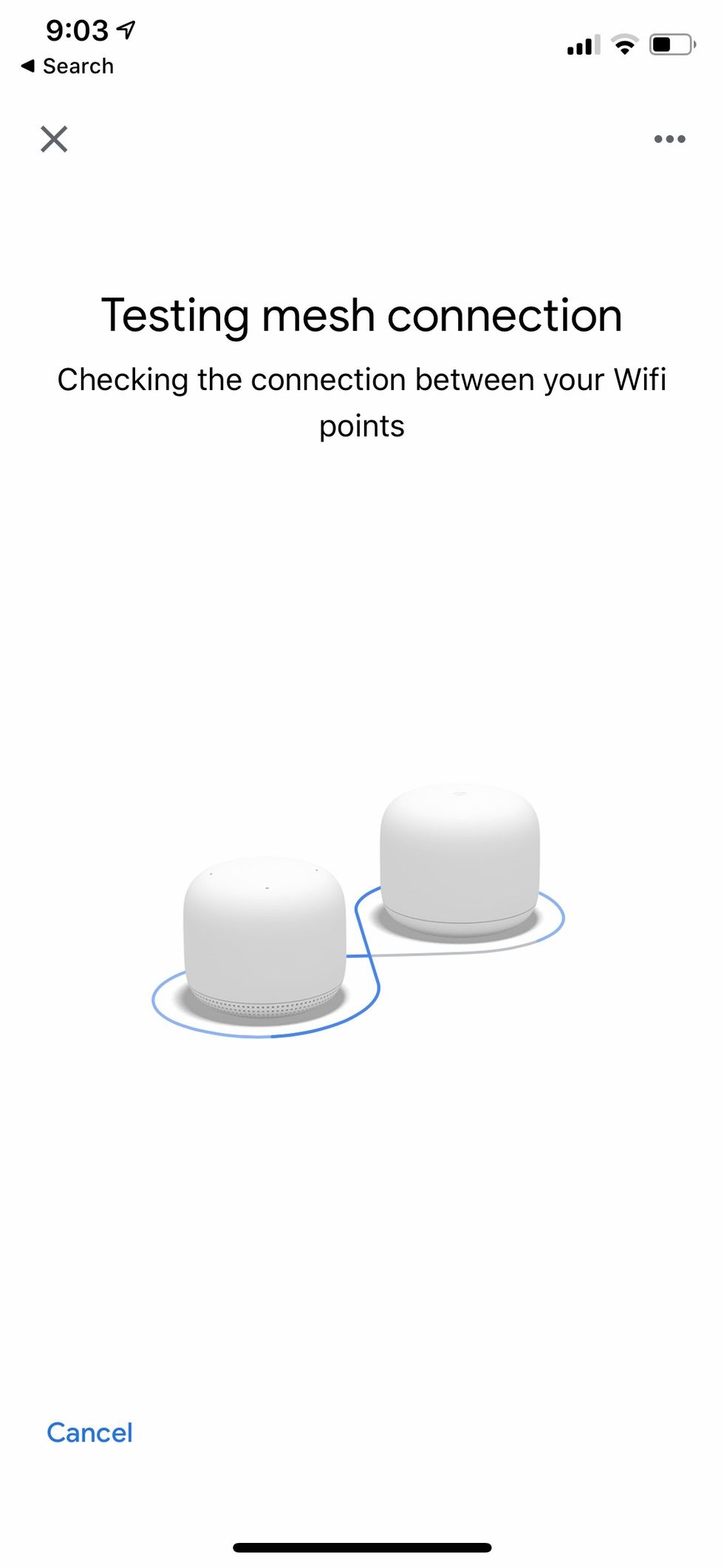 You can test the mesh connection between the router and the points through the Google Home appGearBrain
Should you buy it?

New to mesh? The Nest Wifi is a great way to get in, priced well and easy to launch. Using Google Home devices? It's an even simpler decision as you'll have the Google Home app, and the Nest Wifi router will automatically find the smart home products and connect them instantly.
Privacy may be a thought for some, as this is a Google product, and you'll be routing all of your smart home products through this device – and you are alerted that Google would like you to share those data points. You are about to opt-out. But to do so, you need to keep focused on that as you walk through the set-up. Just bear that in mind.
But we think the Nest Wifi is going to be very popular with those who are eager to add a mesh product in their home, and feel stress when thinking of launching a router. This is what Google is always good at — simplifying the essential technology you need to run your life.
Pros:
Extremely simple to install and get running
Great design and color options
Strong signal throughout space
Cons:
Limited Ethernet ports
Two-pack isn't enough for a large home, you'll need extra
Need to be conscious of opting out of privacy if that's a concern
Google Nest WiFi - 4x4 AC2200 Wi-Fi Mesh System with 4400 Sq ft Coverage (Router 2-Pack)
Like GearBrain on Facebook