Amazon now lets Alexa users opt out from having recordings of their conversations with the voice assistant analysed by humans.
The move comes after criticism was aimed at Amazon, following the revelation that it uses humans to analyze a small amount of conversations had between Alexa and its users. Subsequent reports revealed Apple and Google also employ contractors to listen to a small number of similar recordings with Siri and the Google Assistant.
Read More:
Added to the Alexa smartphone app - and the alexa.amazon.com website - at the start of August, the new setting lets you stop Amazon contractors from using your conversations with Alexa to analyze how the voice assistant is working.
It was previously possible to opt out of Amazon using your interactions with Alexa to improve the system, but at the time the company did not reveal that this involved humans listening to the recordings.

To switch off human analysis of your Alexa conversations:
Open the Alexa smartphone app or go to alexa.amazon.com and log in
Tap the menu icon in the top-left corner
Tap on Settings
Tap on Alexa Privacy
Now tap on 'Manage How Your Data Improves Alexa'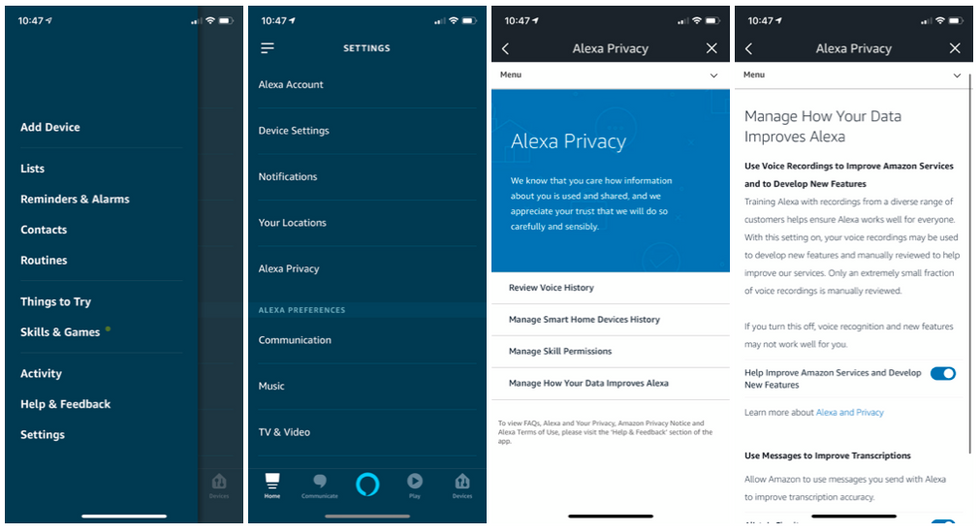 How to switch off recording analysis with AlexaGearBrain
On this page, Amazon justifies listening to a small number of Alexa conversations recordings thusly:

"Training Alexa with recordings from a diverse range of customers helps ensure Alexa works well for everyone. With this setting on, your voice recordings may be used to develop new features and manually reviewed to help improve our services. Only an extremely small fraction of voice recordings is manually reviewed."
Amazon then warns: "If you turn this off, voice recognition and new features may not work well for you."
Tap the toggle switch to turn the feature off, then tap Turn Off on the pop-up window to confirm your decision.
The wording here has changed in recent days, as Amazon used to not mention how recordings were "manually reviewed". It used to say: "When this setting is enabled, your voice recordings may be used in the development of new features."
Just two days after this switch was added to the Alexa app, a report by German newspaper Welt Am Sonntag (translated by Google Translate) claimed Amazon contractors employed in Poland to analyse Alexa recordings could do so while working from home. "User data is practically unprotected," the report said, adding that contractors described it as the "ideal housewife job" as new mothers could analyze the recordings while looking after children at home.
As has previously been reported, these recordings sometimes contained private conversations not meant to be heard by Alexa, but picked up when a smart speaker mistakenly hears someone say "Alexa" nearby, then records for a few seconds.
GearBrain TV: How to Secure your Smart Devices www.youtube.com