Like GearBrain on Facebook
A room scale virtual reality (VR) video game, Superhot was developed and published by the Superhot Team — the first game for the company — and designed for both HTC Vive and Oculus Rift on Steam. For those who like shoot-em-up games, the $24.99 Superhot's going to have some appeal. While light on the blood and gore, this VR experience is definitely not for children.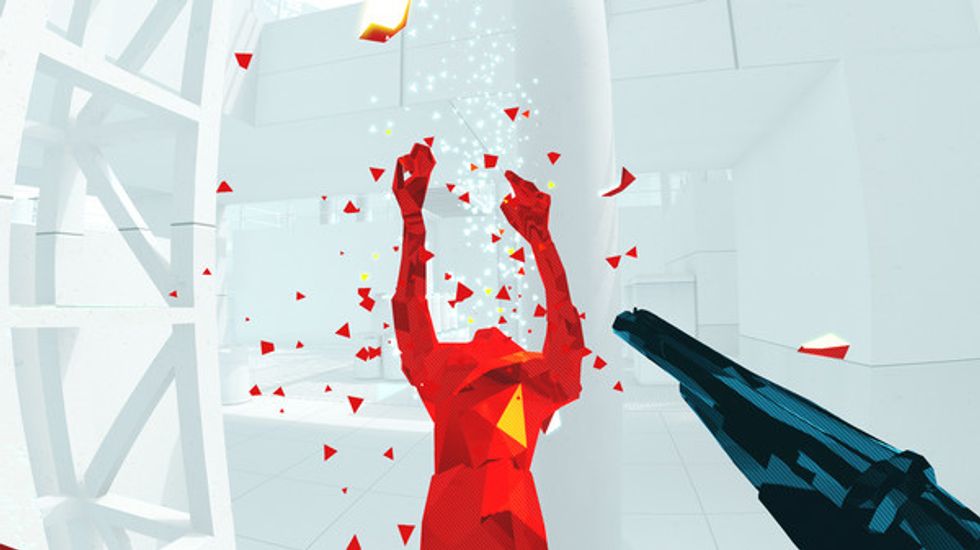 The Lab
Superhot lets players manipulate time through their movements, and yes, take weapons off their enemies. When you first enter the game, you'll find you're wearing a virtual headset— just as you are in real life. (Think Inception.) You're then move through different levels — and time only moves if you moves. The upshot? You get some breathing space to become aware of the situation you're in before you take the next step. You can also move the path of trajectory to avoid getting killed.

Time is an ally for the player — and the color scheme that's used in Superhot is helpful too. Bright colors are key characters, helping players stay focused on where their enemies are — and the direction of the ammo aimed right at them. Red is color used for enemies and their bullets. Black is used for the color of weapons, and the space where you move around is white and grey.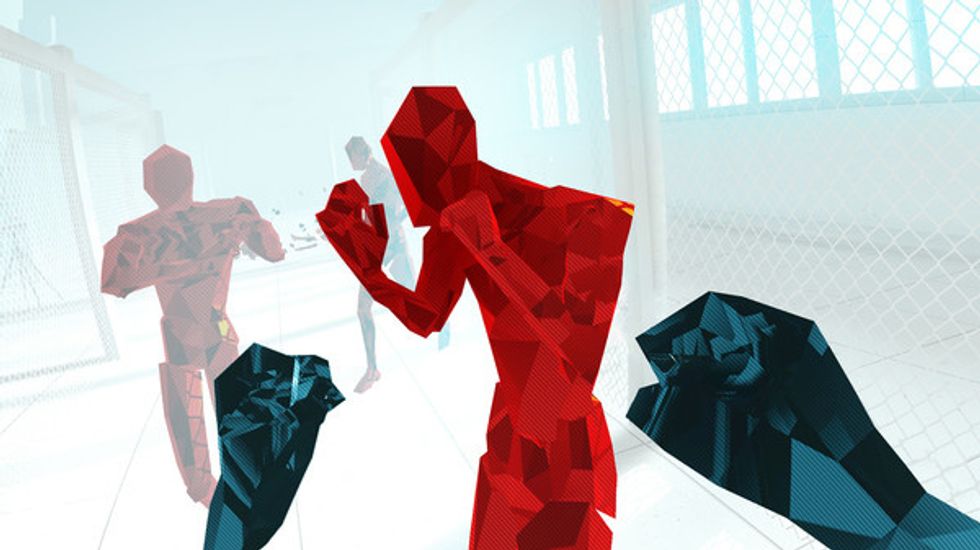 The Lab
Although an action-packed game, Superhot could benefit from a couple of tweaks. To start, Superhot does not fully use the potential of Vive's spatial recognition. The player never moves in the game. The avatar is usually stationary and the only part of the avatar — or your — body that really moves is the arms when picking up weapons or punching enemies. This game also asks for a set up that requires a large field area — giving you the impression that you'd be moving when you aren't.
You should also note that Superhot can be very repetitive — and not in favor of players. If you get shot or hurt by hostiles, you have to restart the game from your last checkpoint. That means going back and doing multiple levels again before you get back to the current level you were on. That's annoying and frustrating particularly as you start getting up to harder levels — it just feels like you're stuck in an endless limbo.
Overall, Superhot is a certainly fun to play, particularly for those who like first-person shooter VR games.
- Kathy Ching is a research and teaching assistant at New York University's Game Innovation Lab who last reviewed the HTC Vive VR game The Lab for GearBrain.
Pros: Fun, a lot of action and simple enough to learn quickly and play.
Cons: No spatial recognition, restarts to the very beginning of a checkpoint after being hit once and requires a lot of space to play.
Like GearBrain on Facebook