Like GearBrain on Facebook
Huawei pulled off an unexpected surprise, news that it is producing a range of smart glasses in partnership with the Gentle Monster fashion brand.
The glasses, known as the Huawei X Gentle Monster Eyewear, showed up at the end of a 100-minute press conference in Paris, donned by Huawei boss Richard Yu, at an event where the star attractions included the new P30 and P30 Pro smartphones, a new smartwatch, and a range of accessories.
Read More:
The company began by criticizing other smart glasses, like the Snapchat Spectacles, before revealing its own new wearable.
Available in a range of different styles, Huawei showed how they can either have tinted or clear lenses and frames of varying thickness. However, a common theme among the models shown in Paris was their size; they all feature oversize lenses, including a pair worn on stage by Yu.
Unlike smart glasses similar to the Google Glass, and more recently the North, Huawei's glasses do not feature a projector or display of any kind. Instead, they rely entirely on sound, which is delivered by a pair of 'semi-open' speakers.
Instead of earphones or traditional speakers, Huawei said it uses beam-forming technology to help direct sound towards the wearer's ears without distracting anyone nearby.
As such, these glasses have more in common with the Bose Frames 'audio sunglasses' than anything approaching the augmented reality glasses many believe Apple and others are busy working on today.
Huawei also showed off a 2,200 mAh charging case for the glasses, which looks similar to a regular eyewear case, but tops up the battery via contactless charger when they are placed inside.
The glasses are IP67 rated for water and dust resistance, Huawei says, and they can be operated with the press of a touch-sensitive panel on the left-hand arm, similar to the location of the touch controls of the Google Glass, only much smaller.
Inside the right arm there is an antenna for connecting to a smartphone via Bluetooth, a dual microphone system for speaking to a voice assistant and making phone calls, plus the processor and battery.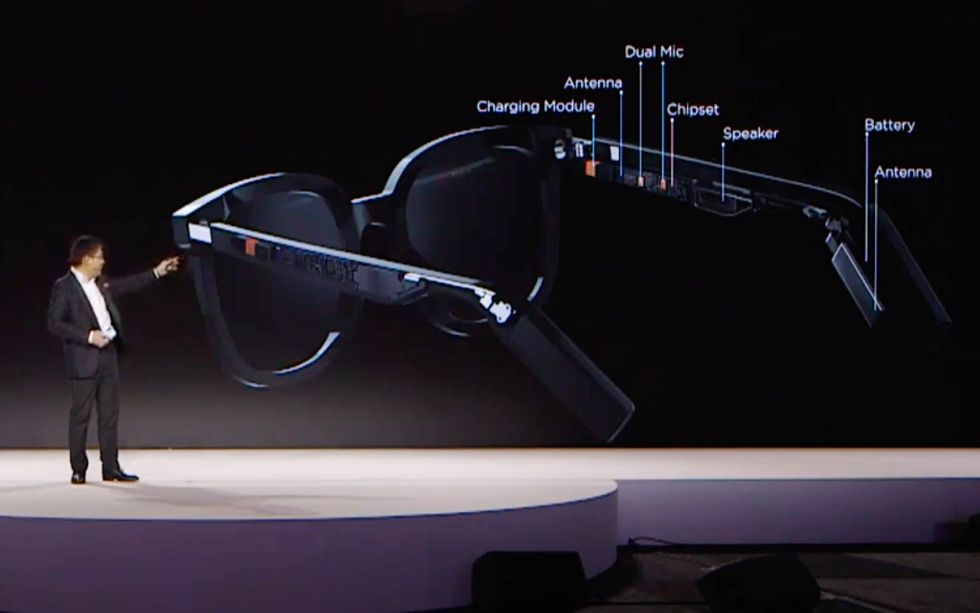 The Huawei glasses contain a processor, speakers, microphone and battery in their right-hand armHuawei
A somewhat dystopian promo trailer demonstrated how the smart glasses have a voice assistant for delivering information about calendar entries and weather forecasts into the wearer's ears as they go about their day.

Little else is known about the Huawei smart glasses for now, but it looks as if they are simply a Bluetooth headset embedded into a pair of fashion glasses with a smart wireless charging case. Huawei says they will go on sale in July this year, but prices and details on availability are being kept a secret for now.
Related Articles Around the Web
Like GearBrain on Facebook