Like GearBrain on Facebook
The beauty of augmented reality is how it changes your perception of reality without completely removing or replacing it. Where virtual reality deletes the outside world and gives your senses something entirely new, AR blends the two, bringing digitized objects into the room with you.
This makes home improvement and decorating a natural environment for AR apps to flourish. There are applications for seeing how new pieces of furniture could look in your room, or how painting and applying wallpaper would change the character of your home.
Some AR apps make measuring rooms easy, while others help you to plan and visualize by showing your how the sun will pass over your new home, making you reconsider furniture and plant placement, or even where the windows on your new extension will go.

Here are some of our favorite AR decorating apps for iOS and Android.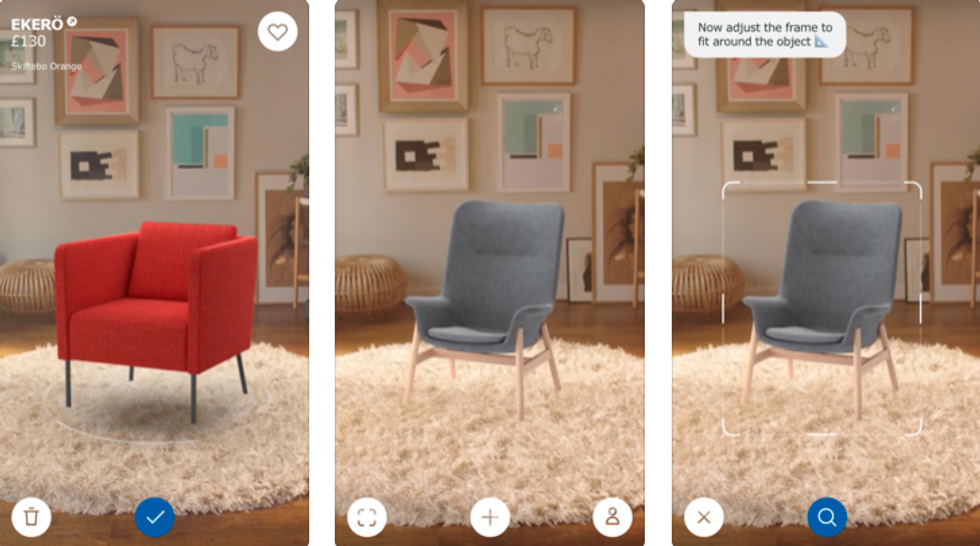 Ikea
This app received a huge amount of publicity when it launched, as it was one of the first to make use of Apple's ARKit platform on the iPhone. And for good reason, because it does an excellent job of placing virtual furniture into your home.
Simply walk around for a few seconds to let the camera see the room and floor with your smartphone's camera, then pick a piece of furniture - a chair, sofa, bed, desk or wardrobe, for example - and drop it into place.
Items stay exactly where you leave them, letting you walk around and view them from different angles.
Housecraft (iOS)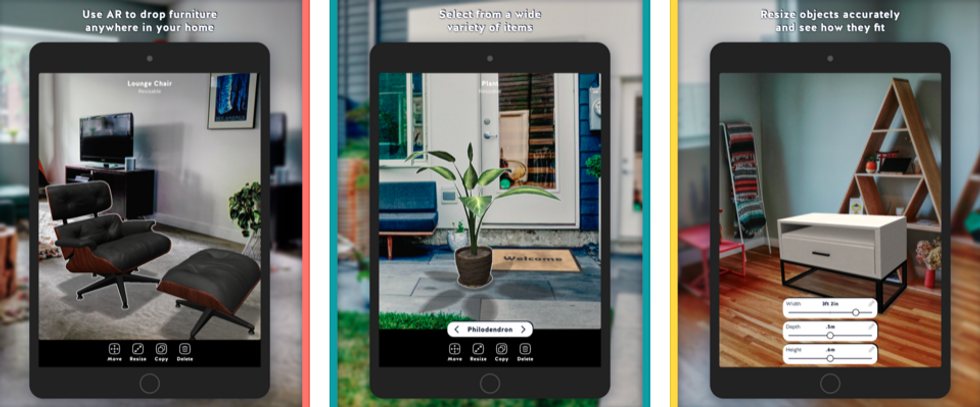 Sivro LLC
This app is very similar to Ikea Place, but is more for seeing how your room will look with a bunch of generic pieces of furniture in it. There is no way to buy the furniture featured in the app, so it's more a case of playing real-world Sims than a retail experience.
But it works well, items appear to be the right scale and stay in place when you move around, and there are no ads, making Housecraft a solid app for decoration inspiration. There's also a wide range of potted plants to virtually drop into your garden, too.
DecoratAR (iOS)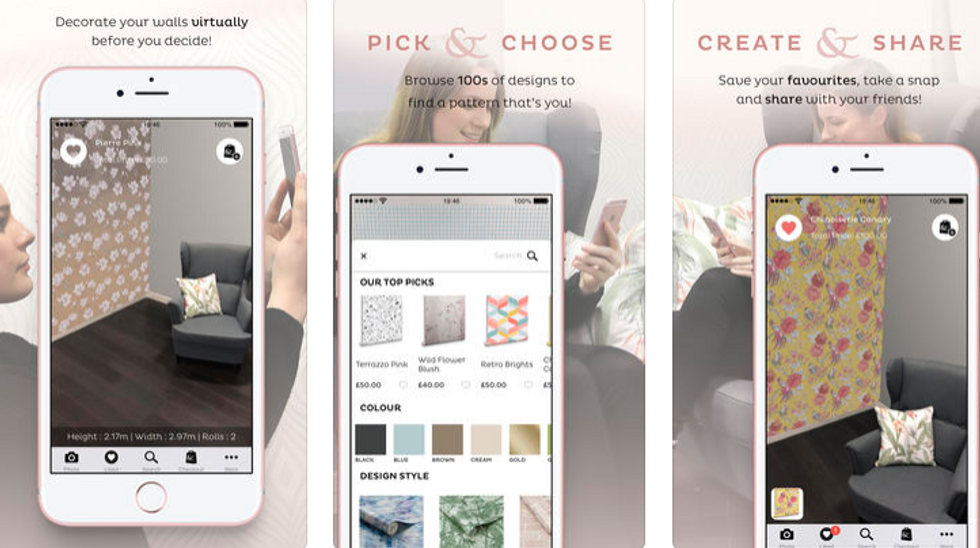 Graham & Brown
From wallpaper company Graham & Brown, this app lets you cover your real walls in virtual paper with the power of augmented reality.
Quickly point the app at your feet to calibrate the camera, then tell the app where the corners of a certain wall are. This takes just a couple of seconds, then you can cover the wall with virtual paper. However, the app cannot 'see' any objects in front of or on the wall; it just puts a huge piece of wallpaper over the entire wall, covering your TV and anything else which might be there.
In smaller properties this makes the app difficult to use, but we can see how it would work well in larger (or completely empty) rooms. The app accurately estimates the size of the wall, then tells you how many rolls of paper will be required, and how much that will cost. There is a huge range of paper on offer, and they are of high enough resolution to almost see the texture of each roll when you get up close.
Dulux Visualizer (iOS and Android)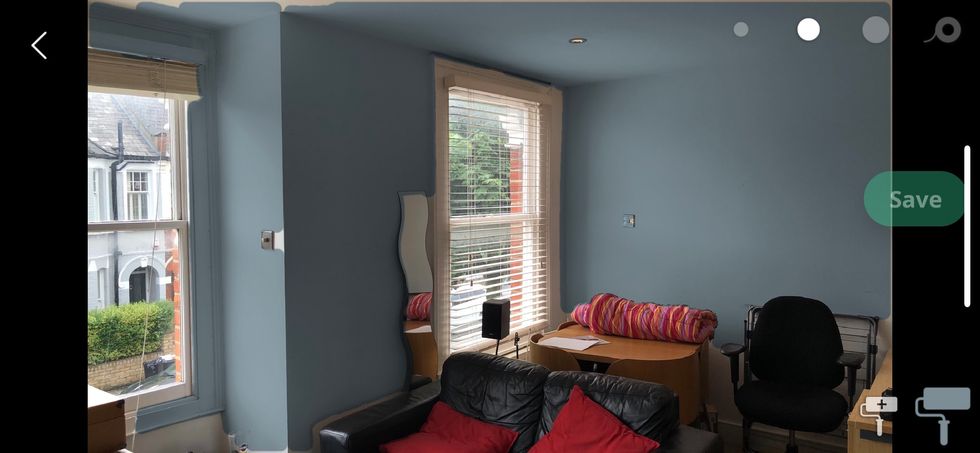 The app accurately applied paint only to the walls (and ceiling)GearBrain
Paint company Dulux has just launched its Visualizer AR app, which applies digital paint to a live view of any room you point your smartphone app. The app works very quickly and does a surprisingly good job of only painting the walls; our television remained untouched, for example.
The app even knew not to apply paint to an ironing board leaning against the wall, and avoided light switches too, which we thought was impressive. As well as painting interior walls, the app can paint outside and apply virtual wood treatment to decking and fences.

You can also use the app to photograph objects and find a paint of the same color.
Paint Tester (iOS and Android)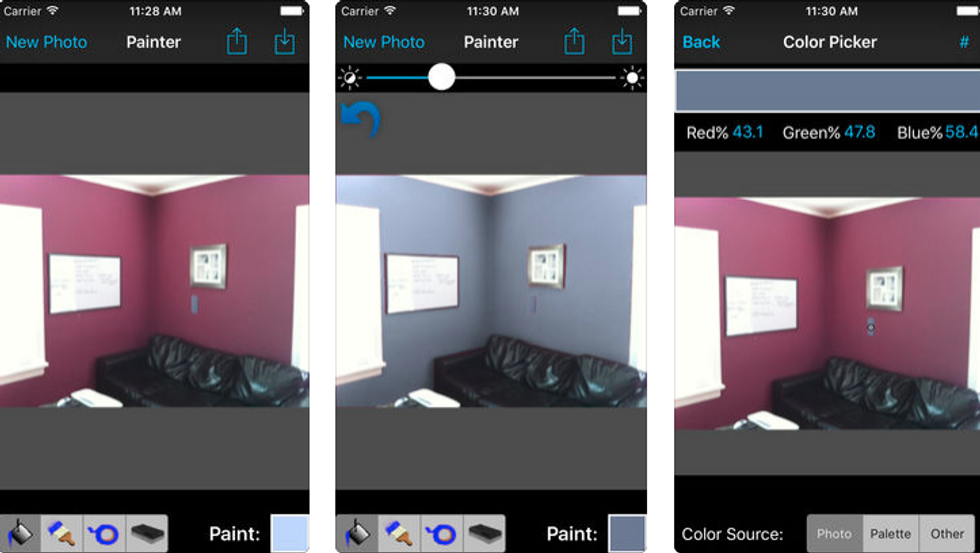 Luminant Software
An alternative to the Dulux app is Paint Tester. The free version applies paint to photographs of your walls and does an acceptable job of getting paint in the right place, sparing your TV, furniture and carpet. If the app gets it wrong, you can add or remove paint manually afterwards.
Lumos (iOS)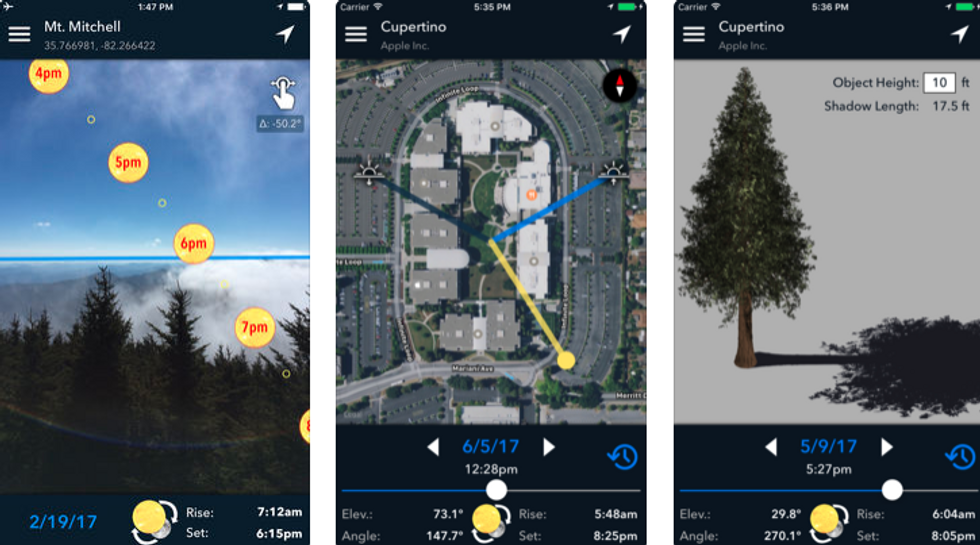 Luminous Labs
Knowing how the sun passes overhead each day can help you arrange your furniture (and plants) to make the most of it. Of course, if you have lived in your current home for a while then you'll know this already, but Lumos is useful if you're viewing a potential new home, or have just moved in.
Open the app, allow it to see your geographic location, then you'll be given an argumented reality view of how the sun passes over your home through a 24-hour period. An overhead map view shows how the sun faces your property through the day, and where it rises and sets on any day of the year you choose. For an Android alternative, try Sun & Moon Finer AR.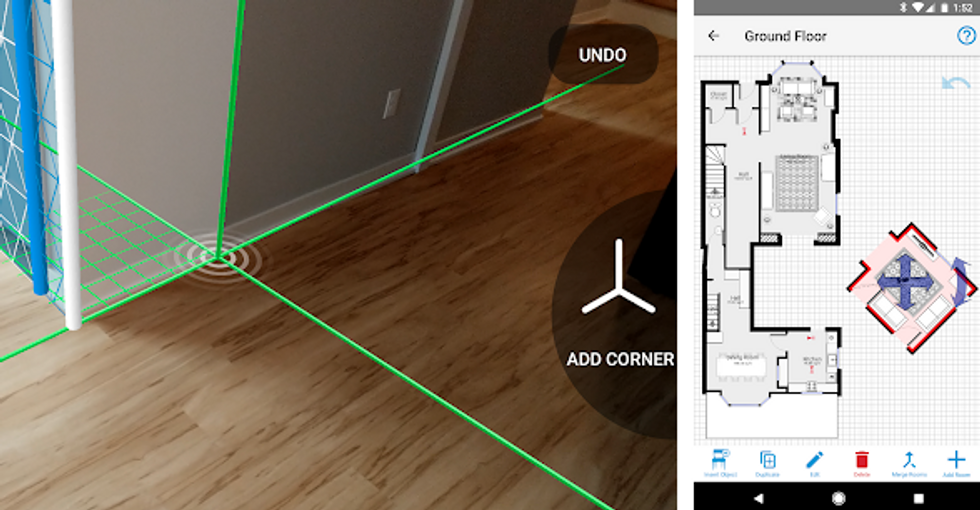 Sensopia
Finally, MagicPlan is one of several smartphone apps which use AR to help measure rooms and produce blueprints. While these can sometimes be vague and temperamental, we found MagicPlan to work very well.
You just have to view your room through the camera and tell the app where the corners are. The map is then made, ready for doors, windows, furniture, cupboards, appliances and other items to be added.
There is also a system for estimating the cost of painting, wallpapering, tiling and having new flooring installed, based on the size of each floor and wall.
Like GearBrain on Facebook