Like GearBrain on Facebook
Apple boss Tim Cook says augmented reality (AR) will become as big as the iPhone App Store and multi-touch, but admits the technology for smart glasses of Apple's standard isn't here just yet.
Cook has been a vocal supporter of AR for some time, claiming its impact on consumer technology will be more profound than that of virtual reality (VR), despite the latter taking an early lead with hardware like the Samsung Gear VR and HTC Vive.
AR technology covers a wide market, from the Pokémon Go smartphone game, to a new Ikea app which lets you place virtual furniture in your actual house using an iPhone's camera, to high-end hardware like the Microsoft HoloLens.
Speaking to The Independent during a visit to the UK, Cook said he expects apps like Ikea's to change shopping "entirely" by augmenting the experience. Ikea's app is one of the first to make use of Apple's new suite of augmented reality developer tools, called ARKit. Cook adds that he doesn't think "anything will be untouched" by AR as the technology evolves and matures.
Cook sees the slow start for ARKit (Ikea, measuring apps, a handful of AR games) as a repeat of how the App Store launched and grew. "Thinking back to 2008, when the App Store went live," says Cook. "There was the initial round of apps and people looked at them and said 'this is not anything, mobile apps are not going to take off'. And then step by step things start to move."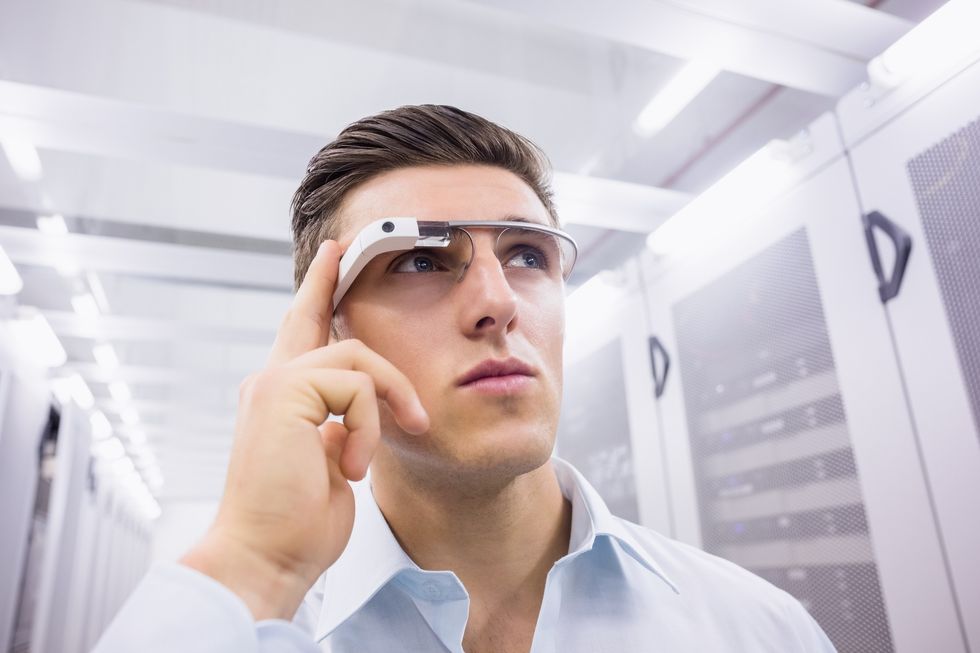 Google Glass used AR, but failed to become a commercial successiStock
"And it is sort of a curve, it was just exponential — and now you couldn't imagine your life without apps," Cook adds. "Your health is on an app, your financials, your shopping, your news, your entertainment — it's everything. AR is like that. It will be that dramatic."

Cook also believes AR will be as transformative as multi-touch has been over the last decade in the way we interact with computers and software. "It's that big", Cook says of AR potentially following the path of multi-touch.
ARKit apps are currently available exclusively on the iPhone and iPad, partly due to their portable nature, screens, cameras, sensors and processing power. But this hasn't stopped speculation in recent months centering on the idea of Apple building a new AR product — specifically, a pair of augmented reality glasses, similar to Google Glass, but made into a commercial success.
Patent filings reveal Apple is researching AR glasses, but this doesn't necessarily mean such a product will go on sale soon. However, industry analysts IDC said in September it is "only a matter of time" before Apple, Google and others release AR glasses.
Cook admits there are "rumors and stuff about companies working on these" but says today's technology is not advanced enough to put the hardware an iPhone uses to run AR onto your face, at least in a comfortable, practical and attractive way. "Today I can tell you the technology itself doesn't exist to do [AR glasses] in a quality way," he says. "The display technology required, as well as putting enough stuff around your face — there's huge challenges in that."
Like GearBrain on Facebook