Like GearBrain on Facebook
Since it arrived back in 2010, the iPad has increasingly marketed itself as the 'future of computing.' Although first no more than an iPhone with a bigger screen, the Apple tablet has slowly grown up with a goal of becoming a laptop alternative.
But, even when using the latest iPad Pro, complete with Apple's keyboard case, Pencil stylus and current iOS 12 software, it wasn't the complete package. Safari was still a mobile web browser, so wouldn't always play nice with certain websites and online tools like website content management systems.
The home screen, with its sparsely spaced apps, felt like a giant waste of pixels, and the lack of a proper file management system was a pain. Apple's own Files app helped here, but with iOS 12 trying to get work done was still problematic.
Read More:
Step forward iOS 13 and iPadOS
All this is about to change with Apple's new iOS 13 software, available as a beta since June and rolling out as the finished article on September 24. For the first time, Apple has created two distinct versions of iOS — one for the iPhone and one for the iPad. The former is called iOS 13, while the latter gets a new name, iPadOS.
With iPadOS, Apple promises to make using an iPad feel more like a laptop replacement than ever before. The Safari web browser works much more like the one for Macs instead of the one designed for the iPhone. The Files app has been improved to work more like Finder on a Mac, multitasking has been redesigned to let you interact with two or more apps at once, and with some apps two instances can be on-screen at once.
There's also a new option to make the home screen feel more like a computer and less like a tablet, and you can screen-grab an entire web page and mark it up with the Apple Pencil, scribbling to your heart's desire. There are also new keyboard options, dark mode, a new Photos app, improved performance, and a feature called Sidecar, which turns the iPad into a second display for your Mac.
Here is a quick look at the biggest new features coming to your iPad with iPadOS, from September 24.
A new and more useful home screen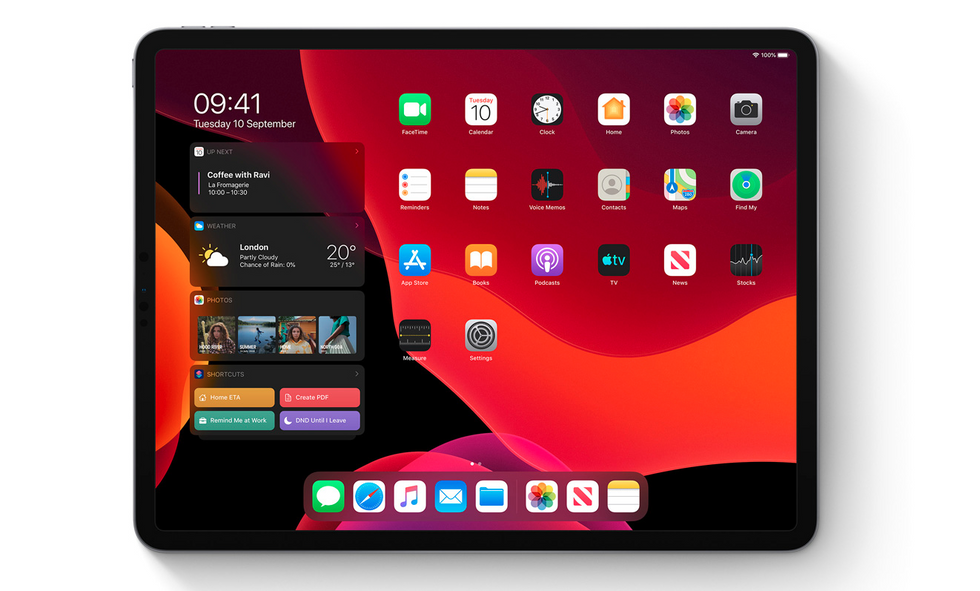 iPadOS home screen with new Today View panelApple
The changes here are immediately obvious. For starters, the home screen now lets you permanently pin a set of widgets from the Today View right next to your apps. That way (when used in landscape), the iPad home screen can be set to show your apps, but also the date and time, your next calendar event, location and time, the current weather, a selection of Siri Shortcuts, recent files, email and more.

How you configure this section of the home screen is entirely up to you, and while its functionality isn't huge, it makes for a pleasing interface which is useful at a glance, and immediately makes the iPad feel more like a computer, ready to get things done.
You will notice that, on Apple's web page promoting iPadOS, the tablet is almost always displayed in landscape instead of portrait orientation. This, compared to the portrait-favoring iPhone, says a lot about what Apple sees for the future of the iPad. It's a device to be used primarily in widescreen, like a laptop or a computer screen.
Desktop-class browsing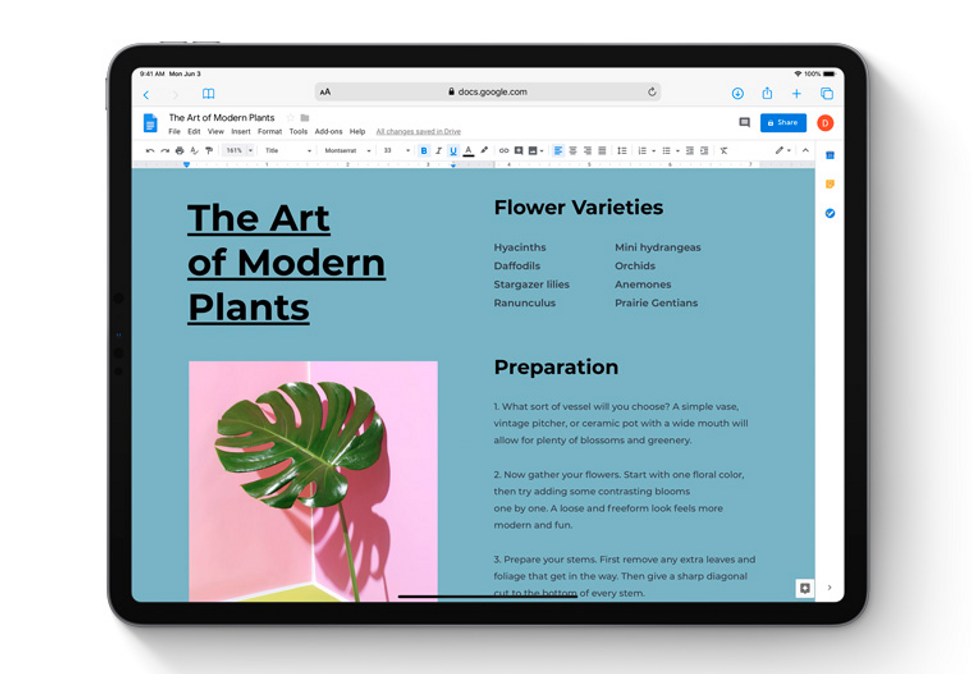 Safari now tells websites that it is a desktop browserApple
The Safari web browser in iPadOS is a huge improvement over previous iPad versions, and that's basically because it lies — telling a website it's not a tablet. For example, when a device like a phone, tablet or computer visits a website, the site is told a bit of information about the device, such as the size and orientation of the screen, to help the website appear correctly.
An iPad running iPadOS, on the other hand, tells websites that it is a computer, not a tablet or a smartphone. That way, the site returns the desktop version by default, thus elevating your browsing experience from a large phone to that of a touch screen computer. Web apps like Google Docs, SquareSpace and WordPress now work properly. For many iPad users, this will be the single most important feature of iPadOS, as it now allows for work to be done in a way which was impossible before.

A vastly improved Files app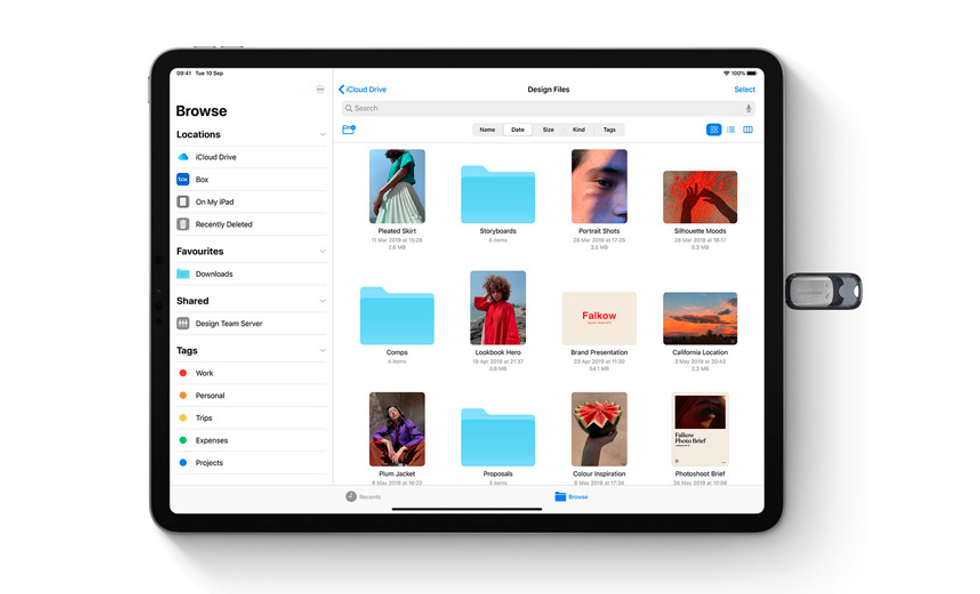 Files app in iPadOSApple
Also key is how the Files app has been updated for iPadOS, which means users can now upload images from an iPad (or saved on their iCloud Drive) through Files and Safari.

Files can also now, finally, read USB sticks, SD cards and almost any other form of storage you attach to the iPad's USB port. Photos on a camera can be uploaded to an SD card, and through the same USB-C hub you might use with a MacBook, you can import images, then edit them (in Photos or Lightroom), and upload to iCloud.
This simple change has made a huge difference to my mobile workflow, and finally means I can work remotely without needing to carry a laptop with me. There's also an improved download manager in Safari, with downloads falling straight into your Downloads folder, accessible in the Files app.
Your documents and folders can be viewed through a three-column view the same as Finder on the Mac, and there are shared folders for collaborating with your colleagues.
All of these improvements add up to a feeling where, instead of merely viewing the internet from afar, the new Safari and Files apps in iPadOS mean you can actually interact with the web and use it properly.
The Files app was one of the buggiest parts of iPadOS while it was in the beta development stage, and often failed to work. However, the latter beta builds improved on this markedly, and for the last couple of weeks I've not had any issues - a good indication that the public version released on September 24 will work reliably.
Multitasking with Side Over and Split View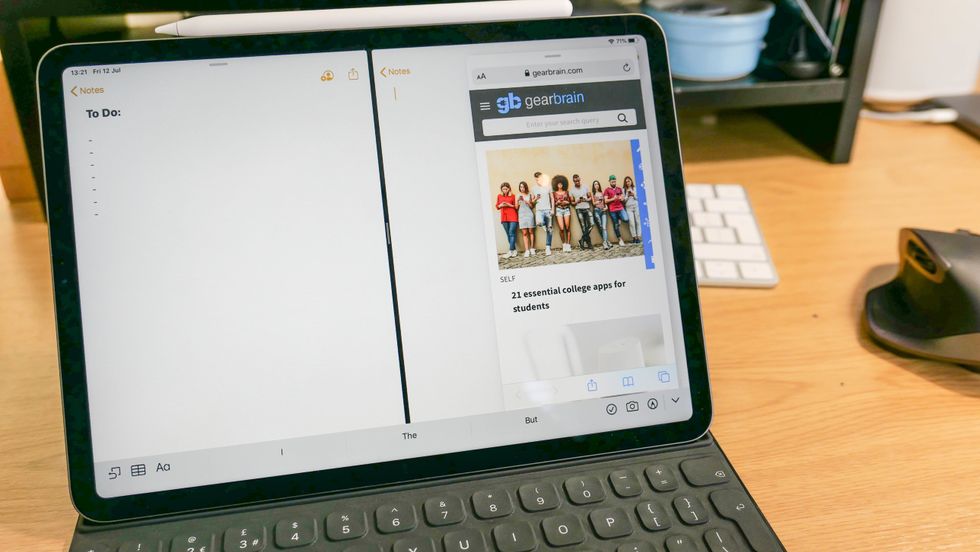 Two instances of Notes, and Safari, all running at onceGearBrain
Even when its software was far simpler, the iPad's larger display meant multitasking was more useful than on an iPhone. Now, instead of just showing two apps next to each other, you can use them both at the same time, and even have two instances of the same app open and on-screen at once.

This means you can have two instances of the Notes app open next to each other, for example — although curiously this doesn't work with Apple's own Pages app at launch.
You can then take things a step further with iPadOS and introduce a third window, which floats on top of the two apps you have open next to each other. Like a virtual iPhone on the screen of your iPad, this third window is called Slide Over and can have multiple apps added to it, which are flicked between with a sideways swipe, just like switching between apps on the iPhone X, XS and XR.
Apple suggests the Slide Over can be used to quickly look at simple apps like Music, Reminders and Messages, which never need to be full-screen. Instead, you can flick through the Slide Over panel until you find the app you want (Music, say), then change the track, all while the rest of your screen continues to show Safari, Pages, or whatever you were working on.
Here's an image provided by Apple showing how the Slide Over panel looks when flicking between open apps: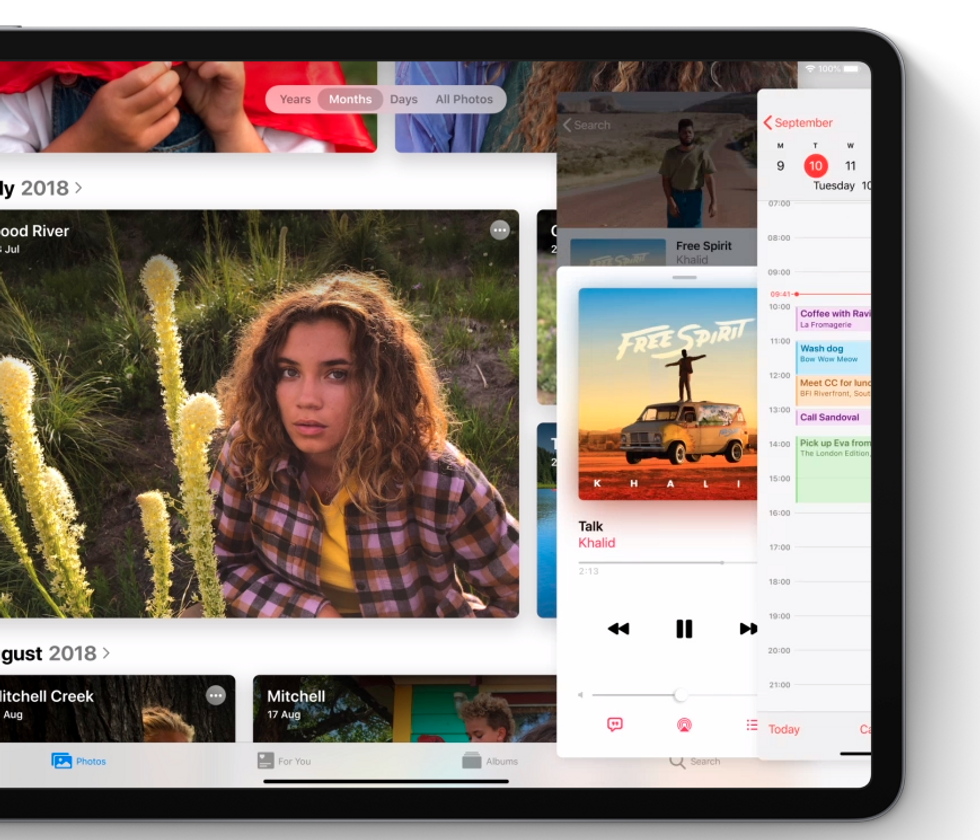 Slide Over apps in iPadOSApple
The iPad's multitasking system has also been improved to let you have multiple instances on the same app open at once, and sat next to several different apps in the split-view layout. This sounds complicated, but what it means is you can have Safari and Mail open and active next to each other, then swipe to the side and have another instance of Safari next to the Notes app, or one of several other split-view-friendly apps. Essentially, iPadOS is designed to help you be more production, by allowing the location of apps to be more flexible than before.
All of these so-called Spaces can be seen using the iPad's new Mac-style Exposé view. To help with the Apple lingo here, a Space is what you see on the iPad's screen; one space could just be full-screen Safari, while another space could be another Safari page next to the Mail app.
Apple Pencil improvements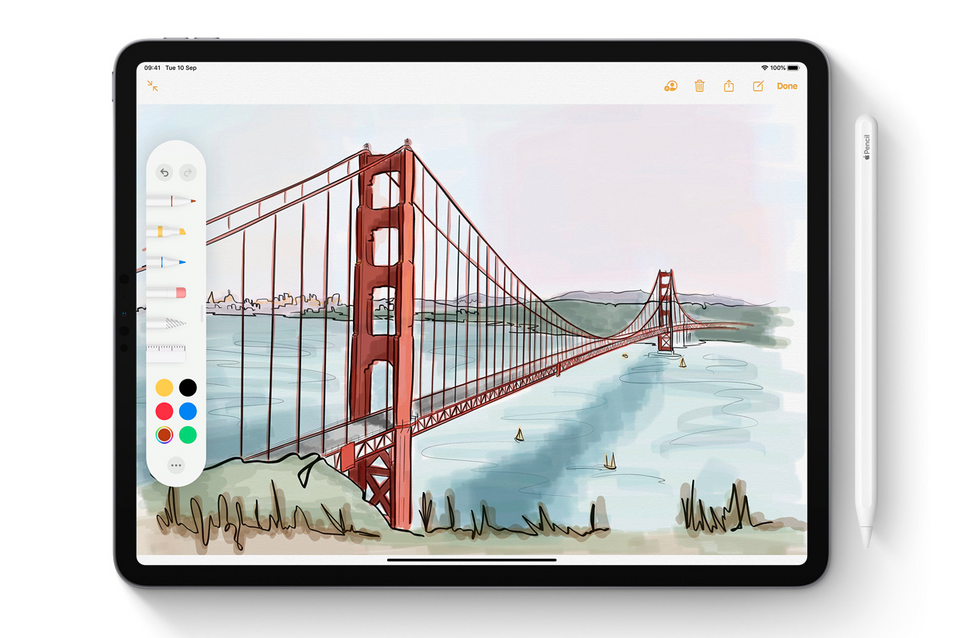 Redesigned Apple Pencil palette in iPadOSApple
With iPadOS, Apple has lowered the latency of the Pencil, meaning digital 'ink' appears on the screen more quickly than before, so the stylus feels more natural to use. The software also includes a redesigned tool palette, giving quick access to different types of digital pens and pencils. The palette can be moved to anywhere on the screen and shrunk to keep it out of the way while you work.

Also related to the Pencil is how you can now capture a screenshot of an entire webpage, then mark it up with the Apple stylus, annotating and drawing wherever you like on the newly created image. On that note, taking a screenshot has also changed; they are now taken by swiping inwards from the lower right or left corner, instead of pressing the power and volume up buttons.
Sidecar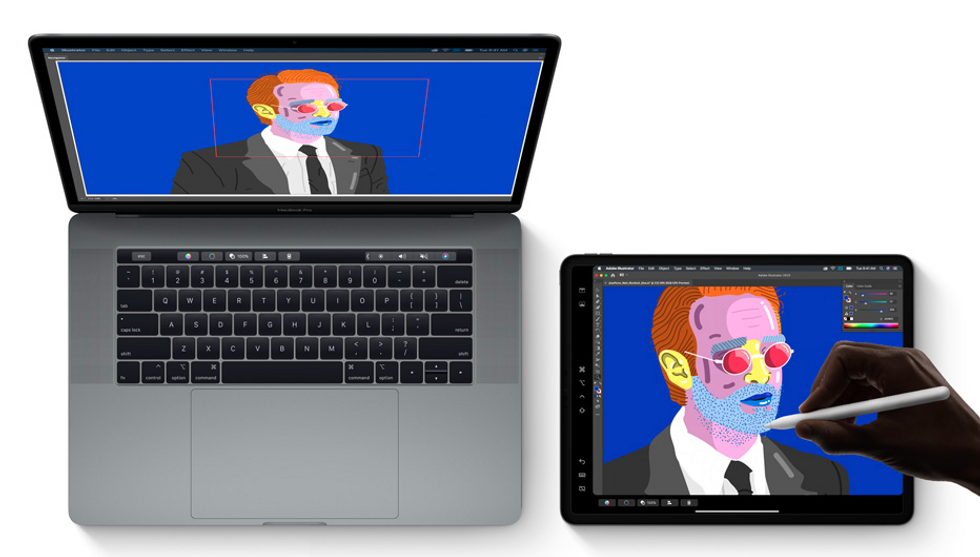 Sidecar feature with iPadOSApple
Another work aid introduced with iOS 13 and iPadOS is called Sidecar, which lets you use your iPad as a second display for your Mac. This can be done wirelessly (when connected to the same Wi-Fi network) or when connected with a USB cable.

The Mac sees the iPad exactly as if it is another display. That way, you can go into the Mac's Setting app and adjust the iPad just as you would any other external monitor. You can adjust the orientation of the two screens, and pick which you want to display the Mac's toolbar.
For those who work in image creation and editing programs, the iPad and Apple Pencil can double up as a graphics tablet, as shown in the image above.
Lots of new gestures
iPadOS includes several new gestures you'll need to learn to get the most out of it. First, sections of highlighted text can be be copied by pressing three fingers (or your thumb and two fingers) against the selection, then closing them with a pinch. This selection can then be pasted with the opposite movement, by touching your thumb and two fingers against the screen, then expanding them, as if pinching to zoom.
The same three fingers (or two and thumb) can be used to undo a text action by swiping to the left. These sound clunky, and admittedly they do take some getting used to (and remembering they are even there is half the battle), but once mastered they work well.
Other changes include how you can pick up the cursor and drag it to where you want (as is also the case with iOS 13 on the iPhone), and you can quickly select sections of text by dragging a single finger over the sentence you want. Alternatively, you can select a single word with a double tap, a whole sentence with three taps, or an entire paragraph with four taps.
A new Photos app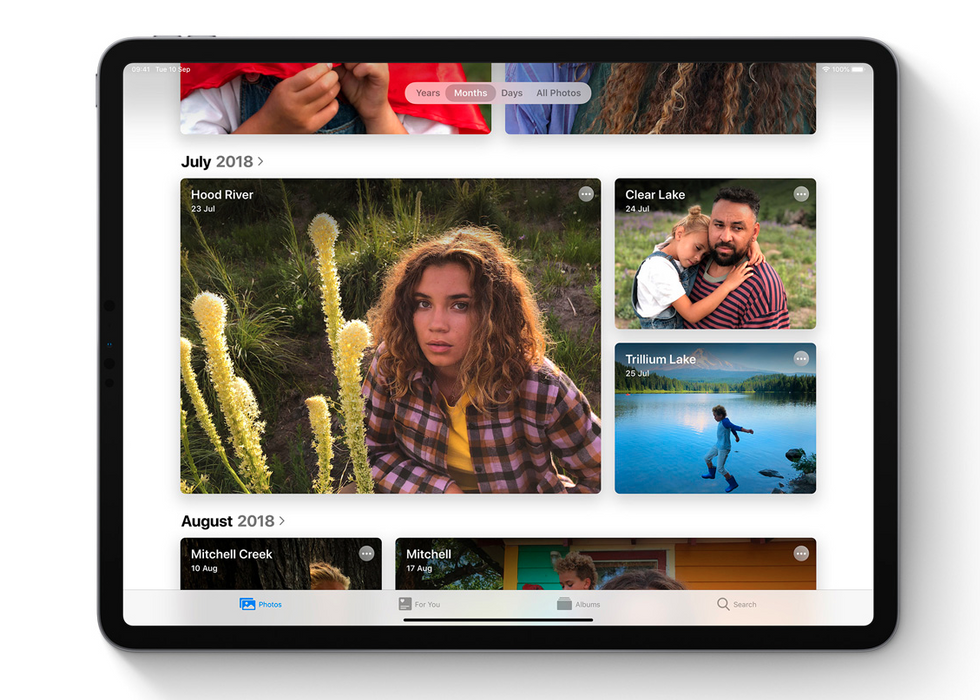 New Photos app in iPadOSApple
As with iOS 13 on the iPhone, iPadOS brings a new Photos app to the iPad. The redesign puts an emphasis on curation, with the app automatically gathering your photos into collections organized by date, location and person. These collections can be viewed by day, month and year, or you can view every single photo listed chronologically, just as you could before.

The Photos app with iPadOS also includes new editing tools to help fine-tune your images, and for the first time almost all of these tools can be used to edit videos too.
Increased performance
Apple says Face ID on the iPad Pro is up to 30 percent faster with iPadOS, and I'm inclined to agree, as the system feels like it unlocks much quicker, and with no need to deliberately star at the sensor for a moment to be recognized. Often, by the time I've opened my iPad and positioned it the way I want, it has already unlocked.
Apple also says iPadOS means apps open up to twice as fast, and they are smaller to download.
And finally...
Lastly, iPadOS brings a smattering of smaller changes and. updates. These include new Notes and Reminders apps, custom Memojis in. Messages, a more detailed Maps app, the Siri Shortcuts app, and access to Apple Arcade. There is also a feature called Hand Off to HomePod, which switches music playback from your iPhone or iPad to a HomePod when the devices are held close to each other for a moment. Finally, two pairs of AirPods can be used at once, meaning you and a friend can listen to the same music or watch the same movie on one iPad.
Which models of iPad does iPadOS work with?
As ever with new Apple software, some older models miss out on the latest features. For iPadOS, this includes the original iPad Air, as well as the 1st, 2nd and 3rd generations of iPad Mini.
These devices will get the update:
12.9-inch iPad Pro
11-inch iPad Pro
10.5-inch iPad Pro
9.7-inch iPad Pro
iPad (5th, 6th and 7th generation)
iPad Mini (4th and 5th generation)
iPad Air (2nd and 3rd generation)
Like GearBrain on Facebook