Apple Arcade launches this week, coming to devices running the iOS 13 beta today, September 17, and to everyone else two days later.
The new subscription service starts with a one-month free trial, then costs $4.99 per month. Apple Arcade works across the company's product portfolio, including on the iPhone, iPad, Mac and Apple TV. There are around 50 games available now, and Apple promises over 100 by winter.
Read More:
All games can be played online or offline (so they'll work just fine on the airplane), and they work cross-device, so you can play on your Mac, then switch to your iPhone and pick up where you left off.
Arguably the most important feature is the lack of micro-transactions, in-app purchases, adverts and buyable loot boxes. Instead, all of the games work like those bought on more traditional gaming platforms, like the Xbox One, PlayStation 4, and Nintendo Switch.
Not a 'Pay to Play' model
This marks an important shift in the mobile gaming landscape. Although not an avid gamer, I remember excitedly downloading Real Racing 3 for my iPhone back in 2013; the previous two installments have been excellent, and given the franchise was now published by Electronic Arts, I had high hopes for number three.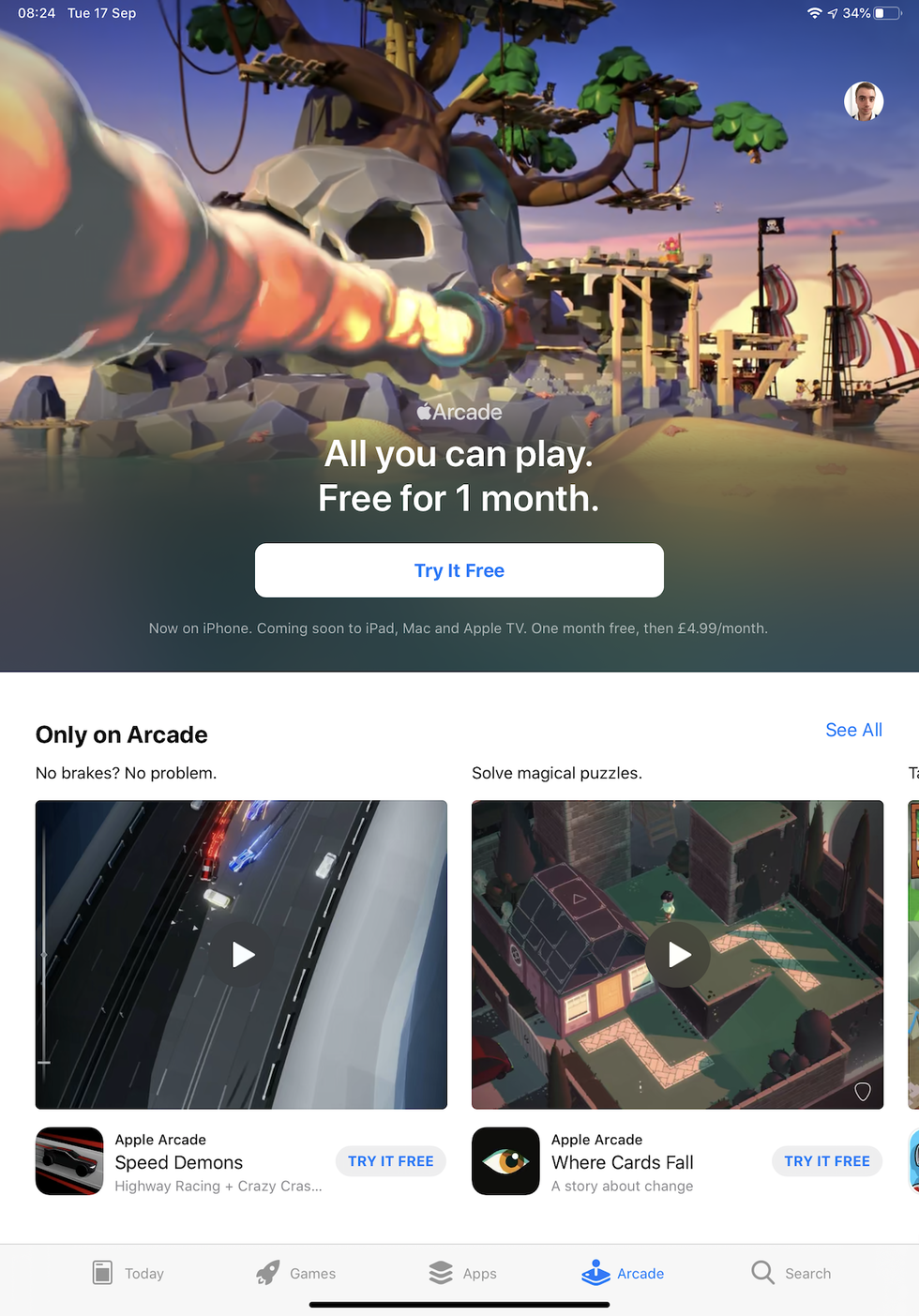 Apple Arcade launches on September 18GearBrain
Instead, what arrived was one of the first 'freemium' or 'pay-to-play' mobile games. Just as iPhones and Android smartphones were at a point where they had the power to play graphically intense games resembling the quality of console games from just a generation ago, the industry had decided to take a different path. Instead of charging $5 or even $10 for the game, they gave it out for free, but made it almost impossible to play without paying repeatedly to make progress. Real Racing 3 was one of the first to do this, but it was far from alone.

At its simplest, small transactions meant cars could be fixed or delivered to your garage more quickly, otherwise you had to wait an hour, not playing the game. Naturally, paying out a few cents to keep playing was always a temptation, especially to console gamers used to playing for hours on end without tedious waiting. The industry evolved over the next six years, but even in 2019 it is still commonplace to see free mobile games littered with adverts which interrupted gameplay, or with games demanding payment to make unimpeded progress.
Loot boxes also became a problem, where gamers are asked to pay to unlock a mystery selection of in-game items. Some of these items are perceived as carrying more value than others, turning the paying for a loot box into a lottery. Young gamers using a smartphone with a billing account linked to their parent's credit card then racked up bills in a bid to unlock rare in-game content.
This month, British members of parliament called on the government to classify paid-for loot boxes as gambling — a move which would follow similar steps already taken in China, Belgium and the Netherlands. Instead of obtaining a gambling license, video game companies operating in Belgium no longer charge money for loot boxes.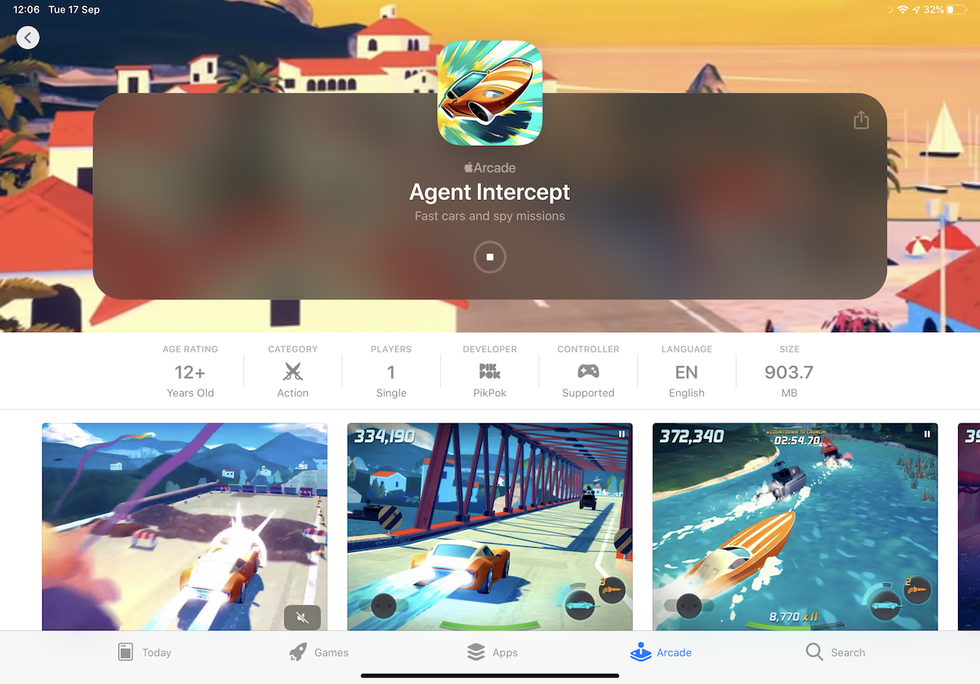 Agent Intercept on the Apple ArcadeGearBrain
How Apple Arcade differs
Now, there's Apple Arcade. Already known for its family-friendly, squeaky-clean image, Apple is likely to have already held a dim view on paid-for loot boxes, or gaming mechanics which lure children into addiction.
Instead, Apple Arcade charges a flat rate of $4.99 for blanket access to every game the service has to offer, and a family of six can play for that price too, providing their devices are linked through Apple's existing Family Sharing system. In one hit, this removes parents' worries of children seeing inappropriate adverts on free games, or using their credit card in freemium titles.
Having played some of its titles this week, Apple Arcade feels like a return to mobile gaming pre-Real Racing 3, but with today's graphical performance.
Of the 10 titles I have played so far, all look beautiful and play with a high-caliber slickness that quickly turns the iPhone or iPad into a Nintendo Switch rival. We're not talking Xbox or PlayStation graphics, of course, but that's not what Apple is aiming for. Instead, titles like Oceanhorn 2 and Projection stay inside their technological comfort zone, but excel within it.
Apple Arcade games are accessed from a new tab within the iOS App Store, and your existing Apple Game Center ID is automatically used to log into every title. Because you are logged into every game you play, it's easy to stop playing on one device, then carry on on another. I switched between my iPad Pro and iPhone X with ease.
Controllers work too
Many Apple Arcade launch titles also support Xbox One and PlayStation 4 controllers over Bluetooth. This might be overkill with an iPhone on your commute, but with an iPad propped up in a keyboard dock, using a proper controller makes a lot of sense. Titles like Oceanhorn 2 feel 'proper' in a way I've not experienced with mobile gaming before; Xbox controller support felt integral to the gameplay instead of a half-baked afterthought.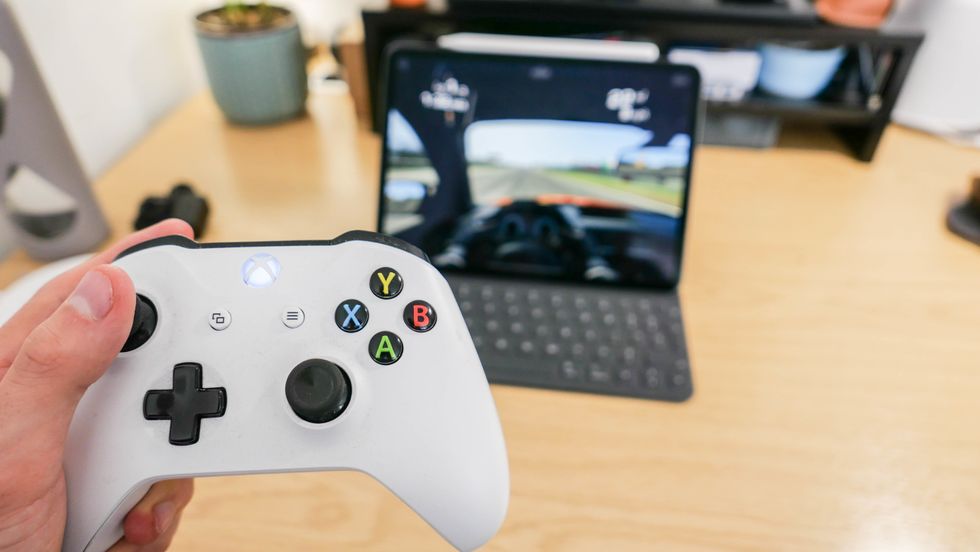 Some Apple Arcade games offer Xbox and PS4 controller supportGearBrain
Audio is also a delight in the games I've played so far (except perhaps the annoyingly repetitive sounds of Frogger in Toy Town). Played with headphones on, games like Agent Intercept and Overland feel like real games worth sinking time into, not just Angry Birds-style, two-minute time-wasters.

Of course, if all you want are time-wasters to kill two minutes waiting for the bus, the App Store is rammed full of titles to play without paying $5 a month for Apple Arcade. But if you want to take things a step further, I reckon the $5 outlay will soon be forgotten about by many gamers who want more, but aren't into multi-hour sessions on a PlayStation, Xbox or gaming PC.
You could argue that Apple is aiming to rival those three by offering Arcade on the Apple TV and Mac, but for now the games are a tier or two below the AAA titles those consoles are famous for. Instead, I think the Nintendo Switch is a worthy target, given Apple gamers can also play on the go and in any room at home, too.
Most importantly, the Apple Arcade feels like a breath of fresh air. Players are automatically signed into every title using their Game Centre credentials, with no need to create an account with any game at all.

You simply download the game, then start playing; the speed here is key for mobile gaming, when you might only have a few minutes to play between subway stops. Being able to play a game on your commute with an iPhone, then carry on at home on a Mac or Apple TV, is a great bonus for anyone already in the Apple ecosystem.
Speaking as a casual gamer whose Xbox is almost exclusively used for Forza Motorsport, Blu-rays and collecting dust, I believe Apple Arcade has made a great start right out of the gates. Apple isn't aiming this at hardcore console or PC gamers, but is instead giving a carefully curated selection of high-quality games aimed at the gap between casual iPhone gamers and those who want to see what's next, without buying a console.
With 100 titles available this fall, there should be plenty to get stuck into for now. The challenge, as with any subscription service, will be to keep the catalogue topped up with new titles to stop subscribers from bailing out. If Apple can manage this, then I believe a healthy chunk of today's billion-plus iPhone owners will hand over $60 a year — even if it's just a convenient way to avoid free games littered with intrusive adverts and loot boxes.