Like GearBrain on Facebook
An application for iPhone and iPad by Kaia Health caused a stir last summer when it showed how squatting techniques could be improved using your device's camera and artificial intelligence.
It was a clever demonstration of smart technology, but limited in that it could only help you perform the perfect squat. Now though, a major update to the app has turned it into a fully-fledged fitness program.
Read More:
With a name change from Perfect Squat Challenge to Kaia Personal Trainer, the new app uses the camera of your iPhone or iPad to track 16 key points on your body. All you have to do is start the app, place your device around seven feet away, so that your entire body is visible on the display.
The company suggests you prop your iPhone up on the floor against a table leg, so it can see you clearly and you can still see the portrait-orientated display.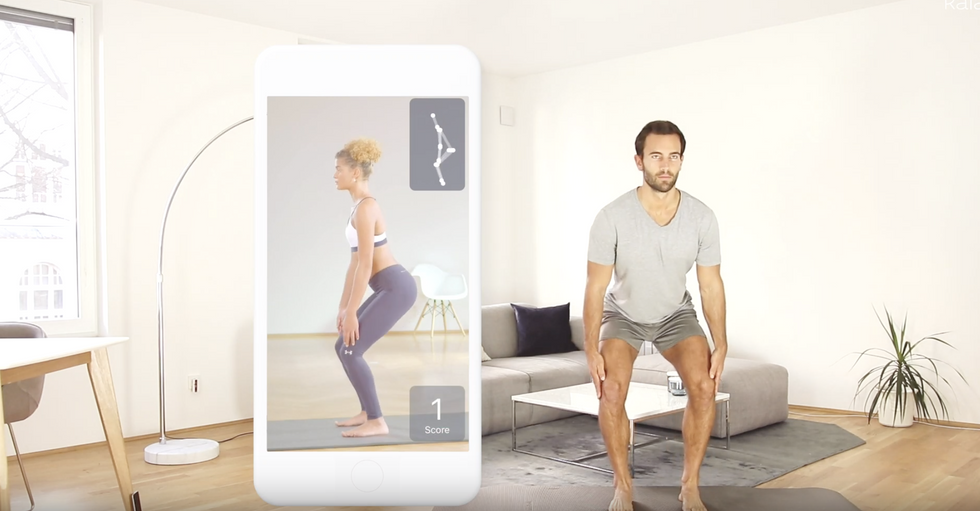 The app uses your smartphone camera and AI to improve exercise formKaia Health
It then compares your movements with what its developers consider to be the perfect movement for the exercise you're doing, and provides real-time audio feedback and video instructions to help you improve your posture and movement.

The focus is on the position of your limbs and joints, and the angles between them. The app's feedback is intended to help reduce the risk of injury, but also help you work your muscles correctly and in the most efficient way possible.
The updated app now tracks your exercises — and the reps of each exercise type — then creates workout plans tailored to you, and continues to offer spoken feedback to help you improve each time you work out.
You can offer feedback to the app, which will adjust the difficult level and types of exercise based on how you're getting along. The app is free to download now and comes with a free seven-day trial. After this, Kaia is charging $29.99 for three months.
Kaia isn't the first company to use technology to improve workout posture. Nintendo had the Wii Fit Balance Board, which gave advice based on how a user stood on it and distributed their weight. Also, Microsoft took a similar approach to Kaia with its now-discontinued Xbox Kinect system, which used cameras and sensors to accurately map a player's body. Although this was primarily used for gaming, some exercise and training applications were available.
Mobvoi TicWatch S2 and E2 review www.youtube.com
Like GearBrain on Facebook