Some aspects of the smart kitchen haven't evolved as quickly as other connected rooms in the home, but grease-resistant touch screens and Alexa integration are starting to make an appearance.
This is the case with the new Smart Oven+ by KitchenAid, which is compatible with Amazon Alexa, Google Assistant, and the Nest Learning Thermostat.
Read More:
Announced at the CES technology show in January, but only just put on sale this week, the connected oven is controlled via a 4.5-inch LCD touch screen. This acts as a miniature tablet for picking a recipe, setting the temperature and telling the oven exactly what you're cooking.
There is also a mobile app for controlling the oven from across the room, or even from outside the home. We can see this being particularly useful when you want to switch the oven on when you're a few minutes away, so it'll be up to temperature just as you walk through the door.
As well as using the touch screen and smartphone app, you can control the oven by issuing spoken commands to whichever voice assistant you use, whether it is Amazon Alexa or Google Assistant - it works equally well with both.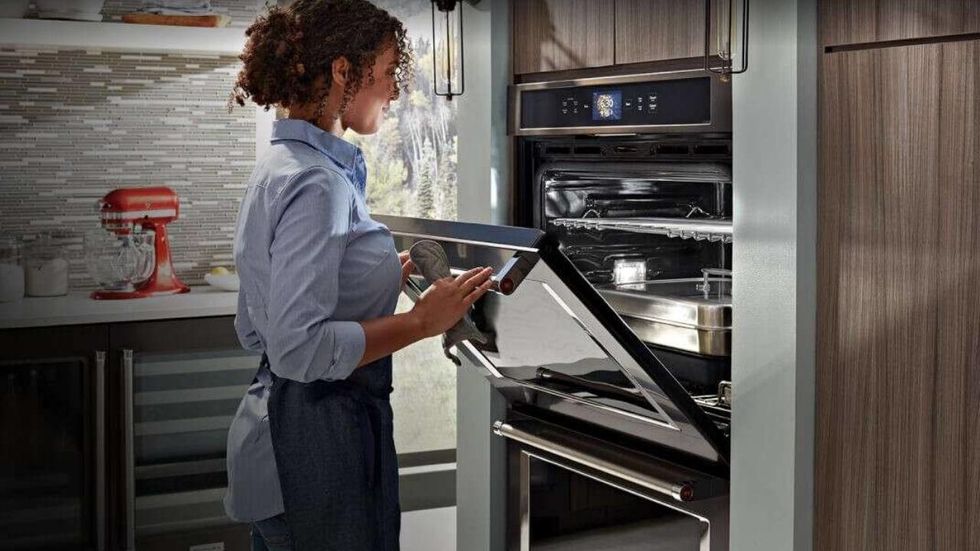 The Smart Oven+ starts at $3,199, plus accessoriesKitchenAid
This doesn't mean that the assistants are baked in, so you can't ask the oven to play music or control your smart home, for example. But instead, if you already have an Alexa or Google Assistant smart speaker, or you use those apps on your phone, you can control the over by speaking to the voice butler.

Another trick is how the Nest smart home system can alert you if you've go out and accidentally left the oven on; you can then use the KitchenAid smartphone app to switch it off.
There is also a powered grill attachment included with the KitchenAid Smart Oven+, which can be controlled with the touch screen, smartphone app, and voice assistants. The grill is included, but other accessories - also powered by a connection inside the oven - are sold separately. These extras include a steamer and a baking stone.

As you might expect, this oven does not come cheap. A single configuration costs $3,199, while a double oven is $4,799, and a combo setup is due to arrive later in the year.
Check out The GearBrain, our smart home compatibility checker to see the other compatible products that work with Google Home and Home Mini as well as Amazon Alexa enabled devices.
Smart Kitchen Trends on GearBrain TV with Flex www.youtube.com