Like GearBrain on Facebook
GE's Kitchen Hub, a wall-sized screen set to run your GE appliances when it launches next year just got a new feature — more than 5,000 recipes that will walk you through making any dish, and even preheat your oven too.
The digital recipe book comes courtesy of SideChef, a mobile cooking site that lets people pull up video-based meal plans, builds shopping lists and then lets you buy them through Amazon. The entire device is meant to run a smart kitchen in a smart home, rather than a commercial space.
GE's Kitchen Hub drew attention in January after debuting at CES — a piece of kitchen equipment that looks more like it belongs on the living room. The device is a 27-inch smart touch screen that also doubles as an oven hood, and has voice and gesture command.

At launch, GE promised the screen would support live video feed and chatting, a camera focused on the stovetop so you can shoot and post directly to social media, calendars, schedules — and yes, recipes.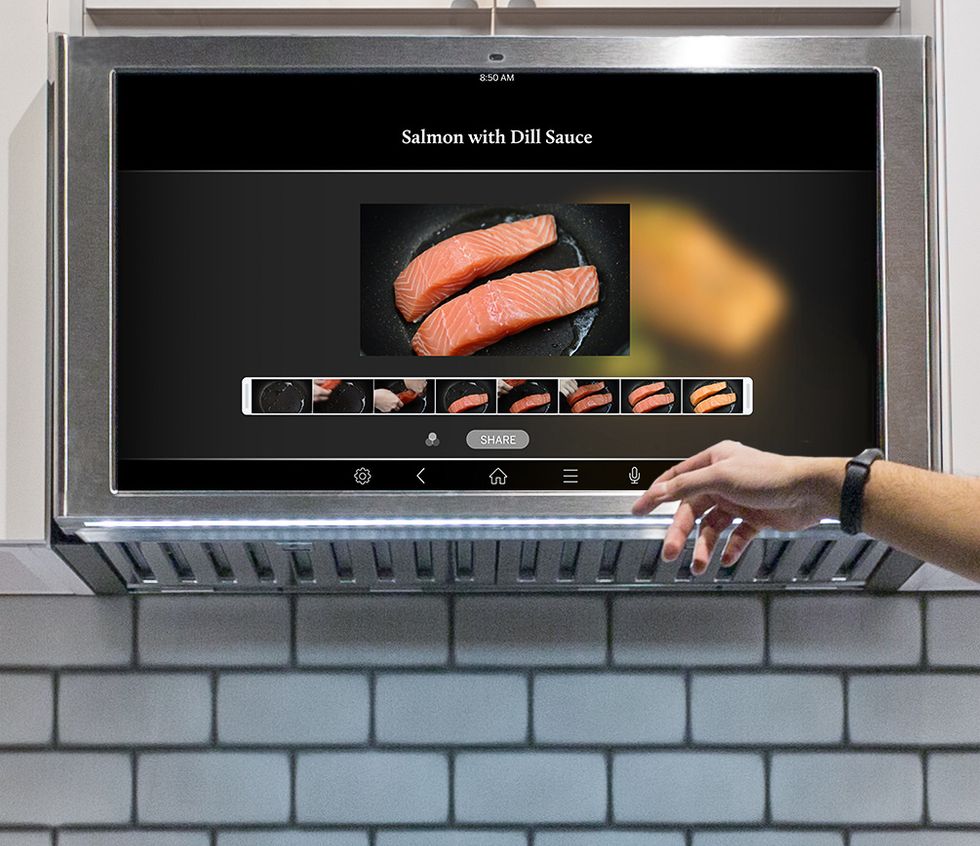 GE
The screen is also connected — and will speak with GE's other smart appliances including GE's Alexa-enabled Smart Countertop Microwave. The oven works by scanning a package's barcode through a phone app, and the oven automatically cooks the food according to its instructions.
In January, GE said the new smart screen would launch in 2018. Now the company says that the device "will be commercially available in 2019."
The new SideChef collaboration is more than just recipes, says GE. Cooks will also be able to watch instructional videos — and even create their own digital cookbooks.
"Our partnership with SideChef is one more way we are creating experiences for owners that are not only innovative, but also useful and memorable," said Shawn Stover, vice president of GE Appliances' Smart Home Solutions team. "Whether consumers want to save money, eat healthier or impress family and friends, SideChef has a recipe to match their needs. This integration is so smart that if a SideChef recipe calls for preheating the oven, no manual operation is required—it will happen automatically."
Check out The GearBrain, our smart home compatibility checker to see the other compatible products that work with Amazon Alexa.
From Your Site Articles
Related Articles Around the Web
Like GearBrain on Facebook