Like GearBrain on Facebook
Pros: Easy to use, simple installation, nice design, SmartKey security, built-in alarm, security on touchscreen, multiple access points, Bluetooth.
Cons: Limited to Apple ecosystem, remote access only available through third party.
One of the first connected devices consumers buy for their new smart home is a smart lock. These devices are normally Wi-Fi-enabled (some offer Bluetooth) and include several ways to lock, and unlock, your door remotely. One could be using virtual "keys" to supply friends, family and home workers entry to your home. Some smart locks also have remote "lock or unlock abilities." (But note that you might need to either connect the smart lock to a hub or pay additional for this service.) And smart locks can offer alerts, plus a log that reports exits and entries. Kwikset's Premis smart lock includes all these features, wrapped in a nice design and quality build.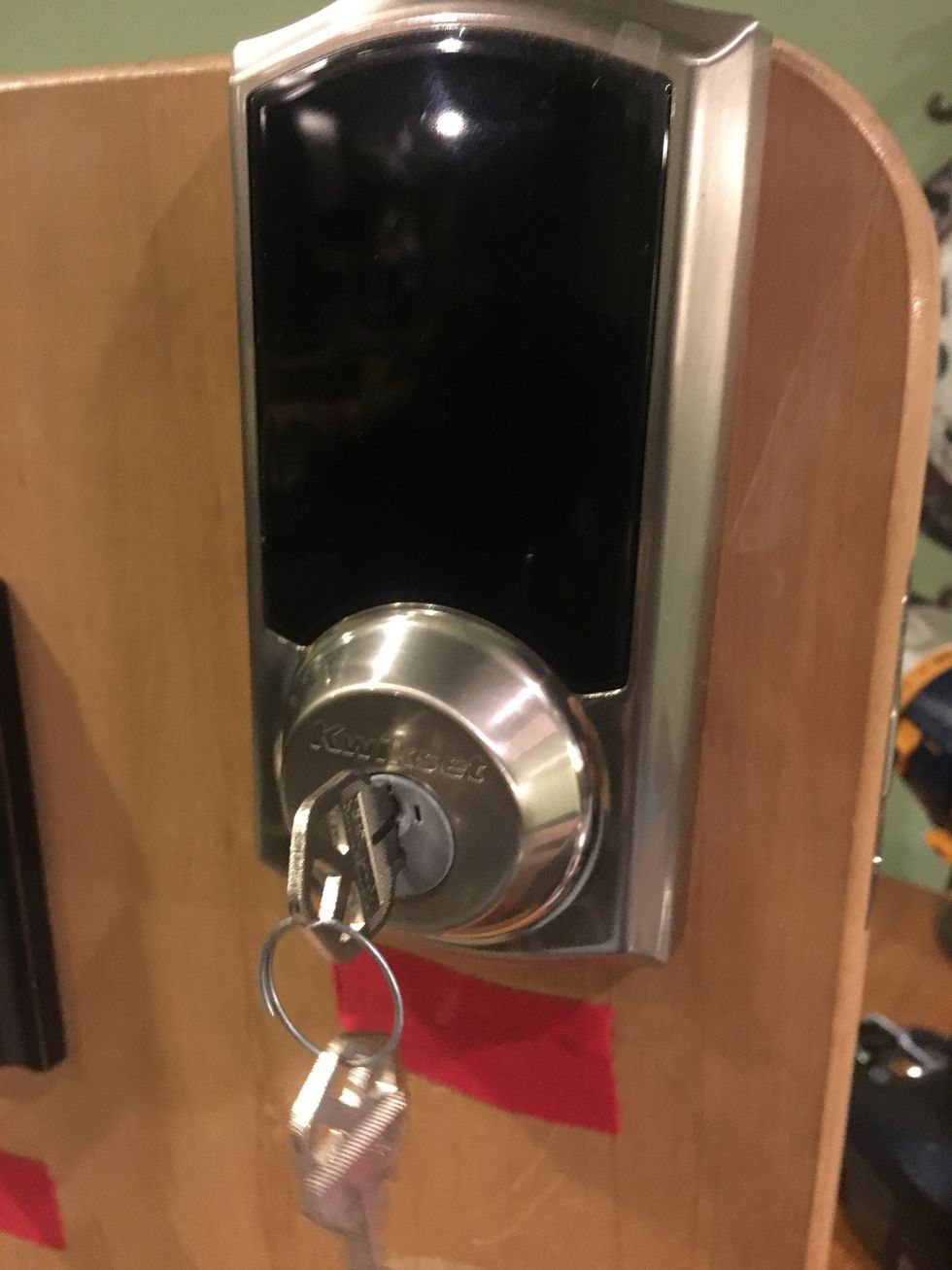 Kwikset Premis is a touchscreen smart lock ideal for home owners who use an Apple iPhone (iPhone 4s or higher), iPad (iPad 2, iPad or newer) or any Apple product (iPad mini or iPad touch 5th generation or newer). Premis users can use Siri on the Apple Watch to control the Premis lock. If the Apple Home app is connected to an Apple TV, Premis can be remotely controlled via Siri. The smart lock requires iOS 9.3 or later operating system and can also be controlled locally via a Bluetooth connection. Premis was designed to work on the Apple HomeKit platform. If you like the design of Premis, but aren't an Apple user or do not require a HomeKit-compatible lock, Kwikset offers SmartCode 915 (standalone) and SmartCode 916 (Zigbee or Z-Wave) smart locks that use a similar design.
Premis smart lock is a combination of a deadbolt lock along with a White LED touchscreen. There are two decorative finishes, Venetian Bronze and Satin Nickel, and has a tamper-resistant cover and all-metal housing. Premis is also battery powered and comes with a LED status so you can see when the batteries are running low, and the app will also send notifications as well.
Installation

The installation process for Kwikset Premis smart lock is very easy. In fact, we found this smart lock to be a lot easier to install than Kwikset's Kevo smart lock which we reviewed a few months ago. If you already have the holes in your door from a previous lock, the installation process of Premis smart lock is even easier. But if you are working with a new door— and need to drill holes—no need to panic. Kwikset will be able to walk you through this step too. Our recommendation is first download the app from iTunes App Store and follow the onscreen installation directions. It will make the installation easier for you.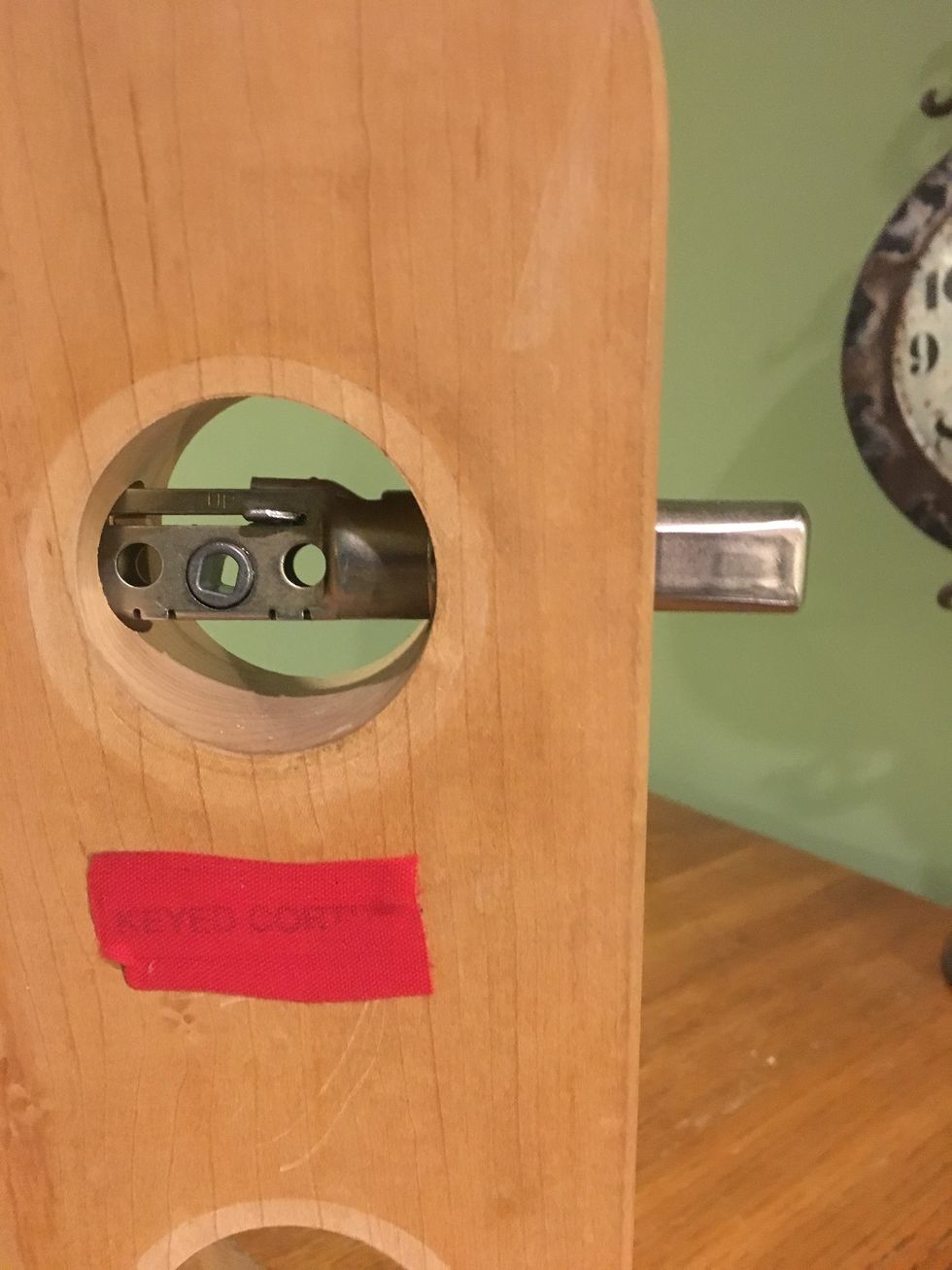 Once we had our Premis lock all set up and ready to go, we tested three different ways to access the device. First, we tried voice control. GearBrain is a big believer in voice-control. We believe voice is the new app for smart home devices, especially smart locks and lights. Premis smart lock can be controlled by Siri. Using iPhone 6S smartphone, we said, "Siri, lock the test door" and the door locked. We found using Siri to control Premis a similar experience as using Alexa and Amazon Echo to control your connected device. However, it's important to note that Premis does not have an Alexa integration at this time.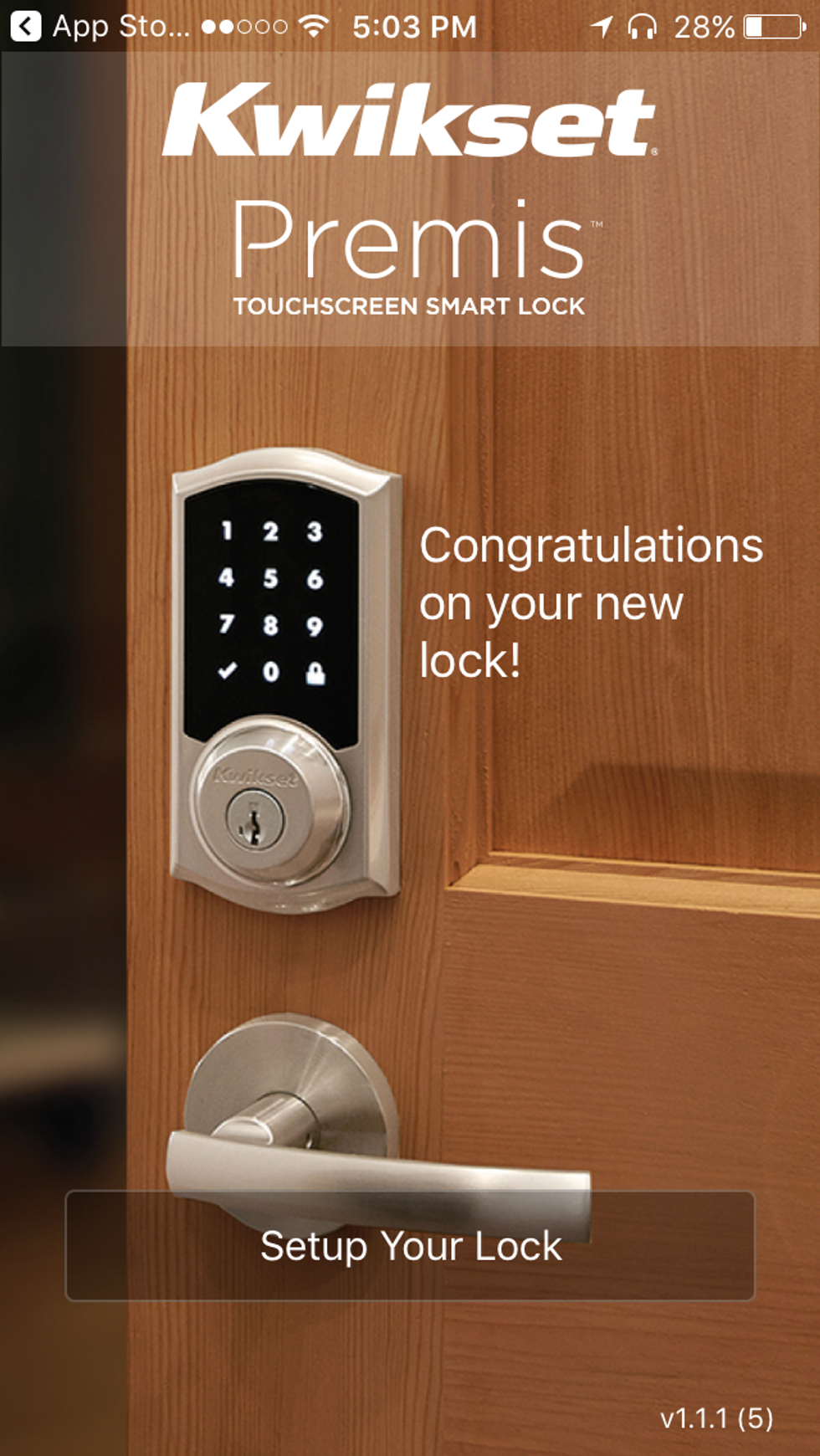 The second way we tested accessing the Premis smart lock was through the Premis app. The app helps you with installation, connecting to Apple HomeKit or Apple TV, checking the status of your lock and customizing up to 30 user codes. The app will also send notifications when someone is using their code.
For instance, if you were to give a family member a code, you can get notifications every time it's used. When we use the Premis app to lock and unlock the door, we found it worked easily. We also went to Apple HomeKit app to setup our lock and found that locked and unlocked the smart lock locked as well as the Premis app. If you have a lot of connected devices, you might want to use the Apple HomeKit app since you will be able to control all your devices in one spot.
Finally, we using codes to access the Premis Smart Lock, which worked perfectly. If you have a second home or rental property, this is a good feature. Codes can be given to guests through the app, then used and deleted when guests leave your property.

The Premis app will help you create and manage user codes. You can also add codes directly through your Premis smart lock, but you will need to create a Mastercode first. Adding a Mastercode is recommended by Kwikset for added security. Also, when adding a code with a Mastercode, you will need to use a Bluetooth connection and be close to your Premis smart lock. GearBrain recommends using the Premis app for these steps since it has all the instructions on how to set up your Mastercode and add user codes. Keep in mind user codes need to be between four and eight digits.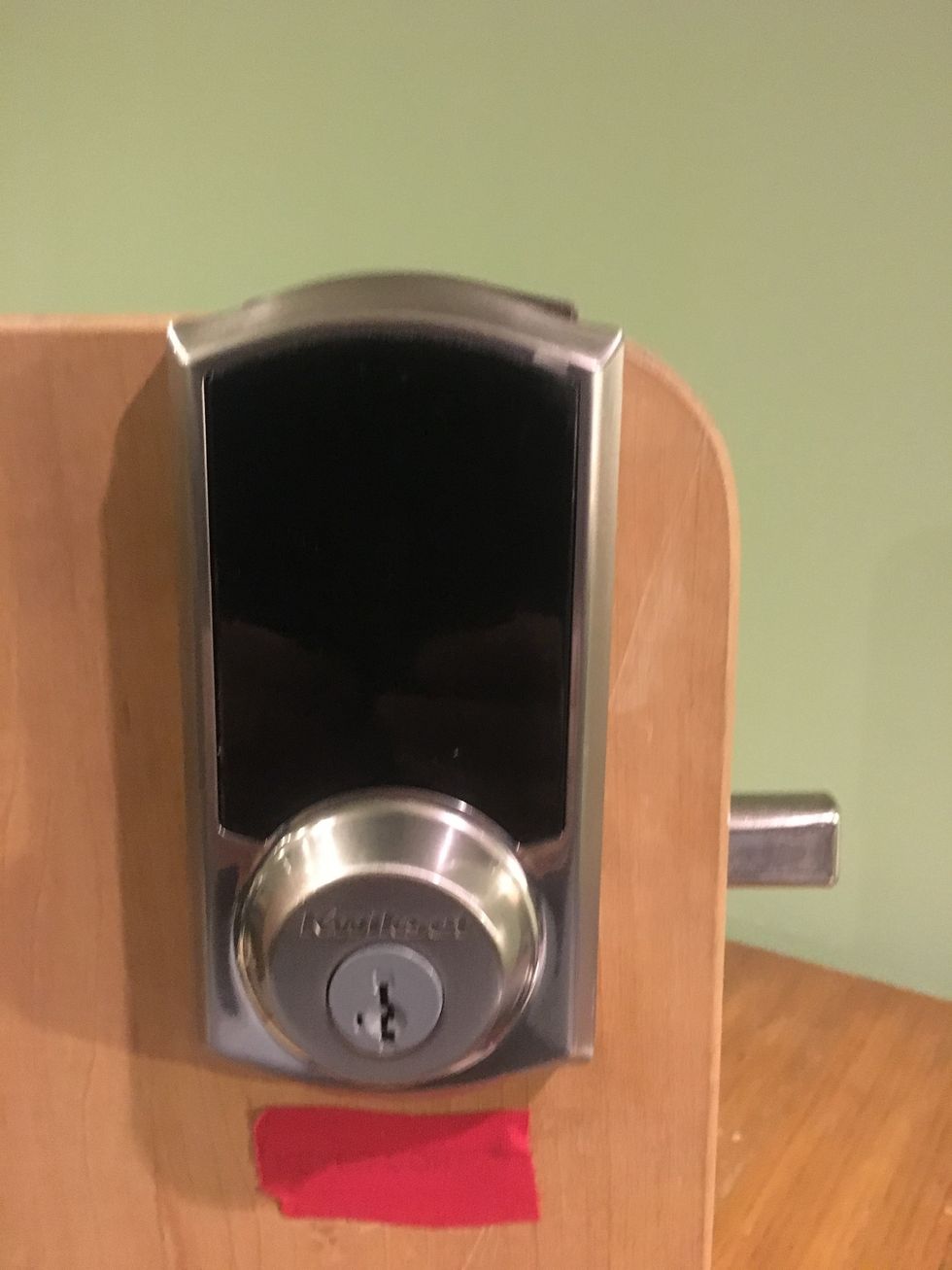 Features

Premis smart lock has excellent security features, like we've found with all of Kwikset locks. The Premis smart lock is BHMA certified and has ANSI/BHMA grading with end-to-end encryption built into the locks for mechanical and digital security. Premis smart locks also have SecureScreen technology which offers an additional layer of security, by preventing unwanted visitors from gaining access to your smart home from the touchscreen. It displays random digits before you enter a user code to unlock your door.
Another good security feature for the Premis smart lock we like is the code alarm, which we liked. If someone enters three wrong codes, an alarm will sound from your alarm. You also have a secure mode on the smart lock which will allow you to override all codes. Finally, there is a special auto lock feature which will lock your Premis smart lock once you are inside your house and the door is closed. That's a particularly nice feature for those late nights you come home alone.
Premis smart lock also comes with Kwikset's new advanced SmartKey Security, which can help prevent break-ins from forced entry techniques and other undetectable entry methods, like picking a lock or lock bumping, which are commonly used by unwanted guests. This is a feature all locks should have today—no matter if a smart lock or not.
The Premis smart lock retails for $229, comes with a lifetime warranty, and is available online at Amazon, The Home Depot and Best Buy.
Summary
Premis Touchscreen Smart Lock is a good quality-made smart lock from a manufacturer who has a lot of experience in building excellent locks—a trait GearBrain looks for in a smart lock. Premis is easy to install and has a number of respectable security features. If you are an Android user, sorry to say this is not a smart lock for you to consider at this time. However, if you like the Premis design, you should consider Kwikset's Smartcode 915 or 916 smart locks. Also, if you are in the Apple ecosystem, and are looking for a well-designed and easy to use smart lock, you have to consider Premis. It offers three different ways to get into to your house, which we think is key. Remember, GearBrain recommends having a backup plan in case your smart lock doesn't work. Premis can definitely help you with forming an effective backup plan as well as keeping your smart home safe.
Like GearBrain on Facebook