LG has decided to no longer hide the price of its rollable television behind a phone line. Instead, the six-figure price tag is now displayed on its US website, ready and waiting for customers to pull the trigger.
The price is a cool $100,000, and for that you get a 65-inch OLED television that rolls up into its base when not in use, or partly unrolls when you want to use the system as a sound bar with a smaller display.
Read More:
The television works like many other smart examples from LG, complete with the webOS operating system and the company's ThinQ system. There's a front-firing Dolby Atmos audio system in the base of the TV, which acts as a sound bar, while the display panel itself has a 4K resolution and a 120Hz refresh rate.
There are four HDMI 2.1 ports on the rear, ready for connecting to your game console, streaming box and other devices.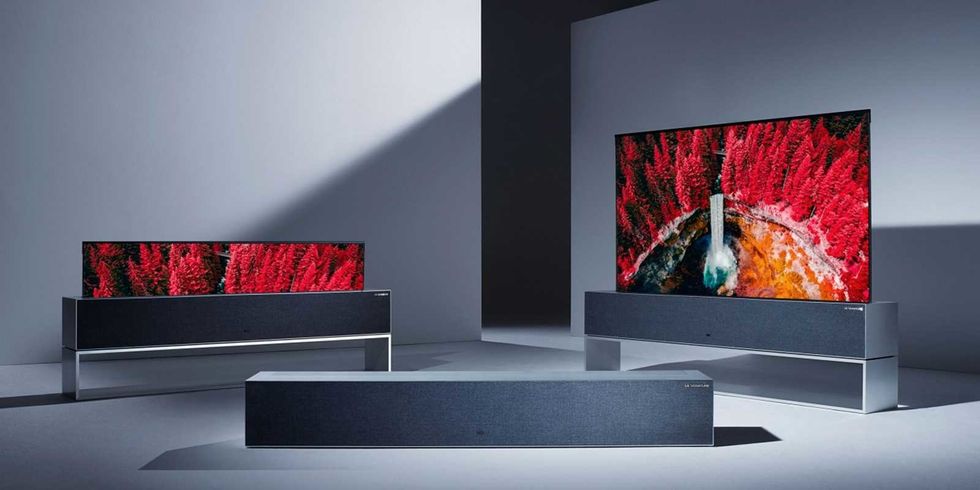 LG's rollable TV will set you back a cool $100,000 LG
But the main draw here is of course the way the TV rolls up and down using electric motors. At the push of a button, the base slides open and the TV extends elegantly upwards.
You will likely recognize this television, as it first arrived as a concept on LG's stand at the CES technology show back in January 2018. It was then shown off as a real product at CES 2019 a year later, and as of July 2021 is ready for anyone to buy from LG's online store.
We know that $100,000 is an enormous price to pay for a television, but if you want to have something truly unique then this is it, as no other company currently makes or sells a rolling TV like the OLED R.

LG's marketing material suggests how the screen can be placed in front of a window, then rolled away so you can better enjoy the view when not watching TV.