Remember when LG revealed a rollable television at CES back in 2018? More than three years have passed since then and now, finally, it is about to arrive in the US.
The television impressed us back in 2018, and when we saw it again at CES in January 2019. It felt like the first major shift in television design for years (sorry, Samsung, rotating TVs don't quite make the cut), and showed off the flexibility of OLED display panels.
Read More:
LG has been slow to roll out (sorry) the launch of this 65-inch, 4K TV, with it going on sale in South Korea at the end of 2020 for a massive 100 million KRW (around $89,000), but not arriving anywhere else.
Now though, LG's US website has the option to "inquire to buy" one of the televisions. Clicking this reveals a whole list of countries, including Australia, much of Western Europe, Israel, Nigeria, Russia, Saudi Arabia, UAE, UK and the US. Pick your region and the website shows the email address and phone number of someone who can help take your order.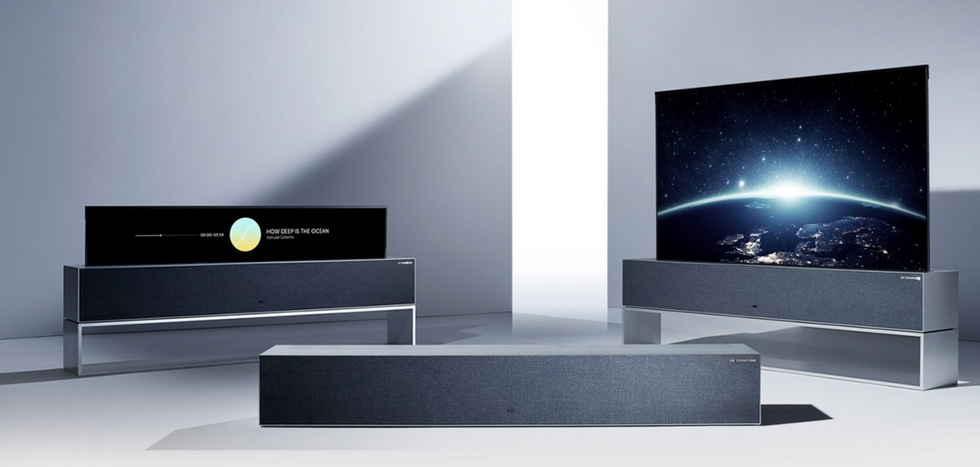 The rollable LG TV turns into a sound bar when not in useLG
The way this is set up suggests LG is only expecting a handful of sales, and with such a high price we are hardly surprised. That said, we are impressed to see LG take the OLED R from eye-catching concept to reality in a relatively short amount of time – and, tellingly, in that time no rival product has arrived from anyone else.

LG has originally hoped to offer the rolling TV for $60,000, but the South Korean price suggests you'll be paying close to $90,000 in the US. Naturally, this is an enormous amount of money and it 'only' has 4K resolution instead of the increasingly popular 8K. That said, being able to roll your TV away when it isn't being used, leaving just a smart sound bar behind – and revealing a view out of your top-floor penthouse, naturally – is a pretty cool trick, and one no other manufacturer is attempting.
We applaud LG for sticking with this project and we hope enough well-heeled customers dig into their pockets so that one day, maybe, rollable televisions will be affordable for all.