Like GearBrain on Facebook
Amazon just expanded the reach of its news app jumping to more than 88 markets across the U.S.. While national news stations like CNN are able to deliver information about the country — and the world — people still turn to information about their communities for everything from the weather to politics.

Amazon's news app started offering local news through Fire TV in 2020, and launched with 12 major markets including New York, Los Angeles, Chicago, Tampa, Houston and more. Now the free news service can locate local channels through the app, finding the closest city it supports and serving that up via a playlist.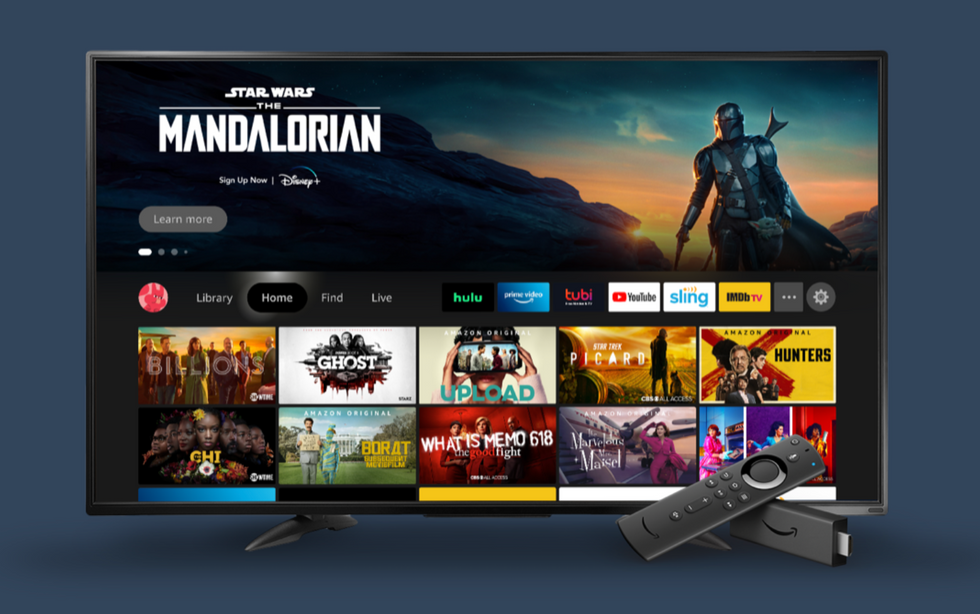 Amazon Fire TV interface Amazon
Alexa, Amazon's voice assistant, of course can channel this information as well, just by sayin, "Alexa, play local news." Viewers can do this through an Alexa Voice Remote or through a Fire TV Cube.

Amazon is also allowing you to change you local news sources — and even pick some outside of your area if perhaps you've got a keen interest in another part of the country, or are following news in that region.
News is delivered through specific channels and networks that Amazon has deals with — with new stations now being added including ABC-owned TV stations, CBSN, Cox, Scripps and Altice. The service already included Reuters, CBS News, ABC News Live, Cheddar, Black News Channel and more.
Local news hits 33 states and also the District of Columbia, with Texas, Florida, California, Ohio and Montana each having more than five local areas available to choose from in the settings. Here is the entire list:
Atlanta, GA
Austin, TX
Bakersfield, CA
Baltimore, MD
Beaumont, TX
Billings, MT
Boise, ID
Boston, MA
Buffalo, NY
Butte-Bozeman, MT
Charlotte, NC
Chicago, IL
Cincinnati, OH
Cleveland, OH
College Station, TX
Colorado Springs, CO
Columbia, SC
Columbus, OH
Corpus Christi, TX
Dallas, TX
Davenport, IA
Dayton, OH
Denver, CO
Des Moines, IA
Detroit, MI
Fayetteville, AR
Fort Myers, FL
Grand Rapids, MI
Great Falls, MT
Green Bay, WI
Greensboro, NC
Harrisburg, PA
Hartford, CT
Helena, MT
Houston, TX
Huntsville, AL
Indianapolis, IN
Jacksonville, FL
Knoxville, TN
Lafayette, LA
Lansing-Jackson, MI
Lexington, KY
Little Rock, AR
Los Angeles, CA
Louisville, KY
Macon, GA
Memphis, TN
Miami, FL
Midland, TX
Milwaukee, WI
Minneapolis, MN
Missoula, MT
Moosic, PA
Nashville, TN
New Orleans, LA
New York, NY
Norfolk, VA
Omaha, NE
Orlando, FL
Philadelphia, PA
Phoenix, AZ
Pittsburgh, CA
Portland, OR
Richmond, VA
Sacramento, CA
Salt Lake City, UT
San Angelo, TX
San Antonio, TX
San Diego, CA
San Francisco, CA
Santa Barbara, CA
Seattle, WA
Spokane, WA
St. Louis, MI
Tallahassee, FL
Tampa, FL
Temple, TX
Toledo, OH
Tulsa, OK
Tyler, TX
Waco, TX
Washington, D.C.
West Palm Beach, FL
Fire TV Cube | Hands-free streaming device with Alexa | 4K Ultra HD | 2019 release
From Your Site Articles
Related Articles Around the Web
Like GearBrain on Facebook