Like GearBrain on Facebook
Logitech's new MX Keys keyboard and MX Master 3 mouse may make those who spends hours at their computer more productive. While both work on their own, the two also work in tandem — with settings stored online so people can use their favorite shortcuts both at work and home.
Read More:
Installation
The two are best used with a desktop computer, or a double-screen setup. Both work on Mac and Windows computers, and we tested the two on a MacBook Air.
How long does installation take? After charging, about 18 seconds. For both. First make sure both are fully charged. The USB cords that come in the boxes need to be used with an adapter —which of course is not included.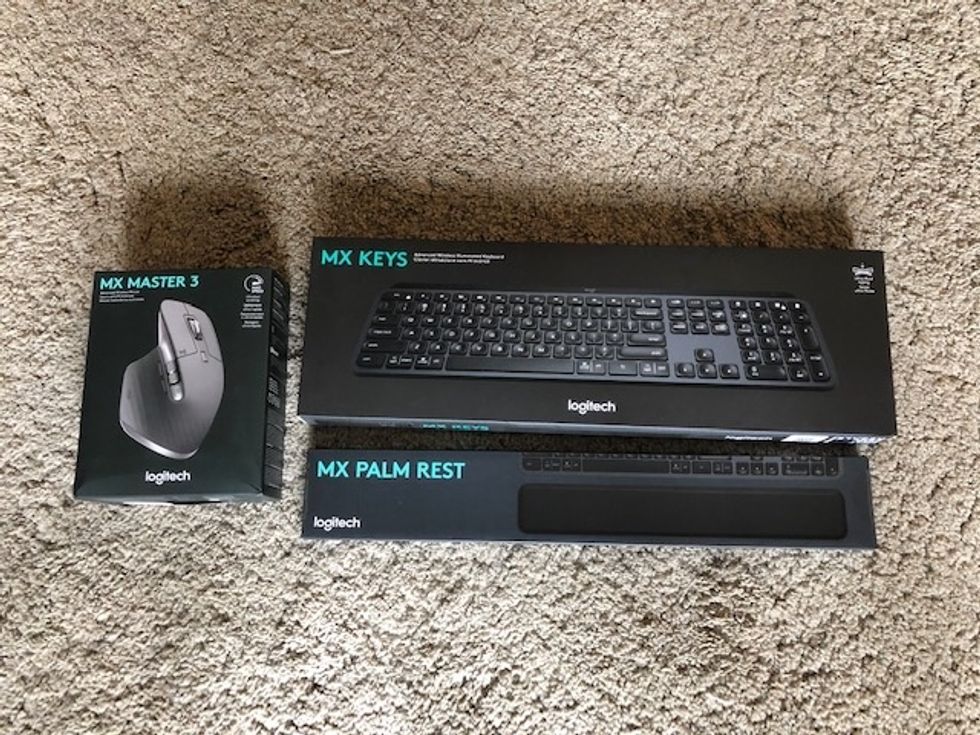 You can save settings on the keyboard and mouse with the upcoming Logitech Options softwareGearBrain
Once charged, turn each one on, and pair them to your computer via Bluetooth. You'll need to type a code on to the MX Keys to activate the keyboard, but the mouse will pair immediately.

You can also connect the keyboard and mouse via the included Logitech USB unifying dongle. Logitech has come under fire for a vulnerability brought to light three years ago, called MouseJack, which allowed remote access to its devices through its USB dongle. Although Logitech pushed out a patch then, that didn't reach every dongle on the market. The company is still allowing people to patch their mouse, keyboard and other devices, and just released a new update in August.
Mx Master 3
The mouse is the real update here — a device that turns scrolling into a race. You'll want to see how fast you can spin the scroll wheel, and you won't be disappointed.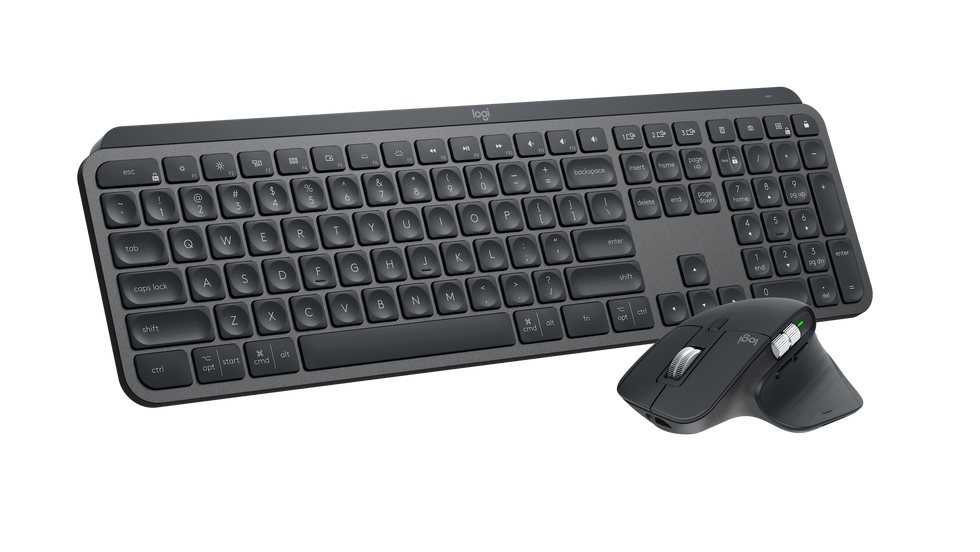 The MX Master 3 and MX Keys will work on three computers at onceLogitech
How fast can you scroll? Logitech says 1,000 lines per second. We couldn't really test that — but we did find we could scroll faster than we could see. The mouse is also quiet — without any of that click clack sound you hear from some mice.

The mouse also works on an incredible number of surfaces thanks to the 4,000 DPI sensor which lets it track, even on glass. A cardboard box, a metal table, and even a rug all held up under the MX Master 3.

The mouse is also fairly compact, and feels round but small in the hand. And the thumb wheel is now bigger, with the forward and back button better positioned for faster movements. You can also change what the thumb control manages, depending on the program you're in at that moment.
For Excel, you can use it to control a horizontal scroll, for Word it can zoom into a document, and there are settings for PowerPoint and other apps as well.
MX Keys
Right from the start, I enjoyed the silence from the keyboard. I'm a loud typist — I get complaints all the time — and being able to type as hard as I'd like as I write without worrying that someone is going to complain is pretty nice.
For some, though, we know the fun part of typing on a keyboard is the clicking. You'll have to decide which camp you belong to because the MX Keys is going to take a bit of that fun away.
But what going to be of more interest to office users is the weight of the keyboard to start. The MX Keys is heavy, and sturdy. It's not going to slide under you even if you are a fast and hard typist. That's nice.
The size of the keyboard is also great for lap typing. Again, we expect the keyboard will be planted on a desk, but at home, writing is sometimes an arm chair activity. The MX Keys worked well there too.
Each key is designed for typing, with a slight concave. There's also very little to distract, it's small with just two buttons, one for the power and one for a USB input for charging.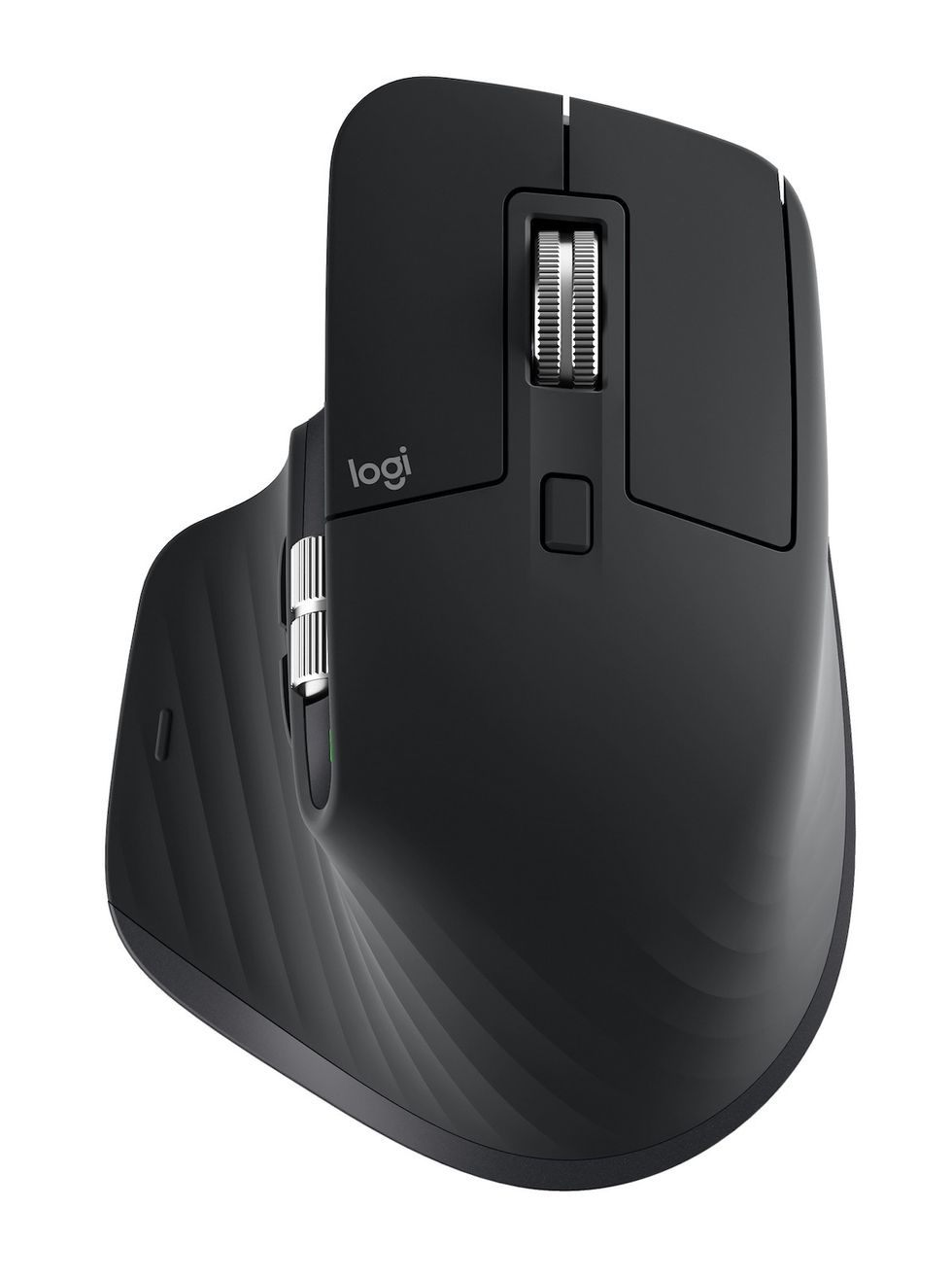 The MX Master 3 mouse has a stainless steel wheel Logitech
The MX Kets also including backlighting, which is a sweet add that lets you type in low-light, and fairly typical for many keyboards. But a unique add are two features — one that actually senses when your hands are close, and lights up. And when there isn't movement, the backlighting switches off to save battery power.

The second is an ambient light sensor that switches depending on the illumination in the room, switching completely off in bright sunny levels for example. And if the battery drops to just 10 percent, the backlighting feature will stop. You'll be able to run the keyboard for about two to three weeks on the remaining power.
A full charge should last 70 days for the MX Master 3 mouse, while the keyboard should last five months if the backlighting is off, and 10 days with the backlighting features is turned on at all times.
Three devices at once + save settings
You'll be able to work the MX Keys and Logitech MX Master 3 on Windows, Mac and Linux machines. And the two devices also work with Logitech Flow, which lets you run three different computers at once — even if one is a Max ad one is Windows-based.
The new Logitech Options, however, will save all settings in a profile so you can return to these presets no matter where you're logged in — home, work or anywhere you can access the software.
Both the MX Master 3 and the MX Keys will be sold for $99.99 each on Logitech's web site in September, and on Amazon's web site starting in October. There's also a palm rest, called — yes — the MX Palm Rest, for $19.99 that will available as well.
From Your Site Articles
Related Articles Around the Web
Like GearBrain on Facebook