Like GearBrain on Facebook
The sudden shift to social distancing has not only sent all of us into an onslaught on Zoom and Google Meet video calls, we're now really working from home everyday, and missing those sleek ergonomic chairs that kept our backs from seizing. Suddenly our couches, dining room chairs and even beds are pulling double duty — and some of us are missing our cool desk set-ups, particularly our chairs.
We already know we're not supposed to be sitting for long periods of time anymore. (My Apple Watch actually buzzes me every hour to stand up and walk around. And there's a good reason for that. Researchers noted that about one in four American site for more than eight hour of day, according to a 2018 article in JAMA. Further, researchers add that "high sedentary behavior and physical inactivity have negative health effects…," they wrote.
A good chair isn't the same as taking a run through the neighborhood, but some can certainly protect your back better, and others can even help to work your core muscles, while you're just sitting down. They can also help you align more properly with the way you look at your computer monitor, and may help prevent neck issues as well.
We picked these nine with these points in mind. They're not necessarily going to give you a cardio workout. But they can give you some better support, and some also support a cool design. We're spending a whole lot of time at home right now, and potentially for the foreseeable future. There's no reason we can't pick a chair that's good for us — and fun — at the same time.
Ball Chair — $179.99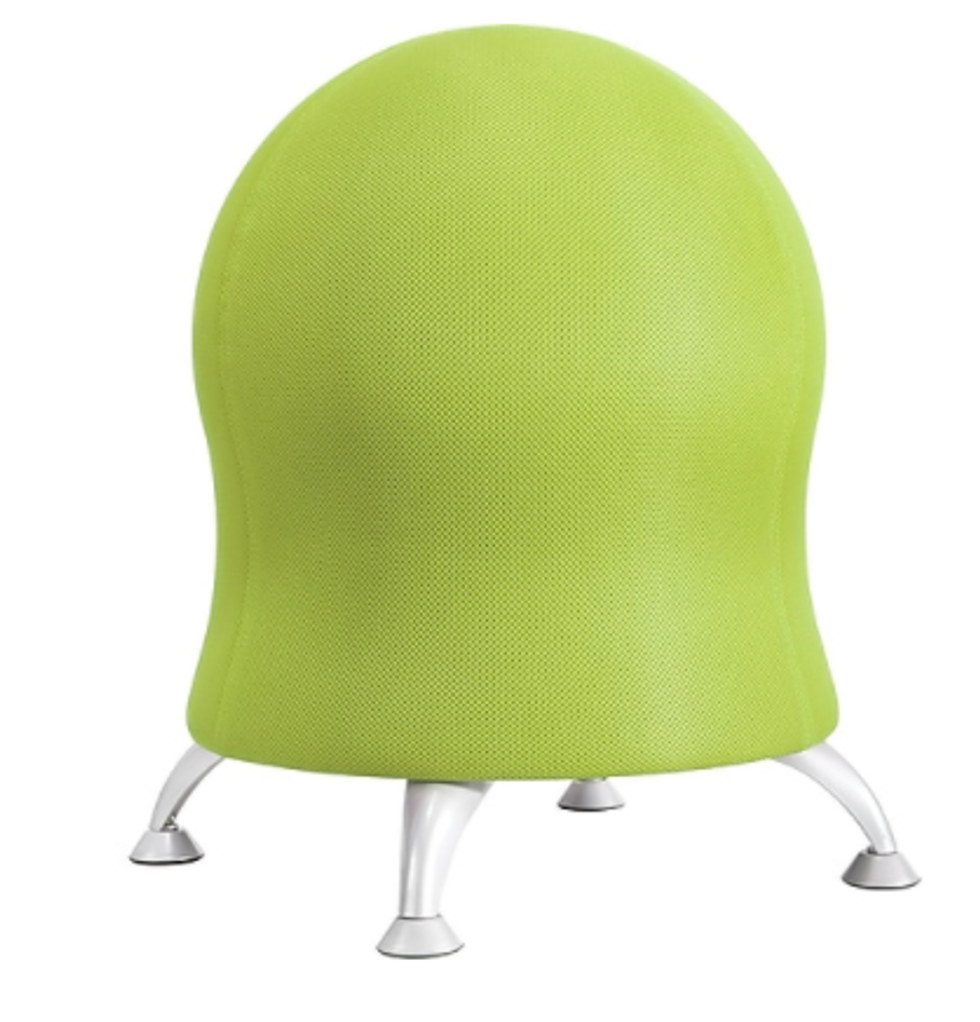 Safco Grass Plastic Ball ChairSafco
Certainly one of the more fun looking chairs, the ball chair is a popular looking choice. Almost all have a gum drop like shape, with four pedestal legs. The tops are usually available in multiple candy-like colors including yellow, red, pink and of course a standard black.

Ball chairs are said to be great for also strengthening your core, including helping you tighten your stomach muscles and thereby your posture too.
There are wide ranges of prices on these, but the Safco Grass Plastic Ball Chair is well-reviewed and available currently at Staples for $179.99.
Ergonomic Stool — $99.95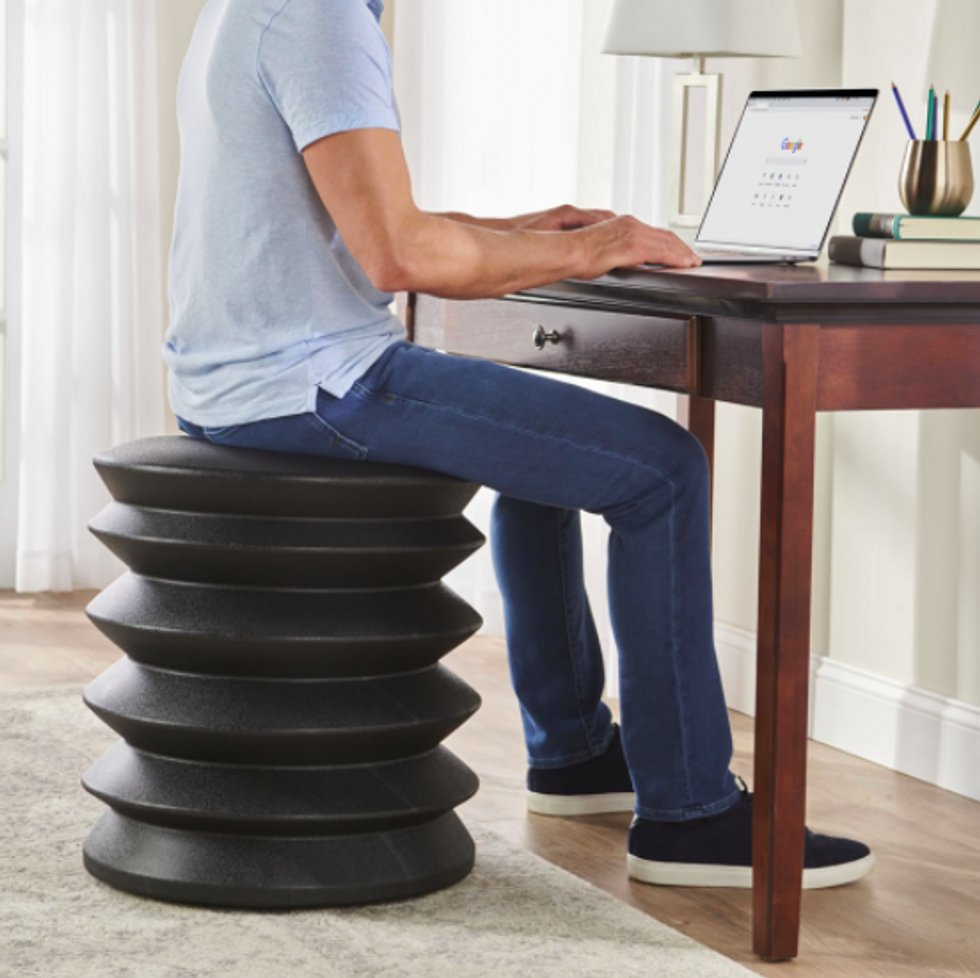 Hammacher Schlemmer Ergonomic StoolHammacher Schlemmer
This chair from Hammacher Schlemmer claims to have won a number of design awards, and it works similarly to the Ball Chair, forcing the body into tapping into the core muscles. Looking a bit like a spring, the chair wobbles and moves, which is good for posture development.

The Ergonomic Stool also claims to also help relieve pressure on your back, because of the movement. And it comes in different sizes, for those who need a wider seat than others, for example. You can pick up one in different colors including red, royal blue and black.
Pursuit Ergonomic Chair — $329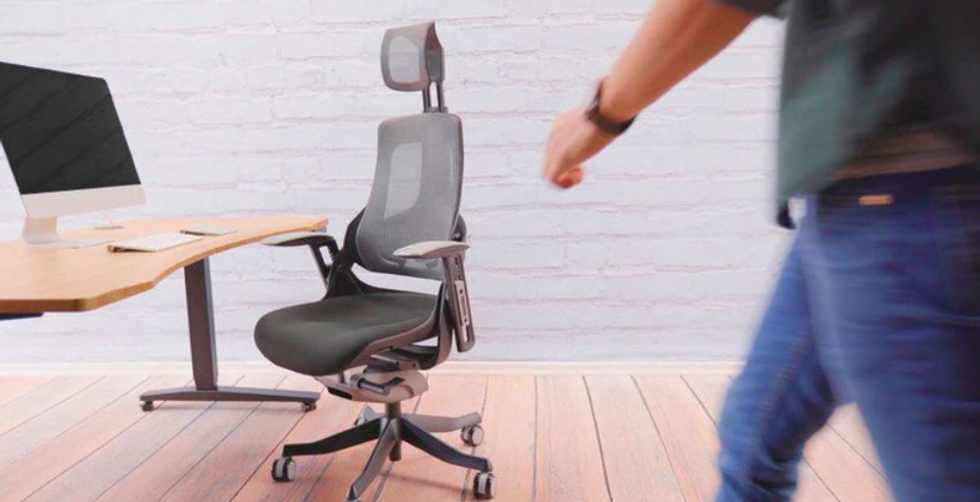 Pursuit Ergonomic ChairPursuit
This chair looks like a typical office chair, with casters, arm rests and a mesh back. It also comes in the office-friendly colors of black and white. But what's nice about the chair is its custom settings. You can adjust not only the height of the chair, but also the arms, back and the headrest to ensure these points hit your body where they're meant to hit.

The Pursuit chair can also lean back, and the seat is designed to flow like a waterfall, curving downward which puts lets pressure on your knees. Note that you do have to assemble the chair yourself, as you do with many of these.
Herman Miller Aeron Chair — $1415.25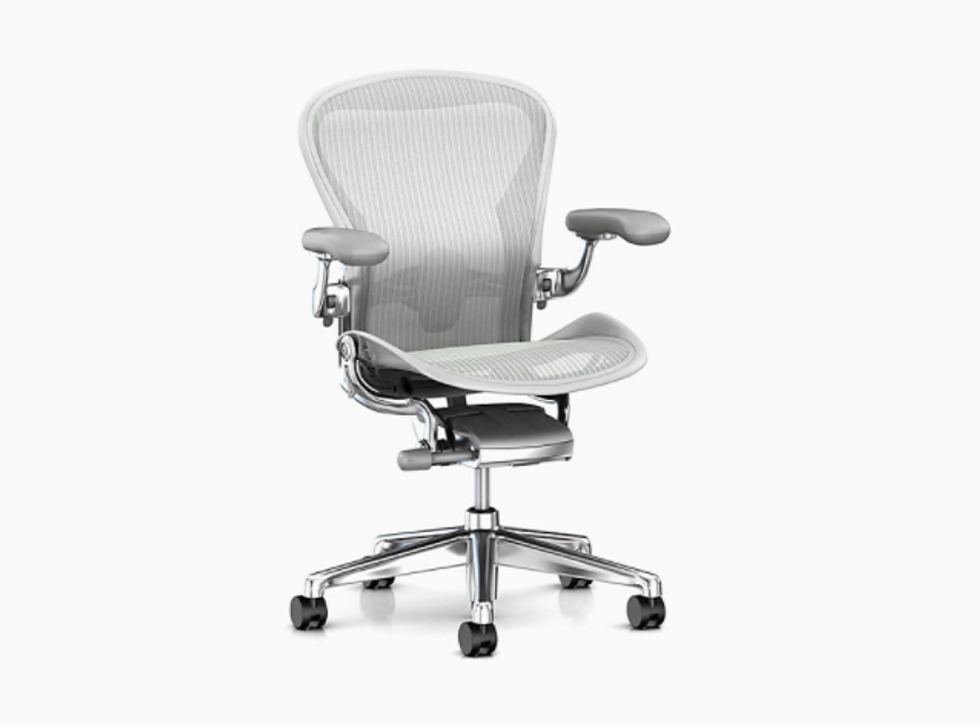 Herman Miller Aeron ChairHerman Miller
The classic of all classic office chair, the Herman Miller Aeron Chair kind of set the standard for what ergonomic design feels like — and looks like. That's also why you're going to pay handsomely for this chair too.

You can actually customize the chair, picking a mesh back, adjustable arms and seat, and even splurge for padded arms as well. You can also adjust the tilt of the seat, and the arms don't just go up and down, but you can pick the angle and depth too.
Around for 20 years, the Aeron Chair does not come in flashy colors and instead has four ranges of basically gray, all very subdued and easy on the eye. The chair is currently 15 percent off, and there are less expensive color choices than the polished aluminum/mineral combo above, which start at $1,185.75, with the sale.
Saddle Shape Stool with Back Support — $199.95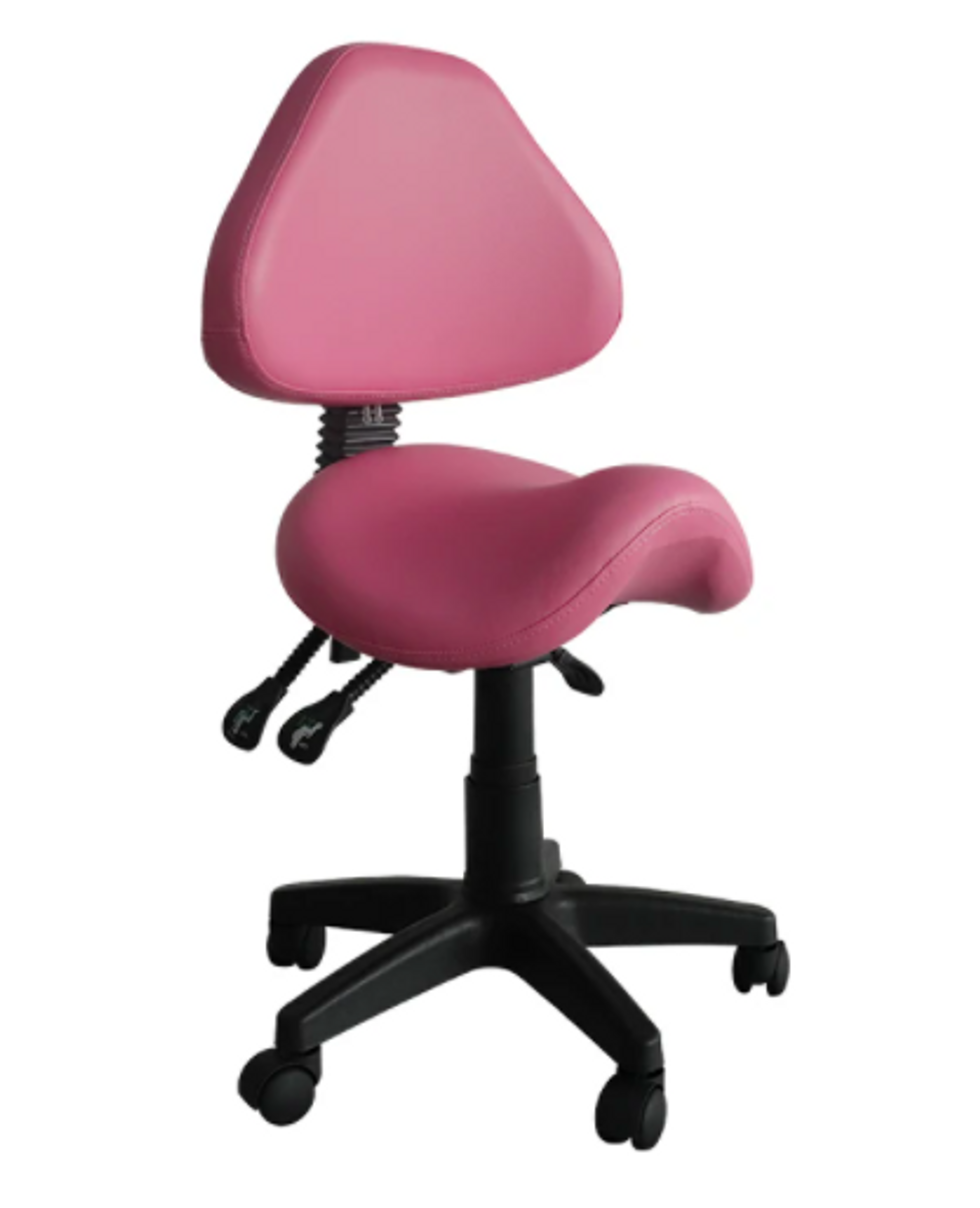 Saddle Shape StoolSitHealthier.com
There's a lot to be said about a chair that makes you feel you're sitting on a horse. But that's actually the point of saddle-shaped chairs. This Saddle Shape Stool pitches the body forward, which is said to be better for the back, and help promote better blood flow around the body. While there are versions of this design that are just the bottom portion, no back, this one offers additional lumbar support.

You can add casters and different heights to this option, plus pick from nine different colors including vanilla, purple, pink and of course black. There's a solid sale on these right now, but do expect to pay about $10 more for some colors.
Sleekform Kneeling Chair — $178.12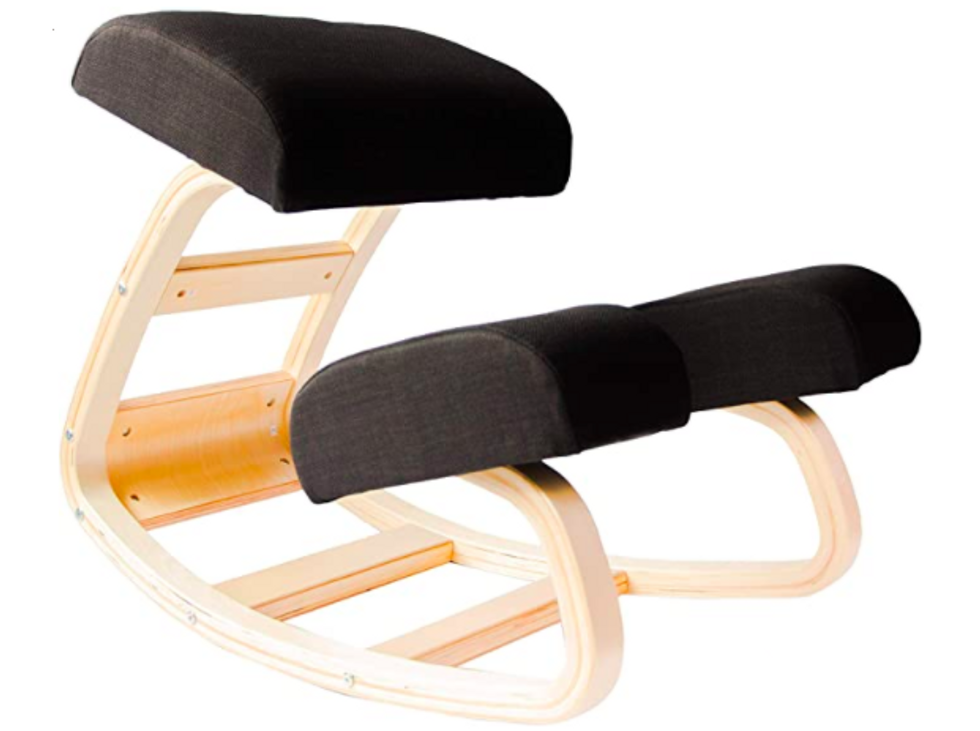 Sleekform Kneeling ChairSleekform
For anyone who covets their old childhood bedroom, the Sleekform Kneeling Chair may be perfect. The chair, like some of the others listed here, works by pushing the body forward, but also creates a cushioned pitch. The chair is said to help your back follow the its natural curve, and therefore reduce strain.

But honestly the best part of the chair is that it rocks back and forth which frankly is just fun. There are two color options, one that's all black, and another — which we like better — which is a light birch wood with a black fabric cushioned color.
Raynor Ergohuman Mesh Office Chair — $699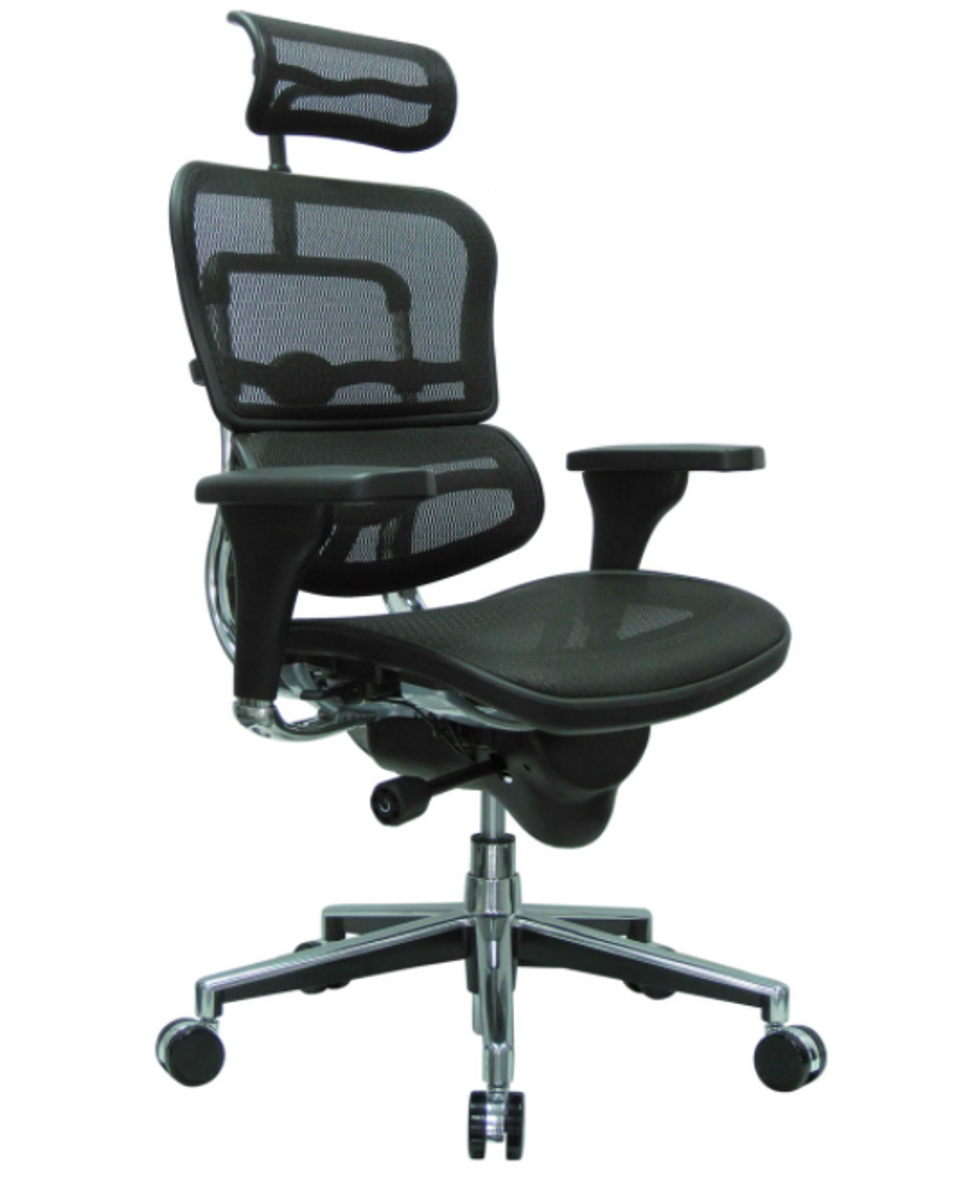 Raynor Ergohuman Mesh Office ChairRaynor
The Raynor Ergohuman Mesh Office Chair is a winner from the start for its beetle-like shape. You could seriously feel cocooned in this chair. But it's also an ergonomic winner, taking a lot of the design elements from Herman Miller, including adjustable lumbar support, adjustable headrests, arm rests and tilting options.

The entire seat and back are mesh, making it breathe more, and making it cooler against your skin. You can also pick this up in a number of different color options for the mesh including green, blue, grey, orange, red and yes, of course black.
Dome Ballo Active Stool — $239.20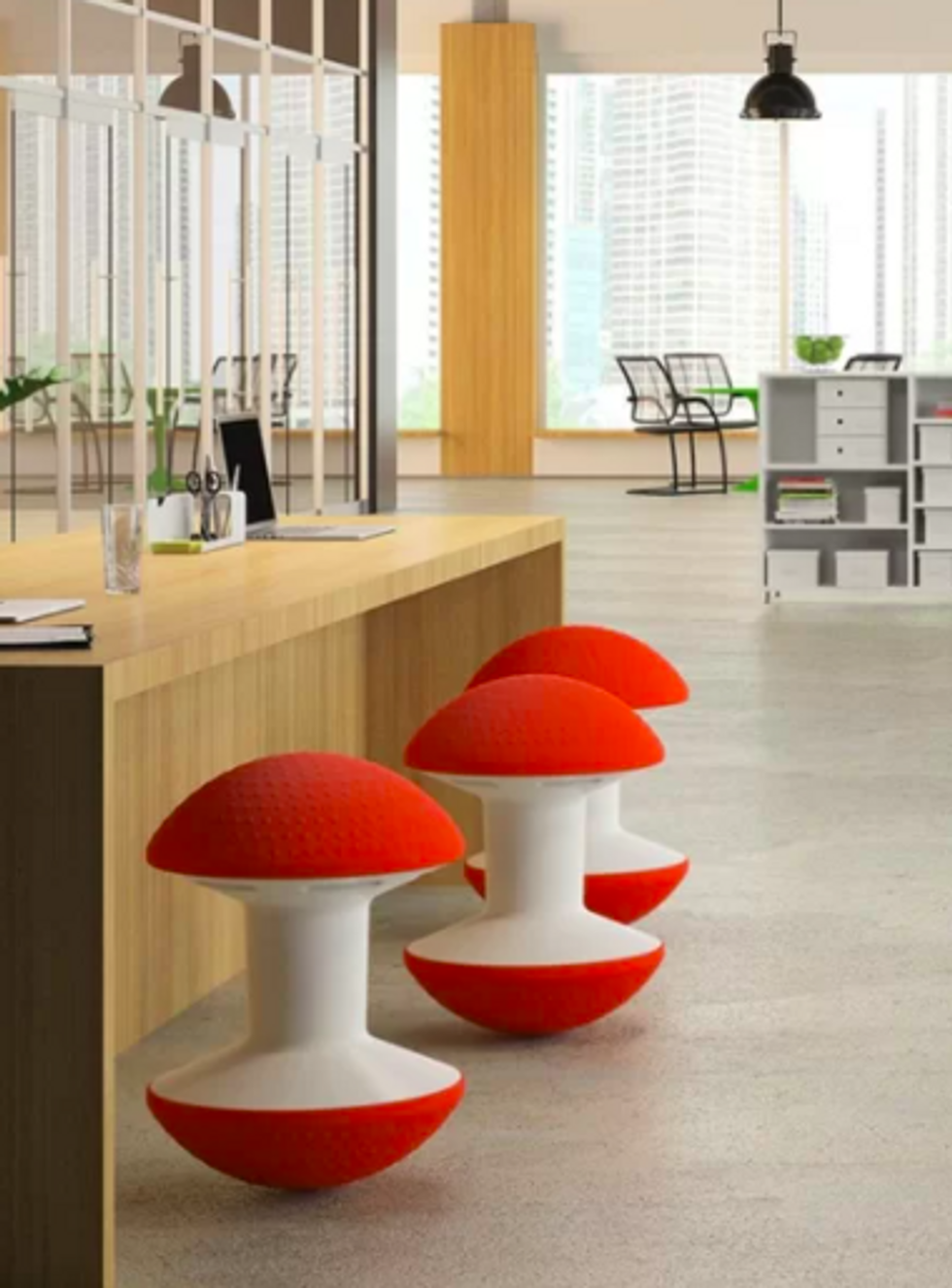 Dome Ballo Active StoolDome Ballo
Is it a mushroom? A shrunken dumb bell? The Damo Ballo Active Stool certainly brings to mind a lot of associations from its design. But it's actually a chair that you're meant to sit atop. It rolls a bit, forcing you again to engage core muscles, and the top has small nubs design the help you, well, seat your seat more securely.

There are multiple color options from yellow to range, red to gray. This is a plastic chair, and it's actually inflatable. And yes, a pump is included.
Sayl Chair — $522.75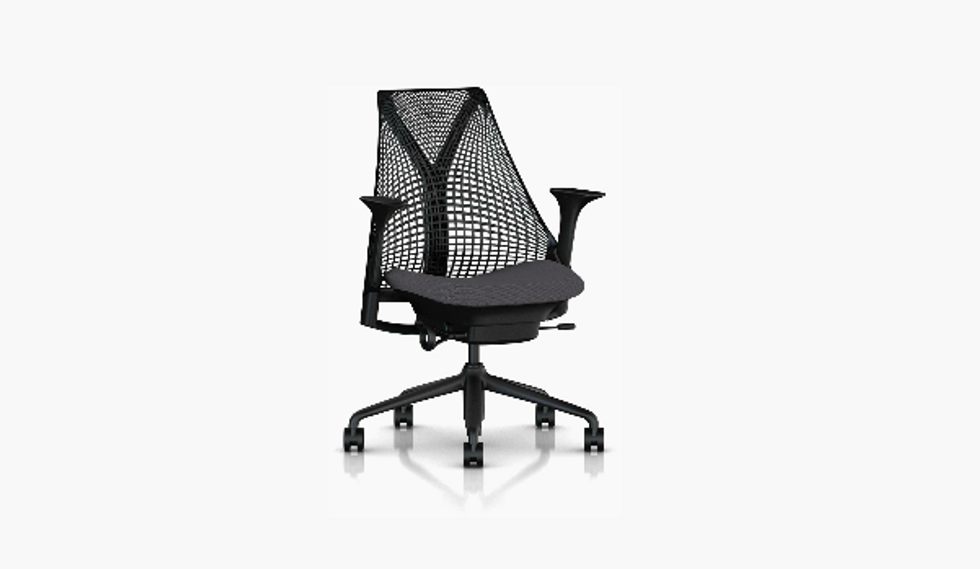 Sayl ChairDesign Within Reach
The back of this chair. Is it a high-heeled shoe? The Millennium Bridge in London? It's gorgeous is what it is, and also the Sayl Chair is a well-designed office seat with some very nice adjustable features. The chair can be kitted out with adjustable features for the seat depth, arm and back support. You can also add casters, and make some subtle color choices. (Think shades of black and gray.)

The entire back is covered in mesh, again a nice option to keep your back cool while working. And the chair is currently sale for about 15 percent off its regular price of $615.
Herman Miller Sayl Ergonomic Office Chair with Tilt Limiter and Carpet Casters | Stationary Seat Depth and Arms | Black Frame with Black Rhythm Seat
From Your Site Articles
Related Articles Around the Web
Like GearBrain on Facebook