Like GearBrain on Facebook
Magic Leap, the mysterious augmented reality headset company which was founded back in 2010, has finally given its first product a release date. Sort of.
This being Magic Leap, the details are still somewhat vague. Instead of a specific date (or even a month), the company says the One Creator Edition will begin shipping "this summer". Although vague, this is a small improvement on the last claim of the device arriving before the end of 2018.
Read More:

Being mid-July now, this makes the summer shipping date imminent. However, it appears that the first Magic Leap headset has not yet been approved for sale by the FCC.
A note on the company's website states: "Magic Leap One has not been authorized as required by the rules of the Federal Communications Commission. Magic Leap One is not, and may not be, offered for sale or lease, or sold or leased, until authorization is obtained." The company's Twitter bio also states: "ML One pending FCC authorization."
There is still no price for the headset, and little is known about what it is actually capable of. But that hasn't stopped eager investors from throwing serious cash at the startup, which is estimated to have received at least $2.3 billion in funding since 2010. High profile investors include Google, Alibaba and Andreessen Horowitz.
Magic Leap also revealed on July 11, via its Twitch video streaming channel, that the headset is powered by an Nvidia Tegra X2 processor, a high-end option for a mobile device. As such, the processor is housed in a second device which clips to the wearer's waist or pocket, then connects to the headset with a cable.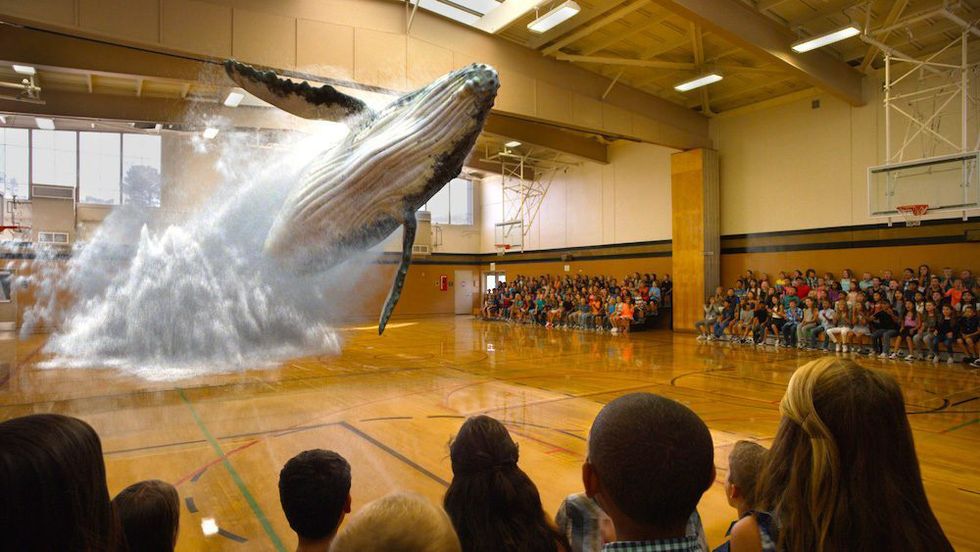 Magic Leap has promised to deliver life-like augmented realityMagic Leap
Battery life is another unknown, with Magic Leap saying it's up to developers - they can produce graphically-intense games and applications with less battery life, or simpler programs which will last longer.
The company showed some video of how augmented reality content looks when using the Magic Leap. The demonstration was somewhat basic, and does not give any clues about the device's field of view, something which is an issue for other AR headsets like the Microsoft HoloLens.
The demo showed a video game character throwing virtual rocks at the wearer, who is supposed to dodge them or swat them away by waving their hands through the air.
Some viewers were disappointed by the demo, saying it looked no different to what is possible with ARKit on the iPhone. Others compared the low-quality video game graphics of the demo to Magic Leap's dramatic teaser footage of a virtual whale leaping out of the floor of a real-world sports hall - something which was later found to be computer-generated, and not produced by a Magic Leap headset.
As AR and VR developer Robert McGregor pointed out on Twitter, the demo shows how the wearer's hands do not occlude - in other words, virtual objects are not hidden from view when they are supposed to be behind the wearer's hand. This somewhat devalues the 'mixed reality' illusion Magic Leap is aiming for.
Like GearBrain on Facebook