Like GearBrain on Facebook
The next-generation of Microsoft HoloLens could arrive as soon as early-2019, and feature a "significantly improved" holographic display.
Not only that, but the new HoloLens will reportedly have a much lower price than the current model, which is sold by Microsoft to software developers for $3,000. Additionally, the next-generation augmented reality headset will be lighter and more comfortable to wear.
This news comes from internal Microsoft documents seen by Thurrott, a well-regarded news site which focuses on all things Microsoft. Another tidbit of information to leak out from these documents is that the next HoloLens is known internally as Sydney.
The report states: "The device, according to the documents, will be lighter, more comfortable to wear, and have significantly improved holographic displays. But most importantly, it will cost significantly less than the current version of the HoloLens."
First shown off back in 2015, the HoloLens is an augmented reality headset which blends the real world with a computer interface laid over the top. Wearers can attach digital objects, like a calendar or a virtual TV screen playing a video, to physical locations in the environment around them. Microsoft began selling the HoloLens to developers in late-2016, but the release date for a consumer version remains unknown.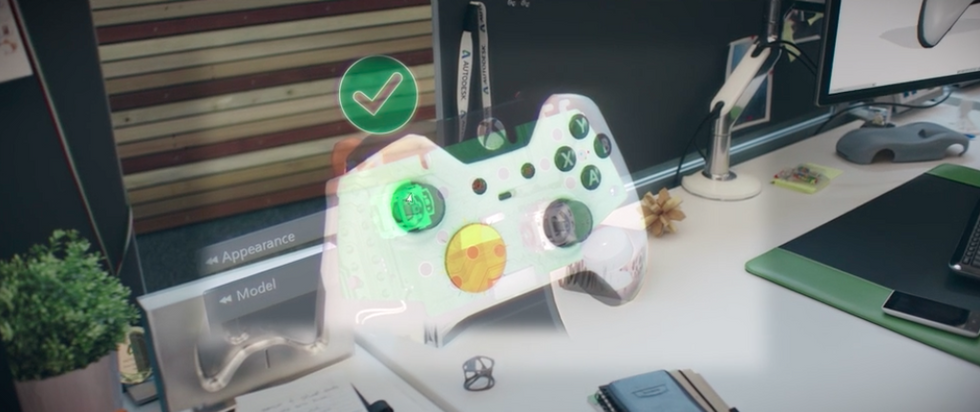 HoloLens adds virtual images, in this case an Xbox controller, to the real worldMicrosoft
It was previously reported that Microsoft is skipping a planned second-generation of HoloLens and is instead moving straight to version three. This is the device expected to launch during the first quarter of 2019.
Microsoft was able to take its time with the HoloLens, as when it launched there was little in the way of competition. However, with companies like Apple, Google and Magic Leap now investing heavily in the augmented reality space, Microsoft needs to make the most of its lead and bring a successful product to market.
So far, the current HoloLens has its limitations. For example, the device's field-of-view is not as wide as Microsoft's demonstration videos might have you believe, at around 35 degrees. A new budget AR headset, called the DreamGlass and launched earlier this month, claims to offer a 90-degree view, putting the pressure on Microsoft to up its game.
The computing giant is treating augmented reality - or mixed reality, as the company also calls it - and virtual reality as must-win markets. This shouldn't come as a surprise, given how it failed to make a success of the smartphone market, and only sells its Surface laptops and high-end tablets in relatively small numbers.
As well as HoloLens, Microsoft has Windows Mixed Reality, the VR system which runs on a range of headsets from manufacturers like Acer, ASUS and Dell.
Like GearBrain on Facebook