Police in the UK are recording crime scenes with AR headsets to let senior officers re-experience the scenes without being there.
Using Microsoft HoloLens and a program from UK-based software company Black Marble, the Bedfordshire Police are mapping entire crime scenes — including the exact location of victims and pieces of evidence — plotting them with hand gestures. Without having to touch the evidence, there is less chance of it being moved or contaminated when the scene is logged.
AR, used this way, is tipped to be a game-changer when it comes to fighting crime, as one police force uses the augmented reality headset to capture crime scenes and upload them back to head office.
"HoloLens allows us to go into that scene, capture the evidence as it is, in situ, to be able then to store that in a 3D space, and importantly, to be able to view evidence exactly where it was," says Superintendent Nick Lyall of Bedfordshire Police.
Although the technology is only in play at one UK police force for now, the tool could be easily adopted by police forces world wide. The crime scene mapping system itself is described by UK police as the next-generation of policing software.
Currently, police forces rely on photographs and occasionally video of crime scenes. But these could be misinterpreted by someone who's not there when the images are first captured. 3D rooms created by HoloLens could, in theory, be more accurate and less open to interpretation by different viewers. Officers can step into a room virtually and see a crime scene as it actually was — rather than rely on the photography skills of their colleagues.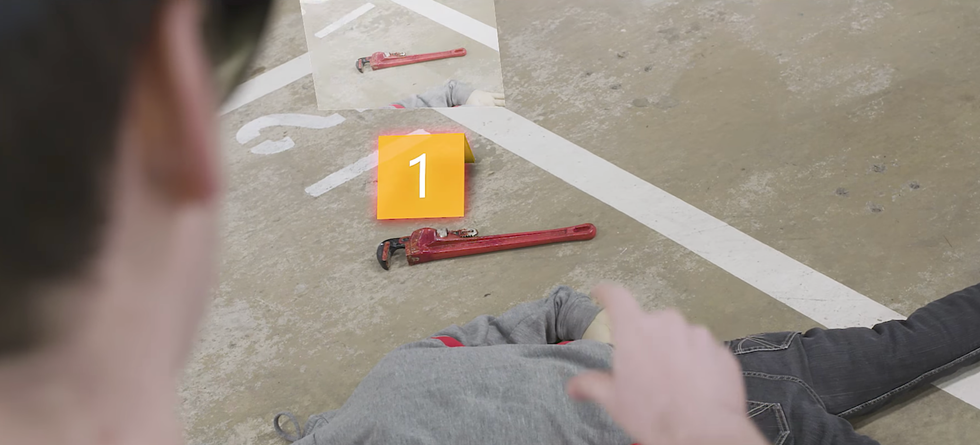 Evidence location can be mapped with HoloLensMicrosoft via YouTube
HoloLens is a headset which uses augmented reality to add digital elements and interfaces to the real world. Images are overlaid into a real space letting a wearer, for example, see a virtual big-screen TV on the empty wall of their apartment, or a car designer view a 3D model of a vehicle prototype on top of their desk.
Not intended to be a commercial success like virtual reality headsets, such as the Samsung Gear VR and HTC Vive, Microsoft HoloLens is aimed at creative, educational and business industries — such as police departments.
"It's a game-changer in policing and a game-changer for the criminal justice system as we move forward," says Bedfordshire Police's Lyall. "This is a really exciting opportunity for us to show the rest of the world how we can change for the benefit of the emergency services and the wider public.