Minecraft is opening the gates to 10 educational worlds in its Minecraft Marketplace — virtual spaces that can be visited through a Minecraft account from Washington, D.C. to Mount Olympus to the International Space Station. There are also lesson plans attached to these spaces including puzzles, creative writing activities and challenges on building. Educators can assign these to students as part of their learning day, and there's even guidance on how to use them as part of a remote learning program.
Minecraft is an online game, a world that players enter and then design to their eye. They can construct homes, schools, tree houses — anything they can actually imagine, all built block by virtual block. Minecraft can be played on Android and iOS devices, Kindle Fire, Windows 10 PV, Gear VR, Oculus Rift, Fire TV, Xbox One, Windows MR, Nintendo Switch and PlayStation 4.
Microsoft bought Minecraft in 2014 for $2.5 billion, and today there are essentially four different Minecraft versions: traditional Minecraft, Minecraft Dungeons, Minecraft Earth and Minecraft Education Edition. It's in this latter game where the new worlds can be found, and used.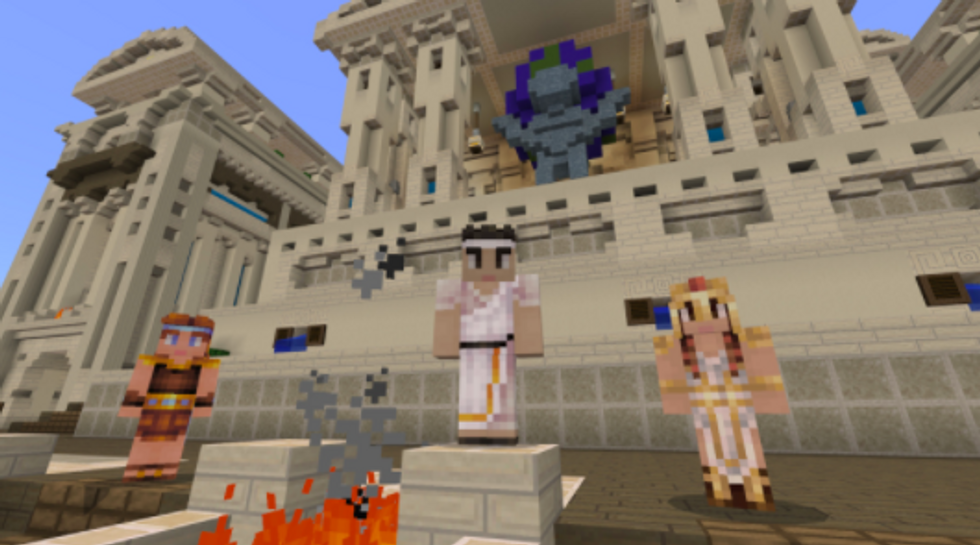 Mount Olympus is one of 10 free worlds Minecraft is giving away for Education EditionRAZZLEBERRIES
Some of these worlds are from the Minecraft creator community and include the following:

Jig's Guide Redstone Basics — This world explains the details about Redstone, which is the main energy used in Minecraft.
The Human Eye — A Minecraft-version of a human eye
Washington, D.C. — You can find 17 landmarks in our nation's capital, including the White House, the Washington Monument and the Pentagon.
Mount Olympus — here you'll find an underground dungeon, numerous buildings, extra skins and textures.
Marine Biologist — This is a scavenger hunt with aquatic animals and a submarine and 16 collectible you can find inside.
International Space Station — you can design a new module for the station.
The rest can be found in the Minecraft Education Collection online.
Minecraft