Like GearBrain on Facebook
Microsoft is opening the gates on one of best-known reading tools, adding Immersive Reader to Minecraft: Education Edition and other education sites, while launching a new feature called Presentation Coach, which will help to drum out those filler words from the way we speak.
Minecraft update
Immersive Reader is an accessibility tool known to anyone with Windows 10 and Office365, available in Word and other Microsoft programs. The free tool breaks written pages into visual components designed to meet readers in how they engage with text. Text also be read-aloud — you can even control the speed — and broken up into parts of speech, and readers can even change the language of the on screen text with a simple click, just to scratch the surface of its features.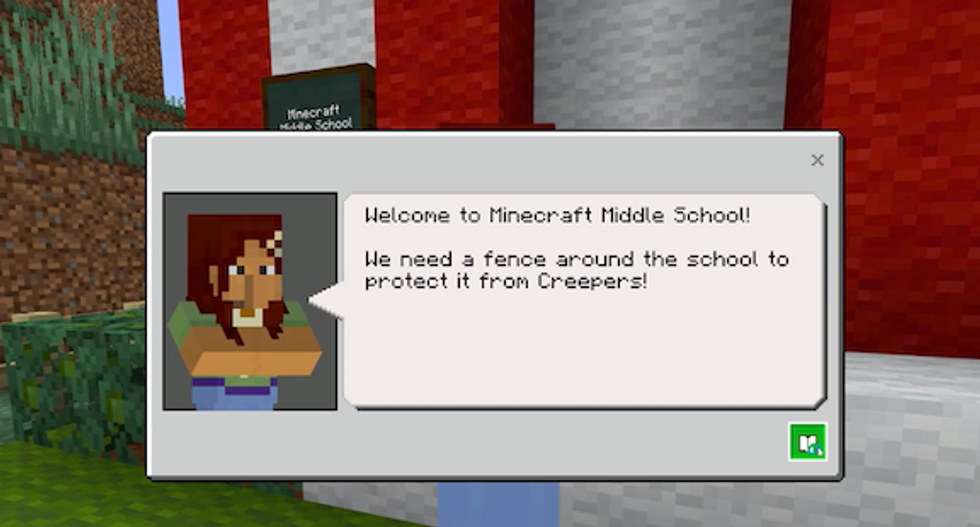 With Immersive Reader, players in Minecraft: Education Edition can change the on-screen text to make it more accessibleMicrosoft
Now, players in Microsoft: Education Edition can make use of the feature as well. While Minecraft is known for allowing players to build their own world, the text in the game is rarely part of the appeal. Yet that's how people engage with each other in the space — where dialogue between characters is written, and on screen. Now those words, and other in-game text, will be visible, so all players will find on-screen language accessible no matter their reading needs.

Accessibility tools, like Immersive Reader, are making their way into more consumer applications and features, expanding how people can use technology to fit their needs. Comcast, for example, recently added eye control to its Xfinity cable network, allowing people with mobility issues to change channels, find TV shows and more with just a glance. While smart assistants, including Amazon Alexa and Google Assistant, allow people to control features in their home, from turning on lights to locking the door, with just their voice.
"If you can't engage because of language and reading barriers, what can tech do to make content more accessible," said Eran Megiddo, CVP of Microsoft Education.
Microsoft's Immersive Reader, which started from a Microsoft hackathon project, is now also available to third-parties, with a first round focused on education tools and companies including Oxford Press and Follett among the first of 18 partners to make use of the feature.
YouTube youtu.be
Power Point getting Presenter Coach

While friends, co-workers and peers are the usual help people turn to when practicing a presentation, Microsoft has brought in an artificially intelligent assistant instead: Presenter Coach. The new tool will go live in every PowerPoint program this summer, giving pointers to speakers on where they can tighten up their speech, even when they're saying, "Um" or "uh" just a bit too much.
After finishing a practiced speech in PowerPoint, speakers get a report that even tells them if they're speaking too fast, or leaning too heavily from text from their own slides. That's far more detail than the "fine" retort you'll get when asking a friend how a speech sounded, giving you a better chance at engaging someone in your own work as well.
From Your Site Articles
Related Articles Around the Web
Like GearBrain on Facebook