Like GearBrain on Facebook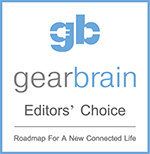 This year's Mobile World Congress (MWC), held in Barcelona, had two huge themes — folding smartphones and 5G.
The former, folding phones, is the first draft of an answer to years of steady smartphone stagnation. The latter, 5G, is worshipped by many who believe it will revolutionize not just phones, but cars, smart home devices, and everything in-between.
Read More:
As ever, Mobile World Congress is a show more suited to the largest companies than the smallest. While there are halls full of small tech firms striving for recognition, they often offer services at the enterprise, or business, level. Others are companies not quite ready for consumers, or do not have confirmed plans for entering the U.S. market.
But the bigger names, and a couple of old faces, made a return to MWC to show off what we think will impact your life in the coming year. Here are GearBrain's favorite devices from Mobile World Congress 2019.
Hover over the image below and click the blue arrows to navigate through the slideshow.

Samsung Galaxy S10+
Launched a couple of days before everyone else had chance to walk on stage, the Galaxy S10 is a far greater leap forward than we have seen from Samsung's flagship smartphone in recent years.
To start, there are four different models (perhaps even five if you include the ceramic version of the S10+), covering four different sizes and prices.
What we liked most about the S10 (although admittedly missing from the cheaper S10e) is the in-display fingerprint reader. We have seen these before — on the OnePlus 6T, for example — but Samsung is using an entirely different technology here, called ultrasonic, to vastly improve the experience.
One needn't even wake the phone up; just touch a fingertip to the right part of the display, and the phone unlocks. No hesitation, no Face ID-style hit-and-miss, and no need to illuminate the screen to maximum brightness to read your print, because visible light isn't how this tech works. It's seamless, and a reminder that sometimes waiting for version two of a new technology is the smart move.
From Your Site Articles
Related Articles Around the Web
Like GearBrain on Facebook