Like GearBrain on Facebook
Microsoft's return to Mobile World Congress in Barcelona this week was not to announce a new smartphone like everyone else - not even a folding one.
Instead, Microsoft was here to reveal the new second-generation HoloLens augmented reality headset, called the HoloLens 2.
Read More:
New for the HoloLens 2 is hand-tracking, so the headset knowns the location and positioning of your hands when you reach ahead. That way, you can interact with a virtual interface and objects produced by the HoloLens, as if they were really there in front of you.
Instead of using the basic gestures of the original, users of the HoloLens 2 can touch, poke and slide virtual controls as if touching them physically, which should make for a far more immersive environment.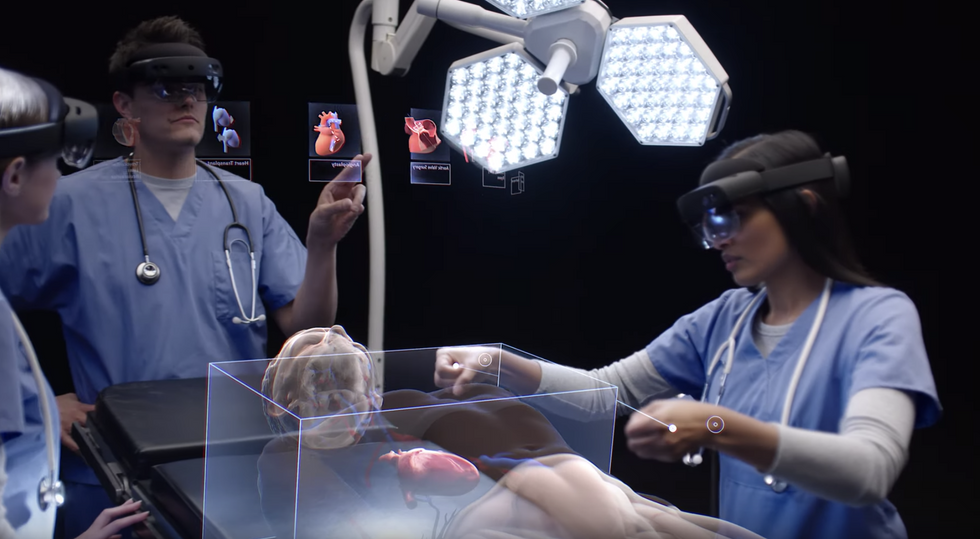 Microsoft
This fits in neatly with Microsoft's vision for the HoloLens - this is a device for enterprise and industry; it is not a toy, not a gaming device, and not intended for consumer entertainment. The $3,500 price tag should also make that abundantly clear. Microsoft sees this being used in factories, design studios and operating theaters, not your living room.

Other improvements include a carbon fiber construction to both reduce weight and, according to Microsoft, "triple" how comfortable the HoloLens 2 is to wear compared to its predecessor. Also adding to the convenience factor is how the front of the headset flips upwards, like a motorcycle helmet, making it easy to quickly see your real-world environment without needing to take the HoloLens 2 completely off.
One of the main criticisms of the original HoloLens was its field of view - that is, how much of the computer-generated interface the wearer can see without turning their head. At around 35 degrees, this meant only a small portion of the augmented interface was visible at once, differing somewhat from the completely immersive visualizations Microsoft uses in its HoloLens promotional material.

Without giving a specific figure, the company says the new model has a field of view which is double that of its predecessor. This should mean around 70 degrees, and while some competitors are close to offering 90 degrees in devices intended to ship this year, the HoloLens 2 has had a boost in clarity too.
While the original offered a resolution of 720p per eye, the new model offers 2K per eye. This means the new HoloLens retains the original's 47 pixels-per-degree, but stretches it across a wider field of view. For comparison, the HTC Vive Pro VR headset has around 16 pixels per degree.
Another new feature is eye-tracking, which Microsoft can use to authenticate the wearer via Windows Hello. In theory this could also be used to help the user interact with the interface by moving their eyes and gazing at what they want to interact with, or the menu item they want to select.
Finally, battery life is a claimed two to three hours, and pre-orders are open now.
Star Wars: Jedi Challenges www.youtube.com
Like GearBrain on Facebook