Consumer Reports has adjusted its review of the Tesla Model 3 after the electric car maker issued a software update to improve braking performance.
The publication had originally failed to recommend the Model 3, partly because it stopped from 60mph in a distance which was "significantly longer than any other contemporary car". The vehicle performed so badly, according to the publication's figures, that it took seven feet further to stop from 60mph than a Ford F-150 pickup truck.
Read More:
Further issues with the Model 3's touch screen controls and ride comfort prevented the car from being recommended to consumers.
However, after the review was published, Tesla boss Elon Musk said the braking performance would be improved via a software update. Days later, an over-the-air update was pushed out to Model 3 vehicles, and after installing the new software Consumer Reports found the braking distance had been shortened from 152 feet to 133 feet, an improvement of 19 feet.
This updated performance is "typical for a compact luxury car", the publication said. For comparison, the 2018 Audi A4 stops from 60mph in 135 feet and the 2018 BMW 3 Series takes 129 feet. The Model 3 achieved an overall score of 77, while the BMW scored 78 and the Audi got 85.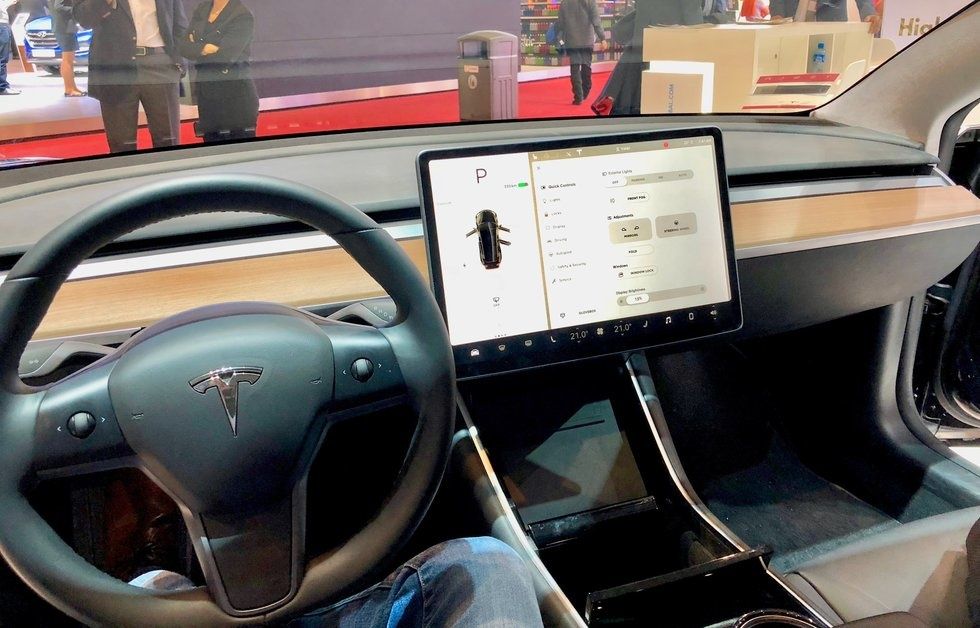 Almost all interior controls are on the central touch screenGearBrain
CR said Tesla had: "Improved the software for the Model 3's antilock braking system to adapt to variations in how the brakes might be used and to respond to different environmental conditions."

Jake Fisher, director of auto testing at the website, said: "I've been at CR for 19 years and tested more than 1,000 cars, and I've never seen a car that could improve its track performance with an over-the-air update."
But other issues with the Model 3 remain, including wind noise, a stiff ride, and uncomfortable rear seats. Musk reportedly told CR that updates have been made to the Model 3's production line to fix these complaints.
CR also gave low marks to how almost all of the Model 3's controls are accessed via a touch screen. A second software update has since addressed some of these problems, including a system where controls to adjust the mirrors and steering wheel appear on the screen whenever the driver's seat is moved, making the controls easier and less distracting to access.