Like GearBrain on Facebook
Amazon latest products, including the new fourth-generation Amazon Echo smart speakers, include a new feature called Sidewalk. Announced a year ago, but explained in more detail at Amazon's hardware event this September, Sidewalk is a new type of wireless network that will span between Echo and Ring devices.
Read More:
Free to consumers, Sidewalk uses the 900 megahertz wireless spectrum to connect all sorts of devices together, including Echo smart speakers and displays, as well as security products by Amazon-owned Ring.
The devices will be linked together using Bluetooth Low Energy (BLE), and because the network signals are passed from one device to another, they can be spread much further than a regular Wi-Fi network, while using far less power than a 4G or 5G cellular network.
Here is how Amazon describes Sidewalk: "A shared network...that helps devices like Amazon Echo devices, Ring Security Cams, outdoor lights, and motion sensors work better at home and beyond the front door. When enabled, Sidewalk can unlock unique benefits for your device, support other Sidewalk devices in your community, and even open the door to new innovations like locating items connected to Sidewalk."
There are two types of Amazon Sidewalk devices. Sidewalk Bridges take the network signal and broadcast it, extending the network; these devices include the latest Amazon Echo smart speakers and Show displays, plus outdoor cameras and security lights produced by Ring, which is owned by Amazon.
The second set of products are called Sidewalk-enabled devices. These automatically connect to the wireless network created by the bridges, using Bluetooth Low Energy.
This is not a password-protected network created by one person exclusively for their devices to connect to. Instead, every Sidewalk network is open to all. That way, anyone's Sidewalk enabled devices can connect to anyone else's Sidewalk bridges, but all of the connections have multiple levels of encryption to prevent data being captured by unauthorized parties. Amazon says Sidewalk will use no more than 500MB of a person's internet connection per month, which is equivalent to 10 minutes of HD video.
So far, the primary use for Amazon Sidewalk will be to help people locate lost items.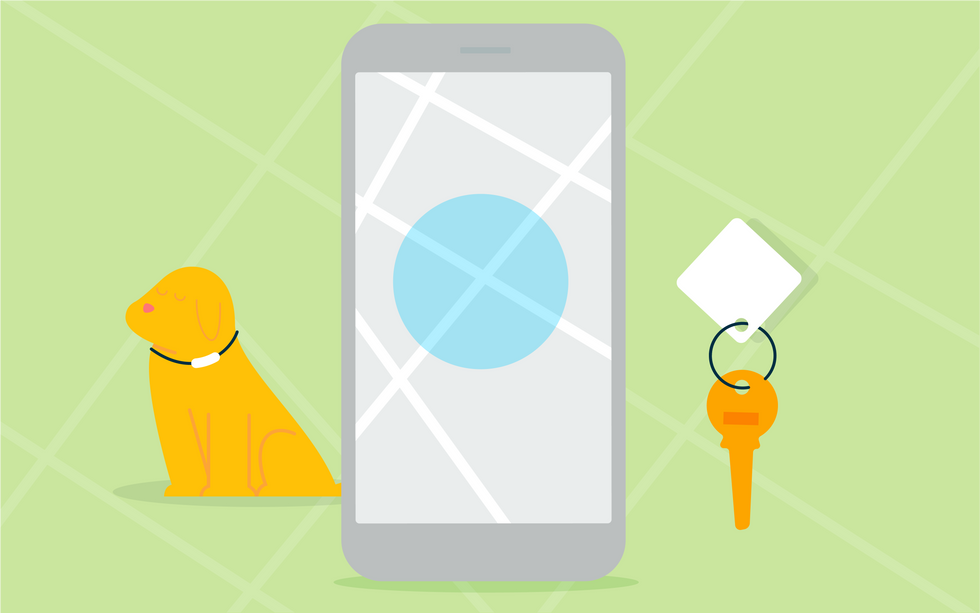 Amazon says Sidewalk can be used to help locate lost itemsAmazon
Tile, maker of Bluetooth tracking devices to help you find lost possessions, is also a partner of Sidewalk, leveraging the new network to help improve the odds of users relocating their lost Tiles.

Instead of relying only on a Tile user walking within Bluetooth distance of a lost Tile (upon which the owner of the lost Tile is told its location), the location will also be shared when the Tile is in range of a Sidewalk network created by the Amazon devices of nearby properties. So if the Tile, perhaps attached to a keychain, is dropped outside a home with a Sidewalk-compatible Ring security camera installed, the Tile will alert its owner through the Ring's internet connection.
Amazon has previously said how its own Fetch dog tracker could also work with the Sidewalk network, helping owners locate their dog if they leave the garden. However, Fetch is no longer sold by Amazon.
The company has explained how a Sidewalk connection can help make it easier to reconnect devices to your Wi-Fi network if something goes wrong. Amazon also says how some devices can continue to function in a limited capacity through the Sidewalk network, should they lose Wi-Fi signal. "For select Ring devices, you can continue to receive motion alerts from your Ring Security Cams and customer support can still troubleshoot problems even if your devices lose their Wi-Fi connection."
Although use cases are somewhat limited for now, Amazon is keen to point out how broad a network can be created using Sidewalk bridges. The company explains how Amazon employees and their friends and family installed 700 Ring products in their homes, which created a Sidewalk network that "covered much of the Los Angeles Basin, one of the largest metropolitan regions in the United States by land area."
Amazon says how this network could be used by "low-bandwidth, low-cost devices," but doesn't say specifically what these would be, beyond referring to "lights and sensors". The company describes the creation of Sidewalk networks blanketing entire cities in connectivity as "a long-term effort".
Which devices act as Sidewalk Bridges?
It isn't just the aforementioned new Echo and Ring products that work as Sidewalk Bridges. Here is a list of compatible products from Amazon:
Echo Dot (3rd Gen and newer)
Echo Dot with Clock (3rd Gen and newer)
Echo Plus (1st Gen and newer)
Echo Show 5 (2019)
Echo Show 8 (2019)
Echo Show 10 (2020)
Echo Spot (2017)
Echo Studio (2018)
Ring Floodlight Cam (2019)
Ring Spotlight Cam Wired (2019)
For now, only Tile products and the new Ring Car Alarm are listed as devices capable of connecting to a Sidewalk network, but we expect to see this increase through 2021 and beyond. We also hope to see Amazon offer many more examples of what Sidewalk can be used for, as for now it feels like an experiment that has only just begun.
When will Amazon Sidewalk arrive?
Amazon emailed US customers on November 24 to say Sidewalk would be activated on their compatible Echo and Ring devices in the coming weeks, which suggests a launch before the end of 2020 is likely. Amazon mistakenly sent the email to UK customers too, but later said this was a mistake and Sidewalk won't be available outside the US at launch.
Can you opt out of Amazon Sidewalk?
Sidewalk will be activated automatically on compatible devices when Amazon switches it on in late-2020. However, if customers don't wish to use it they can opt out now, or at any point in the future.
We have written instructions here explaining how to opt out of Amazon Sidewalk, and the company has published a white paper here to explain how the network is secured with encryption.
From Your Site Articles
Related Articles Around the Web
Like GearBrain on Facebook