Like GearBrain on Facebook
As you consider a home security camera for your home, one of the first things you should assess is quality of the video. You want to know what's happening in your home, and picture quality — both during the day and night — must be good, clean and crisp. No one wants to miss something, or not be able to read or discern what's happening in the video your camera has taped. We recently tested Momentum's new Robbi Wi-Fi Camera in a real home with Wi-Fi, finding it delivered great picture quality, along with features customers will appreciate in a solid, smart home security camera.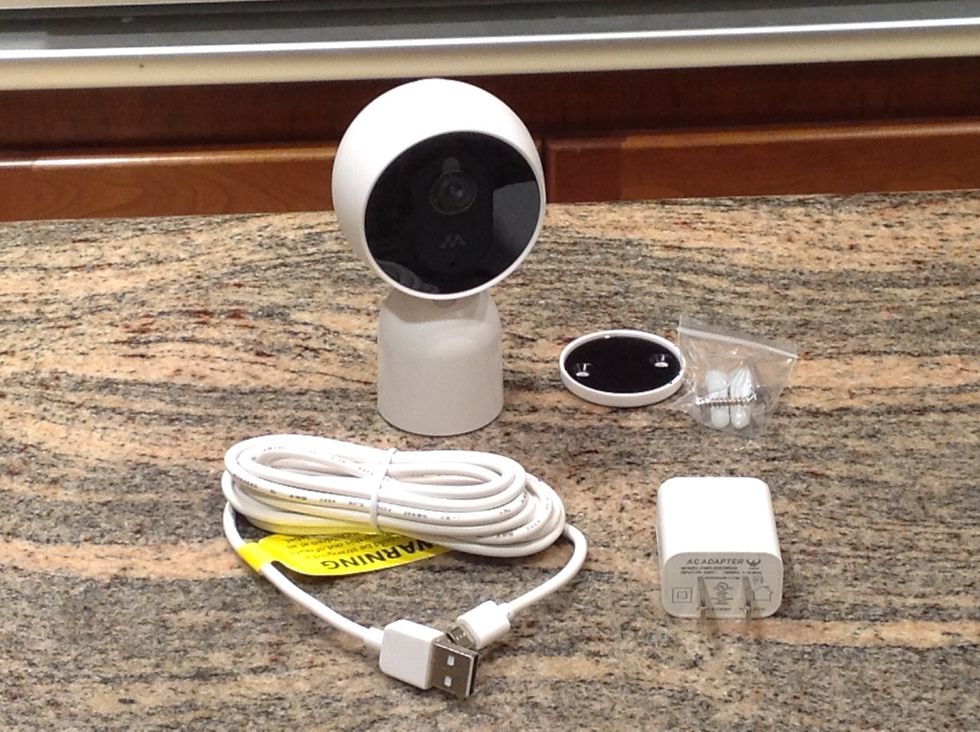 Momentum Robbi Wi-Fi camera comes with mount, USB cord and plug.GearBrain
What is the Robbi?

Robbi is a Wi-Fi security camera that can be used in your home and office, and able to pick up details about family members, pets and anything happening in your space. The device features 1080p HD streaming, motion and sound detection, infrared night vision, two-way audio communication, a security siren and a micro SD card slot that can store 128GB of videos and still images. The camera has a 130-degree field of view, rotates 360 degrees and includes free — lifetime — 24-hour video storage as well as optional Cloud storage for an extra fee.
When opening the box, you'll find the Robbi camera, a USB cable and an AC power adapter, as well as a mounting kit, a Quick start guide and a manual.
How do you install the camera?

After buying the Robbi camera, download the Momentum app from either the Apple App Store (iOS) or from Google Play (Android.) Make sure your phone is connected to your home Wi-Fi network — Robbi works on both 2.4GHZ and 5GHz bands. If you have a dual band router, it's recommended you create separate SSID names for each band on your Wi-Fi router settings page, which will make it easier for you to select the 2.4GHz or 5GHz band for setting up your camera. Open an account, then connect your Micro USB cable to the back of the camera and plug the cable into an outlet. Using the Momentum app, select 'Pair device' and then choose the Robbi camera from the list of devices.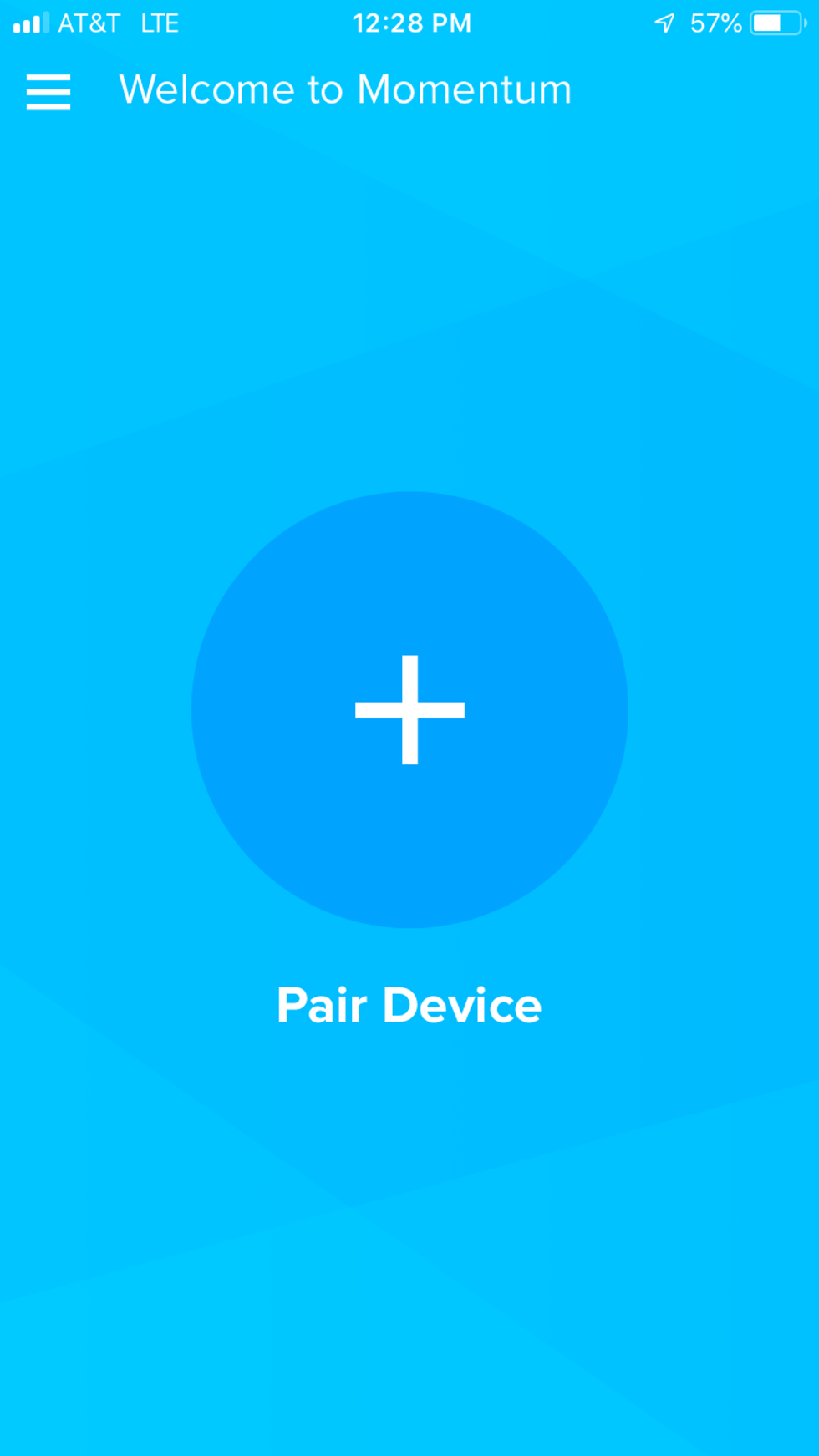 Pair devices with your Robbi Wi-Fi camera using Momentum app.GearBrain
Next, go to your mobile device's Wi-Fi settings and connect to the 'Robbi' Wi-Fi Network. Now return to the Momentum app, and make sure you are connected to your home's Wi-Fi.

You'll need to name your camera to continue the set-up, and you'll want to pick a name that's easy to remember, but also sounds natural when you ask Google Assistant to control the device. Yes, the Robbi camera is compatible with Google Assistant — but in a very limited capacity, which we will cover more in the smart home integration section below.
After naming your camera, click on 'Get Started' to complete the set-up process. Robbi camera will let you know when the device has connected to your Home Wi-Fi, as well as when the setup is complete, which should take about five to eight minutes.
Tips when setting up your camera:

Take the clear tape off the lens.
Make sure your firmware is updated once you complete the setup process, which may take some time
If your camera's light is blinking red, it means it's disconnected from your Wi-Fi
If your camera is blinking blue, that is a good sign. It means you are connected to Wi-Fi. If solid Blue, it means your camera is live streaming
Momentum Home Security Monitoring Plans
Momentum offers subscription plans for the Robbi smart camera. The Lite Plan is free, and offers 24-hour video and still image storage. You can also opt into the Plus plan, which offers the first month free, plus a 7-day video history for up to two cameras, which is $4.99 a month or $49.99 if billed annually. There's also the Premium plan, with the first month free, and a 30-day video history for up to five cameras for $99.99 per month or $99.099 billed yearly. Finally, the Pro Plan also offers the first month for free, along with a 60-day video history for up to 10 cameras. For this plan, you'll pay $19.99 per month or $199.99 a year.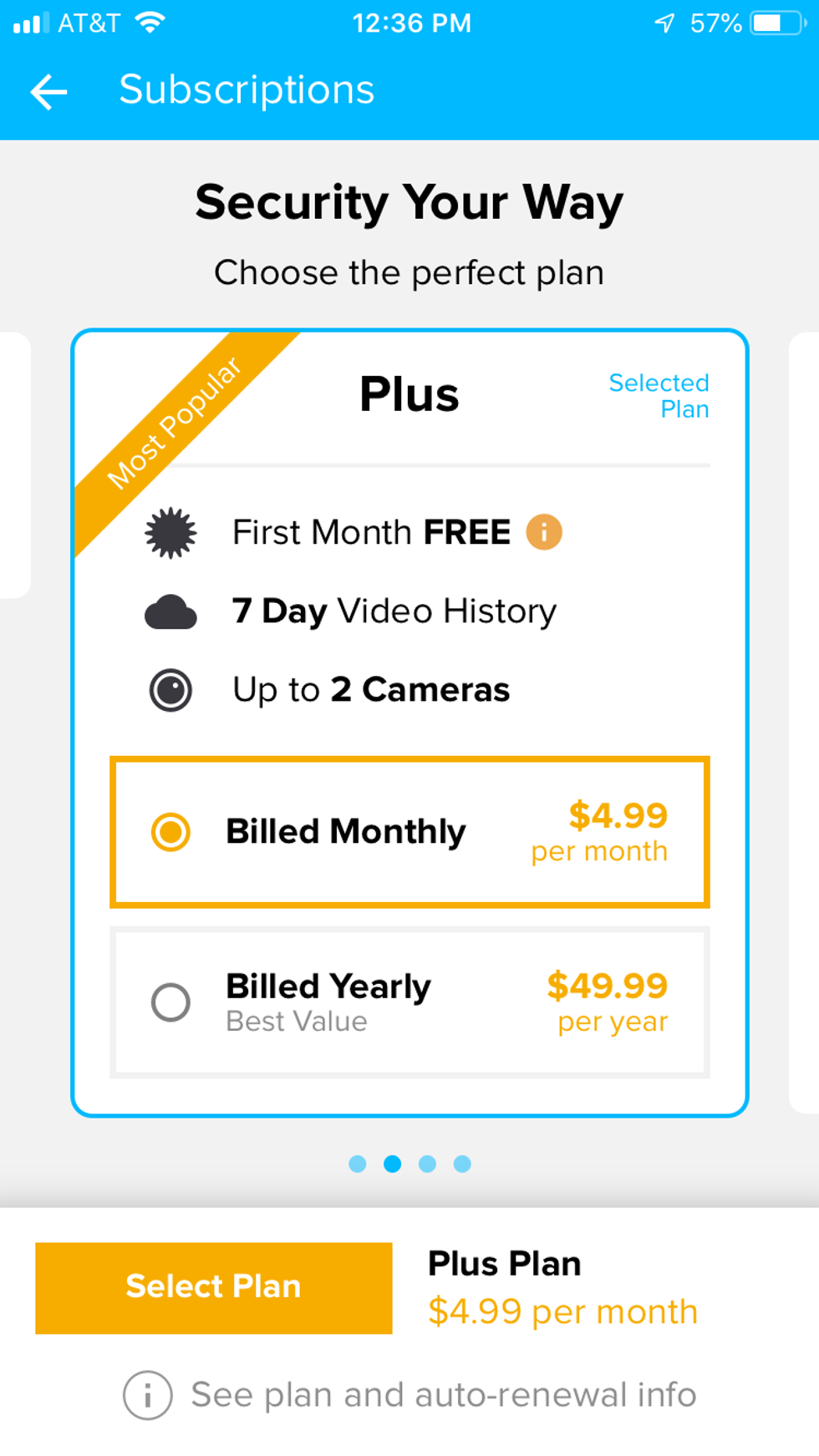 Robbi Wi-Fi camera comes with free plan but you can buy one of their video storage plans. GearBrain
Smart Home Integrations

The Robbi camera will work with Google Assistant devices — but you can only turn on the camera if it's set to privacy mode. The company is developing new integrations for Google Assistant devices, which should be available soon. Although Robbi was part of the What Works with Nest program, that will end by the close of August when Google shuts down this program. That means you won't be able to control a Nest thermostat through the Momentum app. If you want to learn more information about this program, check out GearBrain's What to do when Works With Nest smart home platform is replaced by Works With Google Assistant.
How well does the Robbi camera work?

We tend to notice at GearBrain that most connected devices need a USB plug to power — but brands rarely include them with the product. We were happy to see Momentum supply a USB plug for the Robbi smart Wi-Fi camera.
Regarding picture quality, Robbi has exceptional still and video resolution, clear and crisp. The 1080p HD Wi-Fi camera has a speaker that supports two-way communication, with acceptable sound quality, with a few seconds of delay when you're speaking with people through the app and camera. The Robbi smart camera also supports night vision with infrared built-in LEDs to see in the dark, with solid picture quality.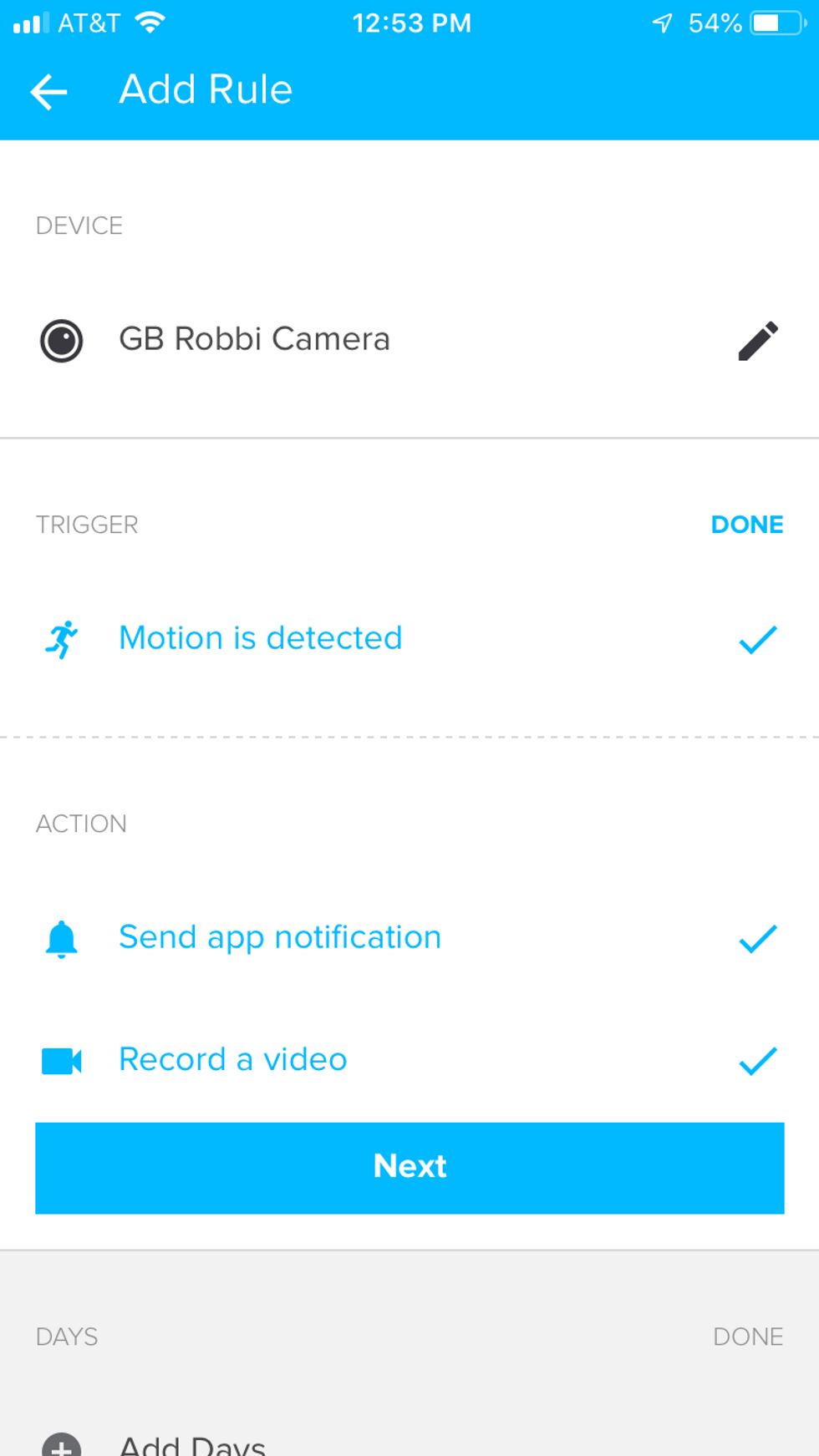 You can add rules and triggers in Momentum app to capture videos.GearBrain
The Momentum app is simple to use, and works similarly to other smart security camera apps. You can setup rules, which will determine when the Robbi camera starts recording, or how you want the camera to work, such as sending an app notification when motion is detected or recording a video based on a day or time. Users can also customize the Momentum app based on usage.

The camera has a micro-SD slot — a nice touch — to add a micro-SD card of up to 128GB of storage to store you own videos. Plus, there is a dashboard where you can see Momentum paired devices, which appear as tiles and can be arranged, and have their size changed, through the Pencil icon in the upper right-hand corner. You need to save changes before leaving the app.
Through GearBrain's tests, we typically have to hold down a microphone icon on the screen to talk, and then release the icon to hear someone respond. Momentum, however, doesn't require you do this, instead letting you just touch the icon once to talk, and then again to hear the response.
Night Vision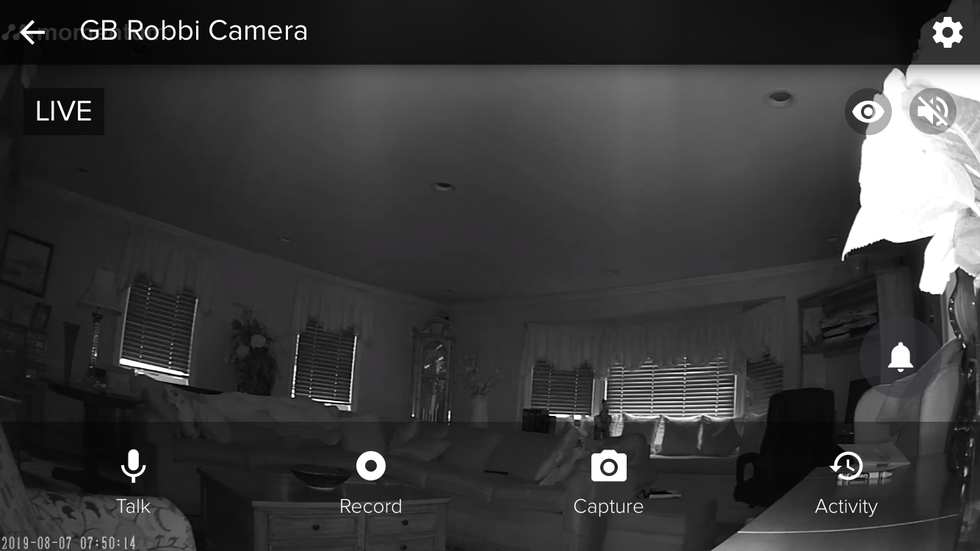 Robbi Camera comes with night vision to help you see in the dark. Here is what our room looks like at night through the Momentum app. Robbi camera uses infrared built-in LEDs.
GearBrain
Day Vision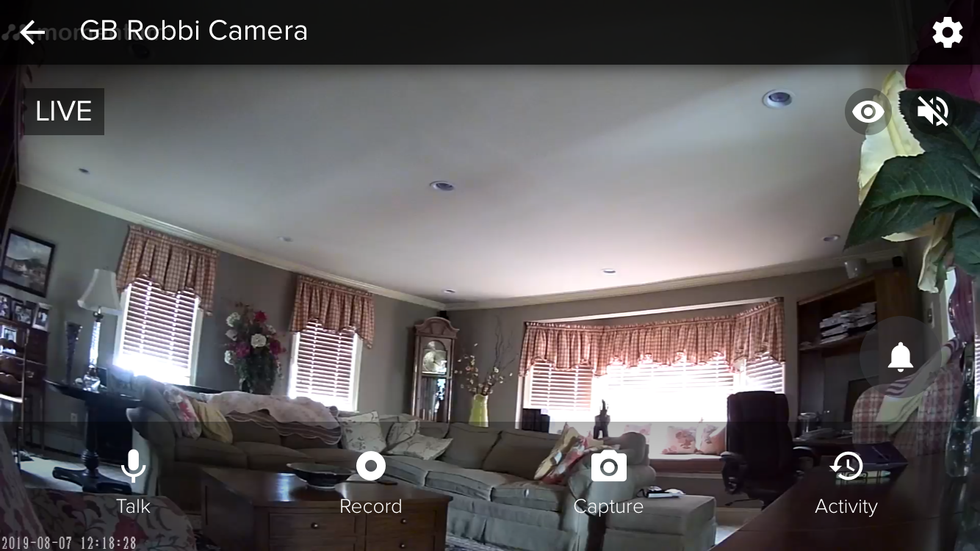 This is a screenshot from Momentum app of the room during the day. See how crisp and clear the picture is and notice the control at the bottom of the screen.
GearBraiin
When viewing live video through the app, you'll see four icons at the bottom of the phone's video screen: talk, record, capture and activity buttons. The Settings icon is in the top right-hand corner, a speaker icon, and a bell icon as well, which will trigger a loud siren on the camera. While you may not hear the sound from outside the home, we know it will scare people inside. The speaker icon is typically muted, but if you touch it, you'll be able to hear sound from the Robbi camera in the room.
In terms of installing the Robbi, you have two options, either mounting the camera on a shelf or on the wall. The camera connects to the base through a magnet which forms a strong bond to hold the camera in place. There's also 3M mounting tape on the base so you can secure the camera on a shelf or the wall, or you can use the supplied wall anchors and screws. Wherever you do position the camera, just make sure it's near an outlet as the Robbi camera needs power to operate properly.
Cost:
Robbi 1080P Smart Camera costs $99.99 and is available on the company website and Sam's Club. You can also purchase the camera on HSN.com for only $74.99.
Summary

Momentum's Robbi 1080P Smart Camera is a solid DIY home security camera. The device has excellent resolution (1080p HD), a big viewing zone (130-degree FOV and 360-degree pivot hinge) and infrared LED for night vision. While the camera has average sound quality, there is motion detection as well as free, lifetime 24-hour video playback, optional Cloud storage and a microSD card slot.
One drawback to the Robbi smart camera are the thin options to integrate with other smart home devices, home security systems or home automation platforms. Robbi smart camera is a good quality security camera, and we'd like to see the device working with other DIY home security systems like abode or SimpliSafe, or be able to pull up the video on smart speaker displays like Amazon's Echo Show or Google's Nest Home Hub. As more consumers adopt smart home devices, security cameras will need to work with as many devices as possible.
Still, Robbi smart camera is a good, standalone home security camera that can work in smart living spaces like a dorm room or an apartment, a good option worth considering today. The price on the device is good, and the picture quality and functions are excellent. If, however, you're focused on building a robust, DIY smart home security system, Robbi is not the best option today, even if we expect that to change soon.

Pros and Cons
Pros
Good field of view and view zone
Excellent HD video resolution
24-hour free video storage
Price
Cons
Lack of smart home integrations
Interference from kitchen appliances
Two-way communication is delayed
Specs
Video resolution: 1920x1080p@15fps resolution
Lens: fixed focus; Field of view of 130 degrees, auto exposure
Storage: external storage: MicroSD slot (up to 128GB)
Power: microUSB connection
Connectivity: Wi-Fi 2.4/5GHz
Like GearBrain on Facebook