Like GearBrain on Facebook
The simplest home security system is one that is professionally installed, where you choose a PIN code once the pros are done drilling and wiring, and pay your monthly monitoring fees. But a professionally installed system is expensive, which is where a system such as SimpliSafe comes in.
With monitoring fees starting at $14.99/month, SimpliSafe is slightly cheaper than the monitoring service from an ADT-like installed system, even with its separate SimpliCam security camera video recording subscriptions. Since SimpliSafe's DIY nature eliminates professional installation fees, SimpliSafe's hardware is less pricey as well.
But simple? Uh, no. "Simple" and "technology" are frenemies, at best. Adding the word "simple" to your tech product automatically makes it a target for cynical derision. Adding "simple" to a home security system is even more problematic as home security systems are never simple.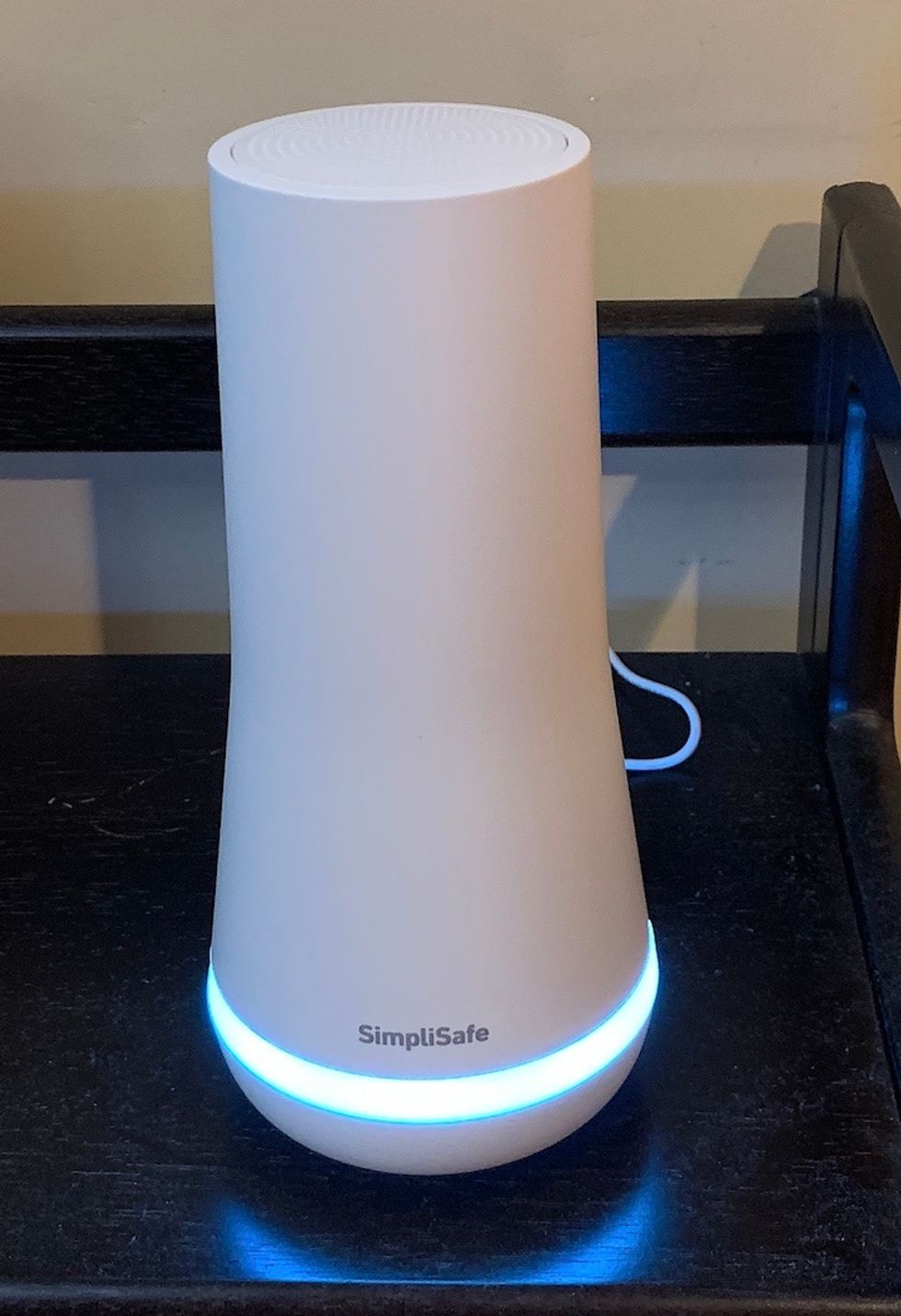 The SimpliSafe base is needed to run all the security devices within the systemGearBrain
Read More:

SimpliSafe's value lies in its flexible and inexpensive monitoring capabilities, and especially its ability to operate during internet or power outages. All its other security benefits are better and less expensively accomplished via multiple cameras with superior capabilities than the SimpliCam, or simply opting for the cheaper, better-integrated, more expansive, and seemingly simpler Ring Protect system.
Set-up details
A SimpliSafe hardware+service system can be configured to suit varying-sized houses, apartments or businesses; you can choose from the varying hardware components yourself, pick a bundled package, or call the company for configuring assistance.
Whichever hardware configuration method or components you choose, you always start with two pieces: a white, foot-high, tapered tube base station ($114.99) with an LED band ringing its bottom third, and a wall keypad ($69.99) with a click "touch" screen (you press down on one of the four sides to activate on-screen options). You also get a free 9-inch by 9-inch triangular "protected by…" yard sign.
Our review system included 16 pieces: the base and keypad, a SimpliCam camera, a smoke detector, four "entry" window and door sensors, two motion sensors, and single sensors to detect a broken window, water leakage and pipe freeze, an actual Panic button, and two key fobs for remote control, along with a free yard sign and window decals.
SimpliSafe admits that "[a]n ADT [system] might be a little cheaper hardware-wise upfront," but you'll then need to pay for installation.
Simplisafe Unboxing in less than 10 Seconds www.youtube.com
A review caveat: since I live in an apartment, the system we received for review included a doorbell camera, which I could not install. The company says it's working on a battery-powered solution appropriate for apartments. Without an event that would trigger an emergency response, it was hard for us to judge how fast and effective SimpliSafe's monitoring service.

One of SimpliSafe's most comforting attributes is its independence from external power or internet outages. All components operate on batteries and the AC-powered base includes four AA rechargeable NiMH batteries for backup. The entire system operates on its own independent low-frequency 400-500MHz wireless network, and monitoring notifications are transmitted via a cellular connection. This means that the system will continue to guard your abode and monitoring alerts will be generated even if your Wi-Fi or power goes out.
SimpliSafe says the effective range of its wireless network is around 800 feet. Centrally locating the SimpliSafe base station should enable wireless communications with even the most far-flung sensors, obviously depending on the expanse of your castle and how many potentially RF interfering devices you own.
The SimpliSafe keypad can be attached to your wall with double-sided tapeGearBrain
Installation

You stick the battery-powered keypad bracket via double-sided tape to a location near your front door. The keypad can easily be slipped in and out of the bracket for set-up and portable or stationary usage. Each sensor includes a small button that you press to pair each to the keypad and the system. I experienced only a smattering of trouble pairing most of the sensors and motion detectors.
The SimpliCam camera sets up separately, just as if it were a standalone camera, which, for the most part, it is. For instance, the SimpliCam has its own motion detection settings found in the SimpliSafe app, not in the system keypad. Movement detected by the SimpliCam or a room motion sensor will trigger recording and generate a monitoring alert (the camera lens is shuttered unless activated). But, movement detected by the camera's own motion sensors start recording but does not trigger a monitoring alert. This makes the motion sensor in the camera both redundant and superfluous.
Worse, the SimpliCam is not exactly the most advanced Wi-Fi camera I've tested, which makes it SimpliSafe's weakest link and my biggest complaint.
For one thing, the SimpliCam connects only via a dedicated 2.4GHz Wi-Fi network rather than increasing prevalent 5GHz networks. I tried connecting the camera to my Netgear Orbi tri-band mesh network, which theoretically automatically assigns the correct network frequency to connected gear, but I could get live video only intermittently. I ended up pairing the SimpliCam to the discrete 2.4GHz network from my cable modem.
SimpliCam also doesn't provide the higher-quality 1080p video – "just" 1280 x 720, which is technically HD – that more advanced cameras such as the Logitech Circle 2 and varying Arlo models offer. Higher 1080p or even 4K security video comes into play when you need to zoom-in on details, such as faces. SimpliCam's 120-degree field-of-view is narrower than many of its competitors, such as the Circle 2's 180-degree FOV.
Unlike many other Wi-Fi security cameras such as the Circle 2 and the Arlo Pro, SimpliCam isn't weatherproof, so you can't mount one outdoors. And unlike any Wi-Fi security camera worth its lens, the SimpliCam lacks geofencing, which means you'll get constant motion sensor alerts when you're home unless you manual turn off the motion sensing in the app settings, which means you'll have to manual drill through the settings to turn them back on, which I did.
But, SimpliCam's issues aside, it took me less than an hour to physically set up the SimpliSafe system, just as the company claims.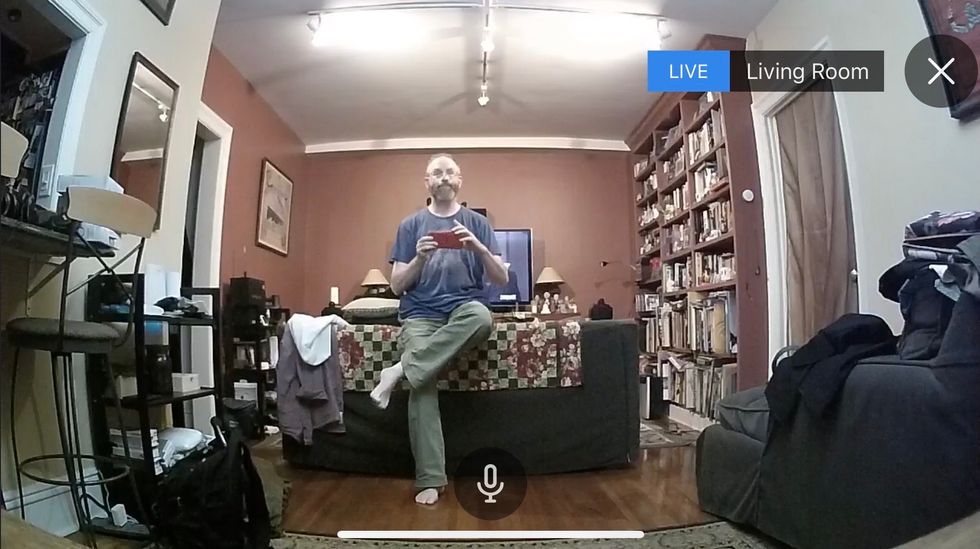 The view from the SimpliSafe camera, which does lack geofencingGearBrain
Fees

Once you buy and even set-up the hardware, you then have to choose added subscriptions. This is where SimpleSafe becomes indefensibly complicated.
First you need a $4.99/month 30-day video recording subscription for each camera you add. Then you have a choice of two 24/7 monitoring monthly subscriptions, $14.95/month or $164.89/year (one month free) for a "standard" subscription, $24.95/month or $274.89/month (one month free) for an "interactive" subscription.
SimpliSafe says you need not sign any contracts — theoretically, you could turn on monitoring for just a month to cover a vacation and not subscribe the rest of the year — and its web site says you'll save $168 over four months to $1,009 after three years over competing monitoring service fees.
Let's start with those camera fees. Cameras are the lynchpin for any home security system, but the fees for just three cameras in your SimpliSafe system — a doorbell cam, an external and an internal camera – costs the same as SimpliSafe's "standard" monthly monitoring service, and three cameras is barely sufficient for a truly complete home security system. All other standalone Wi-Fi security cameras offer at least 24 hours of free recording; many offer free local recording (via SD card) or even free cloud recording — the Arlo Q, Arlo Q Plus and the Arlo Pro, for instance, all include seven days of free recording for up to five cameras.
Charging separately for monitoring and video recording — especially a separate fee for each camera — is, in my mind, excessive.
Then there are the two monitoring subscriptions, the "standard" $14.99 and the "interactive" $24.99, which enables you to arm and disarm the system via the app, provides a Panic button in the app in case a fob isn't available, access to an Event Log to check when all parts of the system are triggered or activated and why, monitoring of environmental conditions such as home temperature when away to prevent frozen pipes and subsequent expensive damage, to check the status of burglar, fire, CO and flood alarms whenever you want, and Amazon Alexa and Google Assistant compatibility (Apple HomeKit compatibility is being discussed).
My complaint isn't what you get for $24.99 a month, but what you don't get for $14.99 a month.
Apps that complement every smart IoT device extant – Wi-Fi security cameras, smart locks, smart lights, Wi-Fi air conditioners, et al — provide remote operation, system reports, and smart home ecosystem integration as part of the price. Many Wi-Fi security cameras and smart locks also include automatic geofencing or proximity activation/deactivation, which SimpliSafe doesn't offer at all.
But unless you spring for the $24.99/month "interactive" plan, you get remote control only over the SimpliCam. Under a "standard" subscription, you get no remote operation. If you need to let someone into your SimpliSafe-armed home when you're away and the alarm is armed, you have to securely communicate with them, give them your system PIN, then, for security purposes, change your PIN when you get home.
To be forced to pay an extra $10 a month to get remote operation, system reports, and smart home ecosystem integration that every other smart home device and app includes as basic operational features leaves me stunned. I have to pay an extra $10/month to just simply arm or disarm the system when I'm not home? And what interactive remote operational, system report, and smart home ecosystem compatibility features have to do with monthly security monitoring is beyond my ken.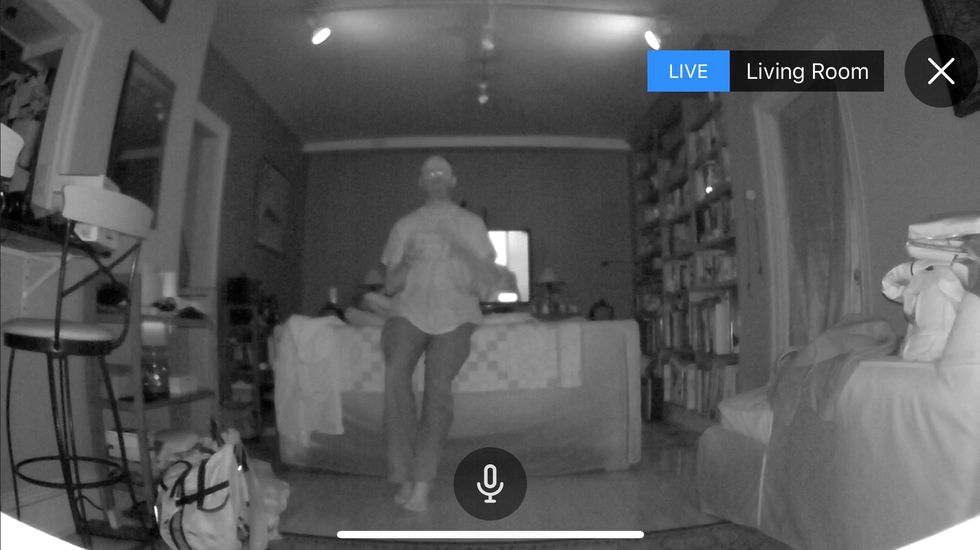 SimpliCam's security camera has a 120-degree field-of-view GearBrain
Operation

Without the $24.99 "interactive" plan, SimpliSafe operates almost entirely via the keypad and fobs; you use the app primarily for viewing footage from the SimpliCam and doorbell cameras. In many ways, this app-less operation does make SimpliSafe, well, simpler, but hardly usable. You press "away" on the keypad or the separate remote as you leave, and enter your PIN code on the keypad when you return. You have 60 seconds to act either way before the alarm goes off.
SimpliSafe includes three modes: Off, Home and Away. In Home mode, all the sensors are active, which means you'll know if someone is attempting entry or moving around if you're on the other side of the house or on another floor. But you can't configure the Home mode to configure the system to, say, activate only window sensors, or simply alert you if the door opens instead of requiring a PIN, or to defeat room motion sensors. As a result, in Home mode, be prepared to be alerted anytime someone enters or moves around your abode. And anyone coming through your door with the system in Home mode will have to input the system PIN or the siren will go off, a requirement not advisable if you've got children coming and going.
As noted, the app is rather sparse with a "standard" subscription — you'll use it mostly for camera viewing and settings. If you want more functionality, such as remote system operation, you have to shell out the extra dough for the $24.99 "interactive" monitoring subscription.
Summary

SimpliSafe has to be judged on two levels: its monitoring system and its technological system capabilities.
For instance, once you start considering cameras — and, as noted, cameras are a lynchpin of any home security system — this is where SimpliSafe has issues. You might be better off selecting a "standard" SimpliSafe door/window monitoring system, and then adding multiple, security Wi-Fi cameras such as a Circle 2 or a mixed Arlo system, along with a smart lock so you can remotely let people in-and-out. If you get an intruder alert from either of these non-SimpliSafe devices, you can alert authorities on your own.

If you absolutely need home monitoring only, however, SimpliSafe is a simple and safe choice. It's just may not be the best choice, functionally or economically.
Pros:
Choice of bundled and a la carte systems
Simple and easy setup/simple and easy to use
Continues to operate despite Wi-Fi or power outages
No contract by-the-month monitoring service plans
Cons:
Pricey video recording subscription fees
Pay extra for away-from-home control, smart home ecosystem integration
Limited camera and sensor options
No geofencing
Plans and Options:
You choose your desired sensors and detectors from three groups:
You can also choose one of four pre fixe packages:
From Your Site Articles
Related Articles Around the Web
Like GearBrain on Facebook