Like GearBrain on Facebook
The Moodo is an air freshener with a Wi-Fi connection, smartphone app and support for Alexa, Google Assistant, Siri and IFTTT (If This, Then That). As such, this is a smart air freshener, capable of releasing and blending four different scents, and with a rechargeable battery which lasts for up to seven hours.
A new white version has just launched, complete with holiday-themed scents like Christmas tree, cookies, and log fire.
Adding smart home connectivity to something as simple as an air freshener may seem like overkill — and pricing it at $170 (plus the cost of refills every couple of months) sounds expensive. But at GearBrain we can't help but be drawn to products with 'smart' in their name, an app, and IFTTT skills to tinker with as well.
Moodo Smart Home Fragrance Box: Design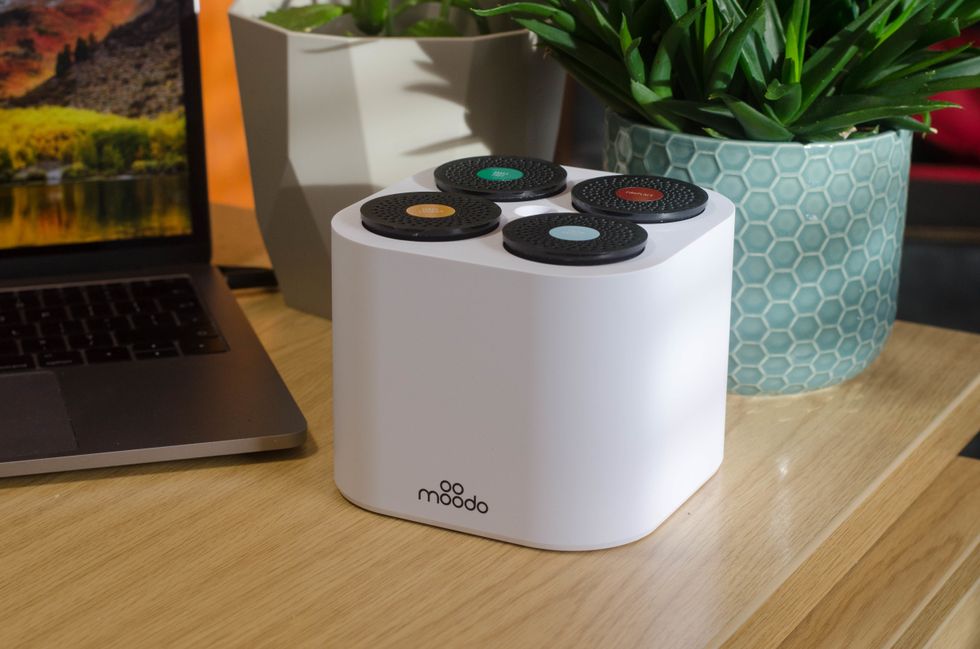 GearBrain
Available in black or white (with the latter shipping from December 12), the Moodo is a fairly compact device which shouldn't look too out-of-place in most places throughout the home. I found it can be hidden away in a corner of my lounge or workspace without becoming an eyesore, and the scents are still able to flow around the room where it is located.
Each Moodo comes with a pack of four different scents which are designed to work individually, or blend together to create a new range of complimentary smells. The device can hold four scented capsules at once, and they are automatically recognized and displayed by name and color in the Moodo app.
While you can use the app (or voice commands, as I'll explain later), the Moodo also has buttons on its back. These are for switching it on and off, picking which of the four scents are used (or what combination of the four), and how strong the fan is which diffuses the aroma out the top of the device and into the room.
The Moodo plugs into a wall outlet, but also has an integrated battery which gives up to seven hours of use, making it easy to relocate the device for a while without finding somewhere new to plug in the power cable.
While the buttons work fine, they don't feel particularly high quality. For a device with a retail price of almost $170, I'd expect them to have a good tactile feel to them, but this isn't the case as they are squidgy to press. Although I should add that, at the time of writing, the Moodo has been reduced to $97.30.
My only other complaint with the design is how, despite coming in a white box, the winter capsules are black so don't match the white finish of the Moodo itself. Buyers of the black Moodo won't have this (admittedly minor) problem, as all capsules are black.
Moodo Smart Home Fragrance Box: Scent options and smartphone app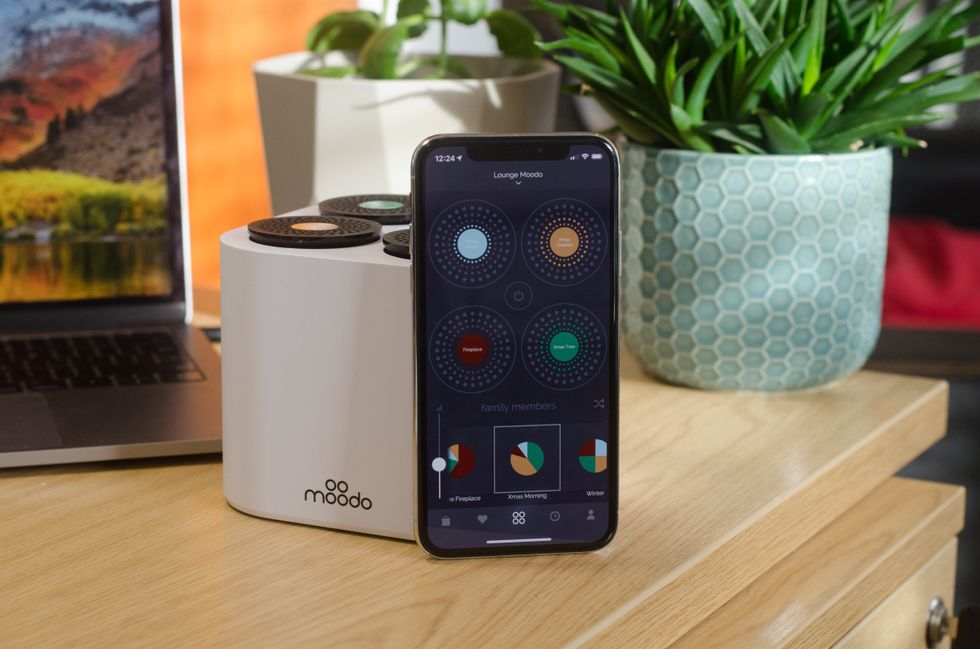 GearBrain
It being late-November as I write this, the review unit I received came with a winter-themed set. This included capsules called Xmas Cookies, Snow Angels, Xmas Tree and Fireplace.
Two other sets sent for review were called Beach Party and Fresh Vibrations. The first contained scents called Sea Breeze, Sweet Sand, Monoi de Tahiti, and Amber Marine; the second was made up of Wood Royale, Lavender, Floral Magic and Citrus Fresh.
Any one scent can be used on its own, or you can use the smartphone app to activate several at once, adjusting the levels of each to create exactly the smell you want. The scents are pumped into your room using cold air diffusion, so there's no messy oil, gas or wax to worry about.
To my admittedly untrained nose, the scents mostly smell as described. Xmas Tree certainly smells like a tree — more so than the real one I bought this year, ironically — and Xmas Cookies definitely has the sweet aroma of fresh baking. I'm not sure what Snow Angels is meant to smell of, and apparently the Moodo app is unsure too, as it initially displayed that particular capsule as 'Unknown'. Removing and reinserting it fixed this.
It took a couple of days of experimentation to work out what level to have the fan at for my lounge. Too much, and the scent was somewhat overwhelming, but too little and it was hard to distinguish. And, as with any smell, if you leave the Moodo unchanged for a few hours then you begin to tune it out; this is where the shuffle option comes in, which cycles through the options to hit your nose with something new throughout the day.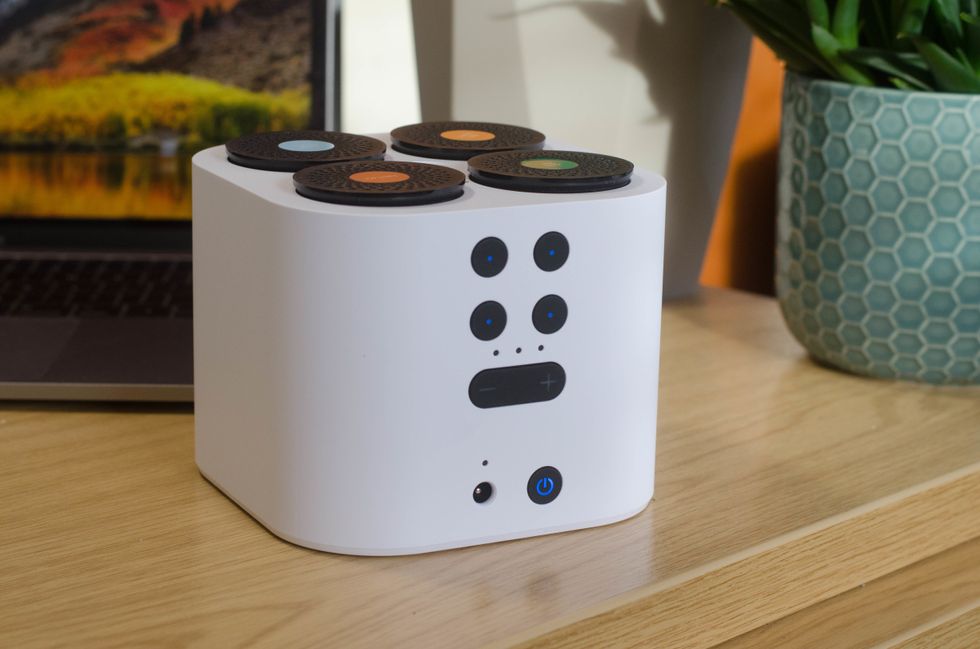 GearBrain
There's also a scheduling function, letting you set certain scents to activate at certain times of day.
The app's interface is nice and simple, showing which scents are installed, and how much each one is being used at that time. There's an icon to increase or decrease the fan speed, and custom scents can be created and saved alongside a selection offered by the app itself.
There's also a shortcut to buying new scent capsules from the Moodo website, where 20 different capsules are available. Being online-only, there's obviously no way to sample these before buying.
Moodo says each set of four capsules lasts for up to 60 days "under normal use," which it defines as one hour per day with the fan at 100 percent, or two hours per day at 50 percent. Turned down to 25 percent, you should get 48 days of use with the device on for five hours per day.
Given replacement capsules cost $30 for a pack of four, this can quickly get expensive if you leave the Moodo on for extended periods of time. To help make them last longer, you can set up schedules in the app, or configure an IFTTT applet to switch the Moodo off when you go out.
Moodo Smart Home Fragrance Box: Smart home features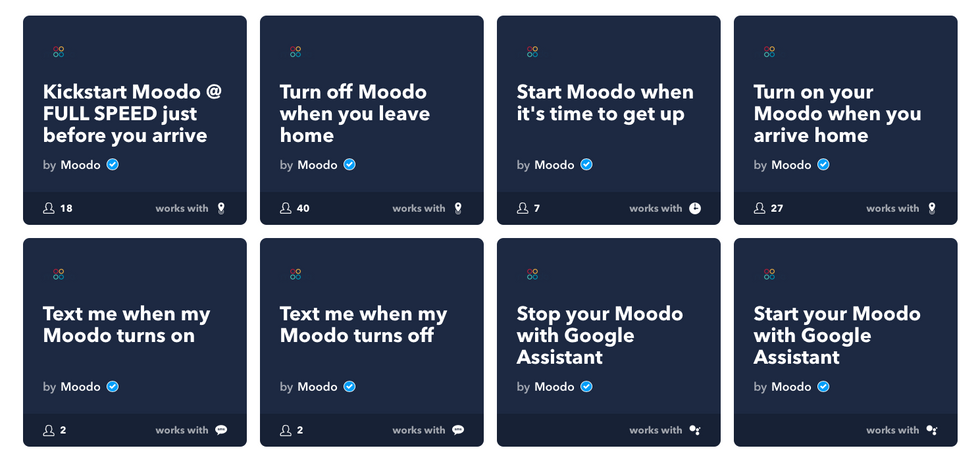 A selection of applets from If This Then That (IFTTT)
GearBrain
What sets the Moodo apart from traditional non-smart air fresheners is how it connects to Alexa, Google Assistant and Siri, as well as the IFTTT smart home automation platform, via your Wi-Fi network.
Setup is simple - just like any other smart home devices - and means you can control the Moodo by speaking to your assistant of choice. That way, you can switch it on and off, pick a scent of combination of scents, and enable shuffle mode by voice.
You can also create Siri shortcuts on the iPhone, where saying something like "Hey Siri, increase the air freshener" will turn up the fan, or "Hey Siri, turn down the air freshener" will turn it down again.
IFTTT support means you can have the Moodo switch off when you leave home (based on the location of your smartphone) and switch back on when you return. Alternatively, you can have the Moodo crank up its fan briefly when you are almost home.
I like how Moodo has opened the device up to all of the most popular voice assistants, meaning no matter which assistant you use and which smart speaker you own, you can control it by voice. IFTTT support is fairly basic for now, but having it automatically switch on and off as I move in and out of the home is useful, and prevents the capsules from running out too quickly.
Moodo Smart Home Fragrance Box: Verdict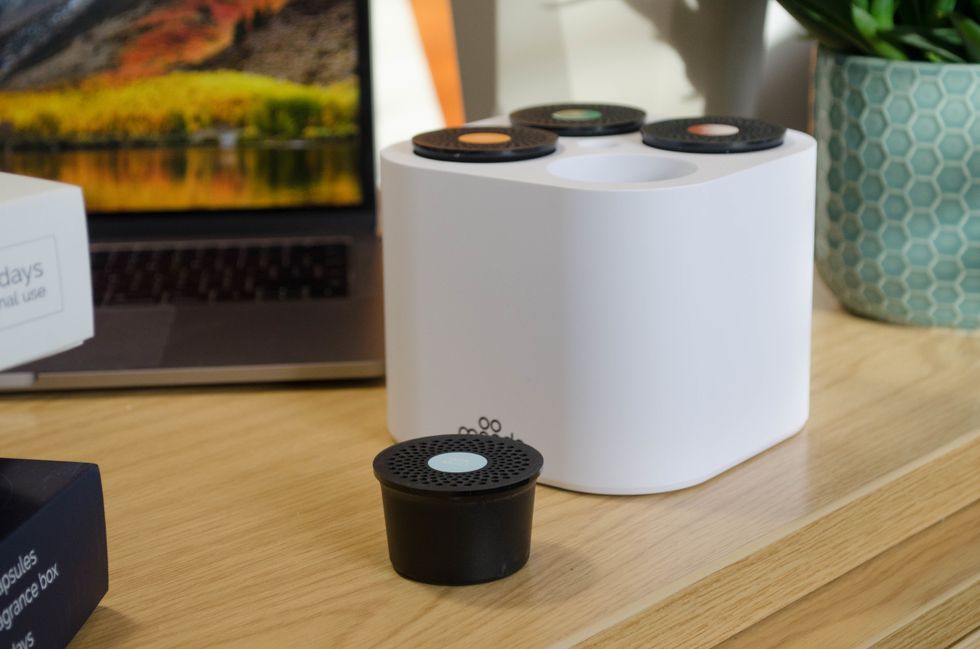 GearBrain
The Moodo works exactly as I hoped it would. It is a compact air freshener which takes a classic product and gives it a smart overhaul without drowning it in features.
Smartphone control means it can be placed out of sight and operated remotely, while voice assistant support is a nice touch for those who want to control everything with Alexa or the Google assistant.
IFTTT support is also very welcome — especially the applet for automatically switching the Moodo off when you go out _ and easy to set up.
The smells seem authentic to me, and playing with the app to blend the capsules into new aromas is fun. I especially liked mixing the Xmas Tree, Snow Angel and Fireplace scents to create a festive fragrance for my lounge.
The price is high, although the current discount certainly helps, and I'm concerned that capsules will need replacing more often than most buyers will be happy with. Crank it up to 100 percent and it'll run dry in just 2.5 days, according to Moodo's own estimates. But keep the fan low and set a conservative daily schedule, and you'll catch a pleasant aroma drift by a couple of times each day.
The Moodo is certainly not a smart home essential, but for the smart home fanatic who has everything else, it could make a welcome addition.
Pros
Simple setup
Pleasant scents
Comprehensive smart home implementation
Cons
Expensive
Capsules can run out quickly
Check out The GearBrain, our smart home compatibility checker to see the other compatible products that work with Google Home and Home Mini as well as Amazon Alexa enabled devices.
From Your Site Articles
Related Articles Around the Web
Like GearBrain on Facebook