Like GearBrain on Facebook
If This, Then That is the application which gives dozens of new features to your existing apps, devices and smart home appliances. By helping apps and devices talk with each other, IFTTT can be made into a powerful tool for expanding on your smart home's abilities — and all without spending any money at all.
Read More: What is IFTTT? Getting started with smart home automation from If This, Then That
Last year, we brought you 10 IFTTT applets to upgrade your smart home - and now here are 10 more to give your smart home a whole new range of features.
Note: "Support for IFTTT (and likely Alexa too) on Nest devices will be terminated by Google on August 31, 2019. The company said on May 7 it will be closing its Works with Nest platform, ending interactions between all Nest devices and systems like IFTTT. Automation will instead be handled by Google's own new Works with Google Assistant program. Nest buyers now also have to create their own Google account, if they do not already have one."
Turn all lights red when CO2 levels become dangerously high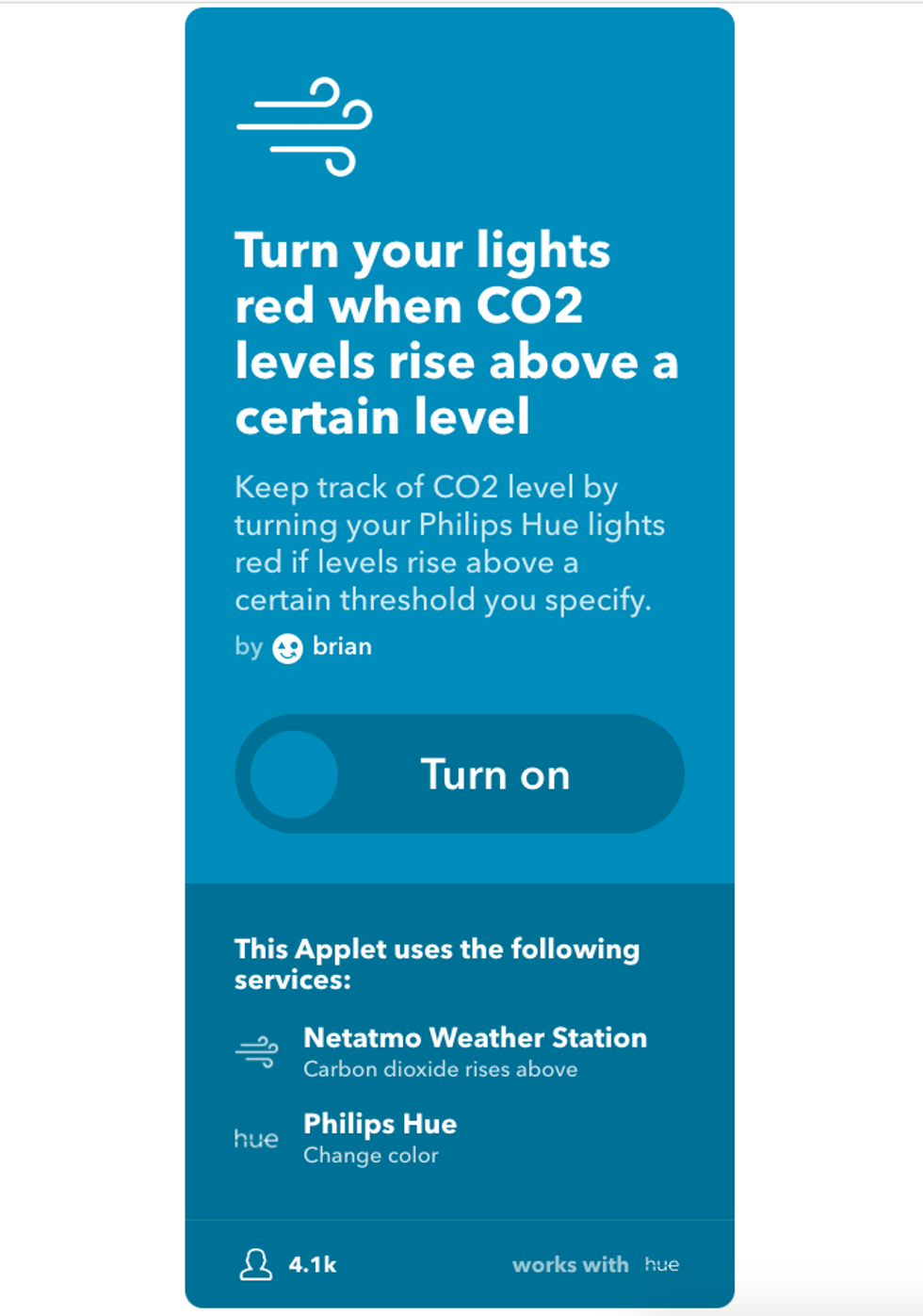 Combining the powers of a Netatmo Weather Station and Philips Hue lighting, this applet will turn your lights red when high levels of carbon dioxide are detected. You can pick which lights change, and which color they become. Such an applet could also be programmed to work with the Awair and Foobot air quality monitors, too.
Automatically text a neighbor if smoke detected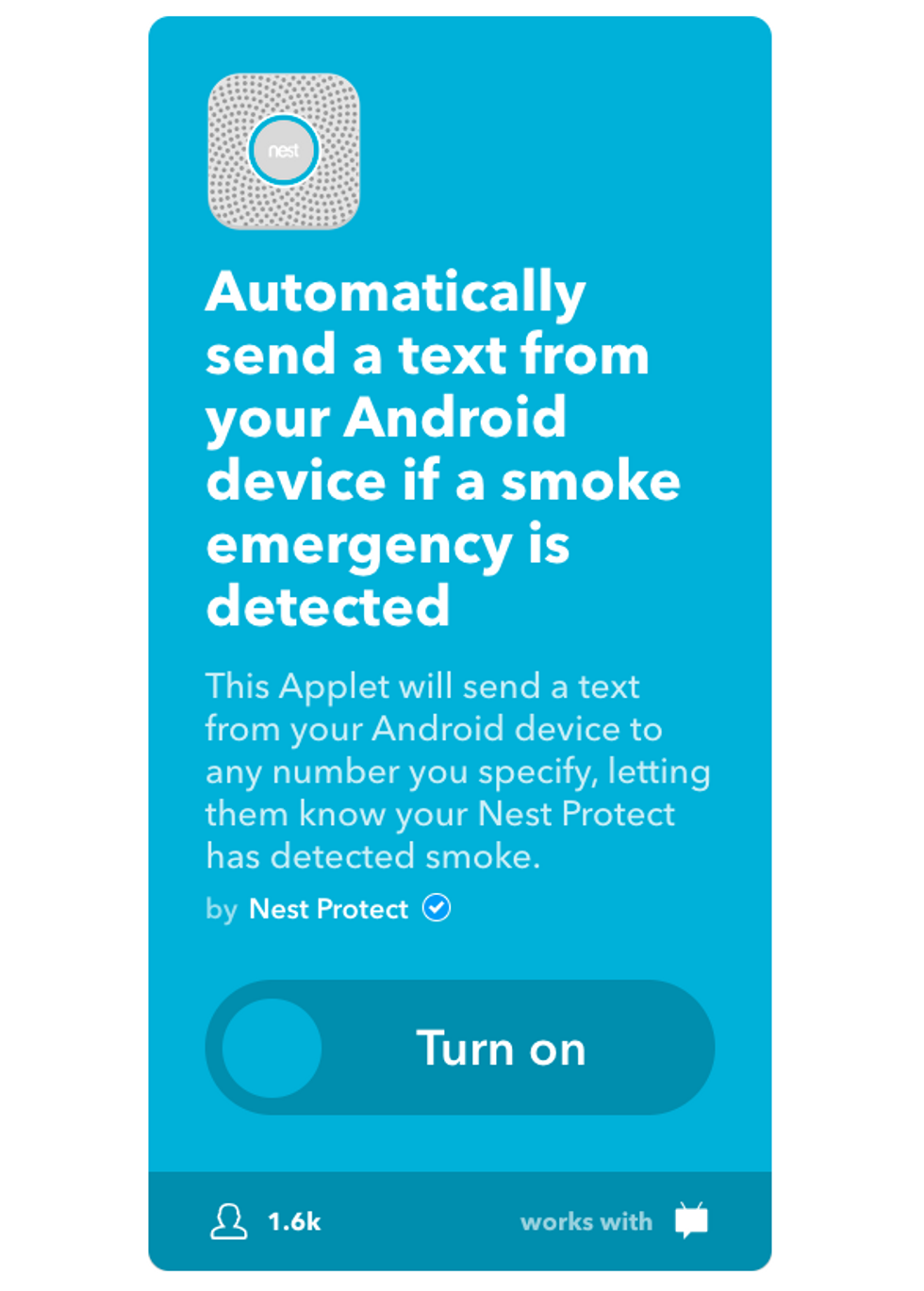 Useful for when you are away on vacation, this applet can be configured to send a text message from your number to anyone you specify. If you are away and might not have your phone with you to see the notification for yourself, the applet could alert your neighbor in the event of a fire. If you're likely to be nearby and able to take action, the applet can be set to message or call you.
This applet is designed to work with a Nest Protect smoke detector and can only function with Android smartphones for now.
Turn on a fan to clear smoke while cooking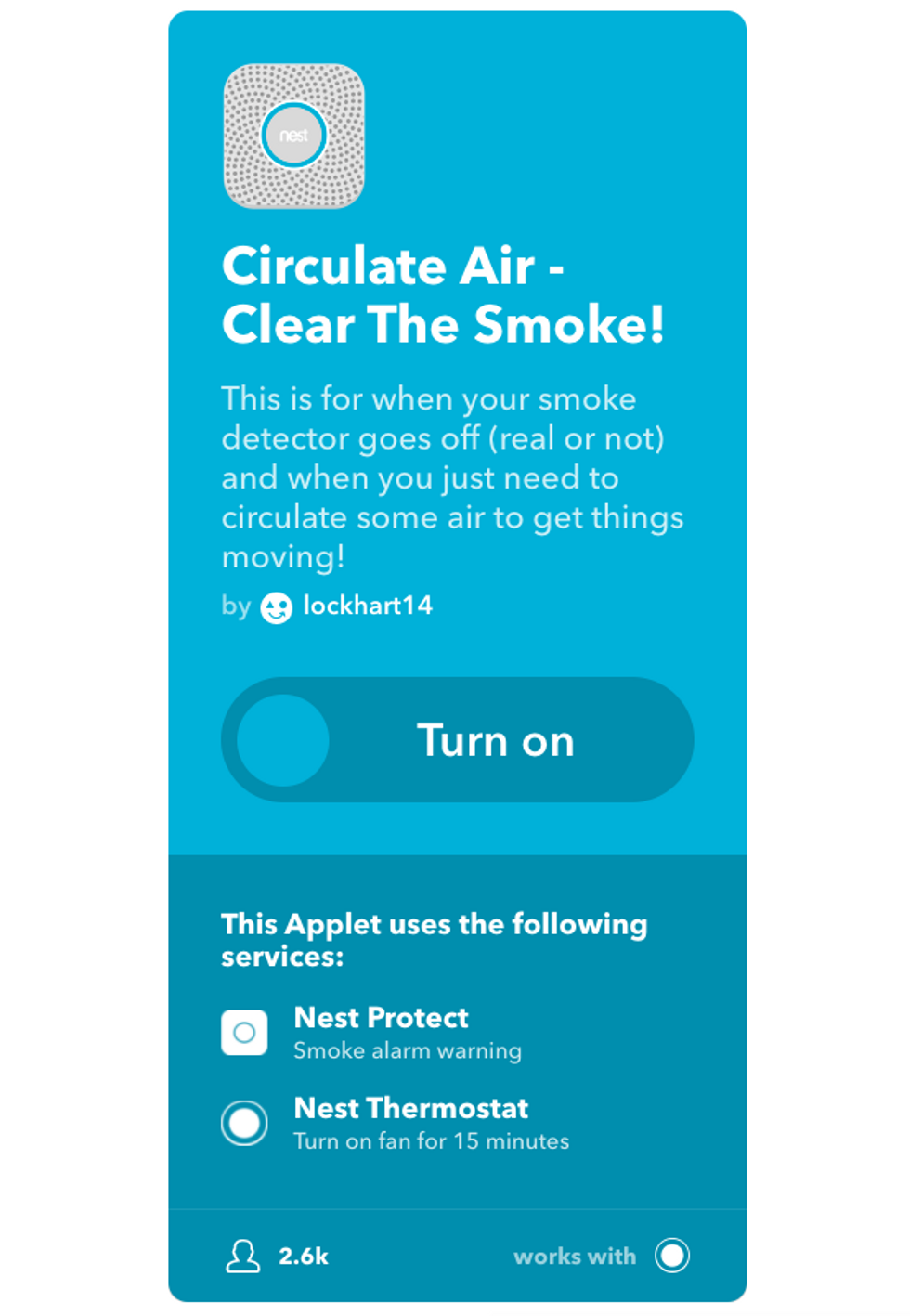 If your kitchen extractor fan has seen better days, this IFTTT applet can be programmed to activate a fan whenever smoke is detected. Rather than trying to fight a house fire with a fan, this applet is designed for when your smoke alarm goes off due to cooking. It notices the smoke with your Next Protect, then asks a Nest Thermostat to switch on a fan. Granted, this requires three smart home appliances to work, but it's a useful applet nonetheless.
Saying goodnight to Alexa switches everything off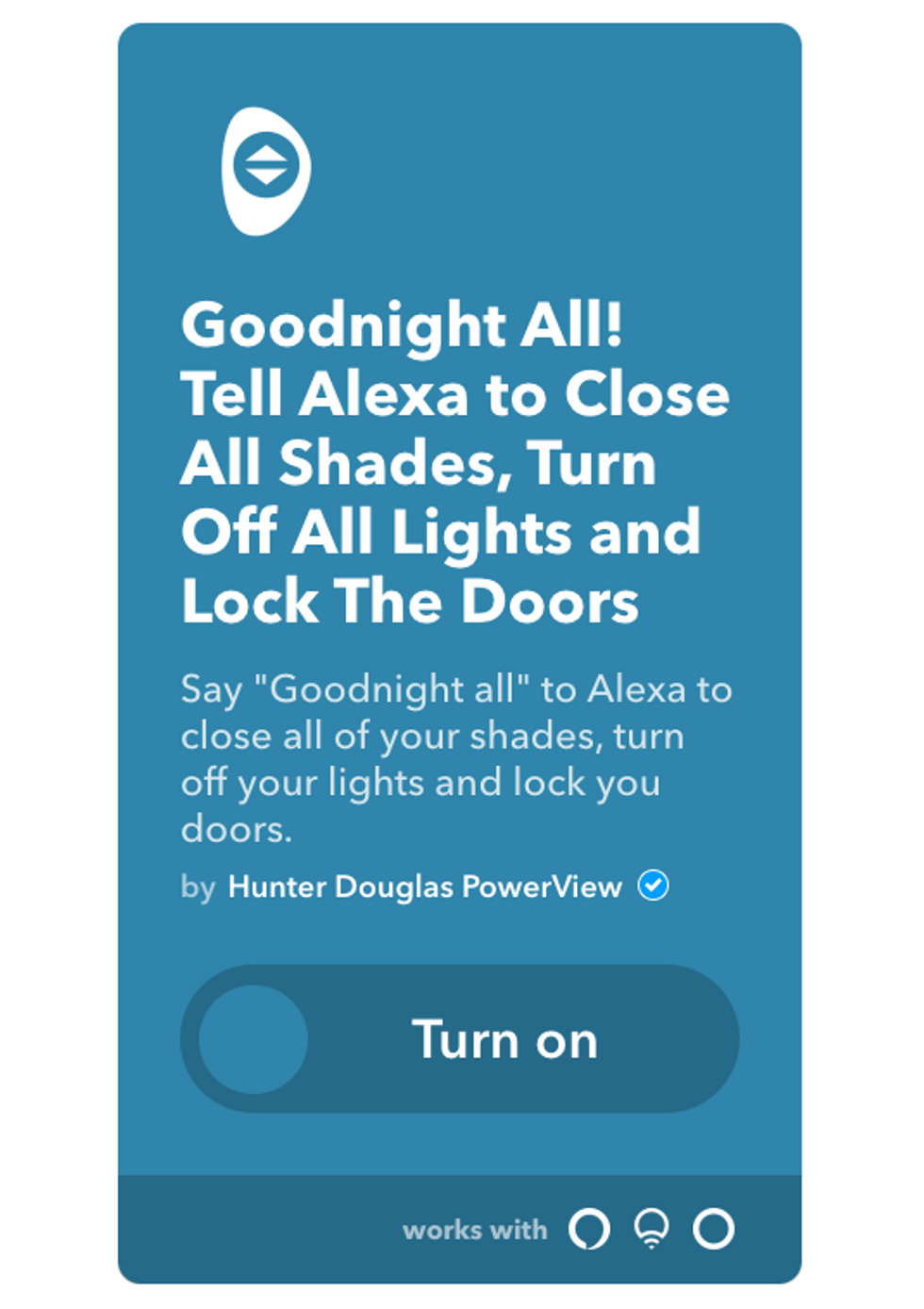 Switching off a household full of smart home gadgets and appliances can be a pain. To help simplify things, this applet uses Amazon Alexa to speak to all LIFX lights and SmartThings devices. This means — once configured — your lights will be dimmed or switched off, your doors locked and your window blinds closed, all by saying: "Alexa, goodnight all."
If this doesn't quite fit your needs, you could create your own IFTTT applet and set the same Alexa command to switch off Philips Hue lights, secure August door locks and turn down the Nest Thermostat.
Blink lights when Uber arrives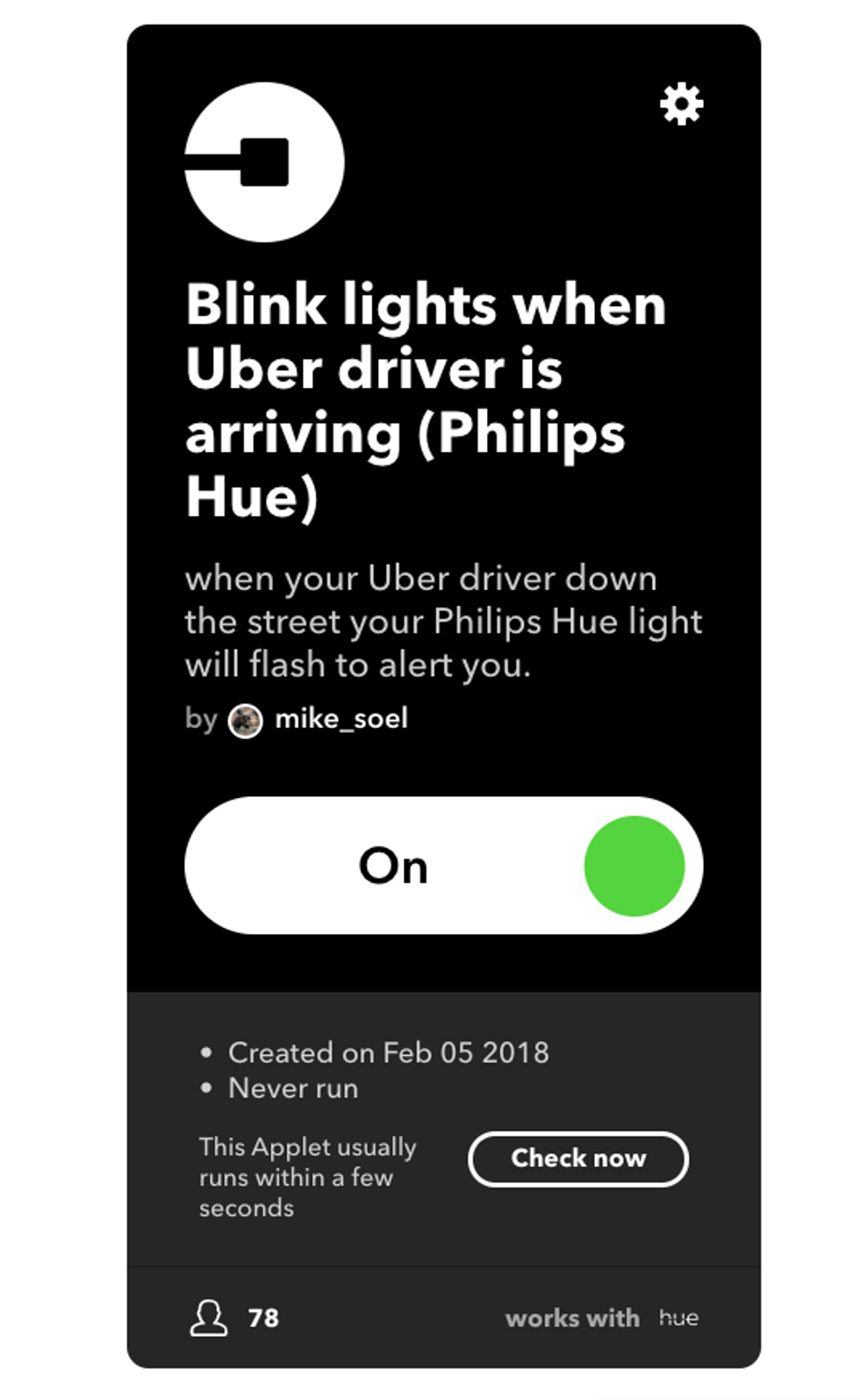 It's all too easy to request an Uber, then head upstairs to grab your bag or finish getting ready, leaving your phone downstairs and not knowing when the driver arrives. To fix this, there's an applet which flashes your Philips Hue lights when the driver pulls up outside. You can pick which lights flash (or choose all of them), and set the applet to work for pickups either at work or home - providing you have saved these two destinations in your Uber app.
Start the washing when you leave home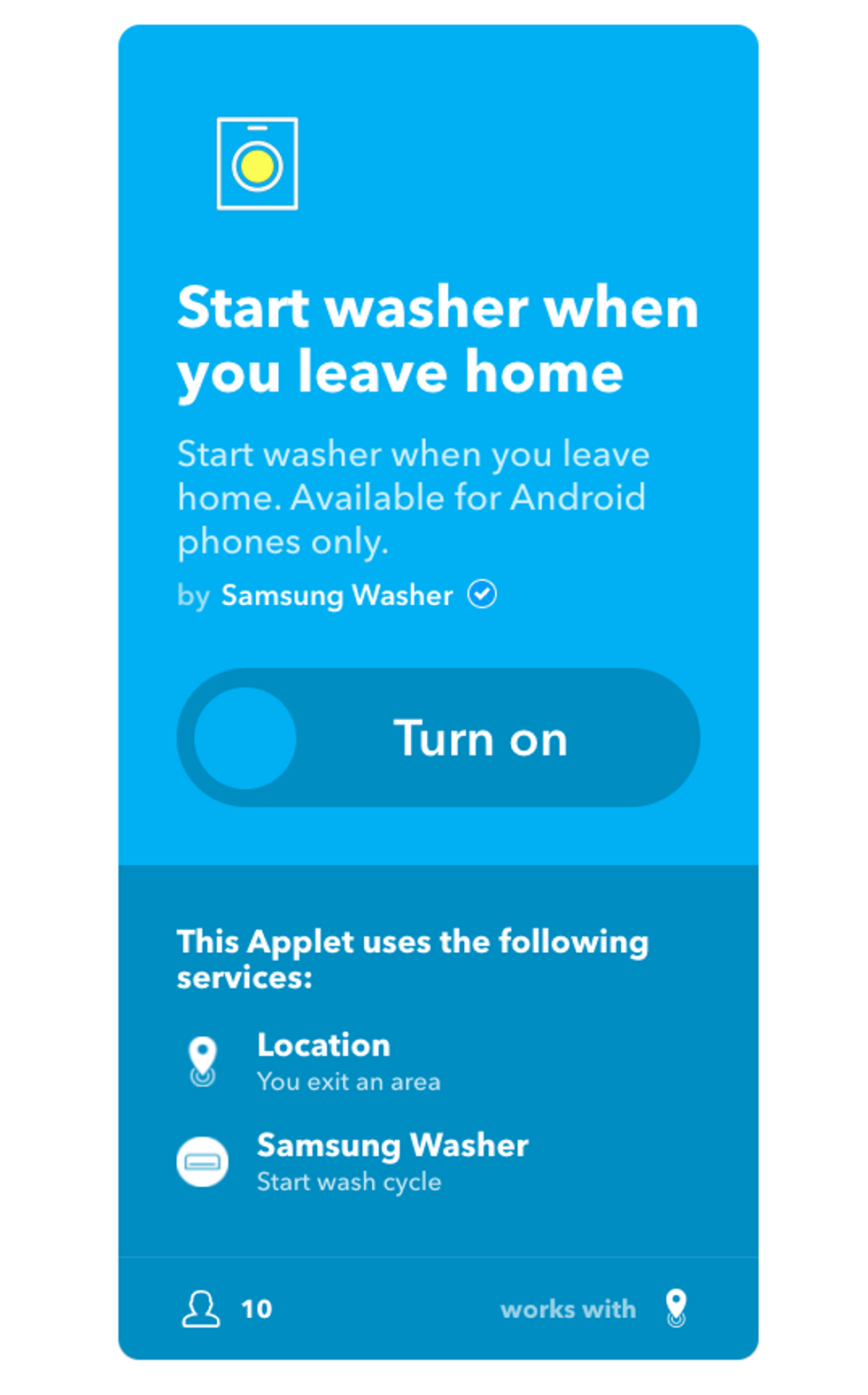 Washing machines are often loud — especially when on the spin cycle — so if you'd rather have yours until you have gone out, this applet is for you. It works with Samsung's range of smart washing machines and uses your phone's location to work out when you have gone out.
Purify the air when you arrive home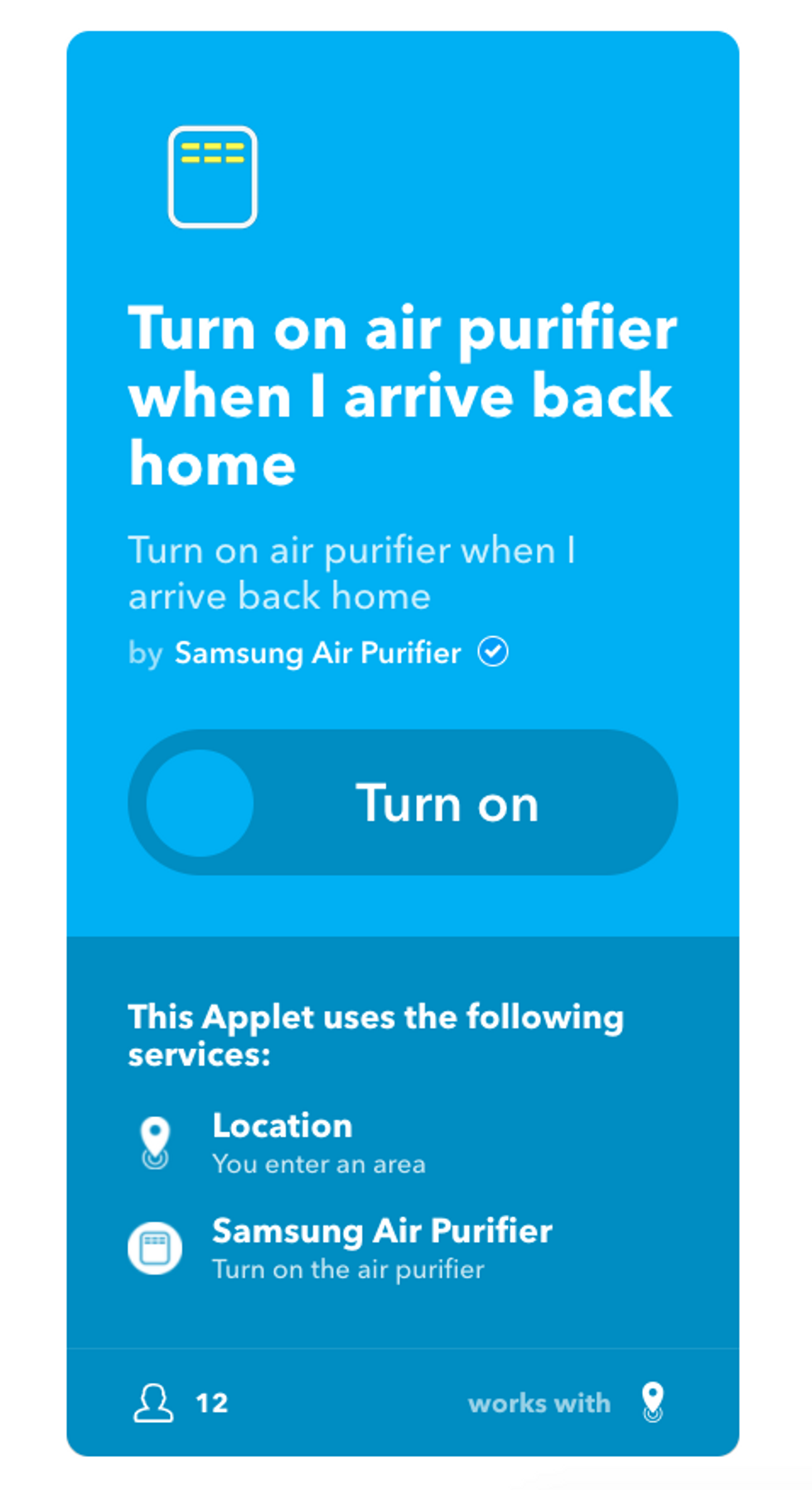 This applet connects to Samsung's Wi-Fi connected air purifiers, like the AX7500. The applet monitors the location of your smartphone, and when you arrive home it will switch on the air purifier. Or, if you cover the same ground every day on your commute, get a head start and set the location to a couple of blocks away. This way, the purification will begin as you complete the last few minutes of your commute.
Lights automatically switch on when you arrive home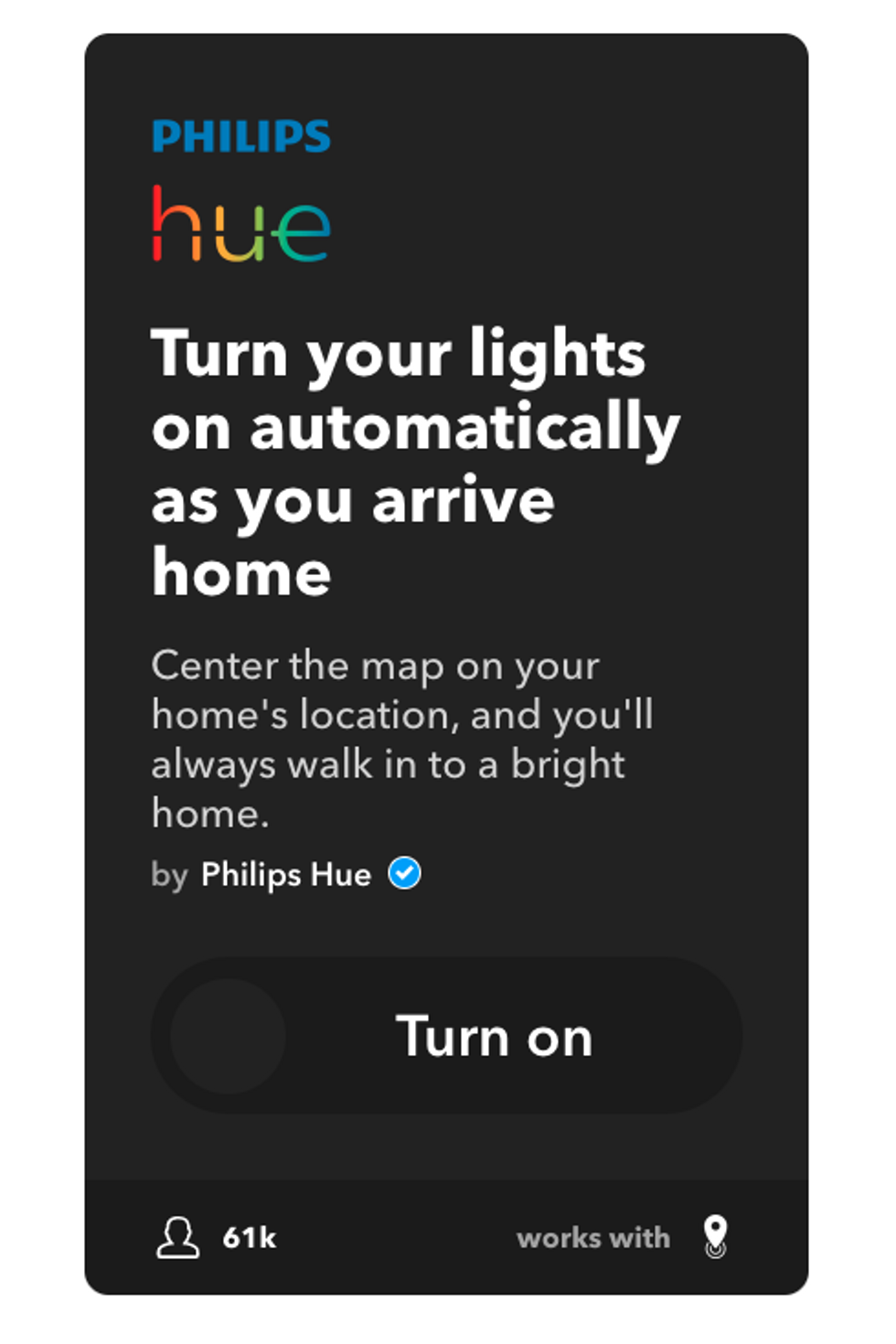 Created by Philips itself, this applet works with Hue lights and uses your smartphone's location to know when you are home, or at a location of your choice. Once you arrive, the applet will switch your lights on.
Blink lights when Alexa timer ends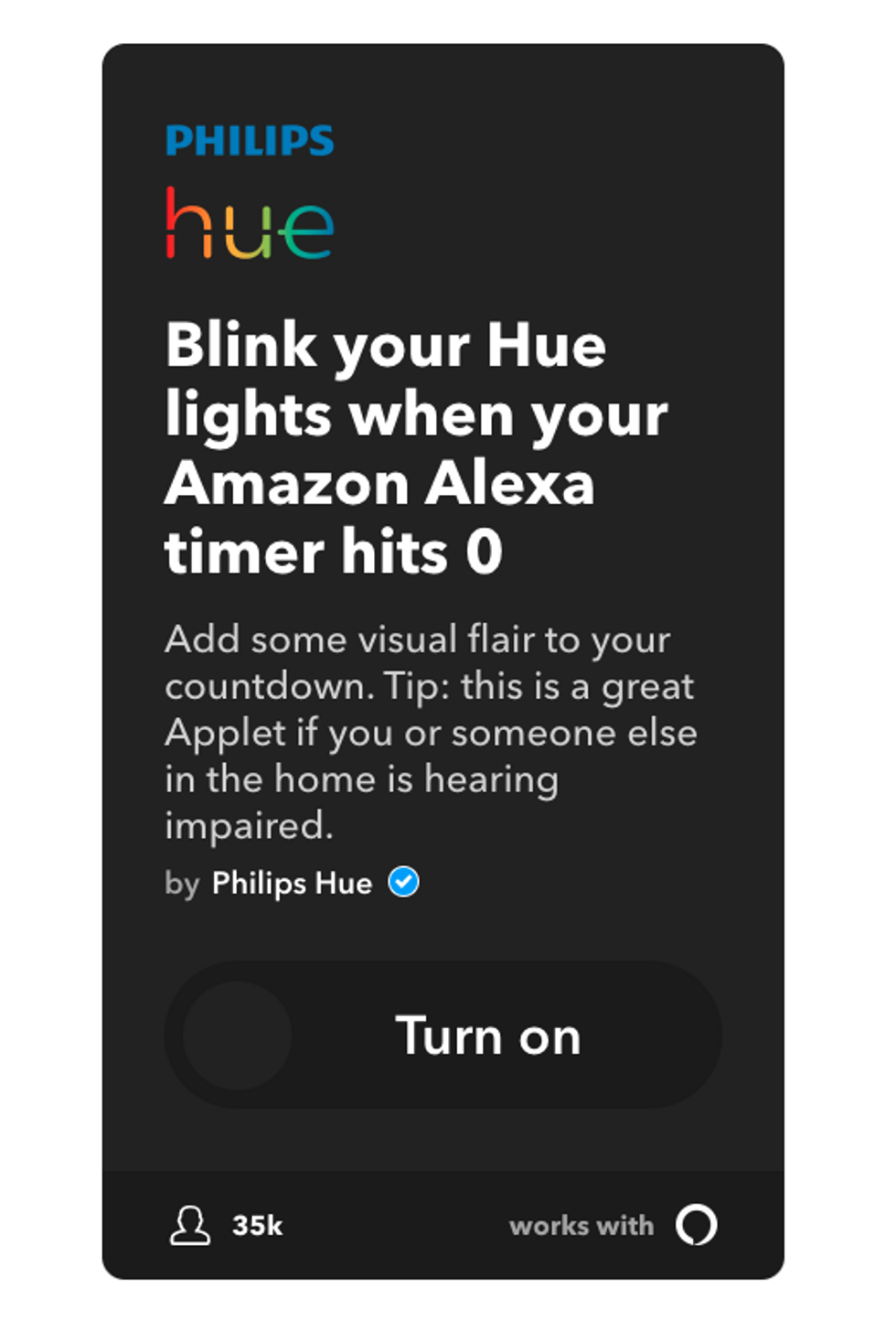 Another applet produced by Philips, this one is programmed to flash your Hue lights when a timer set with Amazon Alexa reaches zero. This would be useful for when your Amazon Echo is in a different room, or on a different floor and out of earshot. Just set the applet to flash all lights, and you'll get the message. You could even set the applet to flash outdoor lights to alert you while in the garden.
Have your lights gradually illuminate as the sun sets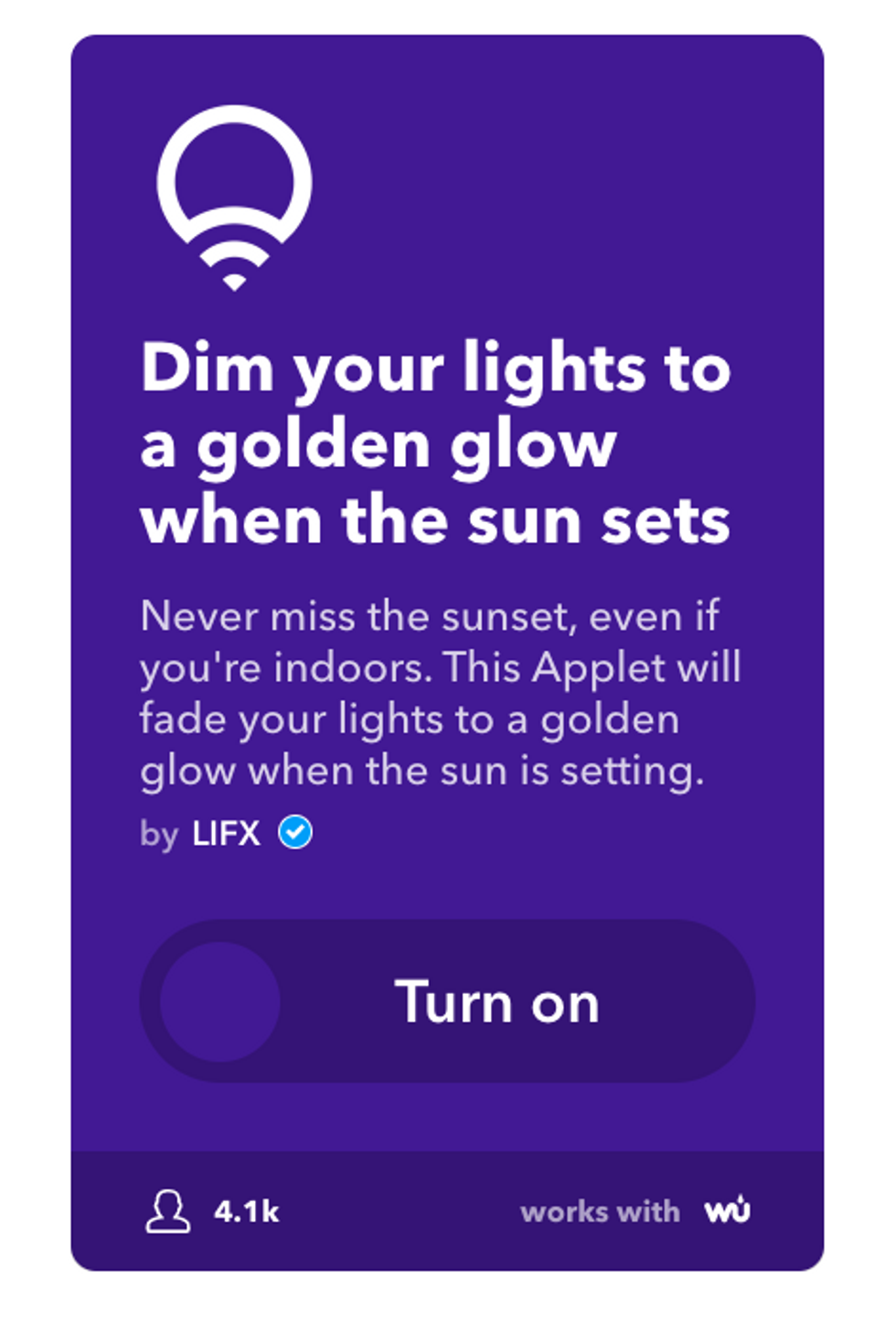 This applet controls LIFX lights, a rival to Philips Hue, and by looking at the sunset time on Weather Underground each day, it slowly switches your lights on as the sun sets. Or, you can set the app to gradually switch your lights from bright white during the day to golden yellow as the sun goes down.
And don't forget to check out The GearBrain to see if any of your connected devices also work with Google Home , Amazon Alexa, Nest, and other smart home connected products.
Like GearBrain on Facebook