Like GearBrain on Facebook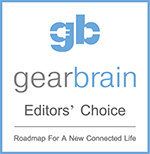 After CES and Mobile World Congress at the start of the year, it is now IFA's turn to showcase the future of consumer technology and smart home devices.
Held in Berlin, Germany at the end of every summer, IFA is Europe's largest technology show and features new products from a huge range of companies, big and small.
Read from IFA 2018:
Some products make their European debut at IFA, some are world premieres, and others are concepts and prototypes built to give us a glimpse at what the smart home of the future could look like.
These are GearBrain's favorite devices from the show floor at IFA 2018:
Samsung Q900R QLED 8K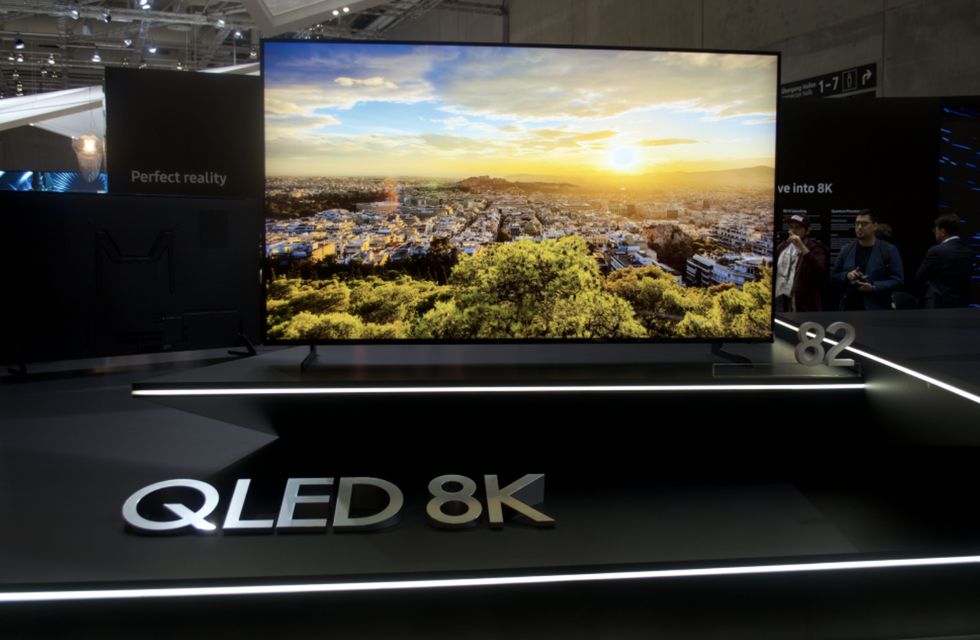 GearBrain
The highlight of Samsung's booth was its first production-ready 8K television. These 8K TVs have been a feature at IFA for several years now, but this is the first time a manufacturer has pledged to put one into immediate production.
The Q900R is available in five sizes — 65, 75, 82 and 85 inches — and goes on sale in September. Although Samsung has not yet revealed how much the TV will cost, you should expect to be paying five figures for your super-sized slice of the future of television.
Sennheiser Momentum True Wireless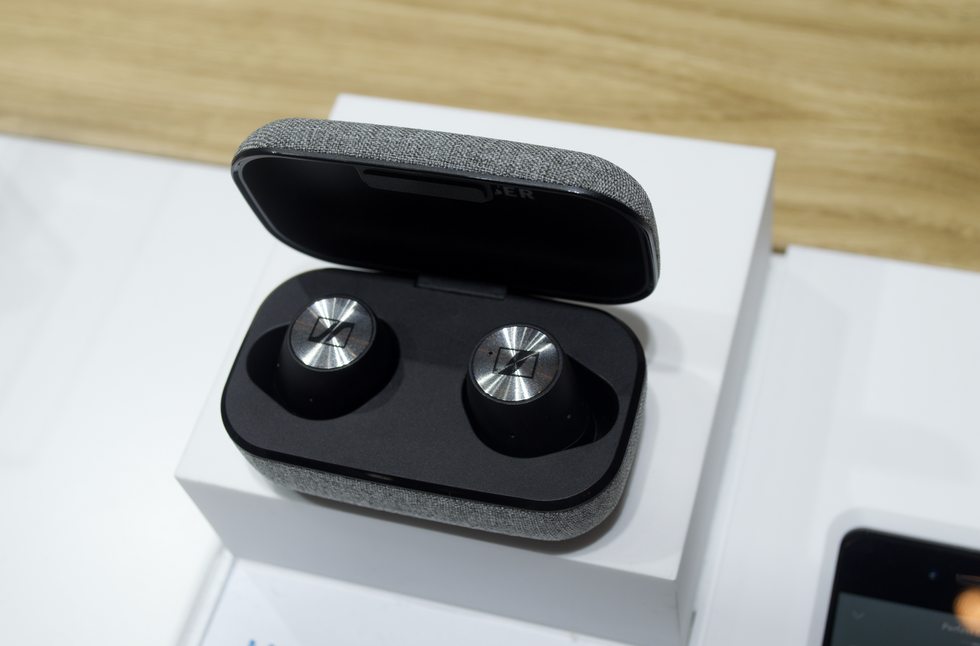 GearBrain
Although a little late to the truly wireless game, Sennheiser has made up for it with the predictably-named Momentum True Wireless, a pair of high-end earbuds. They come with a charging case finished in gray fabric (a theme at IFA this year), and produce impressive sound quality for their compact size.
There are no buttons, leaving all control to a touch panel on the side of each earbud. The one on the left controls playback (one tap to pause, two to skip forward.) A long press on the left bud decreases volume, and a long press on the right increases it; a tap on the right bud summons whichever virtual assistant your smartphone uses, such as Siri or Google Assistant. Active noise cancelling is not offered, but the Momentum True Wireless earbuds do an admirable job of physically blocking out sounds around you, while remaining comfortable.
Battery life is stated as four hours for the buds, plus an extra 12 hours of juice in the charging case, which holds the buds in place magnetically. They are priced at $299 and will go on sale in November.
Grundig Smart Kitchen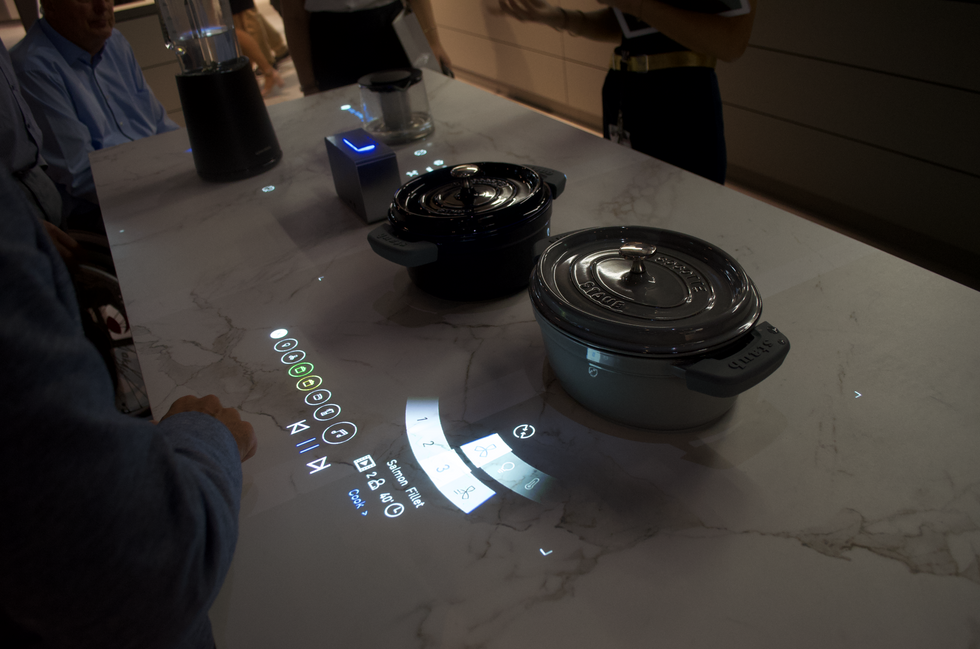 GearBrain
IFA has always provided a huge amount of kitchen tech, and 2018's show was no different. Visitors to Grundig's stand were treated to a projector-based smart kitchen concept which beams a dynamic user interface onto the kitchen counter.

Place a speaker on the surface and it is recognized, before a user interface, or UI, appears virtually right next to wherever you have put it. Controlling music is then a case of tapping at the projected UI.
This system also works for connected kitchen equipment, like a coffee maker which used the interface to tell us it was keeping our drink warm. With an inductive heating system fitted beneath the surface, cooking is a case of placing a pot onto the counter, then tapping at the projected UI to select the type of food being cooked, and the temperature.
Mamibot iGlassbotW120-T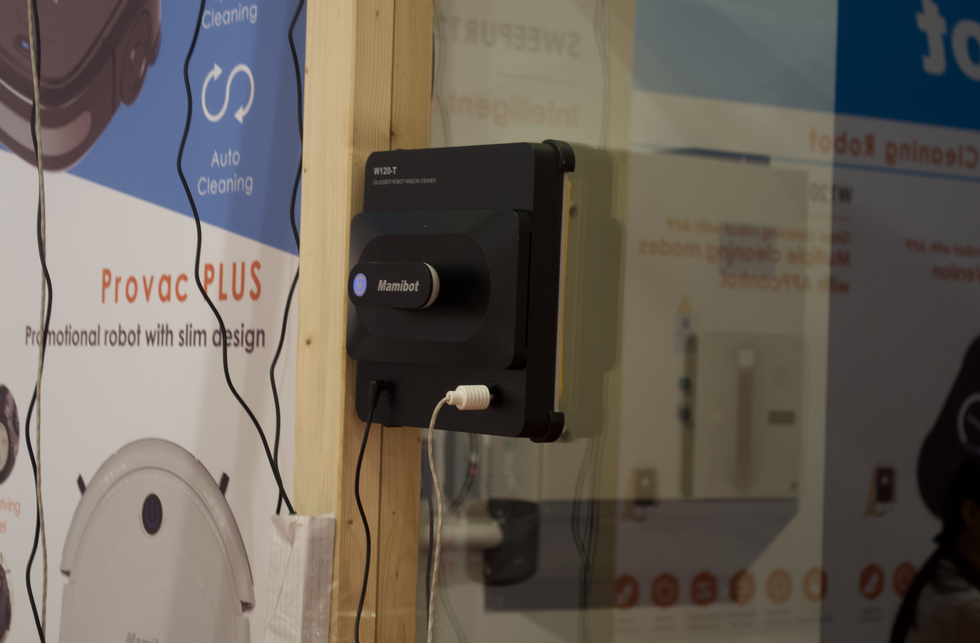 GearBrain
Basically a Roomba for your windows, the new iGlassbot W120 by Mamibot uses a strong fan to create a vacuum, sucking itself to windows. It then uses artificial intelligence to navigate up and down, cleaning the glass in the same way robotic vacuum cleaners navigate carpet.
The robot (which can also be used to wipe the floor) has an anti-fall sensor and a safety rope in case it loses power and slips off the window. The 600mAh battery makes the device wireless and provides enough power for an hour of continuous cleaning. There's also an app for remote control via your iOS or Android phone. The company told GearBrain at IFA that the device would be priced at $180. After the show, however, a representative said the price could go as high as $249.
Moodo Smart Home Aroma Diffuser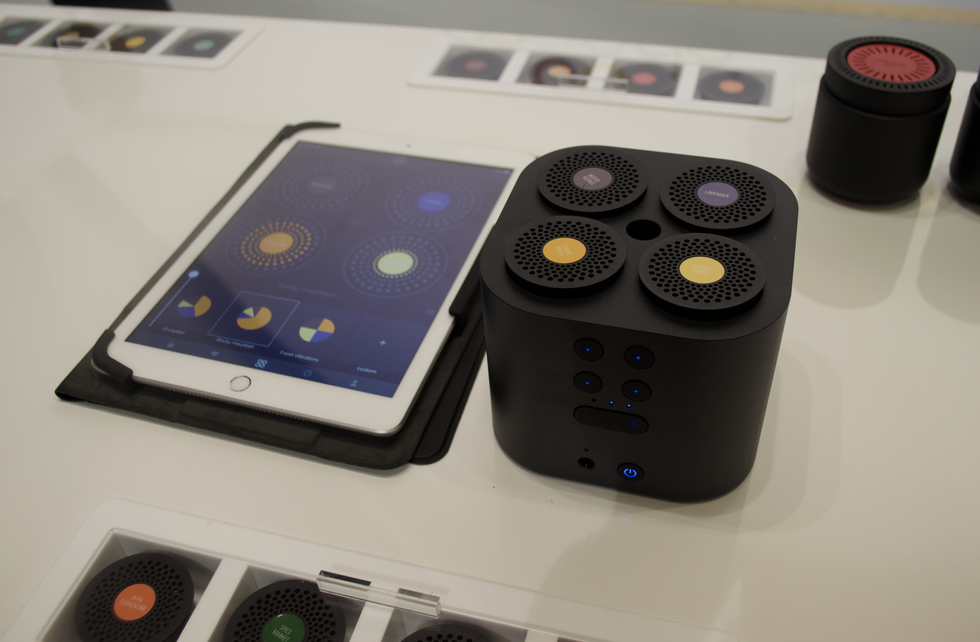 GearBrain
The €199 ($230) Moodo is a fragrance diffuser with space for four capsule of different scenes. These scents are controlled via a smartphone app for iOS and Android, where they can each be switched on and off, or blended to create a new smell.
There is also control via Amazon Alexa and the Google Assistant, so you can ask your smart speaker to adjust the fragrance, and IFTTT (If This, Then That) integration means you can set up all kinds of triggers for the Moodo,. For example, you could create an IFTTT applet which switches on a certain scent when you arrive home, or when a visitor rings the doorbell.
Bosch PAI Smart Kitchen Projector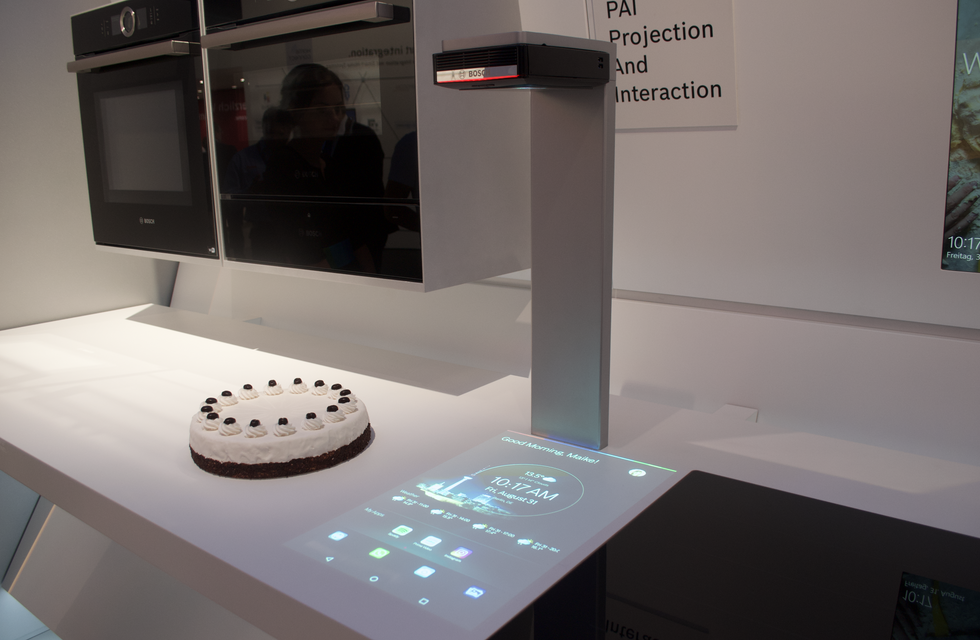 GearBrain
Short for 'projection and interaction', the PAI system from Bosch is another example of how the smart kitchen could evolve in the near-future. This concept uses a projector to beam a version of the Android operating system, onto your kitchen counter. Like the Grundig system above, you can then navigate through the user interface by tapping and swiping at the projected image.
It is easy to imagine how such a system could be used for showing recipes on the work surface, right where they need to be, but without running the risk of getting ingredients all over your iPad or recipe book.
Harman Kardon Citation Wireless Tower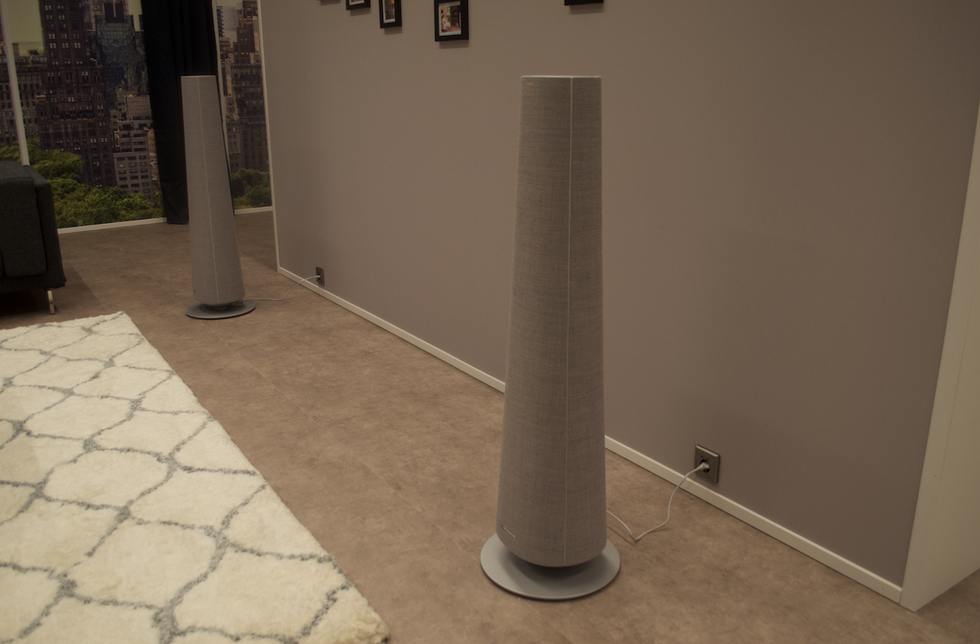 GearBrain
This pair of high-end tower speakers are part of the new Citation range by Harman Kardon. The pair are finished in gray fabric and include Chromecast and the Google Assistant. As well as controlling them with voice commands — or by casting content from your smartphone — one of the towers has a small color touchscreen on its top.
A feature shared by the rest of the Citation range (apart from the entry-level One speaker), the touchscreen offers a convenient way to control music playback, view album art, adjust settings, and tweak the speakers to how you want them. Power output is rated at 200W per tower and they are expected to cost in the region of $2,400 for the pair.
Coway Fresh Wear Styling System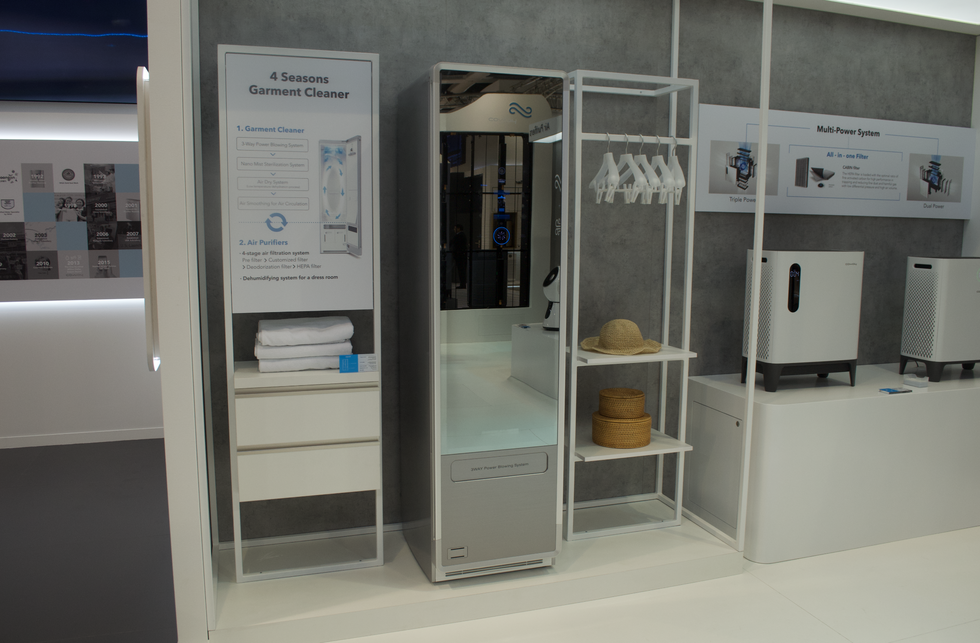 GearBrain
Falling somewhere between a smart wardrobe and smart cleaning system, this device uses a water-based air purification system to keep your clothes fresh and clean, even if you don't wear them for months at a time.
The device is claimed to remove odors and dust, and keep your clothes crease-free. It also works to purify the air of your bedroom or closet, as well as the air inside the wardrobe itself.
Philips OLED+ 903 with Bowers & Wilkins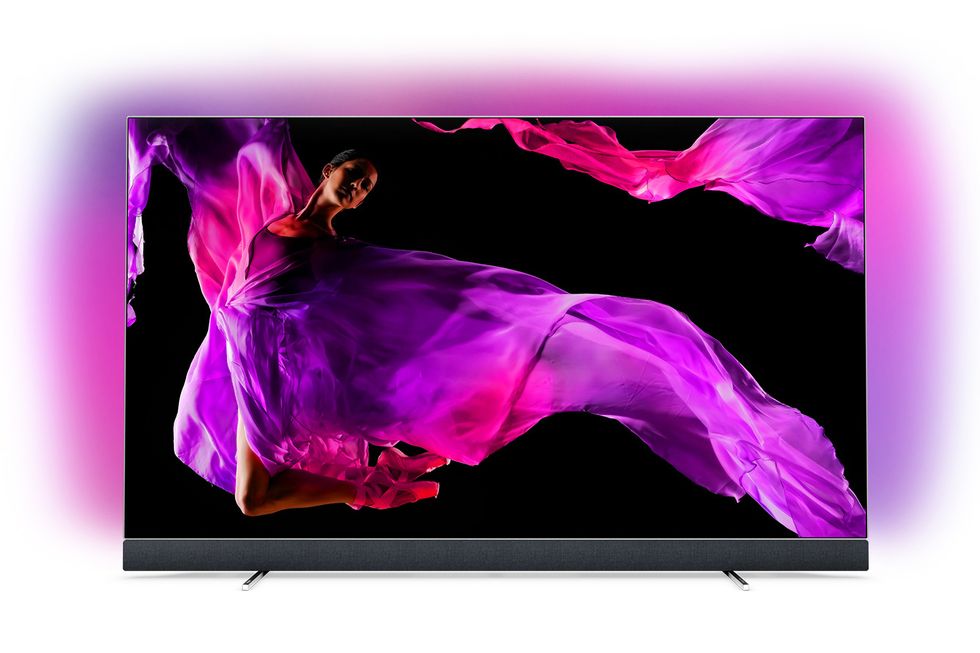 Philips
Ignore the complicated name, and what you have here is a gorgeous OLED television from Philips with the company's Ambilight dynamic backlighting system, which adjusts based on what is on the screen.
But what makes this particular new set stand out is a new partnership struck between Philips and premium British audio company Bowers & Wilkins. This has resulted in the TV featuring an integrated B&W sound bar. We strongly welcome this approach to TV sound quality because, as the displays themselves have become much thinner, there is less space for quality loudspeakers.
This has made a sound bar an almost-compulsory purchase for buyers of high-end televisions who want sound to match the Ultra HD picture. By teaming up with an audio company and fitting a quality sound bar, Philips has made an enticing home cinema product.
The 65-inch television is priced at €3,500 in Europe, with U.S. prices to follow shortly.
Ataraina
GearBrain
And finally, because we couldn't write a roundup of the best IFA devices without including something a bit different, we present the Ataraina — a flying air purifier.
Yes, you read that right. This is a drone which collects dust and pollen from the air as it flies around. Although this might sound crazy, there is some logic here; we've all seen how the air fills with dust when we clean table surfaces, and no matter how good your vacuum is, it can't do much about fine particles floating in the air.
The drone, which is at the functional prototype stage of development, uses the downdraft from its rotors to push air around the room, sucking up dust, pollen and other pollutants as it goes.
Like GearBrain on Facebook