Like GearBrain on Facebook
As fun as smartphones are, they're hard to accessorize. You can add a case, change up the lock screen, certainly personalize with the apps you add and the ring tone — but the shape, size and add-ons are fairly baked into the design. Not so with Motorola's Moto Z Play, which launched two years ago, and came with a bevy of modular pieces including a battery pack, projector and a speaker. The newest edition of the Z Play is the Moto Z3 Play, which Motorola sent to us to test.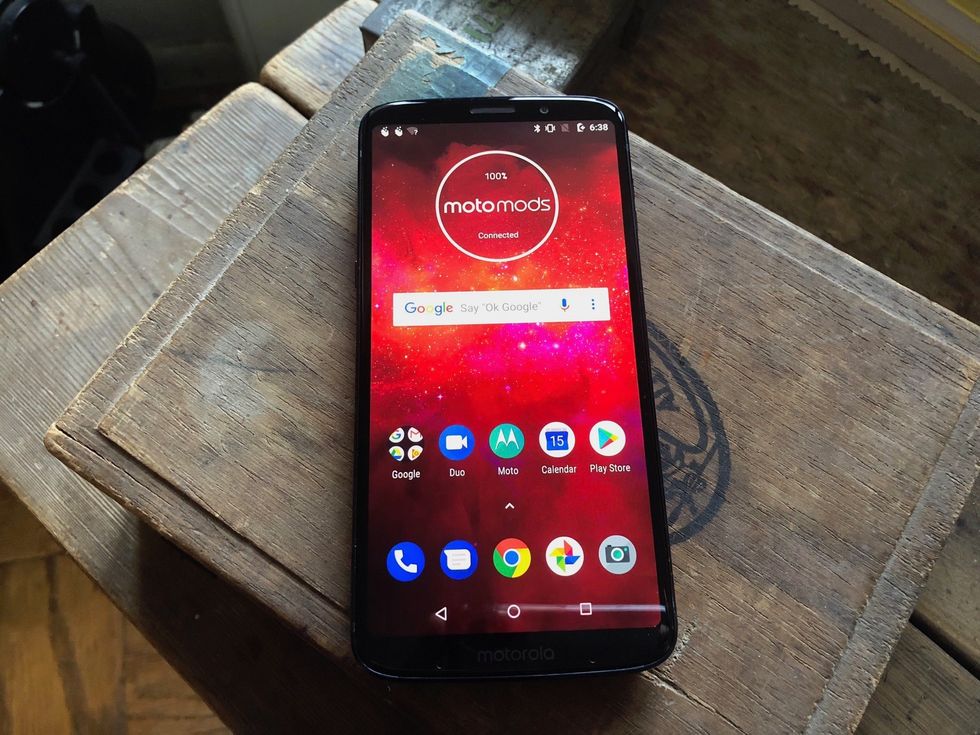 The new $500 Moto Z3 Play sports a larger display, and a phone completely covered in Gorilla GlassGearBrain
The basics

The $499.99 Moto Z3 Play itself is fairly slim: weighing 156 g and measuring 76.5 x 156.5 x 6.75 mm. You get a 6-inch nearly edge-to-edge HD 18:9 display, which is covered in Gorilla Glass. The whole phone feels nice in the hands — the edges are curved and sleek. The phone is only splash-resistant — not waterproof at all. So don't bring it near the bathtub, or even in a heavy rainstorm.
The new Z3 Play is a thinner phone than previous versions, and with that came a significant sacrifice: the 3.5 mm headphone jack. Yes, there's an adapter that comes with the phone for the USB type-C charger port, but that's one more thing to keep track of with your phone. You're also limited to headphone use or charging the device. While most experts recommend not using a smartphone while it's charging, few of us follow that rule, and the missing jack is a drawback.

This is an Android device, so you're going to use Google's main smartphone operating system. You also get Google Lens baked inside, which identifies what you're seeing through the camera. This feature is still hit and miss, but it's clever, an early use of augmented reality — and we expect Google Lens to improve dramatically over time.
Motorola, however, has some unique shortcuts that you can use with the Moto Z3 Play. Some include twisting your wrist quickly twice to open the camera, using three fingers to touch the screen at once to grab a screenshot, and chopping you wrist twice to turn on the flashlight. That's easier said than done, and took several tries before the flashlight motion worked — maybe my karate chops weren't swift or decisive enough. A favorite is likely to be flipping the phone on its back to create a Do Not Disturb action — extremely handy in situations where you may not want your phone off, but you also want to be able to silence it immediately.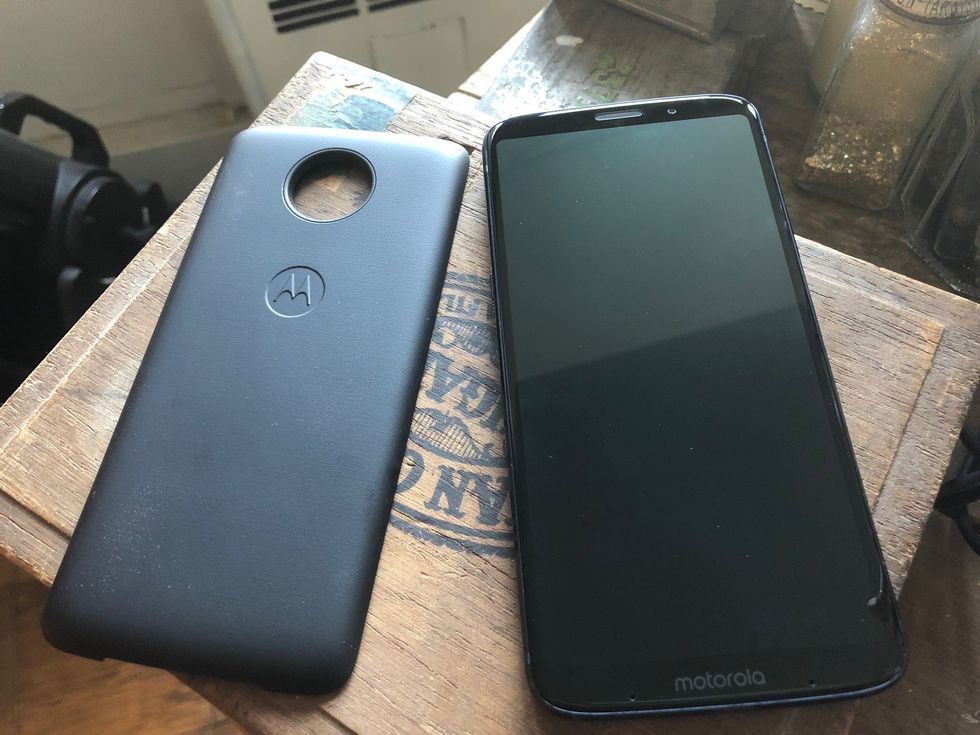 The Moto Z3 Play comes packaged with an extra Power PackGearBrain
Battery
The Moto Z3 Play comes with a fast charging cord, which can charge the 3000 mAh battery in just half an hour. The phone also came boxed with the extra Moto Power Pack, which launched just this year, an extra 2,200 mAh of juice. You get that for free, but then again you're paying $500 for the entire set.
I almost never had to tap into this battery — save for one stretch when I drained the phone. Together, the two batteries extend the power for up to 40 hours. But the weight — and thickness — of the phone with the battery on it is noticeable, and not in a great way.

The addition of this mod turns the super slim phone into a much more rugged device. You can still slip this into a back pocket. But it's thicker — and it's heavier. For a long stretch where you may not know if charging is available, like an all-day hike, that's fine. For regular days at work it felt excessive.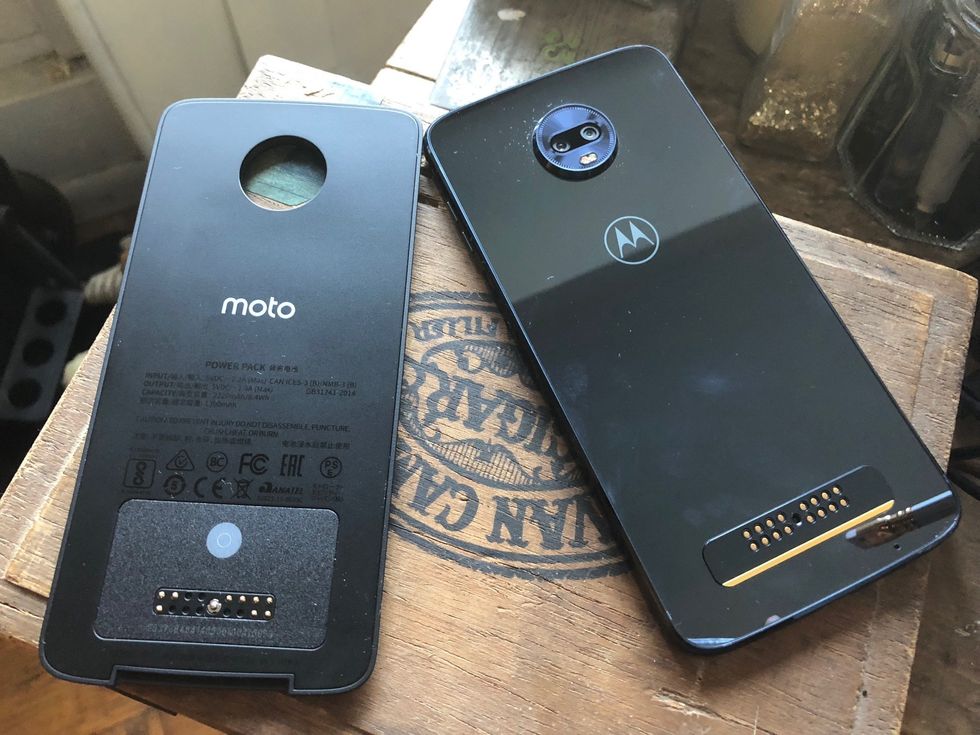 Mods attach to the back of Moto Z3 Play, and basically snap into place through a magnetic connectionGearBrain
Security
Motorola has added three different ways to secure the Moto Z3 Play. There's the classic pin code method, but also a facial recognition feature which works through the front-facing camera. A fingerprint sensor is also baked in, which sits on the right side of the phone. I found that sensor actually very comfortable, and fairly innate in its placement — a spot where I actually hold the phone.
Moto Voice

This feature, which Motorola notes is in beta, is a voice assistant that lets you use commands by speaking them out loud. The phone has four noise-canceling microphones, so even if you're somewhere fairly loud, the phone should be able to hear you. Will you use this in place of Google Assistant? Perhaps, although Google Assistant is one more people likely already use instinctively.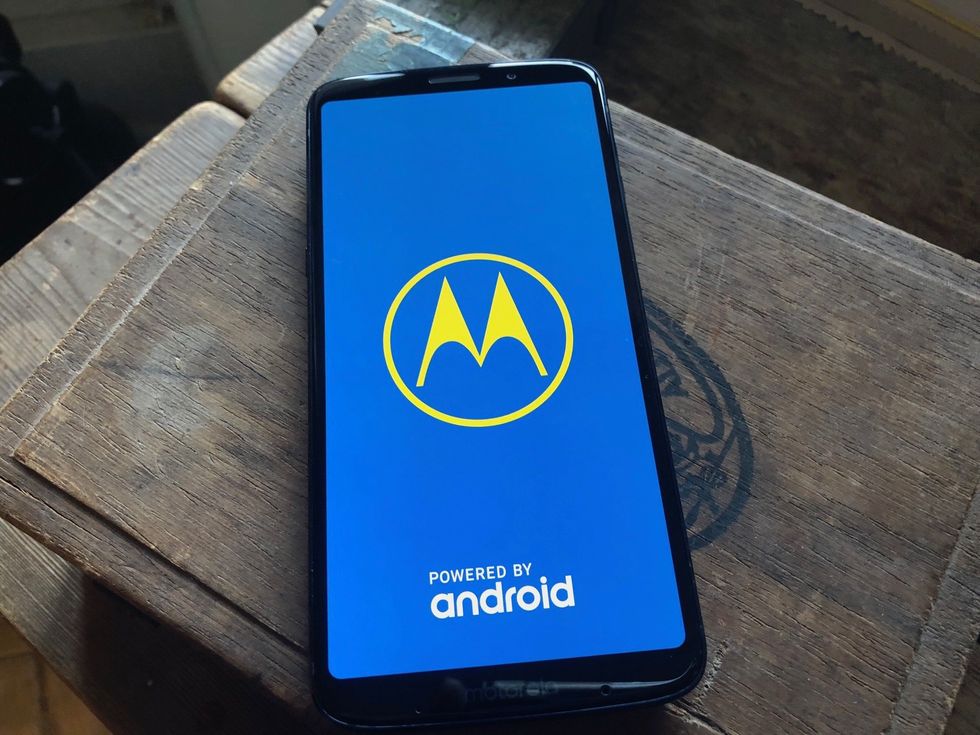 The Moto Z3 Play comes with Moto Voice, but as an Android phone you also get Google AssistantGearBrain
Should you buy the Moto Z3 Play?
The Moto Z3 Play is a fun device for those who like to add accessories to their phone. Like a gaming system that releases new peripherals, the Z3 Play comes with a colorful assortment of mods that snap on to the back of the phone letting you change up your features ridiculously easily.
But there's little reason to upgrade to the new device, particularly if you're still holding on to the last model. The $500 sticker price is hefty, and while you do get a bigger screen, the new version doesn't upgrade its past model enough to justify the switch — even with the extra battery pack thrown in for free.
If you're new to the entire modular phone line from Motorola — and they sound appealing in an accessories way — then for the fun of it, definitely consider the device. We'll also be reviewing two of the mods: the Hasselblad True Zoom camera mod and the Motorola Smart Speaker with Amazon Alexa speaker, to see if the mods are a pull as well. (Check out The GearBrain, our smart home compatibility checker to see the other compatible products that work with Amazon Alexa.)
Pros:

Fast charging, good battery life
Moto short cuts
Natural placement of its fingerprint sensor
Cons:
Price
Weight and size increases substantially with any Mod
Missing headphone jack
From Your Site Articles
Related Articles Around the Web
Like GearBrain on Facebook