Like GearBrain on Facebook
Mods are the bread and butter of the Moto Z3 Play — mobile accessories meant to dress up your smartphone and augment what the device can do. The Moto Smart Speaker brings bigger sound to the smartphone, along with Alexa turning it into a quasi Alexa-enabled device. Moto sent us one, along with other mods including the Hasselblad camera, which we tested.
Getting started
To make the Moto Smart Speaker work, you need an Amazon account. You can create one through the app once you've attached and launched the mod. Without one, you're not going to be able to run any of the features on the device — at least we couldn't.
Linking that up is basically all you need. While most people will have a SIM card inside their Moto Z3 Play, just know that if you don't you won't be able to activate the Moto Smart Speaker. It requires a carrier connection to link up to Amazon and Alexa — that's why you're buying this. While that sounds obvious, perhaps, note you need a SIM card to use basic features like texting, email or even some mods like the Hasselblad.
You launch the speaker through the Moto Alexa app on the smartphone, and you wake up the mod by saying "Alexa" as you would with an Echo Dot or Echo. The screen will read "listening" and you'll know then that Alexa is active. After making a request, you'll see the screen say "thinking" as it prepares to give you an answer.
Music
The first thing we tested was music — which we accessed through our Amazon Prime account. Aretha Franklin seemed timely as we reviewed the mod, and we called up Alexa, as we would on our Echo Dot, asking her to play some of the great lady. She complied.
As the music played, however, the Moto Z3 Play went into sleep mode, as phones will do. Most of the times, when I said Alexa, the Moto Smart Speaker will wake up the voice assistant, and I could stop playing music or change the song. On one occasion, however, Alexa couldn't seem to hear me. I needed to pick up my phone and re-open it to activate Alexa before making any changes to my music. That's inconvenient — and I found it even more so because I then had to cycle through to re-activate the Alexa mod.
Make sure you're aware that to make the speaker sound its best, you need to have that part of the phone upright — which means it's resting on the smartphone's face, or at least part of it. You can tip the Moto Z3 Play on its side, but the sound is diluted a bit. If you're outside, this may impact where you'll want to rest your phone and mod when they're attached together.
Sound quality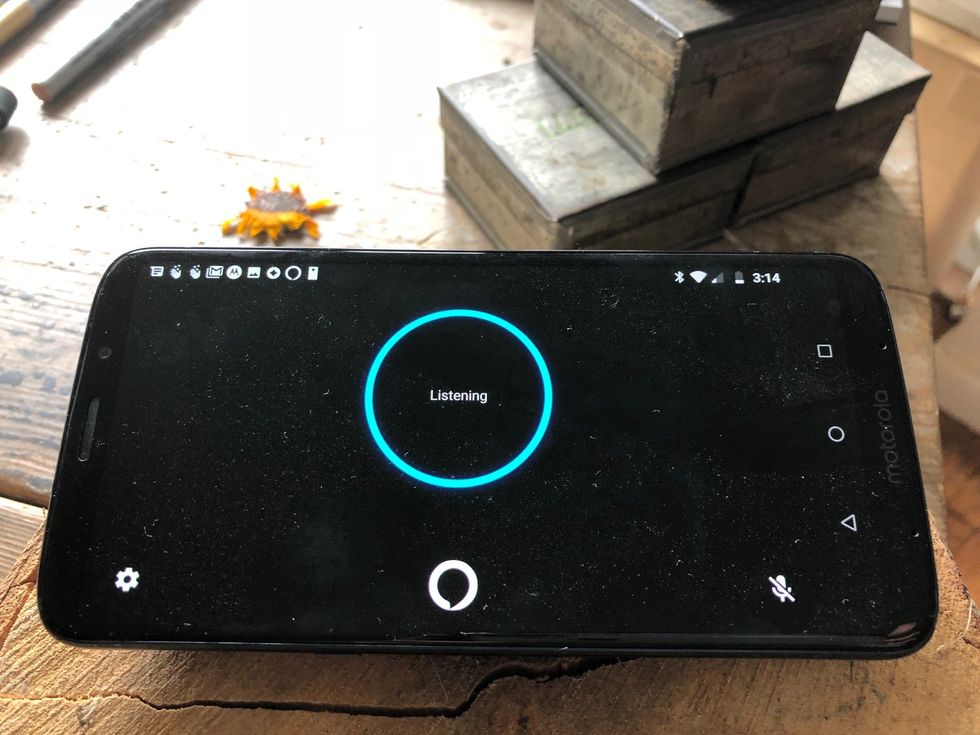 The sound quality is certainly far better than what you're getting pushed through typical smartphone speakers. It's just more full and round and frankly loud. Alexa also hears you very well — likely because there are four microphones packed inside.
Note that you're obviously not going to use the Moto Smart Speaker on the bus or the subway. On a day at the beach, or at an outdoor picnic, it's a nice mod to have. You could even use the speaker in a bedroom and in a dorm room. We did find the music sound better than an Echo Dot. Better than an echo? Not necessarily. But it's certainly smaller and takes up less of a footprint.
Weather and more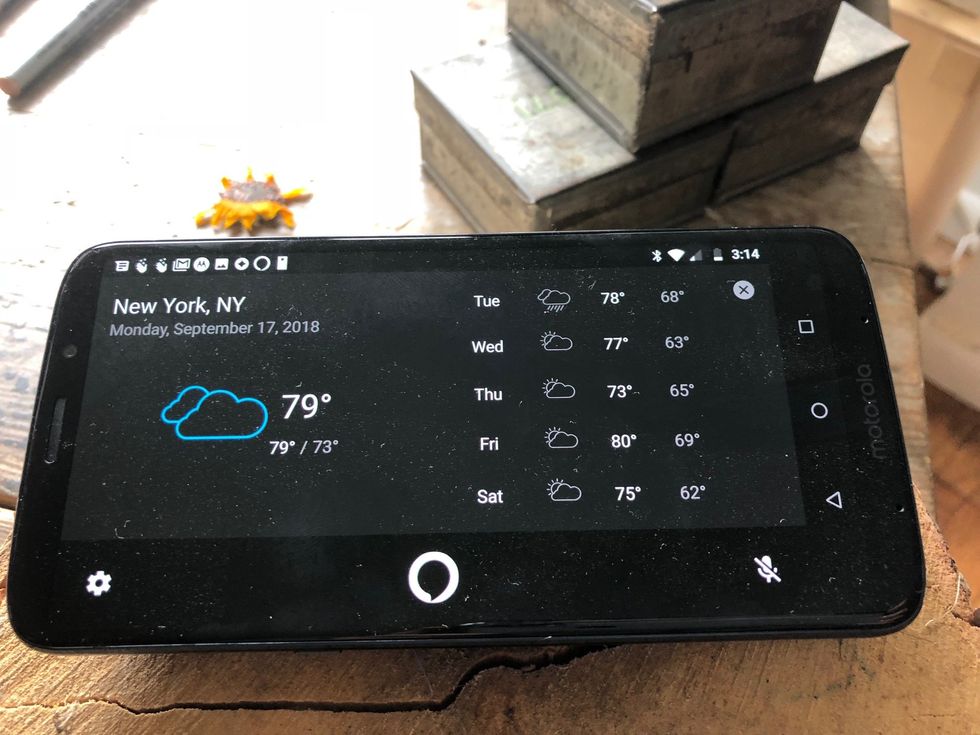 The Moto Smart Speaker lets you access the weather through Alexa. We pulled up local movie listings, a chicken recipe, and got a news briefing as we would with any Echo device. But Alexa, through the mod, sometimes repeated herself — stuck in a loop for example when I asked for a chicken recipe. I also had trouble, as Alexa read out a news briefing, in getting her to halt. In one case I had to pull the mod off the phone to get her to stop.

Pricing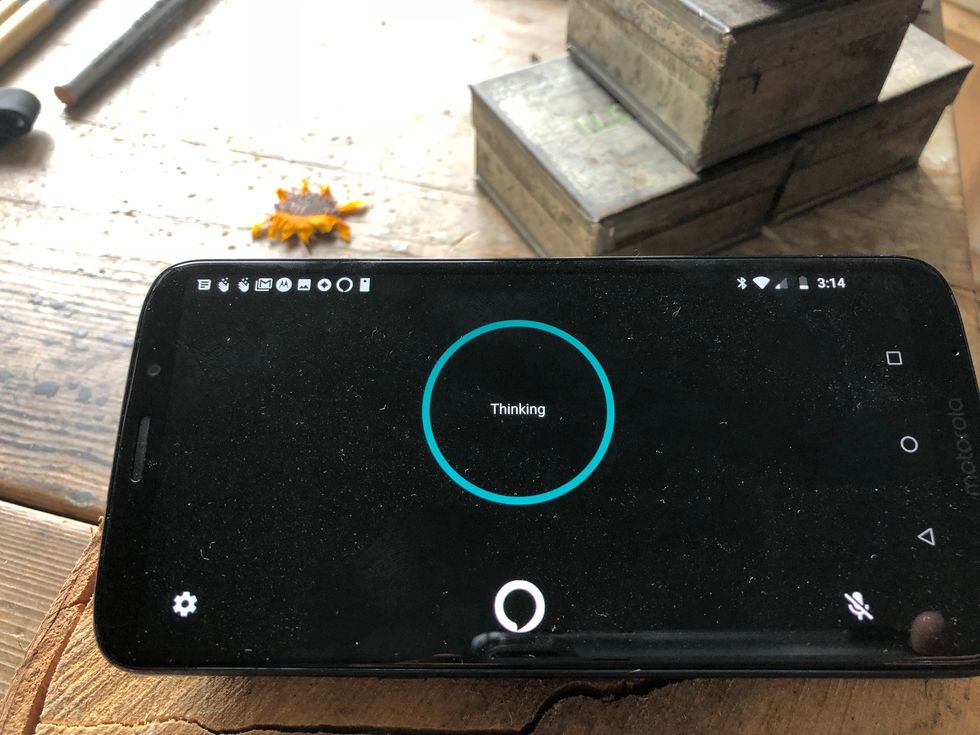 Pricing makes the Moto Smart Speaker a tougher call when compared to a $99.99 Echo and a $49.99 Echo Dot. The Moto Smart Speaker mod is priced at $149.99 — but it is a mobile device, which means you don't need to plug it in, and it gets its juice from the Moto Z3 Play. Amazon Echo devices must be plugged into an outlet.

If you're looking to use the Moto Smart Speaker at home, and want a full speaker experience with Alexa baked in, you might be better buying an actual Amazon Echo. If you're conserving space (and are a college student perhaps), or want to take Alexa with you on the road, we could see the Alexa mod being a decent option.
Check out The GearBrain, our smart home compatibility checker to see the other compatible products that work with Amazon Alexa.
From Your Site Articles
Related Articles Around the Web
Like GearBrain on Facebook