Like GearBrain on Facebook
Apple has only just released an updated version of its popular AirPods wireless earphones. But it is now being reported that a third-generation update will also arrive before the end of 2019.
Given the second-generation AirPods only offered a few small upgrades - including a case with wireless charging, quicker pairing with the iPhone and slightly improved battery life - it shouldn't be too surprising to hear Apple has a bigger upgrade in the works.
Read More:
The claim from DigiTimes, via unnamed industry sources, is that AirPods 3 will feature noise cancellation. This would be a huge improvement over the current AirPods which, while comfortable, easy to use, and offering a near-universal fit, leak sound. This means the wearer can hear more of their surroundings than is ideal, and those nearby can hear their music.

It isn't clear at this stage if Apple will give the AirPods passive or active noise cancelling. The former uses ear buds with a tight seal to physically block sounds from the outside world - similar to how wireless earphones like the Samsung Galaxy Buds work.
Meanwhile, Active noise cancelling (ANC) uses microphones and an onboard processor to understand ambient noise, then play the opposite into the wearer's ears. This has the effect of greatly reducing ambient sounds, especially constant ones like the hum of an airplane cabin. ANC tends to appear on larger over- or on-ear headphones like those from Bose and Sony; their larger size is due to the need for larger batteries and associated hardware.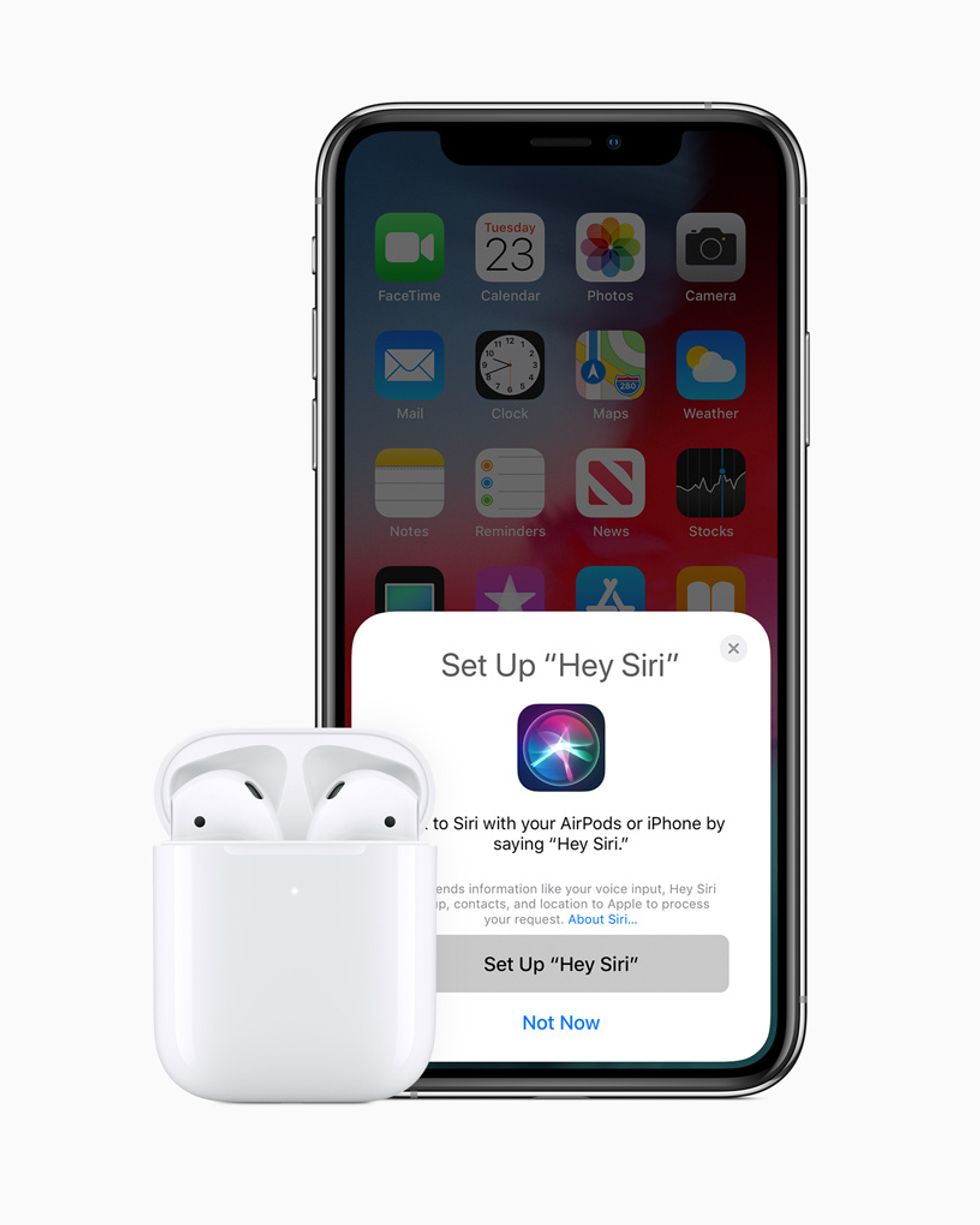 The latest AirPods include 'hey Siri' functionalityApple
It is unlikely that Apple could squeeze ANC tech and the necessary batteries into the same form factor as the current AirPods.

The DigiTimes report came just hours before Ming-Chi Kuo, an analyst with a strong track record for predicting future Apple products, said two new models of AirPods will arrive in 2019. As per 9to5Mac, Kuo believes the new earphones will arrive in the fourth quarter of 2019 or the first quarter of 2020.
One of these is said to be an iterative update on the current model, while the other will come with an all-new form factor and a higher price.
Previous reports claimed new AirPods would feature new biometric technology. An Apple patent made public in December 2018 stated, with regard to future earphones, "This application relates to earbuds configured with one or more biometric sensors. At least one of the biometric sensors is configured to be pressed up against a portion of the tragus for making biometric measurements."
Given the claims of a late-2018 reveal, we wouldn't be surprised to see Apple announce the new AirPods alongside the next iPhone at its annual launch event in September. The on-sale date when then likely fall between October and the holidays.
From Your Site Articles
Related Articles Around the Web
Like GearBrain on Facebook