Like GearBrain on Facebook
Oculus, the Facebook-owned virtual reality company, is working on a newer and more compact version of its popular Quest headset.
Multiple candidates for the new model are currently developed by Oculus, Bloomberg reported this week, with some in the advanced stage of testing. These are said to be smaller and lighter than the current Quest model, and boast a faster image refresh rate to make their VR content feel more realistic, according to unnamed sources familiar with the matter.
Read More:
Redesigned hand controllers are also expected to be a part of the package, as Facebook seeks to capitalize on the success and popularity of the $399 Quest. An all-in-on VR headset, the Quest works without being plugged into a computer or smartphone, and scans its environments to let wearers walk around in VR games and experiences.
Facebook had originally planned to launch the new VR headset at the end of 2020, around a year after the Quest went on sale and at the same time as its annual Oculus Connect conference.
However, the coronavirus pandemic has caused delays with both the development and the manufacturing of consumer technology products, including Facebook's current and upcoming Oculus headsets. Supply chain issues mean the Quest is currently difficult to buy across the U.S. and Europe, pushing online prices up as demand far outstrips available stock.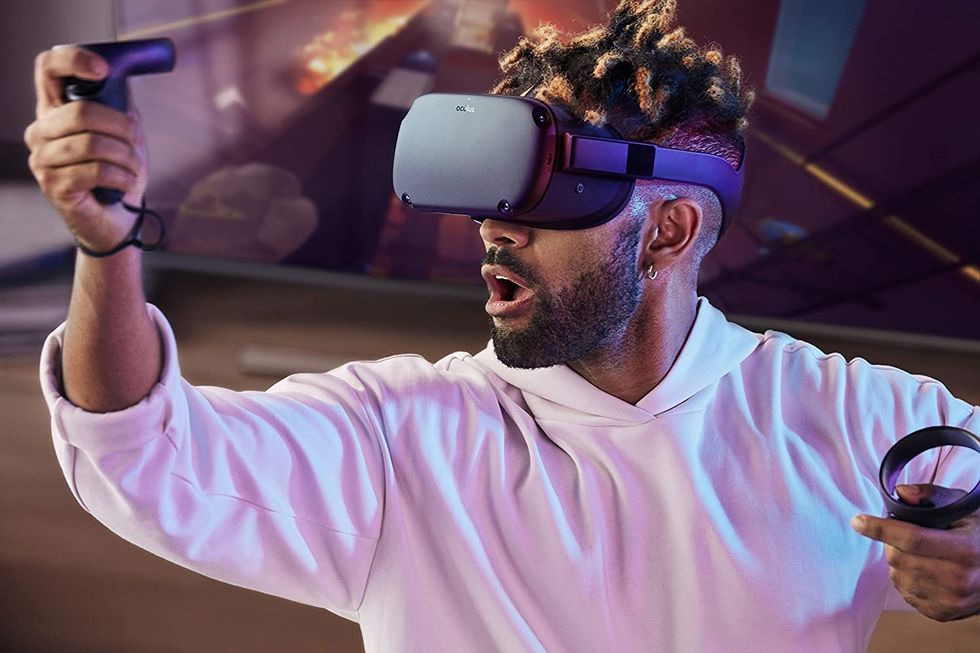 The Quest is priced at $399Oculus
Furthermore, with Facebook and Oculus staff working from home during the pandemic, development of future products has slowed. The company now plans to launch the new headset in 2021, and likely towards the end of that year.

Some versions of the new headset being considered by Oculus are said to be between 10 and 15 percent smaller than the Quest, as well as being around 25 percent lighter and more comfortable to wear. All of these factors are crucial, given the large size of today's VR headsets. Their design, and a limited amount of content to use with them, has prevented VR headsets from becoming a mass-market success story like smartphones, or even smartwatches.
Instead, while Oculus - which Facebook bought for $2 billion in 2014 — has seen some success, other companies like Samsung and Google have tried and failed to take VR into the mainstream. Others, like Apple and Microsoft's Xbox division, have chosen not to enter the market at all.
VR headsets don't tend to be updated on an annual or biennial basis like smartphones, so it will be interesting to see if Facebook chooses to sell the new model alongside the current Quest in 2021, or if one will replace the other.
Oculus Quest All-in-one VR Gaming Headset – 64GB (UK Import)
From Your Site Articles
Related Articles Around the Web
Like GearBrain on Facebook