Apple released the iOS 14.5 software update for iPhones this week, and sitting among a whole range of new features and functions is a set of new voices for Siri.
Not only does iOS 14.5 offer new voices for Apple's personal assistant, but on newly-bought (or restored) iPhones it also changes how users pick which Siri voice to use. For the first time in Siri's history, the assistant no longer has a female voice by default, and instead users are asked to pick their own from day one.
Read More:
As well as that change, which sees owners of new iPhones select a Siri voice during the setup process, current iPhone users now have more Siri voices to choose from.
When using an iPhone with English as its language, the choices of Siri voice include the same regional accents as before, including American, Australian, British, Indian, Irish and South African.
But now there are more options for some of these varieties, including four for the American accent. These include two male- and two female-sounding voices, with one of each sounding a little more upbeat and enthusiastic than the other. There isn't a huge difference between them, but it's nice to have a more varied choice than before, and for Siri to no longer sound female by default.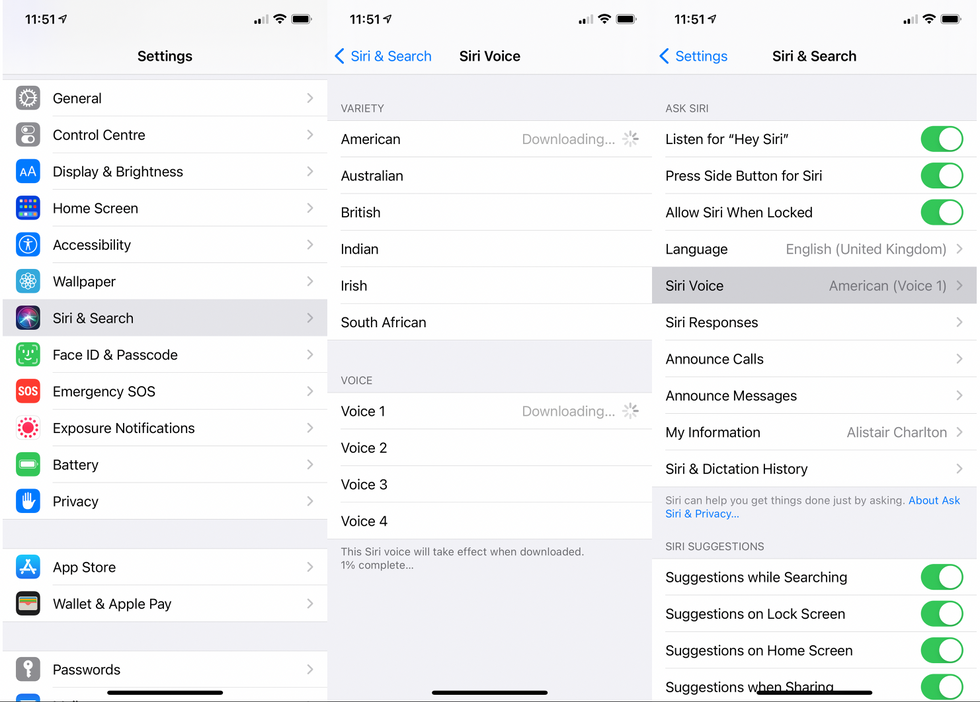 How to change the voice of Siri on an iPhoneGearBrain
How to change to a new Siri voice on your iPhone:

Open the Settings app
Tap on Siri & Search
Tap on Siri voice, then pick the variety and voice you want
You can tap on each of the voices to hear a sample of what they sound like. With a tap, each voice says: "Hi, I'm Siri. Choose the voice you'd like me to use." If you tap one you haven't used before, the iPhone will spend a little while downloading that voice. This happens in the background, so you can leave the Settings menu and carry on with your day, then once it has downloaded the voice will automatically be used next time Siri speaks.
iOS helpfully warns you about the size of each download before you select it – a particularly useful touch if you are downloading over cellular instead of Wi-Fi. The download sizes vary by voice, but are generally in the region of 300-400mb. If you tap on a different one before your first choice has finished downloading, then return to your first selection, it will need downloading again.
Apple has also added these new Siri voice options to the Mac, via the equally new macOS 11.3 update. To pick Siri's voice on your Mac, open the System Preferences app and click on Siri.
Apple AirPods Pro