Like GearBrain on Facebook
Apple has announced its first family of 5G iPhones, in the form of four models of iPhone 12.
Revealed during an online event recorded at its California headquarters, the new product range includes the expected iPhone 12 and 12 Pro, along with the larger iPhone 12 Pro Max – and a surprise with the all-new iPhone 12 Mini.
Read More:
This is the first time Apple has applied the Mini suffix to its iPhone range, and the new model is priced from $699. It has a more compact 5.4-inch screen than its larger siblings, and will no doubt appeal to consumers who want a smaller handset at a more affordable price. We can also see the iPhone 12 Mini stealing sales from the new Google Pixel 5 and Samsung Galaxy S20 Fan Edition.

All versions of the iPhone 12 support 5G, the fifth-generation mobile network technology that has gradually rolled out across the US, Europe and beyond over the past year or so. As ever, Apple is late to the party here, as 5G phones from Samsung and others have been available since 2019.
But Apple claims to offer a more thoughtful approach to the technology; the new iPhone switches between 5G and LTE (also known as 4G) when the faster connection isn't needed, in a bid to preserve battery life.
The iPhone 12 family ushers in an all-new design from Apple. This is the first time the iPhone's design has received a major visual overhaul since the iPhone X of 2017. The new models have a squarer design that is closely related to the current iPad Pro, and reminds us of the slim-but-slab-sided iPhone 5 and 5S, arguably the most attractive Apple phones of all time.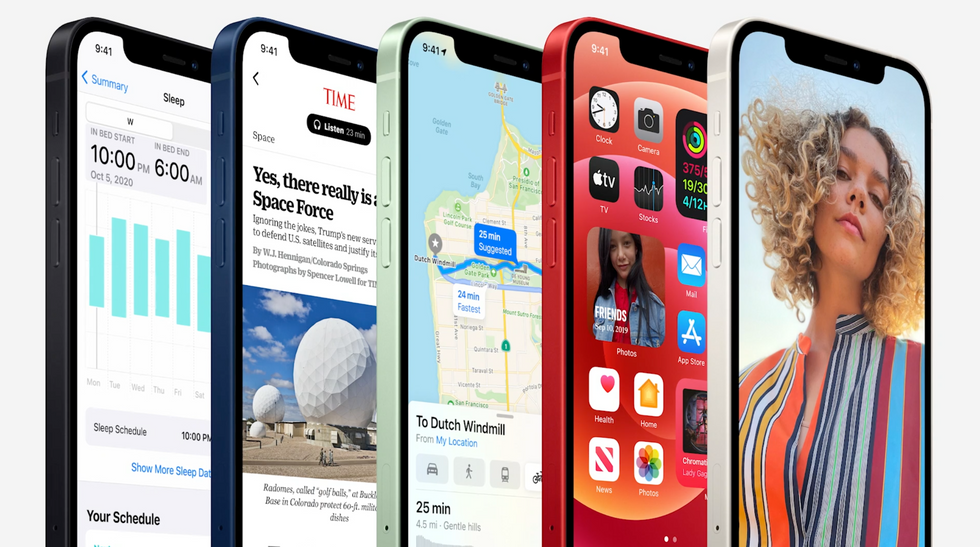 The iPhone 12 is available in five colorsApple
All models of iPhone 12 are powered by Apple's new A14 Bionic processor, which the company says is the fastest of any smartphone, and is claimed to be 50 percent faster than any other handsets. Apple says the GPU is up to 50 percent faster than other smartphones, too, making for faster graphics and improved gaming.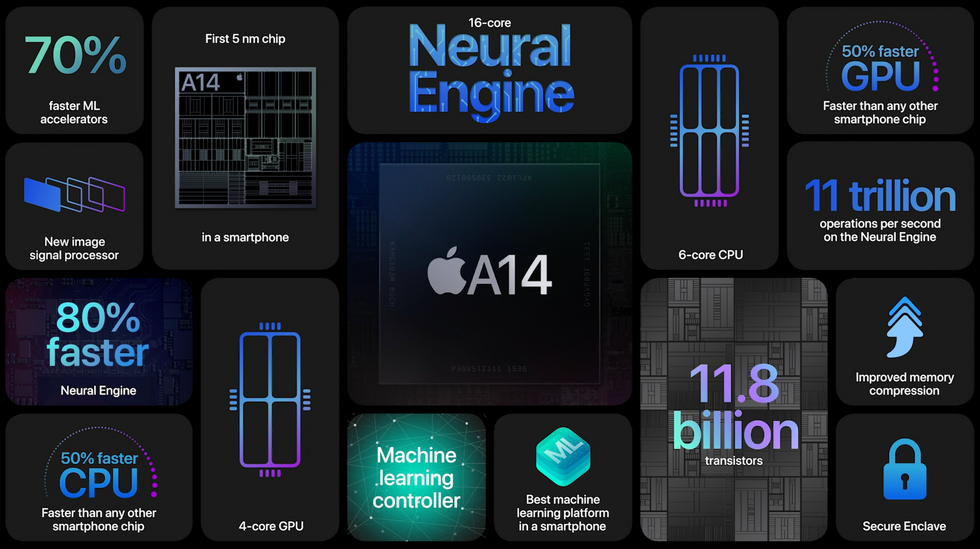 Apple's new A14 Bionic chip powers the iPhone 12Apple
Here is a quick look at the headline features and specifications of each model of iPhone 12

iPhone 12 and 12 Mini
Apart from the sizes of their screens (and therefore their overall dimensions and weight), the iPhone 12 and 12 Mini are identical.
The iPhone 12 Mini has a 5.4-inch display, making it slightly more compact than the 5.8-inch iPhone X, XS and 11 of the past three years. Like all models of iPhone 12, the Mini gets 5G and its display is a Super Retina XDR OLED panel, as used by last year's iPhone 11 Pro. Apple says it has a 2,000,000 to one contrast ratio, and a peak brightness that is almost twice as high as the iPhone 11.
Apple says the iPhone 12 Mini is the smaller, lightest and thinnest 5G smartphone currently available.
All models of iPhone 12 also get Apple's new MagSafe wireless charging connection, which uses magnets to help the phones snap neatly into place on compatible wireless charging pads, as well as a range of new cases and accessories from Apple, and third parties like Belkin. Apple showed how a new magnetic credit card wallet can snap into place on the back of the iPhone 12.
If that MagSafe name sounds familiar, that's because Apple used to offer a magnetic MagSafe charger for the MacBook Pro, before it was replaced with USB-C.
Speaking of USB-C, all members of the iPhone 12 family come with a Lightning port and a Lightning to USB-C cable in the box. However, no power adapter or earphones are included in the box. Apple says this will make a substantial difference to its CO2 production, as the accessories will be produced in far fewer numbers, the iPhone retail boxes are lighter and smaller, and therefore more can fit in shipping containers, requiring fewer flights.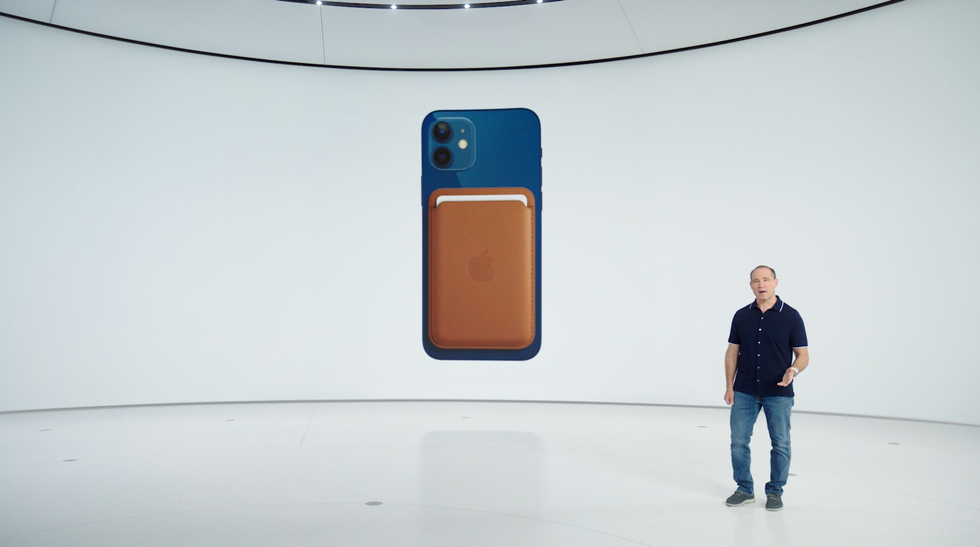 MagSafe system can be used with new range of magnetic accessories, like this card holder from AppleApple
As for cameras, the 12 and 12 Mini both have a dual-lens rear camera system. This includes a 12-megapixel wide angle lens with an f/1.6 aperture, seven-element lens, a 26mm focal length and optical image stabilization. Next to this sits a 120-degree, f/2.4 aperture ultra-wide angle lens. The system has 2x optical zoom and up to 5x digital zoom, with all of Apple's usual photography features like Depth Control, Portrait Lighting, Night Mode and Deep Fusion.

The front camera of the iPhone 12 and 12 Mini has a 12-megapixel resolution, an f/2.2 aperture and Portrait Lighting, plus Night Mode.
As for video recording, all models of iPhone 12 can shoot at HDR with Dolby Vision, and 4K video at up to 60 frames per second.
Priced at $699, the 12 Mini is still comfortably above Apple's cheapest iPhone, the $399 SE, but gives the company an opportunity to enter a new sector of the market – and finally gives fans of smaller smartphones a premium, no-compromize option.
The iPhone 12 and 12 Mini are both offered with color options of black, white, green blue and red, and both have storage options of 64, 128 and 256GB. Prices start at $699 for the 12 Mini and $799 for the iPhone 12. Pre-orders for the iPhone 12 kick off on October 16 and the phone arrives a week later. However, the 12 Mini is coming slightly later, with pre-orders starting on November 6 and shipping commencing a week later.
iPhone 12 Pro and Pro Max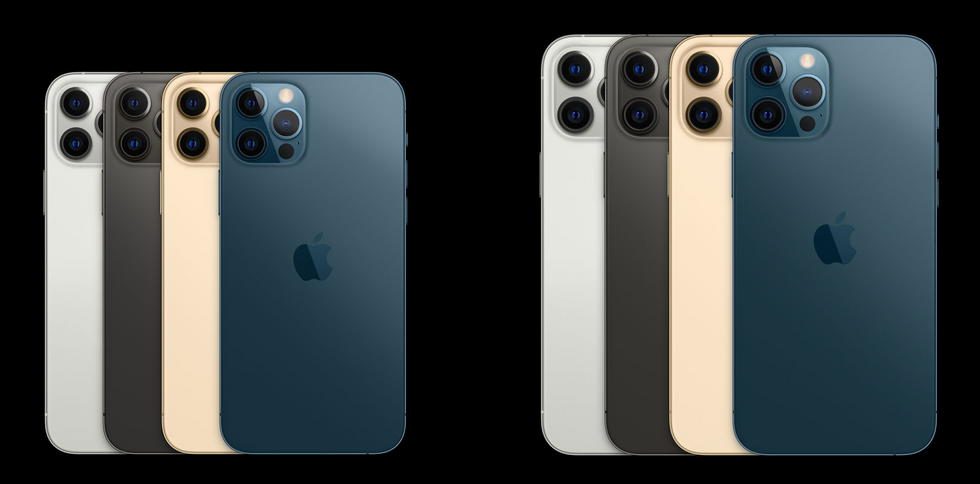 iPhone 12 Pro and 12 Pro MaxApple
Next comes the iPhone 12 Pro, which has the same 6.1-inch Super Retina XDR OLED screen as the regular 12, but benefits from an improved rear camera system with three lenses and a Lidar sensor, as used by the most recent iPad Pro for improved depth perception and augmented reality abilities. Apple says the Lidar sensor can also help with low-light photography, speeding up low-light autofocusing by up to six times. The Lidar hardware is also used to create portrait shots using the phone's Night Mode system, something that isn't possible on other models of iPhone.

The triple camera system on the back of the iPhone 12 Pro includes 12-megapixel wide, telephoto and ultra-wide cameras, with a faster f/1.6 aperture for the wide lens that Apple says improves low-light performance over previous models by 27 percent. The 52mm focal telephoto lens now has 5x optical zooming capabilities, up from 3x with the iPhone 11 Pro.
The iPhone 12 Pro Max takes this a step further, thanks to a new 12-megapixel telephoto lets with a larger 65mm focal length for a claimed 87 percent improvement in low-light performance.
Coming later in 2020, both models of iPhone 12 Pro will gain the ability to capture images using a new custom format called Apple ProRAW, which combines the existing Deep Fusion and Smart HDR technologies, with the flexibility of RAW photos, making editing easier.
The iPhone 12 Pro is priced from $999 and the Pro Max starts at $1,099. Both are offered with storage options of 128, 256 and 512GB. The 12 Pro is available for pre-order from October 16 and goes on sale a week later on October 23, while the 12 Pro Max opens for pre-order on November 6 and ships on November 13.
Introduction of The GearBrain, The First Compatibility Find Engine for Smart Devices www.youtube.com
From Your Site Articles
Related Articles Around the Web
Like GearBrain on Facebook