Like GearBrain on Facebook
As rumoured last month, Sony has launched a new version of Aibo, the robotic dog with artificial intelligence first sold in the late 90s.

Naturally, the new Aibo (called the ERS-1000) has learnt a host of new tricks, thanks to artificial intelligence and the ability to learn from interaction with humans and other Aibo dogs via the cloud.
The robotic dog uses compact motors to move its body in 22 different ways, plus its eyes are OLED panels which display a range of emotions. Aibo reacts to sounds, movement and touch, and Sony claims it is naturally inquisitive, approaching its owners for attention like a real dog.
Sony says the new Aibo seeks out its owners, learns about what makes them happy, and uploads its experiences to the cloud - data from which all other new Aibos can learn.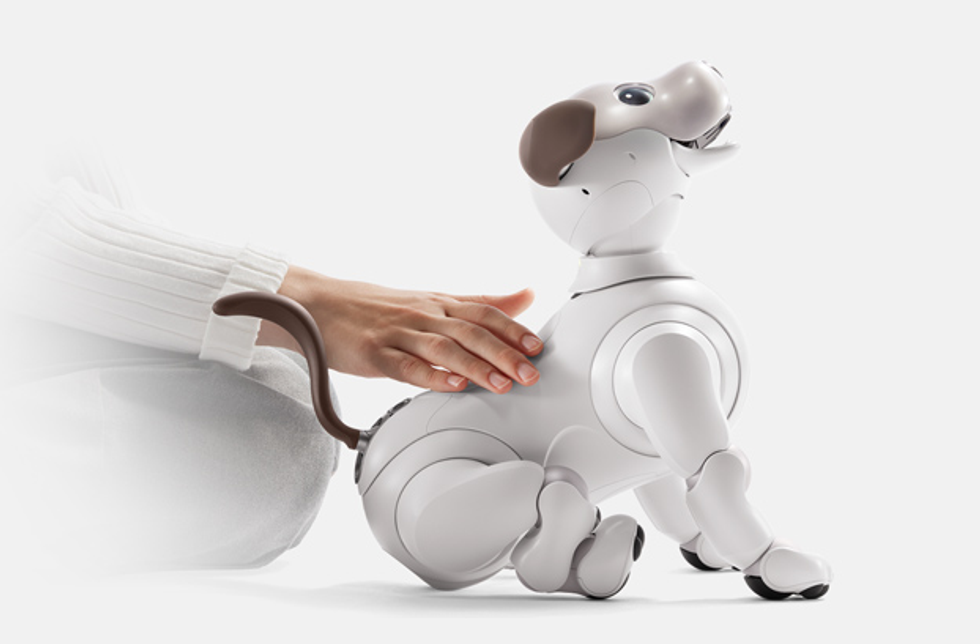 Aibo responds to touch and shows (artificial) affectionSony
Battery life is rated at just two hours, and it takes a full three hours to recharge. So while Sony's YouTube video (below) makes it look like Aibo spends all day wondering around the house, playing with children and greeting guests, the reality is less exciting.
Also guaranteed to put potential buyers off is Aibo's price. It costs 198,000 yen in Japan, or around $1,700. Plus the dog's bone - called the Aibone, naturally - is an additional 2,980 yen ($26) and to get the most out of Aibo you'll need to pay a monthly 2,980 yen subscription for a minimum of three years.
So that's a whopping 308,000 yen over the course of three years, or $2,700. And you thought the iPhone X was expensive.
That monthly subscription unlocks the Aibo's Wi-Fi and LTE connections - the latter enabling it to stay smart when you take it out for a walk - plus cloud backups and access to app features. These include being able to take dogs-eye-view photos with the camera in Aibo's nose, alter settings and download so-called 'tricks' from the Aibo store. Sony hasn't said what these include, but some smart home integration and Alexa-style skills would be welcome.
Having said all that, paying so much for the dog then having to cough up a monthly subscription just to alter settings seems unreasonable.
Aibo is available for pre-order now and will go on sale in Japan on January 11. There is no word yet on Sony's plans to sell Aibo internationally.
Related Articles Around the Web
Like GearBrain on Facebook