Nord is a sub-brand of Chinese smartphone maker OnePlus, and from January 15 will extend its operation into the US and Canada.
The US missed out on the launch of the first Nord handset last year, but now OnePlus says the Nord N10 5G and N100 will both arrive here on January 15, having launched in Europe in 2020.
Read More:
The Nord N10 5G is the more premium of the two, with 5G connectivity and flagship features like a triple-lens rear camera and fast-charging, but is competitively priced at $300. The Nord N100 has a slightly larger screen but is just $180. Both are available as carrier exclusives through T-Mobile, or unlocked directly from OnePlus.
Here is a quick rundown of how the two OnePlus Nord smartphones compare:
OnePlus Nord N100 vs Nord N10 5G: Size display and color options
As mentioned above, the Nord 100 has a slightly larger display than its sibling, but both handsets are on the big side. The Nord 100 has a 6.52-inch LCD display with a resolution of 1600 x 720 and a pixel density of 269 per inch. It has a refresh rate of 90 Hz.
Meanwhile, the more expensive Nord N10 5G has a smaller 6.49-inch LCD display, but with a higher resolution of 2400 x 1080 and a pixel density of 405 per inch. It also has a refresh rate of 90 Hz.
As for overall dimensions, the Nord N100 measures 164.9 x 75.1 x 8.49mm and weighs 188g. The N10 5G is marginally smaller but thicker, at 163 x 74.7 x 8.95mm, and weighs 190g.
The N100 is offered in Midnight Frost, while the N10 5G comes in the darker shade of Midnight Ice.
OnePlus Nord N100 vs Nord N10 5G: Processor and performance
The two phones also differ when it comes to their processors and performance.
The cheaper N100 has a Qualcomm Snapdragon 460 processor with 4GB of RAM and 64GB of storage (expandable up to 256GB via a microSD card. While the N10 5G has the speedier Snapdragon 690 5G processor with 6GB of RAM and 128GB of storage, which is expandable up to 512GB.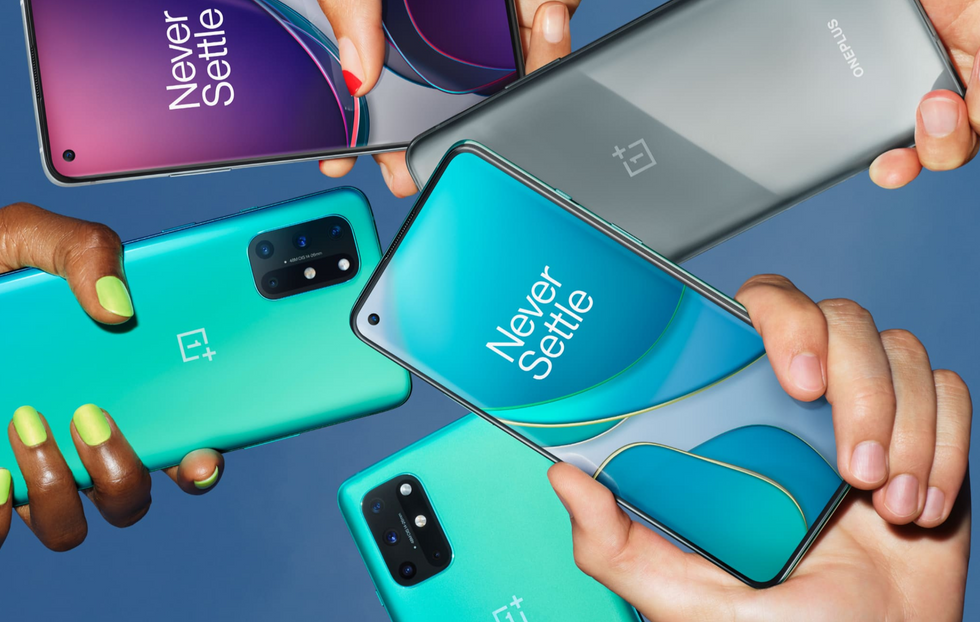 OnePlus' 8T is due to be replaced by the 9 later in 2021 OnePlus
OnePlus Nord N100 vs Nord N10 5G: Camera system

Both phones have hole-punch style front cameras and multiple rear cameras. The N100 has three rear cameras; these include a 13-megapixel main sensor with electronic image stabilization and an aperture of f/2.2. This sits alongside a macro lens with two-megapixel resolution and f/2.4 aperture, and a bokeh lens with the same resolution and aperture.
Meanwhile, the more expensive OnePlus Nord 10 5G has four rear cameras. The main sensor has a 64-megapixel resolution, electronic image stabilization and an aperture of f/1.79. This is joined by an ultra-wide lens with an eight-megapixel resolution, an aperture of f/2.25 and a 119-degree field of view; there is also a macro lens and a monochrome lens, both with resolutions of two megapixel and aperture of f/2.4.
As for video capture, the N100 is limited to 1080p Full HD at 30 frames per second, while the N10 5G can record 4K video at 30 fps.
The front camera of the N100 is eight-megapixels and the N10 5G's is 16MP.
OnePlus Nord N100 vs Nord N10 5G: Extra features and battery size
Both phones have a fingerprint reader on their rears and both also have a face unlock system. The N100 has a large 5,000 mAh battery with 18W fast-charging, while the N10 5G has a smaller 4,300 mAh battery, but with OnePlus' 'Warp Charge' system.
Both phones have USB-C ports and 3.5mm headphone jacks, and both come with a USB-C cable and charger in the box.