Like GearBrain on Facebook
Owlcam 5.0 is the latest version of the in-car security system, a camera and cloud-based setup that punches up existing features and adds quite a few more.
The new device is the latest since the company was sold in 2020 to Xirgo Technologies, and temporarily halted services for existing devices. Owlcam itself launched in 2018, a dash cam camera and security device which sits on the dashboard to capture images both inside the car and outside as well. The company restored services in August 2020.
The newest device brings three upgrades to Owlcam's services, all of which will work with the new Owlcam when it starts shipping next month. To start, the camera is getting infrared sensors that will boost its night vision inside the car so that live views and video recordings can still be captured even if the car is shrouded in complete darkness.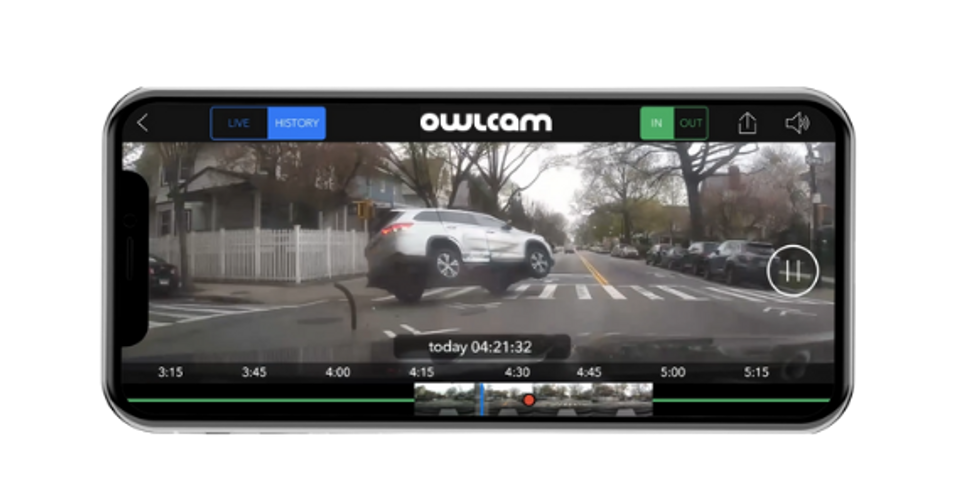 Owlcam will start automatically contacting 911 in April if it detects an accidentOwlcam
Second, voice commands that Owlcam respond to now include, "OK Presto, I'm being pulled over," which starts a recording if someone is interacting with police, and will save all following footage to the cloud — automatically. This feature will also be added to the Owlcam 3.0 and Owlcam 4.0 in early March

Finally, the Owlcam 5.0 now includes 160 GB of on-board storage, which is the equivalent of 160 hours of HD video. That's on top of the cloud-based storage which automatically captures video of people, cars, break-ins, accidents or any kind of issues that happens to your car.
Additionally, starting in April, Owlcam 5.0 — and all existing versions as well — will be able to contact and alert emergency services and first responders of an accident has been detected, automatically. Additionally, a Panic Button and other safety tools will be added to the Owlcam mobile APP soon, Owlcam said in a recent release.
Owlcam 5.0, priced at $269, will be available for just $259 during pre-orders that start today. And customers can get discounted prices if they're buying a two-pack or three-pack. All the cameras have to be activated with a monthly or prepaid annual Connect Plan for 4G LTE service which is how you get real-time alerts. But all Owlcams work on free Wi-Fi mode which means you can use your camera, just not get the real-time alerts.
From Your Site Articles
Related Articles Around the Web
Like GearBrain on Facebook